Sea Dogs 2018 Preliminary Roster Set
Portland's 25th season begins April 5th at Binghamton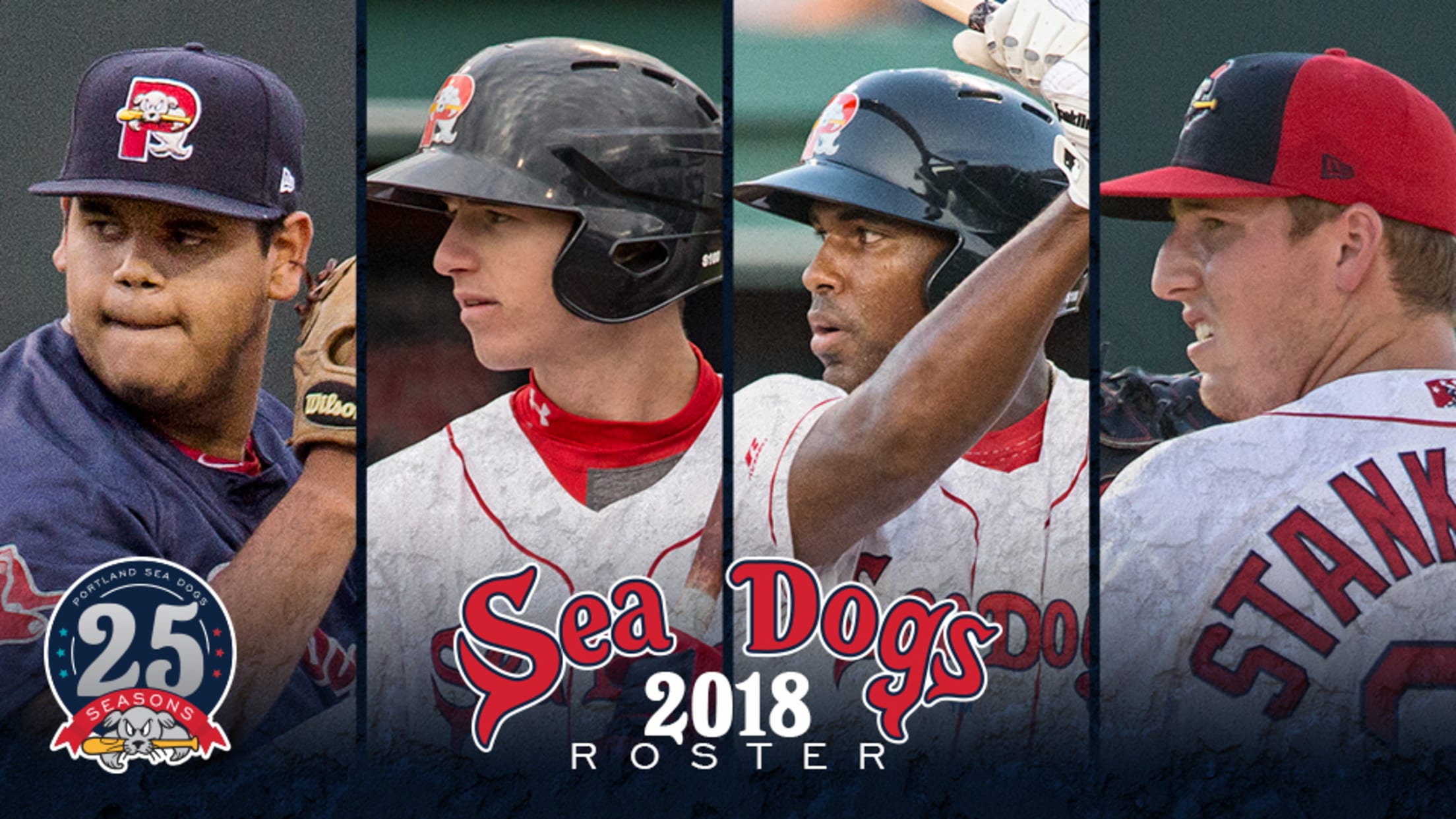 PORTLAND, MAINE - The Portland Sea Dogs in conjunction with the Boston Red Sox have announced the 2018 Preliminary Roster. Portland opens their 25th season on April 5, against the Binghamton Rumble Ponies (Mets affiliate) at NYSEG Stadium. 

PORTLAND, MAINE - The Portland Sea Dogs in conjunction with the Boston Red Sox have announced the 2018 Preliminary Roster. Portland opens their 25th season on April 5, against the Binghamton Rumble Ponies (Mets affiliate) at NYSEG Stadium.
PITCHERS (13 + 1 DL): Trey Ball, Jake Cosart, Kyle Hart, Dedgar Jimenez, Trevor Kelley, Matt Kent, Travis Lakins (DL), Adam Lau, Kevin McAvoy, Daniel McGrath, Yankory Pimentel, Mike Shawaryn, Josh Smith, Teddy Stankiewicz.

CATCHERS (2): Jordan Procyshen, Austin Rei.

INFIELDERS (7 + 2 DL): Jordan Betts, Michael Chavis (DL), Conrad Gregor, Nick Lovullo, Josh Ockimey (DL), Mike Olt, Esteban Quiroz, Jeremy Rivera, Josh Tobias.
OUTFIELDERS (4 +1 DL): Danny Mars, Tate Matheny, Joseph Monge (DL), Cole Sturgeon, Luke Tendler.
The Sea Dogs have four of the Top 30 Prospects in the organization according to Baseball America on the preliminary roster: INF Michael Chavis (#2), RHP Mike Shawaryn (#8), INF Josh Ockimey (#12) and RHP Travis Lakins (#22).
The active roster consists of 15 players who saw action in Portland last season: Sea Dogs 10th Player Award-winner OF Cole Sturgeon and Sea Dogs Citizen of the Year RHP Kevin McAvoy.
-INF Mike Olt is the only player on the roster with Major League experience.
-The roster features ten players who spent all of last season with Greenville or Salem.
-INF Esteban Quiroz and OF Luke Tendler were not in the Red Sox system in 2017.
-Two players are sons of Major League Managers: INF Nick Lovullo and OF Tate Matheny.
Disabled List: Chavis, Lakins, Monge and Ockimey
Breakdown of the 26-player roster: 17 drafted by the Boston Red Sox, four minor league free agents, two international free agents, one trade and two Rule 5 draft picks. (Sea Dogs will have a roster move before Opening Night)
The pitching staff features eight players who spent time with Portland in 2017. LHP Trey Ball, a former first-round pick, spent all of last year with the Sea Dogs. Ball made 25 appearances (24 starts) in '17, recording a 5.27 ERA with 103 strikeouts and the first complete games of his career. RHP Jake Cosart led the Sea Dogs with 38 appearances last year, going 5-2 with a 3.10 ERA. LHP Dedgar Jimenez went 15-3 with a 3.02 ERA between High-A Salem and Portland last season. Jimenez ranked T-2nd among all minor leaguers in wins but led the Red Sox system in wins and ranked 4th in ERA. RHP Trevor Kelley split '17 between High-A Salem and Portland, going 2-1, 2.36 ERA and seven saves. Kelley did not allow an earned run in 28 of 38 games. RHP Kevin McAvoy returns to Portland for his third straight season. McAvoy has 44 career appearances with the Sea Dogs, logging 234.0 innings pitched. RHP Yankory Pimentel began 2017 in Salem but was promoted to Portland on May 20th and appeared in four games before he was suspended the rest of the season. LHP Josh Smith spent his first year in the Red Sox system with Portland and was second on the club with 33 appearances. RHP Teddy Stankiewicz returns to Portland for a third consecutive season. Stankiewicz has 50 career appearances with the Sea Dogs. Last year, he was named an Eastern League mid-season All-Star, leading the team in 139.2 innings pitched and 107 strikeouts.
LHP Kyle Hart, LHP Matt Kent, RHP Adam Lau, LHP Daniel McGrath and RHP Mike Shawaryn all make their Double-A debuts.
Baseball America ranks Shawaryn as the #8 prospect in the Red Sox system. Last year, he went 8-7 with a 3.81 ERA in 26 starts between Low-A Greenville and High-A Salem, posting the 7th-lowest ERA among Red Sox Minor Leaguers, and the led the organization with 169 strikeouts.
Hart went 6-5 with a 2.15 ERA and a .224 opponent average between Low-A Greenville and High-A Salem. He ranked 2nd among Red Sox minor leaguers in ERA. Kent made a team-high 28 starts for High-A Salem, leading the team with 164.0 innings pitched and 142 strikeouts. Lau made a team-high 37 appearances for High-A Salem and shared the team lead with seven saves. McGrath ranked 2nd among High-A Salem pitchers with 34 appearances and started each of his first 11 outings before moving to the bullpen.
Jordan Procyshen and Austin Rei make up the two catchers on the roster. Procyshen is on Portland's Opening Day roster for the second straight season. Last year he hit the team's first grand slam of the season and appeared in 68 games with four homers and 21 RBI. Rei is making his Double-A debut, after playing in 95 games with High-A Salem in 2017, receiving Boston's Minor League Defensive Player of the Year. Baseball America ranks Austin as the best defensive catcher in the Red Sox minor league system.
Portland's infield features three of seven players who spent time in Portland last season. Josh Tobias begins his first season on Portland's Opening Day roster.. Boston acquired Tobias from Philadelphia in exchange for Clay Buchholz before the 2017 season.
Jordan Betts appeared in 13 games with Portland in 2016, hitting one homer and eight RBI. Betts hit .262 with 13 homers and 15 RBI in 98 games with Salem last year. Boston signed Conrad Gregor as a minor league free agent on August 3, 2017 from New Jersey of the Atlantic League. Gregor hit .302, four homers and 19 RBI in 30 games with Salem. Nick Lovullo, the son of Arizona Diamondbacks Manager Torrey Lovullo, appears on Portland's Opening Day roster for the first time in his career. Lovullo has played in eight games with Portland the last two seasons. Mike Olt returns to Portland for a second straight season. Olt hit 16 homers and knocked in 57 runs in 113 games last season. Olt has appeared in 135 Major League games with Texas (2012), Chicago Cubs (2014-15), and Chicago White Sox (2015). The Red Sox signed Esteban Quiroz as a minor league free agent in the off-season. Quiroz is making his professional debut in the United States after playing professionally for seven seasons in the Mexican League. Jeremy Rivera will make his Double-A debut, after appearing in 84 games with High-A Salem last season. Rivera hit .246 but committed only seven errors at Shortstop for a .975 fielding percentage.
The Sea Dogs outfield has two players who spent all of 2017 in Portland: Danny Mars and Cole Sturgeon. Mars was named an Eastern League Mid and Post-Season All-Star in '17, leading the Red Sox system with a .304 average. Danny ranked among league leaders in Average (5th) and hits (3rd, 145) and led Portland in games (119), hits (145), SB (12), and runs (tied, 62). Sturgeon is seventh in team history in games played at 275 and tied for 10th in hits with 248. Last year in 118 games, Sturgeon batted .264 with six homers, 52 RBI, and 11 stolen bases.
Tate Matheny, the son of Cardinals Manager Mike Matheny, is ranked by Baseball America as having the best outfield arm in the system. Matheny was named the Red Sox' 2017 Minor League Base Runner of the Year after finishing with the 2nd-most SB in the system (27).

Luke Tendler is the only outfielder not in the Red Sox system in 2017. The Red Sox selected Tendler from the Texas Rangers in the Triple-A phase of the Rule 5 Draft. Last year, he made his Double-A debut with the Frisco RoughRiders ranking 2nd on the club in homes (13) and RBI (49).
Manager Darren Fenster begins his first year as Portland Manager, after spending last year with Greenville. Fenster is joined by: Pitching Coach Paul Abbott (1st year), Hitting Coach Lee May Jr., (2nd year) Coach Luke Montz (1st year), Trainer Scott Gallon (2nd year), Strength Coach Chris Messina (3rd year) and Assistant Trainer Matt Carroll (1st year).
The Sea Dogs open up their 25th season on Thursday, April 5, against the Binghamton Rumble Ponies (Mets affiliate) from NYSEG Stadium. Opening Day at Hadlock Field is Friday, April 13th at 6:00 p.m. against Binghamton. Tickets are available at seadogs.com or 207-879-9500. Book your nine-inning vacation today!