Salt Lake Bees Release 2021 Schedule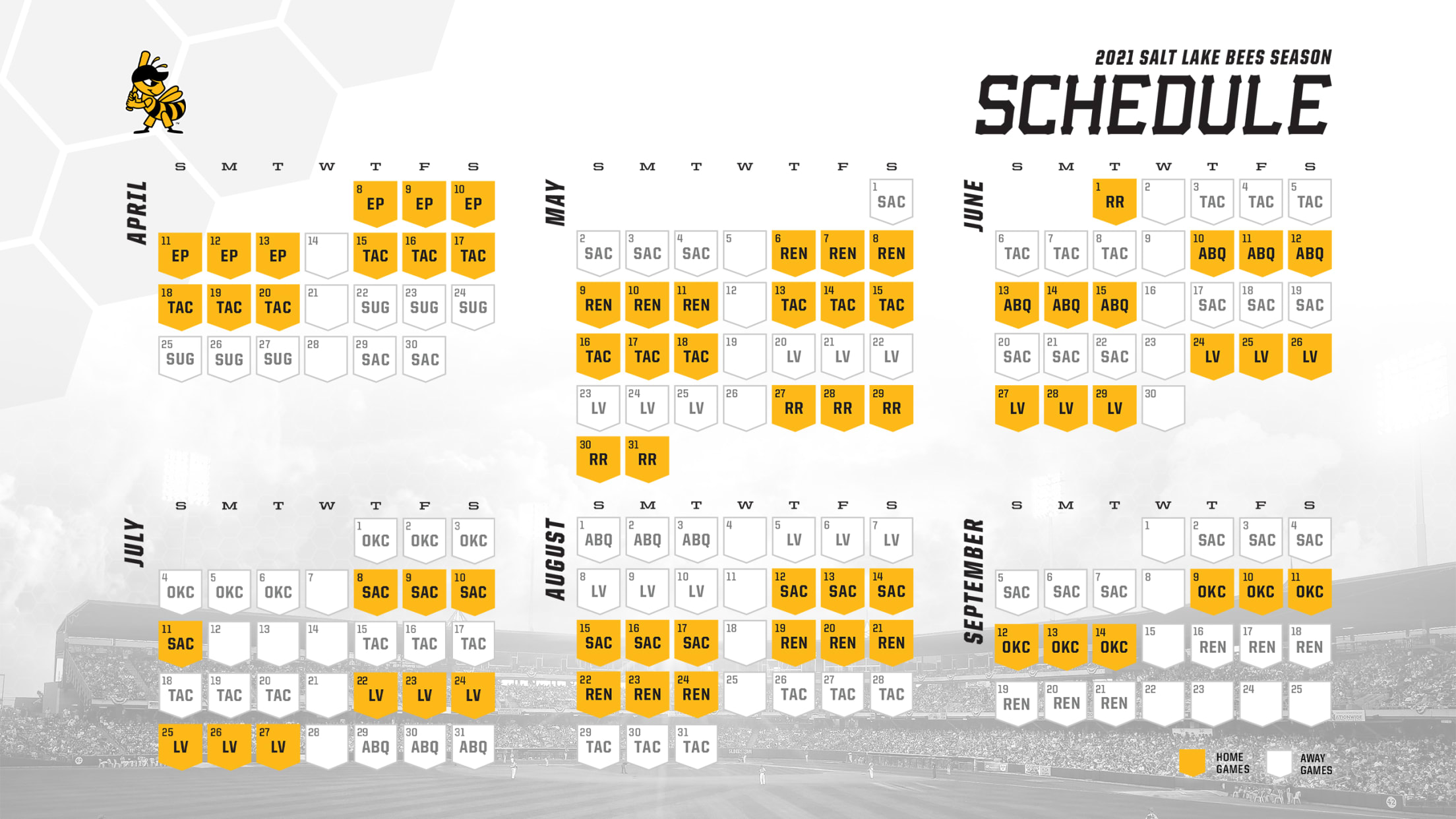 SALT LAKE CITY (February 18, 2021) – The Salt Lake Bees, the Triple-A affiliate of the Los Angeles Angels, today announced their schedule for the 2021 minor league baseball season. The season and home opener is set for Thursday, April 8 at Smith's Ballpark against the El Paso Chihuahuas. The
SALT LAKE CITY (February 18, 2021) – The Salt Lake Bees, the Triple-A affiliate of the Los Angeles Angels, today announced their schedule for the 2021 minor league baseball season. The season and home opener is set for Thursday, April 8 at Smith's Ballpark against the El Paso Chihuahuas. The 142-game schedule will wrap up on Tuesday, Sept. 21 in Reno.
The Bees will play 70 games at Smith's Ballpark and 72 games on the road. To minimize travel in 2021, each series will be six games with a dedicated off day every Wednesday (with an exception of an extra two-day break in mid-July). Overall, the Bees are scheduled for 12 home games in April, 17 in May, 13 in June, 10 in July, 12 in August and six in September.
In the newly aligned Triple-A West league, the Bees will compete in the West Division and face their division rivals Tacoma 30 times (12 home/18 away), Sacramento 28 times (10 home/18 away), Las Vegas 24 times (12 home/12 away) and Reno 18 times (12 home/six away).
Against the East Division, the Bees will play Oklahoma City and Albuquerque six times each home and away, El Paso and Round Rock will each visit Smith's Ballpark for a six-game series and Salt Lake will travel to Sugarland, Texas for one six-game road trip.
More information about the upcoming 2021 season, including dates, game times, ticket sales and fan attendance in coordination with local and state health department officials will be announced in the near future.