Crawford, Phillies pony up at each level
System's top prospect, Hoskins, Altherr prove organization's depth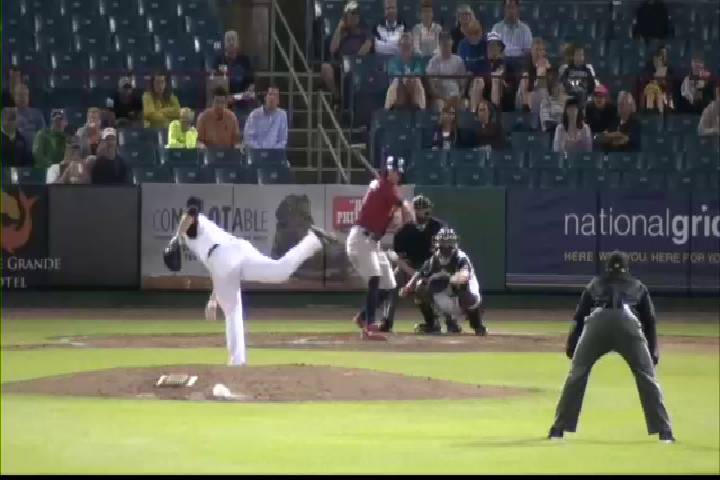 By Kelsie Heneghan / MiLB.com | December 2, 2015 10:00 AM
This offseason, MiLB.com will be honoring the players -- regardless of age or prospect status -- who had the best seasons in their organizations. We're taking a look at each team to determine the outstanding seasons in Minor League baseball.
After a fourth straight year without a postseason appearance, the Phillies are ready to make some changes with young talent, starting in the front office. They hired Matt Klentak, making the 35-year-old the youngest general manager in team history.
Before vacating his post, GM Ruben Amaro Jr. gave the Phillies a boost with an eight-player trade with the Rangers that landed five of Texas' top 30 prospects -- outfielder Nick Williams, catcher Jorge Alfaro and right-handers Jake Thompson, Jerad Eickhoff and Alec Asher.
Along with those big names, homegrown Phillies prospects led three affiliates -- Double-A Reading, Class A Advanced Clearwater and Class A Short Season Williamsport -- to the playoffs as the system looks to return to winning ways.
Phillies Organization All-Stars
Catcher -- Andrew Knapp, Clearwater (63 games), Reading (55 games): The switch-hitter had a strong first full season in 2014, then really broke out this year. Knapp posted career highs with 12 homers, 84 RBIs, 51 walks and a .308 average. The Phillies' Minor League Player of the Year also improved his numbers behind the dish, throwing out 36 percent of would-be basestealers.
"I think he became a more disciplined hitter, and he just got hot and he just rode it. He just really finished off a strong year up there," said Phillies director of player development Joe Jordan. "I really believe offensively, defensively, game-calling, working with pitchers, it's hard to find an area of his game where he didn't really really step forward this year."
First base -- Rhys Hoskins, Lakewood (69 games), Clearwater (67 games): The 22-year-old led the organization with 17 homers and 90 RBIs while ranking second with a .319 average, but the most impressive fact is that Hoskins did it in his first full Minor League season.
"This year, he was our most consistent offensive player throughout," Jordan said. "I believe he has a feel to drive in runs, he's a run-producer. He's got some discipline at the plate, but this guy can hit. He really has shown that since we signed him."
When the season ended, Hoskins was sent to the Australian Baseball League, where he's been improving his defense while continuing to rake.
Honorable mention: Brock Stassi was right behind Hoskins for the system lead with 15 homers and tied the California native with 90 RBIs while repeating Double-A, where he was named Eastern League MVP.
Second base -- Josh Tobias, Williamsport (61 games): Jordan still can't believe the Phillies got a swing like Tobias' in the 10th round of the Draft, but he came out of the University of Florida ready to hit. Another switch-hitter, the 23-year-old led the organization with a .321 average while topping the Crosscutters with 37 RBIs. The North Carolina native also made strides at second, committing nine errors.
"I think Josh can hit, good gosh," Jordan said. "I just think he's a real determined player. He's got some work to do defensively. I thought he really made a lot of progress for the first summer and in instructional league at second base, and that's where we're going to make every attempt to develop him.
"I believe he's going to hit and this was our first look at it. So we're going to build off that and set the bar pretty high."
Third base -- Damek Tomscha, Lakewood (120 games): After spending his first pro season in the Gulf Coast League, the 24-year-old Auburn University product made the leap to the South Atlantic League. At Class A, Tomscha led the BlueClaws with 32 doubles and 39 walks. Spending most of his time at third with time at first, he reduced his errors from 11 in 54 games last year to nine in 120 this season.
"I feel like this year he was a stabilizer in the middle of that lineup in Lakewood. He had a good year and he was pretty consistent all year. Defensively, he did get better," Jordan said. "Right now, I think the momentum that he built in '15 was good. It's going to help him over the next year."
Shortstop -- J.P. Crawford, Clearwater (21 games), Reading (86 games): After hitting .392 through first 21 games in the pitcher-friendly Florida State League, it was off to the Eastern League for the Phillies' top prospect. While Crawford's numbers dipped as he adjusted to the new level, MLB.com's No. 5 overall prospect became more disciplined at the plate, striking out 20 fewer times than a season ago.
"He's a competitor in the box, he'll take his walks, he'll grind out at-bats. Defensively, I really feel like this guy's going to be a good solid Major League middle infielder/shortstop going forward," Jordan said. "We're fortunate to have him -- he's a leader, he's a great teammate. For a guy that gets a lot of attention to himself, he has a lot of great qualities over and above his physical ability."
Honorable mention: Malquin Canelo edged Crawford with eight homers and 47 RBIs as he advanced from Lakewood to Clearwater.
Outfielders
Aaron Altherr, Reading (60 games), Lehigh Valley (51 games), Philadelphia (39 games): The native of Germany got a taste of the Majors in 2014, but the Phillies felt like he still had work to do, so they sent him to the Venezuelan Winter League. When Altherr returned, Jordan saw a tougher player who was a better competitor.
"He just started doing what we've been waiting on him to do. He's shown glimpses, but he was just more consistent; he became a more consistent offensive player," Jordan said. "He's not a finished product by any means, but he's got a lot of upside, so he continues to stay hungry and keep developing his game."
Brian Bogusevic, Lehigh Valley (118 games), Philadelphia (22 games): Bogusevic has bounced between the Majors and Triple-A since 2010, but he enjoyed his finest season in five years in his debut in the Phillies system.
"He was very, very consistent all year. He did a great job for us," Jordan said. "He can run, he played all three outfield spots, he can hit, obviously. When he went up there, he did fine, he helped the club. He kind of showed that he can be a piece on a Major League team."
Bogusevic elected free agency in October and could join his fifth big league organization.
Herlis Rodriguez, Lakewood (120 games): Due to injury and his status as a backup, Rodriguez had yet to play more than 50 games in a professional season. Finally given the playing time, he broke out. The 21-year-old slugged 10 homers, drove in 61 runs and stole 16 bases for the BlueClaws.
"He took full advantage of [the playing time] -- with his legs, with his bat, with his arms, his outfield play. I don't know that a guy could have had a better year. And he had to wait his turn," Jordan said. "Everyone's really, really happy for this young player because he's got some ability. He's got a chance to play in the big leagues and he took advantage of it."
Utility -- Willians Astudillo, Clearwater (107 games): The first thing fans need to know about Astudillo is that he struck out only 10 times in 385 at-bats this season. That's nothing new for the 24-year-old -- he's fanned 51 times in 435 career games.
"That's Willy," Jordan said. "Willy's always had a propensity to put the ball in play. He's just a hitter with a great feel for where his barrel's at, and he's done nothing but hit since his career started."
Astudillo split most of his time between catcher and first but also played third and left field. Jordan said the Venezuela native improved his defense, especially behind the plate, where he threw out 40 percent of would-be basestealers. Astudillo became a free agent and signed with the Braves in November.
Right-handed starter -- Ricardo Pinto, Lakewood (11 games), Clearwater (13 games): After three seasons in Rookie and Short Season ball, Pinto shined in his full-season debut. The 21-year-old posted a 2.97 ERA and 105 strikeouts against 37 walks en route to being crowned the Phillies' Minor League Pitcher of the Year.
"He has a lot of confidence in his ability and I think that's why he doesn't walk people -- he trusts his stuff," Jordan said. "He's got a couple above-average pitches, his fastball, his changeup. His slider's going to be key. If we can get that pitch and continue to come forward a little bit and put it in with his fastball and his changeup, he's got a real chance to be a rotation piece for the Philadelphia Phillies."
Left-handed starter -- Brandon Leibrandt, GCL Phillies (two games), Clearwater (17 games): Leibrandt made the jump from the New York-Penn League to the Florida State League this season. While battling shoulder injuries, the 22-year-old recorded a career-high 75 strikeouts to go with a 2.91 ERA in 18 starts.
"He did a great job. Fastball-changeup guy, got a breaking ball that he'll use in the right spots. He's got a really good, advanced feel for the pitch," Jordan said. "We just need to get him back on the mound because he really knows what he's doing."
Reliever -- Robert Tasin, Williamsport (25 games): In a matter of weeks, Tasin went from the top starter at the University of Oklahoma to being the closer at Williamsport. The 24-year-old right-hander posted a 1.84 ERA and 17 saves in 18 chances, plus another in the New York-Penn League playoffs.
"This guy may be a little bit better than people think," Jordan said. "He's got a lot of confidence, he sinks the ball, he's got a lot of life, a lot of sink, a lot of movement, and his slider improved. But I think more than anything, he's just got a lot of guts. "He's a guy, for me, where you just gotta get him going in your system, see how he responds to bigger challenges, bigger levels, if you will."
Honorable mention: Stephen Shackleford led the organization with 30 saves but posted a 4.45 ERA in 53 games for Reading.
Kelsie Heneghan is a contributor to MiLB.com. Follow her on Twitter @Kelsie_Heneghan. This story was not subject to the approval of the National Association of Professional Baseball Leagues or its clubs.
View More