Melendez, Legends knot up Sally Finals
Royals No. 5 prospect clubs go-ahead home run, RBI single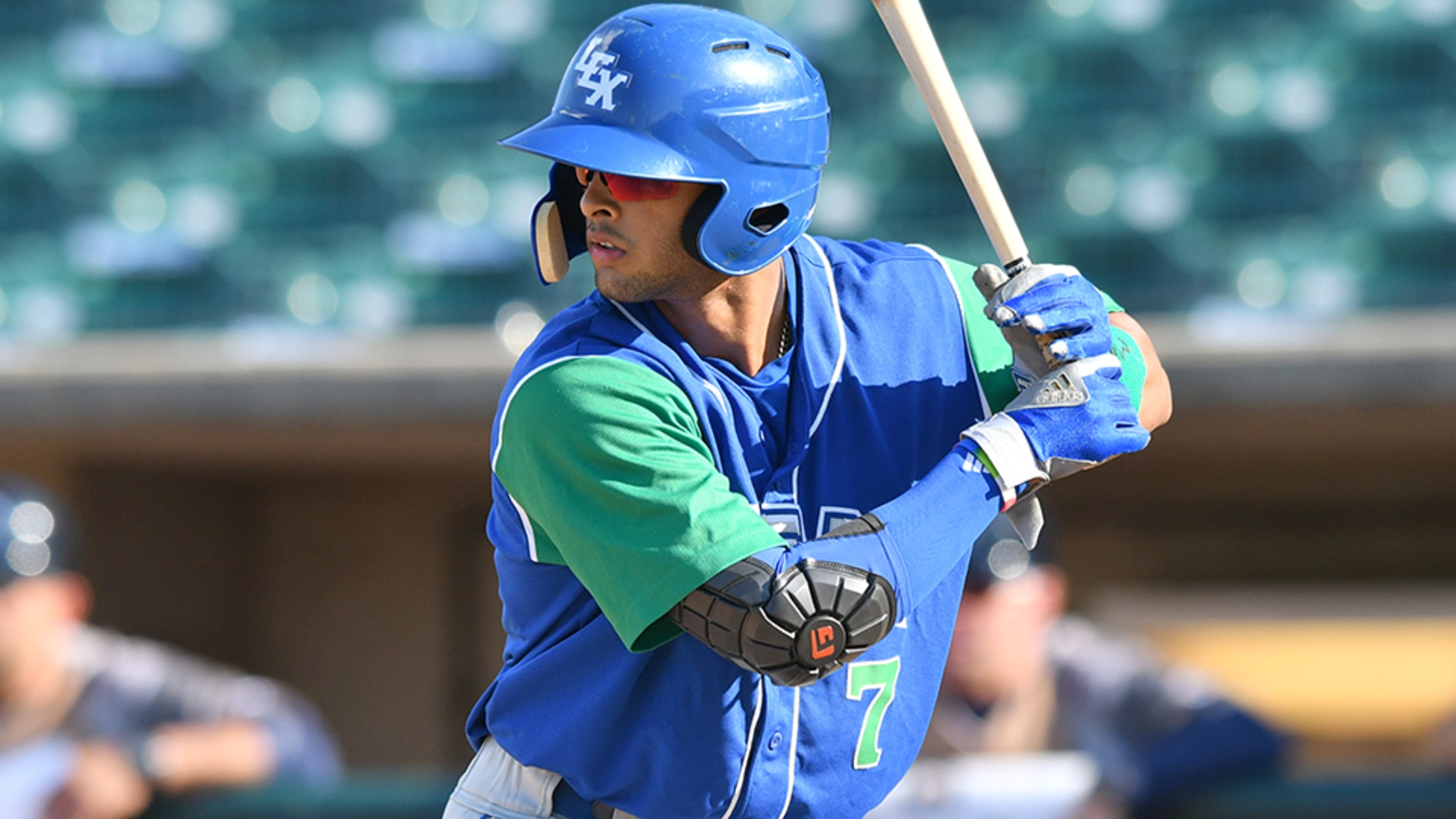 MJ Melendez has amassed three RBIs and two runs scored through the first two games of the Championship Series. (Ken Inness/MiLB.com)
There was no déjà vu for the Class A Legends on Tuesday.One night Lexington squandered a lead taken to the ninth inning, MJ Melendez provided his squad with another early advantage -- but this time, the Legends did not relinquish it.Kansas City's No. 5 prospect crushed a solo dinger in
There was no déjà vu for the Class A Legends on Tuesday.
One night Lexington squandered a lead taken to the ninth inning, MJ Melendez provided his squad with another early advantage -- but this time, the Legends did not relinquish it.
Kansas City's No. 5 prospect crushed a solo dinger in the opening frame and added an RBI single as Lexington took down Lakewood, 5-2, at Whitaker Bank Ballpark in Game 2 of the South Atlantic League Championship Series. The best-of-5 series is knotted up, 1-1.
"Man, it feels amazing. Yesterday just didn't go our way after getting an early lead, so getting back even today feels really good," Melendez said. "We've been working so hard the whole entire year to be here, and it's just a big relief off our shoulders to get this one. We came out ready to play."
The 19-year-old stepped in against Phillies No. 17 prospectKyle Young (0-1) and turned around the first pitch he saw from the left-hander -- depositing the solo shot well beyond the wall in left field.
Gameday box score
"I love hitting in the two-hole because I know I'm gonna get a lot of fastballs. Especially early in the game," Melendez said. "So I was just sitting on one there and put a good swing on it. And I think that got us settled in."
In the seventh, Melendez grounded a two-out RBI single through the left side off an 0-1 fastball by righty Julian Garcia. The knock scored Cal Jones from second base and the Westminster Christian product moved to second on the throw home. He advanced to third on a wild pitch and then crossed the plate on a base hit into right by Kansas City's sixth-ranked prospect Nick Pratto.
"I was just trying to put the bat on the ball, because when you do that something always good can happen," Melendez said. "And they've been shifting me every time we've faced them this year and I think I'm a hitter that can go to all sides of the field. So I wanted to get it to the side of the field that was vacated, because I knew anything in that area was going to be a hit, and that's what I did."
• Complete postseason coverage »
Right-hander Jackson Kowar (1-0), the fourth-ranked Royals prospect, allowed two hits and a walk while fanning five over five scoreless innings. Southpaw Marcelo Martinez kept the BlueClaws off the board the following two frames -- yielding a hit and a walk with four punchouts. Righty Tad Ratliff nailed down his second save of the postseason after allowing a hit and whiffing two.
"The pitching was phenomenal for us," Melendez said. "Kowar really pitched his butt off and there was great defense behind him. All in all, it was just a great night. And now we have a lot of momentum going into this next game. We've got a lot of confidence in our pitching staff and the offense has been putting together good at-bats. We're just playing as a team right now."
Rodolfo Duran accounted for all of Lakewood's offense with a two-out, two-run dinger in the eighth.
Game 3 of the Championship Series will be played at 7:05 p.m. ET on Thursday at Lakewood.
Rob Terranova is a contributor to MiLB.com. Follow him on Twitter @RobTnova24.