Cron hits three homers in Generals' loss
D-backs' slugger steals spotlight in Kopech's Double-A debut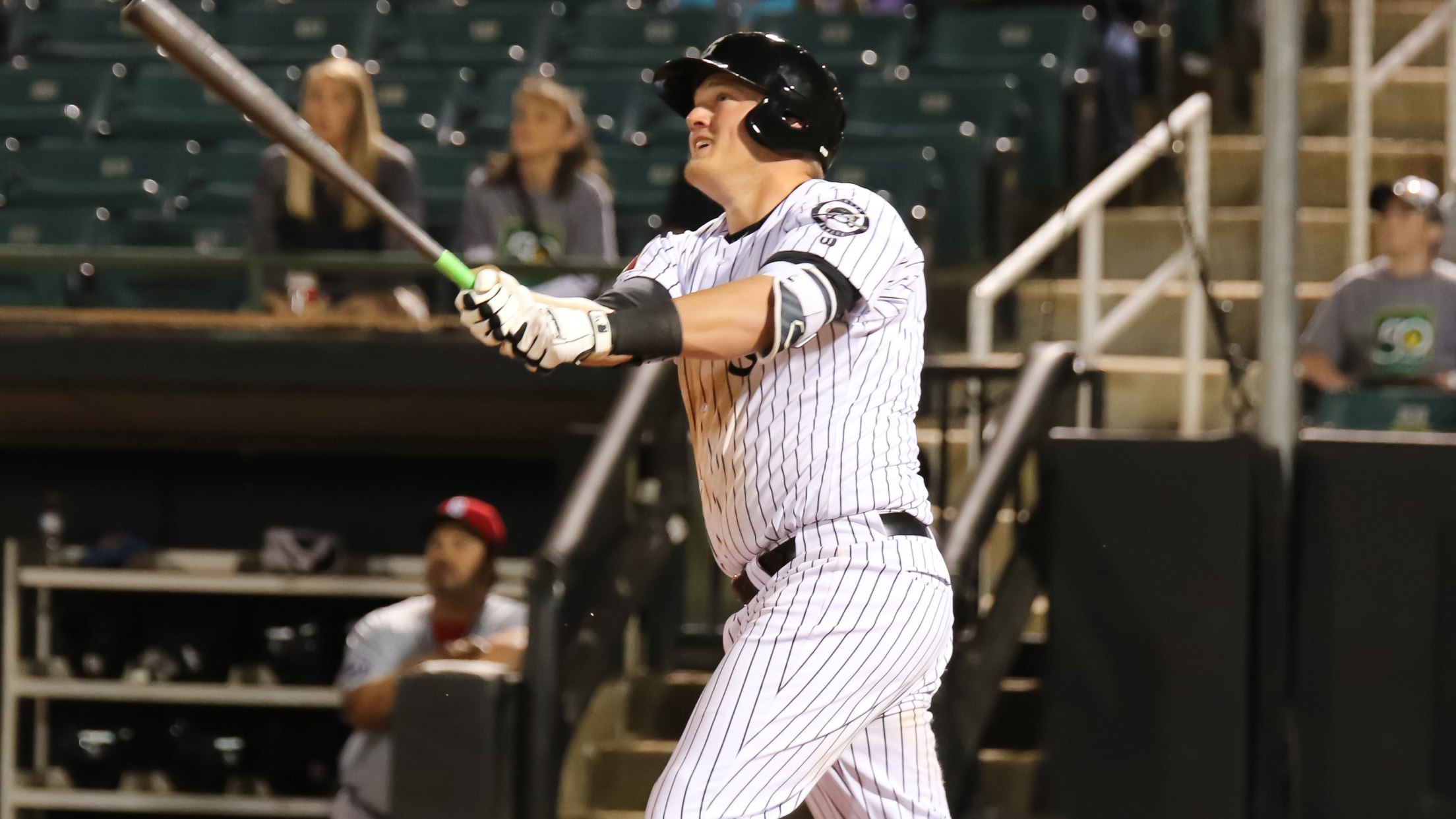 Kevin Cron finished second in the Southern League last season with a .437 slugging percentage. (Cody Cunningham/Jackson Generals)
All it took to steal the spotlight from Michael Kopech in his White Sox and Double-A debuts were three swings by D-backs prospect Kevin Cron.Cron completed the fourth three-homer game in team history with a game-tying blast in the bottom of the ninth Saturday, but Jackson dropped an 8-7, 10-inning decision to
All it took to steal the spotlight from Michael Kopech in his White Sox and Double-A debuts were three swings by D-backs prospect Kevin Cron.
Cron completed the fourth three-homer game in team history with a game-tying blast in the bottom of the ninth Saturday, but Jackson dropped an 8-7, 10-inning decision to Birmingham at the Ballpark at Jackson.
"I don't know if I've ever done that on any level, definitely never did it in pro ball," Cron said. "The only thing that probably would have made it better is if we pulled out a win."
Box score
His first homer came against Kopech, MLB.com's No. 15 overall prospect, who struck out 10 over 4 1/3 innings in his first game since coming over from the Red Sox in the trade for Chris Sale. Kopech's performance became a distant memory when Cron forced extra innings with his third round-tripper.
"After the night I was having, knowing that he doesn't necessarily want to come after me with a fastball," Cron said of his ninth-inning at-bat against Colton Turner, "my goal was to get up there and get in a hitter's count and hopefully see something up in the zone that I could do damage with.
"I was able to take a first-pitch slider down in the zone, really good pitch to get ahead, then he hung a slider that I fouled off, took another changeup down to get myself into a hitter's count, then he threw the slider that he hung again and I was able to tee it up and then get the barrel on it."
Saturday's game marked the sixth multi-homer effort of Cron's professional career. He's the first player to post a three-homer contest for the Jackson organization since Aug. 26, 2013, when Steven Proscia recorded a hat trick against Chattanooga.
Cron led the Southern League with 26 homers and tied for second with 88 RBIs a season ago. He attacked Kopech's vaunted fastball in the second inning.
"Kopech's obviously a big-name guy, there's no hiding that. He's a guy that's known for his fastball," Cron said. "When you face those guys, especially early in the game when they're trying to get outs and keep their pitch count down, you're hunting for a fastball and you know it's going to be hard, so you got to get yourself ready."
Cron's scouting report on Kopech was accurate enough for the right-hander to try to deviate from his usual plan.
2017 Minor League milestones
"My approach today was more to work on my off-speed stuff. I realized early it wasn't quite where it should be. I lost a feel for the changeup early today, so I kind of put that in my back pocket," Kopech said. "I think that's kind of the pitcher I am -- I'm always going to be the guy that throws hard. So it's good to know that I have that in my repertoire if I need it, if I just need to put somebody away with the fastball then for the most part I could put it by people, so that's always good to have."
Cron also struck out twice around another solo blast in the eighth after going 1-for-9 in the Generals' first two games of the season. However, he's making sure the calendar will keep things in perspective.
"It's obviously early in the season, so it's important not to get too high or too low, no matter what's going on," Cron said. "The first couple games, I did a good job of getting my pitch and getting my swing off and I continued to foul them off and not necessarily connect on anything. The biggest thing for me was to continue to trust it and know that it was going to come."
Birmingham took the lead in the 10th when Hunter Jones plated Alfredo González with a sacrifice fly. Jones helped secure the victory by making a diving catch in center with his back to the infield to rob Jamie Westbrook of a sure extra-base hit with one out and two runners on.
Gerard Gilberto is a contributor to MiLB.com. Follow and interact with him on Twitter, @GerardGilberto4.