Buelvas' Pinch-Hit Shot Keeps Ports Streaking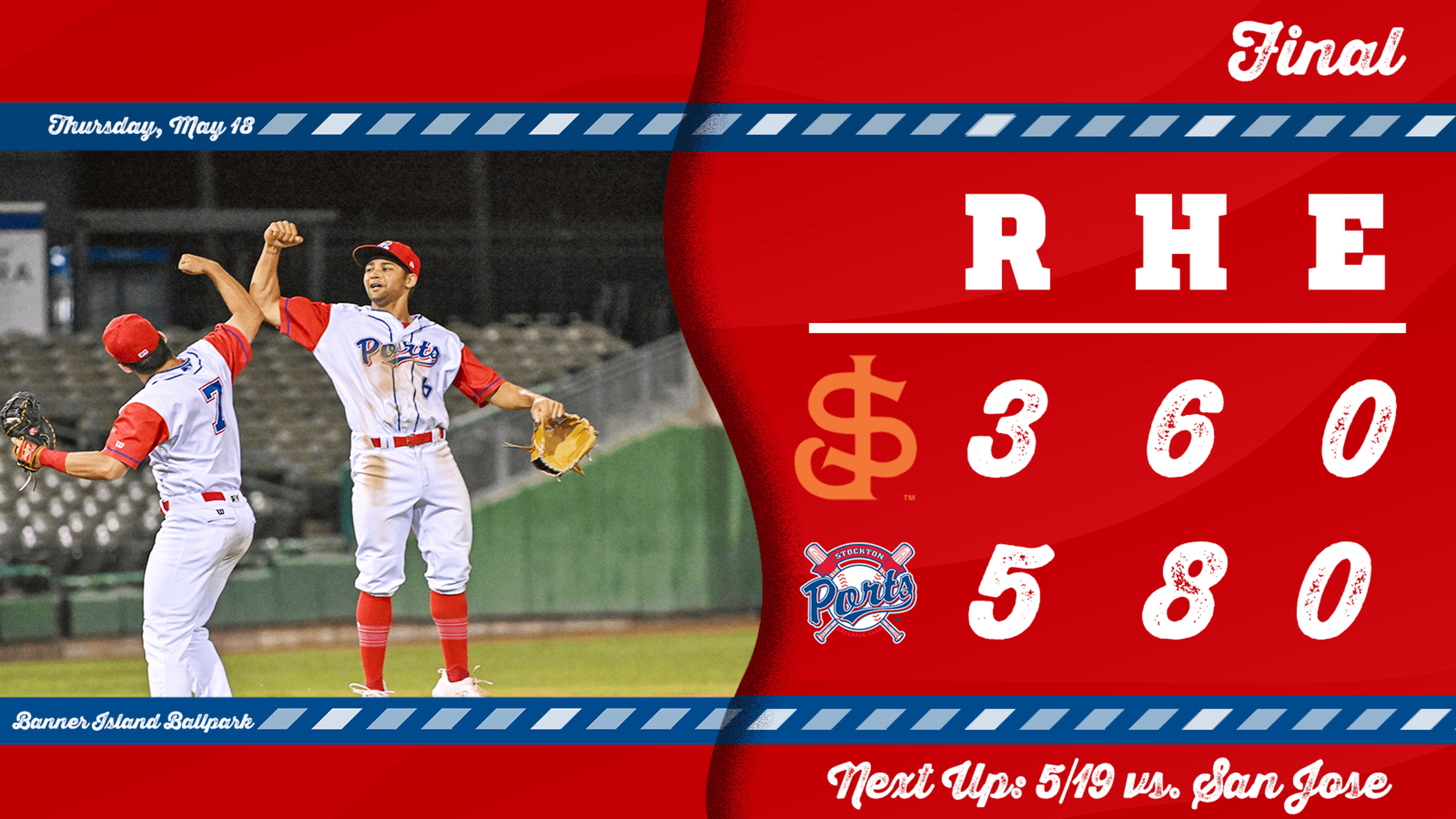 Stockton, CA – Brayan Buelvas hit a pinch-hit, three-run homer in the bottom of the eighth inning to help lift the Ports to their fourth straight win as Stockton defeated the San Jose Giants 5-3 on Thursday night at Banner Island Ballpark. The Ports (11-25) jumped out to a lead
Stockton, CA – Brayan Buelvas hit a pinch-hit, three-run homer in the bottom of the eighth inning to help lift the Ports to their fourth straight win as Stockton defeated the San Jose Giants 5-3 on Thursday night at Banner Island Ballpark.
The Ports (11-25) jumped out to a lead in the bottom of the first inning. Three straight singles by Seth Brown, Brennan Milone and Henry Bolte off San Jose starter Miguel Yajure loaded the bases with nobody out, and after a Colby Thomas strikeout Tommy Stevenson lifted a sacrifice fly to right field to score Brown from third base giving the Ports a 1-0 lead.
Stockton starter Jose Dicochea retired the first eight Giants batters in order, but Alexander Suarez got San Jose on the board in the top of the third when he swatted a 2-0 pitch over the wall in left center field to tie the game at one.
The score remained 1-1 until the sixth inning when the Giants (22-14) used four straight hits to take the lead. Back-to-back singles by Carter Howell and Diego Velasquez off Ports reliever Yehizon Sanchez with one out put runners on first and second and a wild pitch advanced them to second and third. Onil Perez then lined a single to left center to score two runs to give San Jose a 3-1 lead. With runners on second and third, however, Sanchez buckled down to limit the damage inducing a pop out and groundout to end the threat.
The Ports came back with a run in the bottom of the sixth to cut the Giants' lead to one. Colby Thomas reached on an infield single with one out and advanced to second on a wild pitch. Stevenson then singled up the middle to drive in Thomas making it 3-2.
In the bottom of the eighth with San Jose still leading 3-2, reliever Esmerlin Vinicio walked Stevenson with one out ahead of a TJ Schofield-Sam single to right center to put runners on first and second setting the stage for Buelvas' dramatics.
Charlie Cerny pitched around a one-out walk to shut the door on the Giants and deliver the Ports their fourth straight win.
Cerny (2-0) got the win for the Ports with two shutout innings in the eighth and ninth with a walk and a strikeout. Vinicio (1-2) was charged with a blown save and a loss surrendering three runs on two hits with a strikeout in his only inning.
The Ports and Giants continue their six-game series with game four on Friday night at Banner Island Ballpark with first pitch at 7:05 pm. Tickets are available at stocktonports.com.