Giants End Ports' Streak, Win 4-2 in 11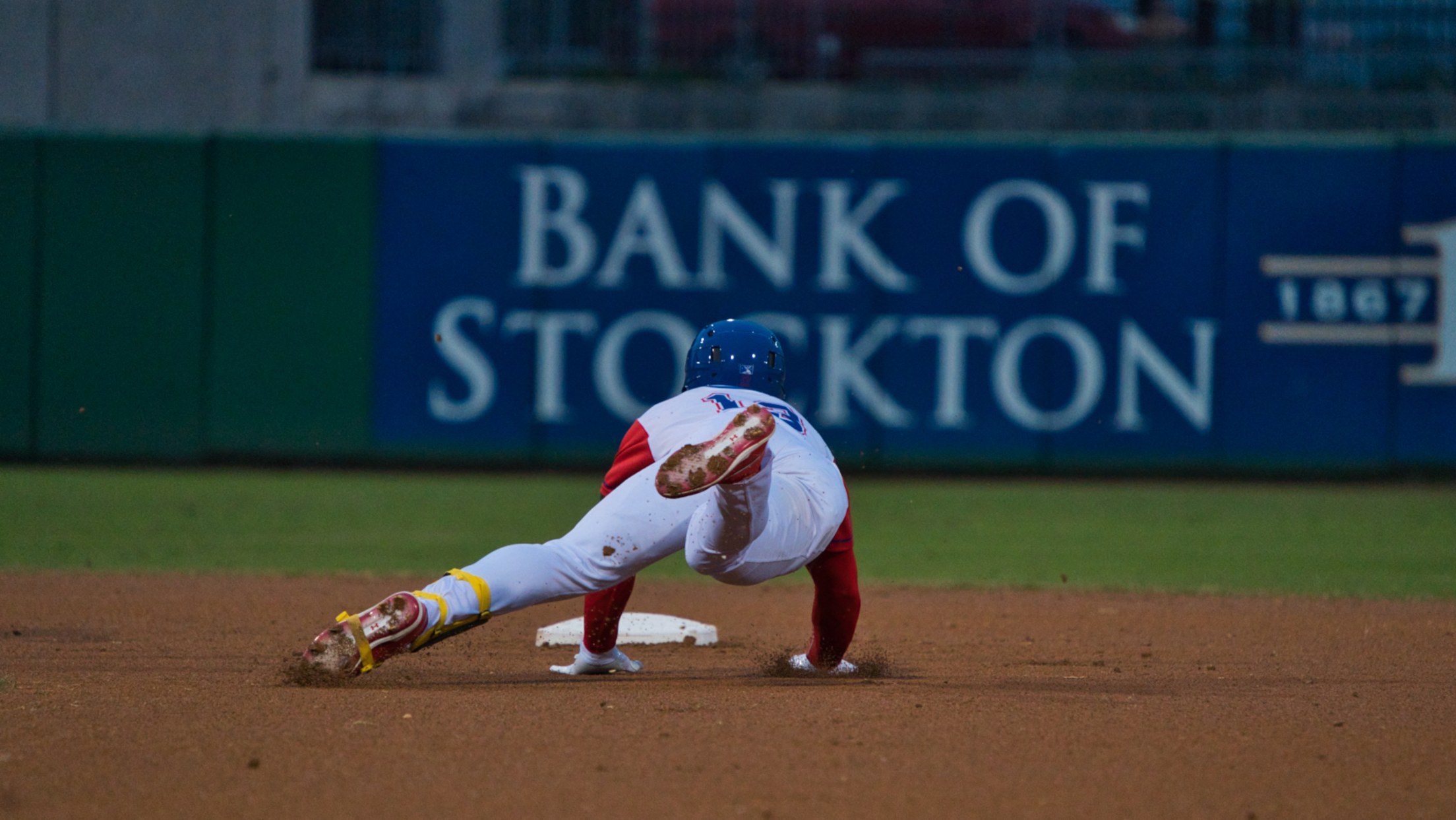 STOCKTON, Calif. - The Stockton Ports were unable to overcome a three-run deficit in extra innings on Monday night at Banner Island Ballpark. The Ports, who overcame a three-run deficit on Saturday night, missed an opportunity to win the game on Monday with the bases loaded and one out in
STOCKTON, Calif. - The Stockton Ports were unable to overcome a three-run deficit in extra innings on Monday night at Banner Island Ballpark. The Ports, who overcame a three-run deficit on Saturday night, missed an opportunity to win the game on Monday with the bases loaded and one out in the bottom of the 10th in a tie ballgame. The San Jose Giants went on to score three runs in the top of the 11th and hold on in the bottom half to send the Ports to a 4-2 loss, snapping a five-game win streak for Stockton and earning their first win in the teams' five-game series.
Gus Varland made is California League debut for the Ports in the contest and worked 5 1/3 very strong innings. Varland made one mistake in the outing as he allowed a solo home run to Bryce Johnson in the third inning that gave the Giants a 1-0 lead. It was the lone run allowed by Varland as the right-hander allowed four hits while walking two and striking out six.
Giants starter and former Ports pitcher Casey Meisner breezed through five innings in his start and allowed just two hits while walking one and striking out four.
Stockton pushed the tying run across in the seventh inning facing Giants reliever Joey Marciano. With runners at the corners and one out, Mickey McDonald grounded out to second baseman Peter Maris, an out that scored Trace Loehr from third base and tied the game at 1-1. It was the lone run Marciano allowed in two innings of work.
With the game still knotted at 1-1 in the 10th inning, Will Gilbert found himself in a bases-loaded jam with one out. Gilbert struck out Heliot Ramos and got Courtney Hawkins to ground out to escape unscathed.
Olbis Parra (3-2) took over in the 10th inning and, after a sacrifice bunt advanced Stockton's free runner to third base, issued back-to-back intentional walks to load the bases. Lazaro Armenteros came up with the bases loaded and one out and struck out swinging, the last of five strikeouts for Armenteros in an 0-for-5 night. Jeremy Eierman came up next and struck out swinging to end the inning.
Sam Sheehan (0-4) took over for Stockton in the top of the 11th and gave up a leadoff double to David Villar that scored San Jose's free runner at second to give the Giants a 2-1 lead. The Giants added a second run on a wild pitch and a run later in the inning on a two-out single by Bryce Johnson to take a 4-1 lead. Sheehan would suffer the loss after allowing three runs (two earned) on three hits in two innings.
Parra came back on to pitch the bottom of the 11th for San Jose and gave up an RBI single to Loehr that scored the free runner Eierman from second to make it 4-2. After an infield single by Hunter Hargrove put runners at the corners with one out, Parra got McDonald to line out to second base and then got Robert Mullen to hit into a game-ending 6-3 double-play. Parra would pick up the win in the contest, allowing an unearned run on two hits over two innings worked.
The Ports and Giants wrap up their five-game series on Tuesday night at Banner Island Ballpark. Left-hander A.J. Puk (0-0, 0.00 ERA) makes the start for Stockton and his first appearance since undergoing Tommy John surgery. The Giants will have right-hander Sean Hjelle (1-2, 2.65 ERA) on the mound. First pitch is set for 7:10 p.m. PDT.