Myers Strong, Bats Quiet as Ports Fall in Visalia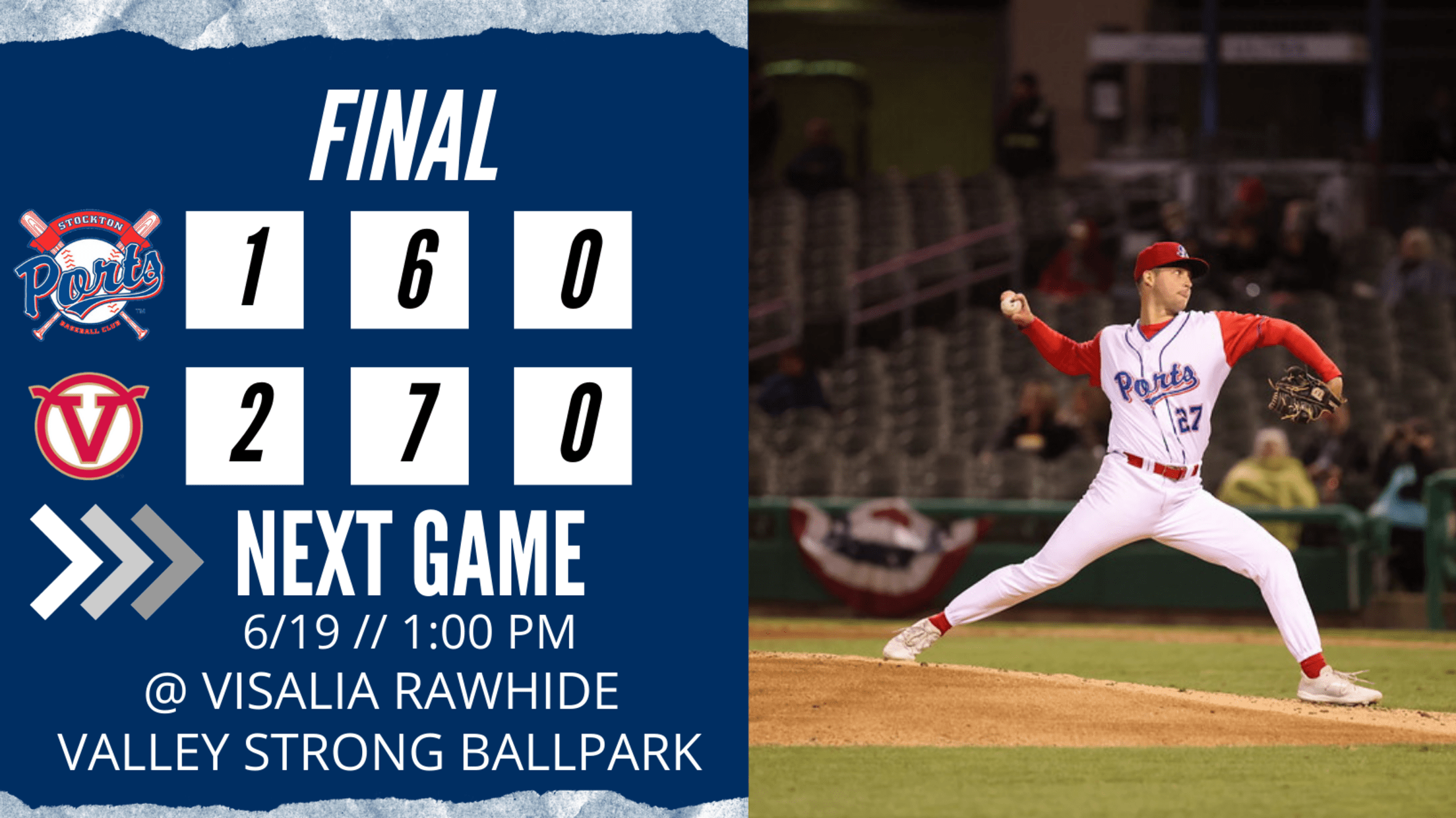 VISALIA, Ca. – Mitch Myers threw seven innings of two-run ball but the Ports left 14 runners on base while going 0-for-12 with runners in scoring position in a 2-1 loss to the Rawhide on Saturday night at Valley Strong Ballpark in Visalia. The Rawhide (18-44) opened the scoring in
VISALIA, Ca. – Mitch Myers threw seven innings of two-run ball but the Ports left 14 runners on base while going 0-for-12 with runners in scoring position in a 2-1 loss to the Rawhide on Saturday night at Valley Strong Ballpark in Visalia.
The Rawhide (18-44) opened the scoring in the bottom of the fourth. Juan Corniel led off with an infield single to snap a run of nine straight retired by Myers, and advanced to second with Wilderd Patiño reached on a single. After inducing a double play ball to Robert Puason at second base, Junior Franco grounded a single through the right side to score Corniel giving Visalia a 1-0 lead.
With another two-out rally in the bottom of the sixth the Rawhide doubled their lead. Patiño singled with two outs and nobody on, and after stealing second base, scored on a single up the middle by Deyvison De Los Santos to make it 2-0.
The Ports (24-38) threatened early and often, but failed to get a big hit against the Rawhide pitching staff. In the top of the second inning T.J. Schofiled-Sam singled, Danny Bautista reached on a fielders' choice and Shane McGuire doubled to right center to put runners on second and third with just one out but Rawhide starter Yeifer Perdomo got back-to-back strikeouts of Nick Brueser and Puason to keep Stockton off the board.
The Ports loaded the bases with nobody out in the top of the fourth on a Bautista single and walks to McGuire and Brueser, but a strikeout and double play ball off the bat of Junior Perez thwarted the Stockton rally to keep the game scoreless. Stockton also failed to score in the fifth with runners on first and second and nobody out
Trailing 2-0 in the top of the seventh, the Ports took advantage of some wildness to get on the board. Two walks and a hit-by-pitch loaded the bases with two outs for McGuire who drew a walk to force in Kevin Richards from third, cutting the Rawhide lead in half and making it 2-1. But Visalia reliever Rael Santos struck out Brueser with the bases loaded, stranding the tying run on third base.
The Ports managed just one baserunner over the final two innings.
Rawhide reliever Miguel Gil (1-2) got the win with three innings of shutout ball in relief of starter Yaifer Perdomo. Myers (3-4) took the tough-luck loss after allowing just two runs on six hits over seven strong innings, striking out four while not walking a batter. Junior Mieses got the final six outs for Visalia to earn his third save of the season.
Winners of three of the first five games in Visalia, the Ports will go for the series win on Sunday in the series finale at Valley Strong Ballpark with first pitch at 1:00 pm.