Ports Shut Out Giants for Third Straight Win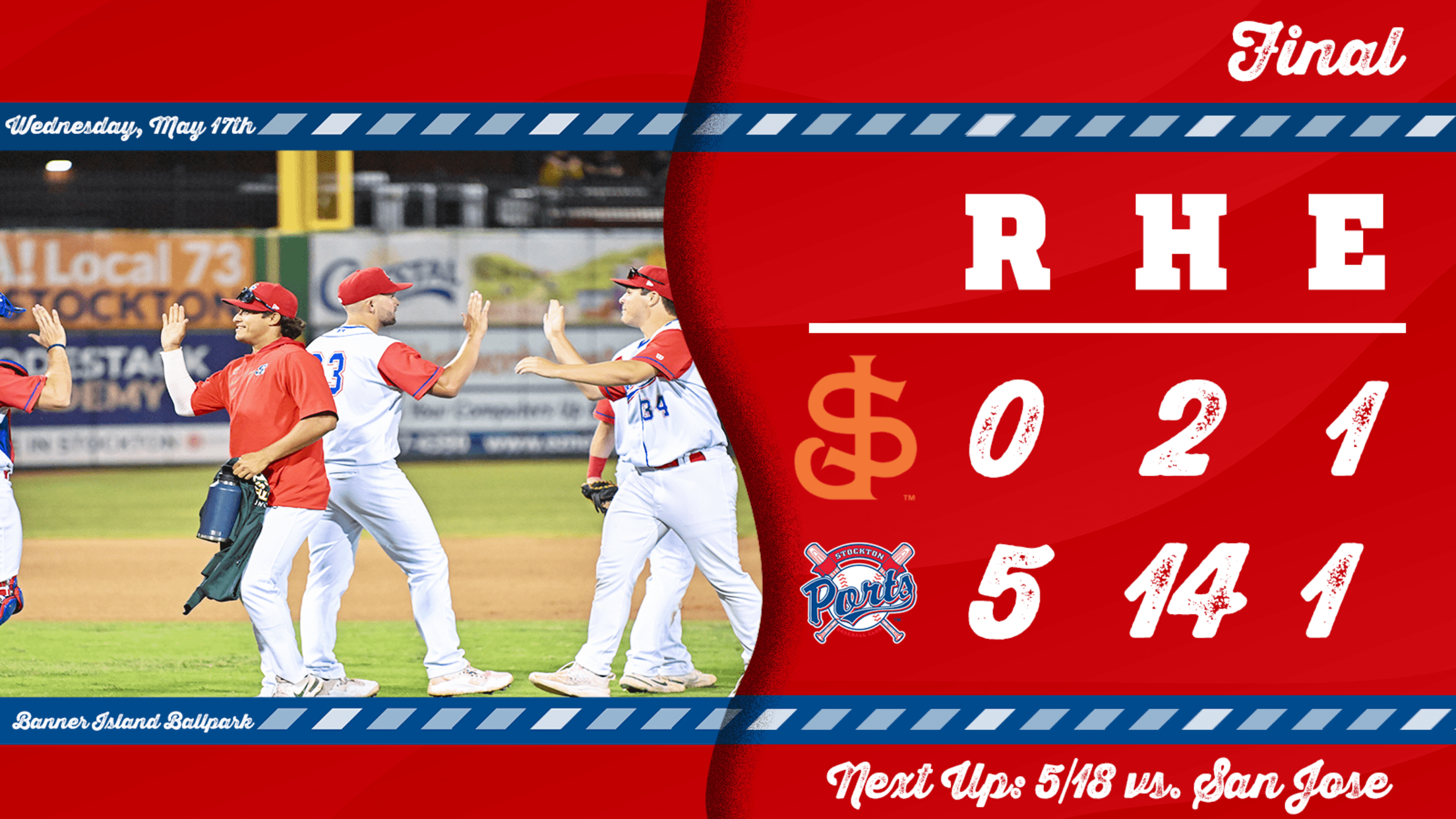 Stockton, CA – Jake Pfennigs, Garrett Irvin and Dallas Woolfolk combined to allow just two hits and faced three batters over the minimum delivering the Ports their first shutout of the season in a 5-0 win over the San Jose Giants on Wednesday night at Banner Island Ballpark. After Pfennigs
Stockton, CA – Jake Pfennigs, Garrett Irvin and Dallas Woolfolk combined to allow just two hits and faced three batters over the minimum delivering the Ports their first shutout of the season in a 5-0 win over the San Jose Giants on Wednesday night at Banner Island Ballpark.
After Pfennigs retired the Giants (22-13) in the top of the first inning, the Ports (10-25) opened the scoring in the bottom half. Seth Brown, on a rehab assignment from the Oakland A's, led off with a line drive single into right field and moved up to second on a wild pitch. Brennan Milone drove him in with a one-out single to left field to give Stockton a 1-0 lead.
Still leading 1-0 in the bottom of the fifth inning, the Ports doubled their lead. Brown singled to right field with two outs and nobody on and moved up to second base on a wild pitch. After a Brayan Buelvas drew a walk, Brennan Milone grounded a single through the right side to score Brown giving the Ports a 2-0 advantage.
Tommy Stevenson made it 3-0 with a solo homer off San Jose reliever Nomar Medina with one out in the sixth, and the Ports increased their lead again with single runs in the seventh and eighth. With one out and Cooper Uhl at second base in the seventh, Buelvas lined a double down the left field line to make it 4-0 and Jose Escorche added a two-out RBI single in the eighth to give the Ports a 5-0 lead.
The Ports' pitching staff, meanwhile, was on its game. Pfennigs got the start for Stockton and allowed just one base runner, a hit by pitch, in four innings. Irvin followed with three one-hit innings to go along with four strikeouts and Woolfolk finished the shutout working the final two innings allowing just a single to Garrett Frechette in eighth.
The Ports held a no-hitter through 6.1 innings, but Tanner O'Tremba lined a single to left field off Irvin for the Giants' first hit.
Irvin (3-1) got the win for Stockton allowing just one hit in three innings with four strikeouts in relief of Pfennigs. Giants starter Manuel Mercedes (0-1) took the loss allowing two runs on eight hits in five innings with two strikeouts.
Winners of three straight, the Ports will continue their series against the Giants with game three on Thursday night at Banner Island Ballpark with first pitch scheduled for 7:05 pm. Tickets are available at stocktonports.com.