Ports' Streak Halted by San Jose Power Surge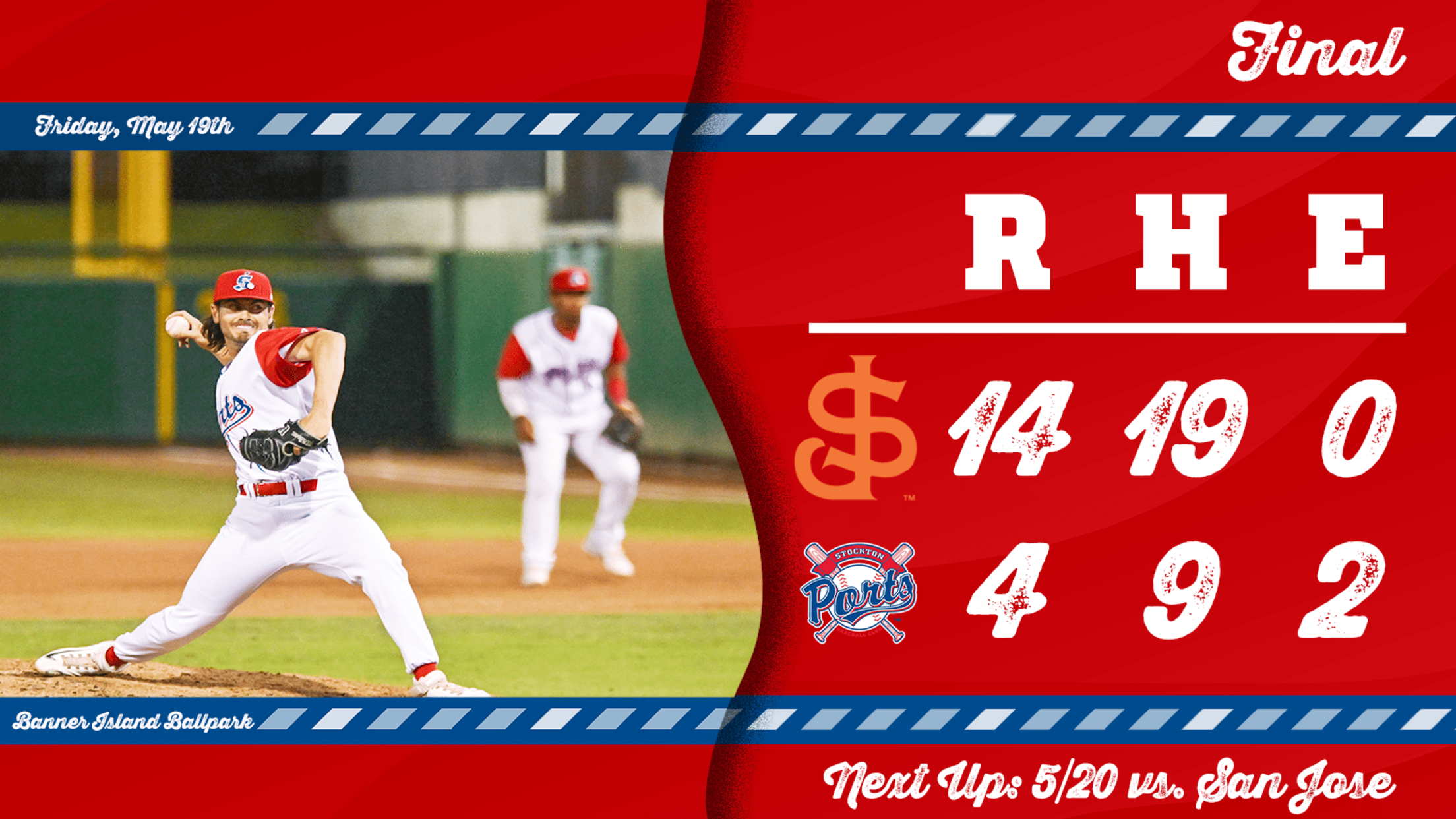 Stockton, CA – The San Jose Giants clubbed six homers and jumped out to a 9-0 lead after the second inning as the Ports saw their four-game winning streak come to an end with a 14-4 loss on Friday night at Banner Island Ballpark. The Giants (23-14) got things started
Stockton, CA – The San Jose Giants clubbed six homers and jumped out to a 9-0 lead after the second inning as the Ports saw their four-game winning streak come to an end with a 14-4 loss on Friday night at Banner Island Ballpark.
The Giants (23-14) got things started right away against Stockton starter Micah Dallas in the first inning. A double and bunt single by Carter Howell and Diego Velasquez put runners on the corners for Matt Higgins who launched a three-run homer to right field to give the Giants a 3-0 lead three hitters into the ballgame.
After the Ports went down in order, the Giants extended their lead in the top of the second. Zach Morgan led off with a single to left field and scored when the next hitter, PJ Hilson, homered to left field to make it 5-0. After an infield single by Alexander Suarez, Howell followed with a triple to left center to make it 6-0. A single by Velasquez sored Howell from third base to give the Giants a 7-0 lead and after a double play and a double by Tanner O'Tremba, Thomas Gavello lifted off for another San Jose home run, this time a two-run shot, to make it 9-0 Giants.
The Giants continued to pour it on with three runs in the fourth and one in the fifth, all coming on three longballs, to make it 13-0.
The Ports (11-26) got on the board with four runs in the bottom of the fourth inning. With runners on first and second and one out, Brayan Buelvas lined a single to left field to get the Ports on the board at 13-1. Brennan Milone followed with a walk to load the bases for Colby Thomas who singled up the middle to score two runs making it 13-3. T.J. Schofield-Sam added an RBI single to center field to score Milone to cut the San Jose lead to 13-4.
The Giants got one more run in the top of the seventh and the Ports left the bases loaded in the seventh and two on in the ninth to end the ballgame.
Giants' reliever Dylan Cumming (2-1) got the win scattering four hits over 2.1 scoreless innings with three strikeouts. Dallas (0-2) took the loss for Stockton surrendering nine runs on ten hits in 1.2 innings.
The Ports will look to get back on track with game five against San Jose on Saturday night at Banner Island Ballpark with first pitch at 7:05 pm. Tickets are available at stocktonports.com.