Shutdown Bullpen Paves Way for Ports Victory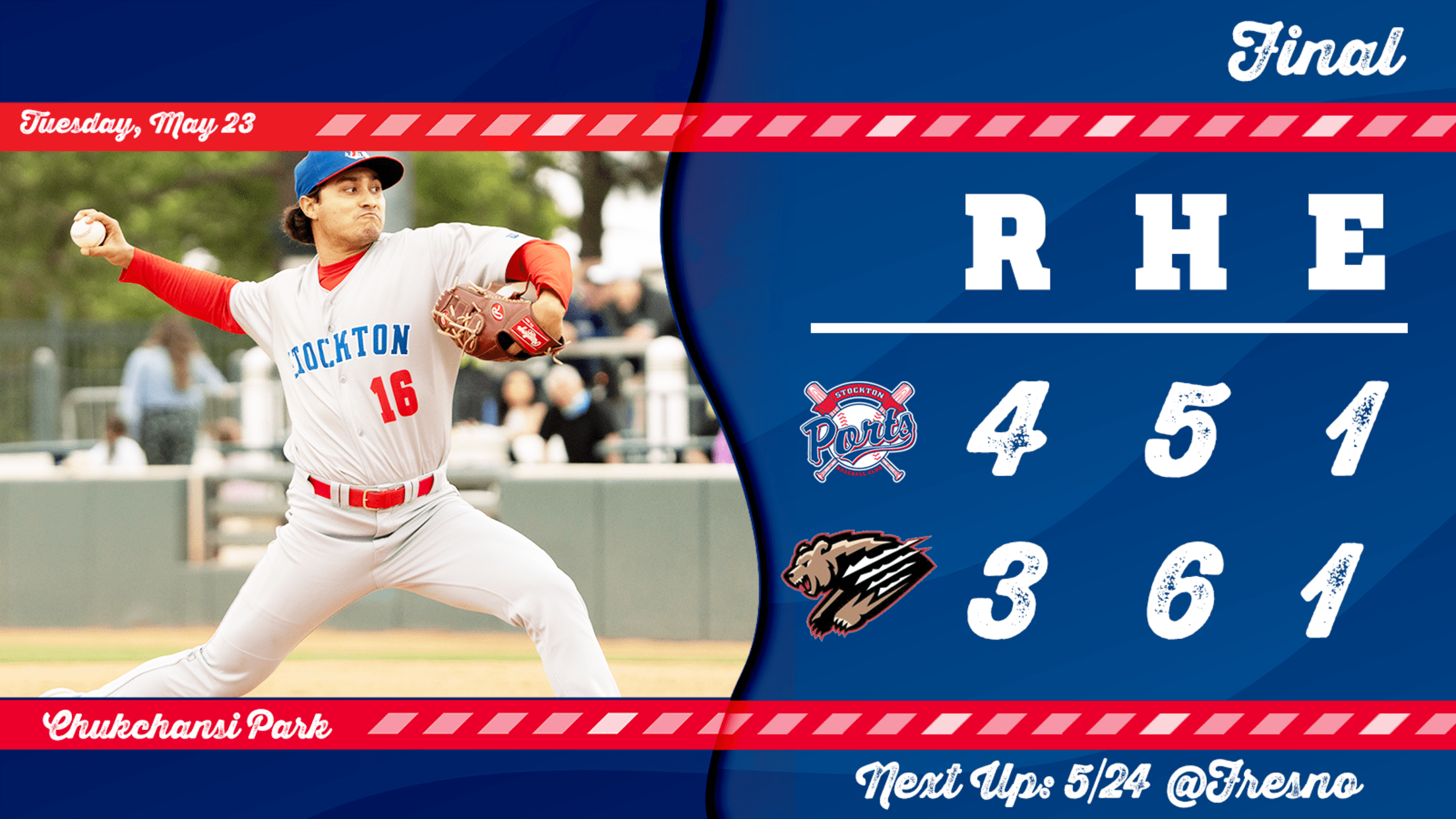 Fresno, CA – Three Stockton relievers combined to throw six innings of shutout baseball and got support from three unanswered runs after the fifth inning as the Ports defeated the Fresno Grizzlies 4-3 in the series opener on Tuesday afternoon at Chukchansi Park. The Ports (13-27) have now won six
Fresno, CA – Three Stockton relievers combined to throw six innings of shutout baseball and got support from three unanswered runs after the fifth inning as the Ports defeated the Fresno Grizzlies 4-3 in the series opener on Tuesday afternoon at Chukchansi Park.
The Ports (13-27) have now won six of their last eight games.
After Stockton went down in order in the top of the first inning, the Grizzlies (21-19) took the lead in the bottom of the first. With one out, Ports starter Wander Guante issued a walk to Bryant Betancourt and Jesus Bugarin followed with a two-run homer to right center to give the Grizzlies a 2-0 lead.
The Ports got a run back in the top of the second inning. With Tommy Stevenson at first base and two outs, Jose Escorche lined a double up the alley in left center to score Stevenson cutting the Fresno lead to 2-1.
Bryant Betancourt got Guante in the bottom of the third with another home run, this time a solo shot to make it 3-1, but the Ports' bullpen held the Grizzlies down through the middle innings. Aaron Cohn limited Fresno to just one hit over two scoreless innings in the fourth and fifth, and Carlos Guarate retired all six batters he faced in the sixth and seventh innings.
Meanwhile, the Ports' offense came back to take the lead. Luis Marinez lined a single to left field to start the top of the sixth inning and wound up at third base with nobody out after a stolen base and an error on Fresno relief pitcher Carlos Torres. Marinez scored with one out when Escorche lifted a sacrifice fly to right center to make it 3-2. In the seventh the Ports put runners on first and second with nobody out when Cooper Uhl and Colby Thomas were both hit by pitches. After advancing to second and third on a deep fly out off the bat of Brennan Milone, both scored when Henry Bolte grounded a double inside the bag at third to give the Ports their first lead of the game at 4-3.
Blaze Pontes finished the game for Stockton pitching around one-out singles in the eighth and ninth, including a double-play ball to end the ballgame.
Guarate (1-3) got the win for the Ports with two innings of perfect relief including a strikeout. Fresno reliever Davis Palermo (1-1) took the loss allowing two runs on one hit in one inning. Pontes got the final six outs for his third save of the year.
Winners of two straight, the Ports continue their series in Fresno on Wednesday night with game two of six at Chukchansi Park. First pitch is scheduled for 6:50 pm.