Syracuse Mets Ticket FAQ
Frequently Asked Questions
1. I have tickets to a game, but I can't make it due to unforeseen circumstances. Can I exchange my tickets for another game?
All of our ticket sales are final. There are no refunds or exchanges on tickets.

2. Can I place tickets on hold and pay for them later?
We cannot hold tickets without full payment.

3. What age is a child?
A child is 12 and under.

4. What age is a senior citizen?
A senior citizen is 62 and over.

5. I have a young child. Do I need to buy a ticket for him/her?
If he/she is two and under then he/she does not need a ticket as long as the child does not need his or her own seat.
6. Where is the Will-Call Window?
Tickets on will-call can now be picked up at any open ticket window.

7. Do you have a military discount?
Yes, all you need to do is show a Military ID card and that person with the ID card will receive the discount.

8. I have a voucher that says it can be exchanged for a box seat. What does this mean and how can I use it?
This coupon can be exchanged for a box seat to any regular season game this year, based on availability. It is NOT valid for playoff games or other NBT Bank Stadium events. You may exchange the coupon in person at the box office or by phone.
9. I am handicapped or have trouble getting around. Where is your handicapped seating?
The Handicapped accessible seating is located on the concourse and is general admission.
2022 GAME TICKET PRICES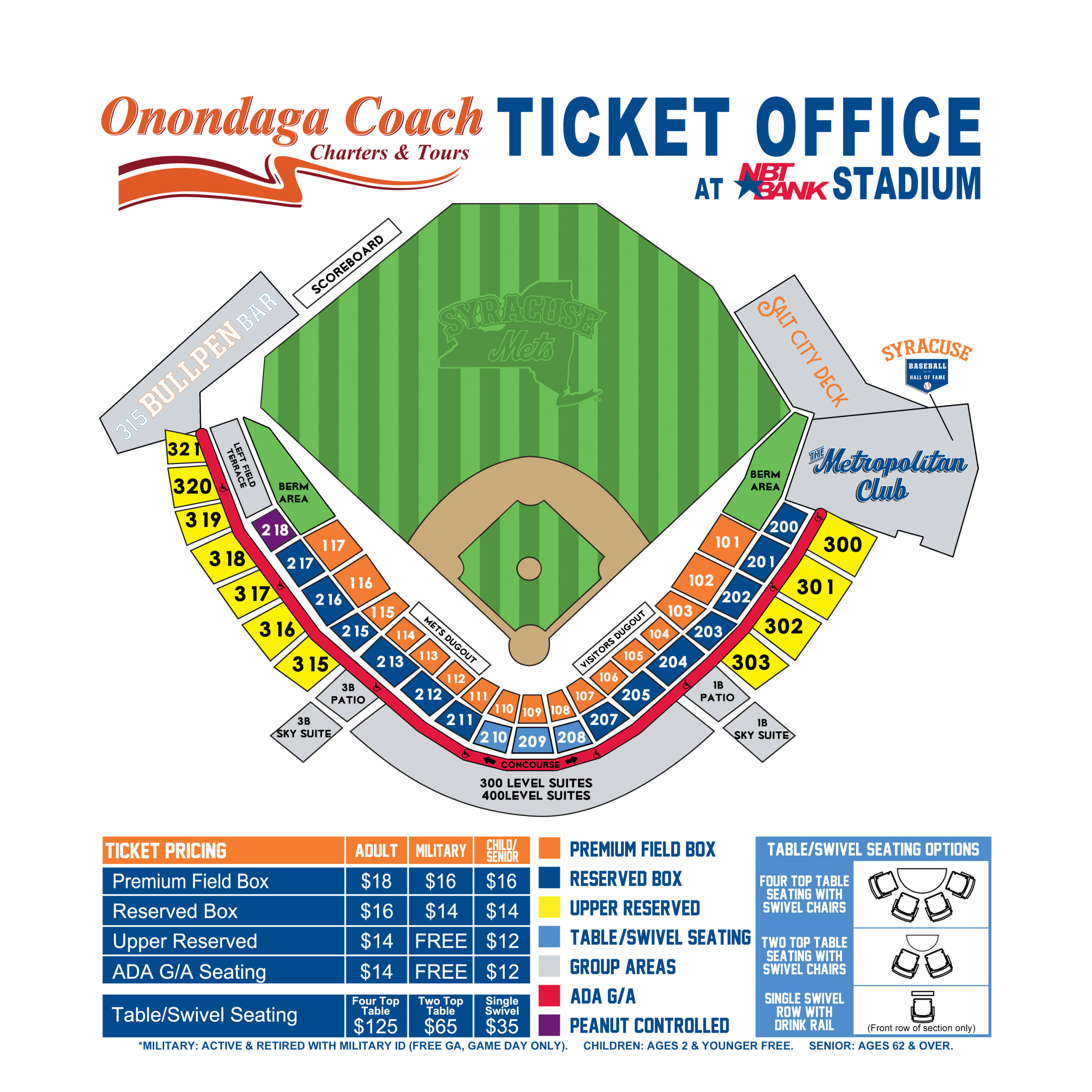 Premium Field Box (100-level, closest to the field)
Reserved Box (200-level, one section back from the field)
General Admission (300-level, upper deck) & Handicapped G/A (Concourse-level)
---
ORDERING ONLINE
There is a $2 per ticket convenience fee for online orders.
Children 2 and under do not require a ticket to enter, but need to have a ticket if they will be sitting in a seat.
To order children/senior tickets, please call us at 315-474-7833 or visit the Onondaga Coach Ticket Office.
Please note that section 218 is a peanut free section.
Delivery options are Print at Home, Ballpark Pick-up, and Mobile.
Print at Home: You will be able to print a hard copy of your ticket that will gain you entrance to the stadium.
Will Call: Your tickets will be available at any open ticket window. The tickets will be under your Last name. Photo ID is required as well as the credit card used to purchase the tickets.
Mobile: You will be sent your ticket barcodes to your mobile phone. You then present these barcodes at the gate, the ticket taker will scan them, and they will gain you entry into the stadium.
PLACING PHONE ORDERS
Call 315-474-7833 during business hours to place a phone order for tickets with a credit/debit card. There is no additional surcharge for this service. Visa, Mastercard, Discover, and American Express are accepted.
Phone orders stop two hours prior to game time.
Tickets ordered over the phone can be picked up at the Onondaga Coach Ticket Office at NBT Bank Stadium during business hours or at any ticket window the night of the game.
BUYING IN PERSON
Game Days
Onondaga Coach Ticket Office at NBT Bank Stadium, Sunday - Friday: 10 a.m. - End of the Game
Onondaga Coach Ticket Office at NBT Bank Stadium, Saturday: Noon - End of the Game
Non-Game Days
Onondaga Coach Ticket Office at NBT Bank Stadium, Monday - Friday: 10 a.m. - 5:00 p.m.
---