Coolbaugh remembered across Texas League
Tulsa coach's on-field death 10 years ago led to safety measures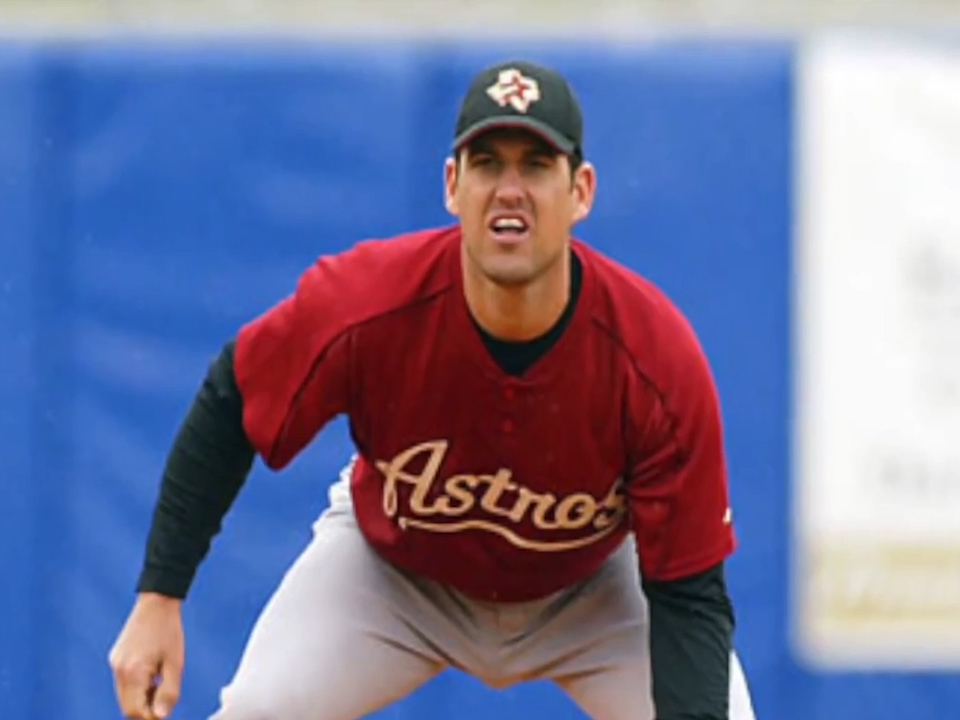 By Troy Schulte / Special to MiLB.com | July 31, 2017 10:00 AM ET
Brian Carroll will watch 70 baseball games in Tulsa this year, just like he has for the 31 seasons since being hired by the Drillers straight out of college.
When he's settled into a seat at ONEOK Field, or hustling through the concourse as the team's vice president for media and public relations, he'll look toward the field and see base coaches wearing helmets and protective netting extending 270 feet from home plate in either direction -- so far that fans sitting behind both dugouts are protected from a potential foul ball sprayed into the seats.
The safety measures have been implemented over the last 10 years and are rooted in the same event, which Carroll calls his "worst memory" of professional baseball.
"Without a doubt, the worst experience for us," Carroll said.
It's been 10 years since Tulsa catcher Tino Sanchez lined a foul down the first-base line that caught the neck of Mike Coolbaugh, who was coaching first for the Drillers in the ninth inning of a July 22, 2007 Texas League game at Dickey-Stephens Park in North Little Rock, Arkansas.
Coolbaugh, who was 35 with a wife and two young sons at the time, was taken by an ambulance to a local hospital, where he was pronounced dead of a severe brain hemorrhage, according to local newspaper reports. According to Tom Kayser, who retired earlier this year after 25 years as Texas League president, it was the third known on-field baseball death.
Carroll was in Tulsa when the team's radio broadcaster phoned him of the news.
"It was obviously heartbreaking," Carroll said.
Paul Allen, then the Arkansas Travelers' director of group sales and now its general manager, was watching from a row of seats with other employees, waiting for what had been a typical Sunday night at the park to end.
"There was no way he could move," Allen said. "It just happened so fast."
Kayser, from his San Antonio home, tried to get in touch with Scott Coolbaugh, Mike's older brother, who at the time was hitting coach for the Frisco RoughRiders. Scott is now the hitting coach for the Baltimore Orioles.
"A one-in-a-billion foul ball" is how Kayser described the source of the tragedy.
Honoring the 10-year anniversary, teams across the Texas League hosted Mike Coolbaugh Day last week. On Friday, in a game against the Travelers, the Drillers observed a moment of silence, played a tribute video and wore black arm bands in remembrance of their former coach.
"It's difficult to believe that it's been 10 years since Mike's tragic passing," Carrol said following Friday's event. "It is the Drillers' hope that Mike and his legacy are never forgotten as he perfectly represented so many of the positive and truly great things about the game of baseball."
Minor League Baseball in 2008 created the Mike Coolbaugh Award, presented annually to an individual who has shown outstanding baseball work ethic, knowledge of the game and skill in mentoring young players.
On the field, safety measures have been taken by both MLB and MiLB since the tragedy to better protect players and fans. The measures are what Carroll called the legacy of Coolbaugh, who played 17 years in the Minors and parts of two seasons in the Majors before joining the Drillers staff in 2007.
"If there is one positive that has come out of a bad situation," Carroll said, "it's made all of us more aware of the dangers of a flying baseball."
Almost immediately, coaches began wearing batting helmets, and a rule was implemented before the start of the 2008 season requiring the protective gear across all levels.
That safety measure, had it been in place, would not have saved Coolbaugh, who was hit in the neck, but both Carroll and Allen remember the change being accepted without argument.
In the 10 years since, teams at all levels have begun implementing even more safety measures to ensure those playing and watching the games are safe. Rules are now in place restricting the base coaches to the coach's box until after a ball is hit, Kayser noted.
In 2016, Major League Baseball made a formal recommendation that the nets behind home plate extend at least 140 feet in both directions. The Travelers' net at Dickey-Stephens Park was in compliance, Allen said, but before this year the team spent $36,000 for a new net that extended to the ends of each dugout.
The Drillers' net was extended that far before this year, too, Carroll said.
The measure has created a type of dance for Minor League Baseball executives, who want to keep the intimacy some fans desire but also protect them from potentially dangerous batted balls.
"A lot of people who are baseball purists are down behind the dugouts because there is no net," Allen said. "They don't want it. They say it blurs their eyes, or they have a hard time seeing through it."
But after a few weeks, the complaints passed, and Allen feels better about a larger section of fans being protected.
"You can't control everything," Carroll said. "And that applies to no matter what your'e doing."
But the night of July 22, 2007 won't ever be forgotten in North Little Rock, Tulsa or the Texas League at large.
Whenever Allen is giving a tour of the park in North Little Rock, he makes sure to enter the team's Hall of Fame on the concourse behind home plate. He takes guests through the glass doors and to a back corner, and he points to a wall decorated with old team photos. He picks out one in a top corner, which features three photos of Coolbaugh, two while he's with the Colorado Rockies and one with the Kansas City Royals.
"You don't want to forget it, because there is a meaning behind his life," Allen said. "So, I always kind of stop and make sure I mention him, and what it has done to change the game in a sense."
Troy Schulte is a contributor to MiLB.com. This story was not subject to the approval of the National Association of Professional Baseball Leagues or its clubs.
View More