Texas notes: Muncy keeping clear mind
Midland first baseman not letting outside forces muddle his approach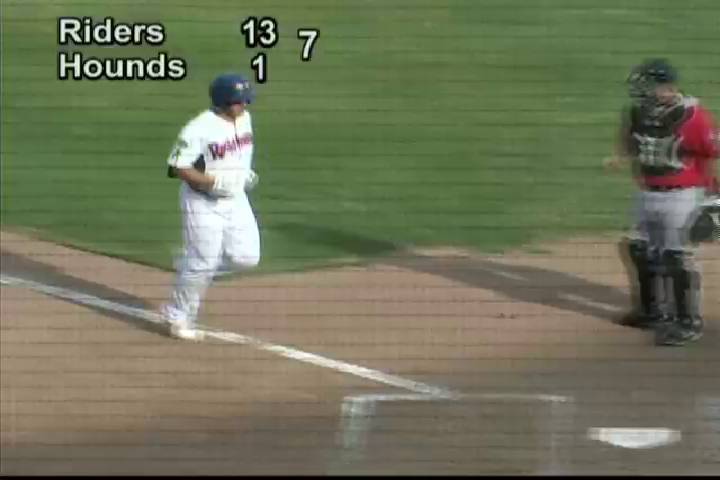 By Todd Traub / Special to MiLB.com | April 29, 2014 10:00 AM ET
For awhile last season, it looked like the fate of Max Muncy's career as a power hitter was up in the air.
When the Oakland A's first-base prospect saw his first bid for a Double-A homer get knocked down in the fierce Midland wind last season, Muncy was sure he was going to have to adapt his game to his new environment.
"I thought it was a home run, and it was 50 feet short of the wall," said Muncy, who returned to Midland at the start of this season after finishing up with the RockHounds in 2013. "It just caught up in the wind and right away I was a little shocked. So I started trying to put the ball on the ground, go the other way and do stuff that wasn't really me."
After batting .285 with 21 home runs in the California League at Stockton, Muncy scuffled early in his 47 games with the RockHounds, though he improved steadily, hitting .293 in August to finish his first Double-A stint with a .250 average and four homers.
Muncy admitted the ballpark in Class A Advanced Stockton, favorable to left-handed hitters, gave him a boost as he finished with an organization-best 25 long balls and 100 RBIs, but he's learned not to let the wind in Texas, or any other challenges, get in his head this season.
"I've already hit some balls that have gotten caught up in the wind and that's just how it's going to be in this league," he said. "The key is to not let it affect who you are and how your swing is. If you do that, then you're already going to be losing."
Muncy, hitting .288 with one homer so far, prefers to focus on what worked in 2013, like the adjustment in his swing that he said reduced topspin to his pull side while increasing backspin, helping him to put up last year's numbers.
"Power has always been there," said Muncy, listed at six-foot, 190 pounds. "It was just getting the ball to travel better. When it has topspin, it doesn't go very far."
Cleveland was interested in Muncy, 23, as a catcher out of high school in Keller, Texas. But Muncy said he wasn't prepared to play catcher full time -- he only played there his junior year because of injuries to the starter -- nor was he ready for the rigors of pro ball, so he opted to go to Baylor.
Muncy became a two-time All-Big 12 selection before the A's drafted him in the fifth round in 2012 and handed him a $240,000 bonus.
"Out of high school, there was never really going to be a chance of me signing to go pro unless it was a ridiculous amount of money, which wasn't going to happen," Muncy said. "It just felt like a better situation going to Baylor."
Muncy worked out at third some in the spring and is open to a position switch -- especially given the number of first basemen up and down the A's organization.
"You know, first base, third base -- it would be nice to add another position there," Muncy said.
In the meantime, he takes comfort in the fact that he's not the only player to see a few long balls knocked down in the Midland wind.
"You can talk to anybody on the team -- when that wind is blowing in at Midland, there's not a human being on Earth who can hit it through that," he said. "It's a strong wind."
In brief
Earning it: Tulsa starter Dan Winkler, last year's California League Pitcher of the Year, gave up just one earned run against Northwest Arkansas on Sunday and actually saw his ERA increase to 0.90. That's because Winkler, winner of his last three starts, entered the game with an 0.75 ERA.
Mr. Consistent: Frisco's Ryan Rua extended his hitting streak to nine games Sunday with a ninth-inning home run that lifted the RoughRiders to a 4-3 win over the Corpus Christi Hooks, who have suffered eight one-run losses this year.
One in 2 million: The Northwest Arkansas Naturals welcomed their two millionth fan when Ron Mooney visited Arvest Ballpark on Sunday. The Naturals, who greeted their millionth fan in 2010, rewarded Mooney with a prize package that included season tickets and parking, a chance to take batting practice with the team and throw out a first pitch, four tickets to a Kansas City Royals game and a catered shindig for 20 in the Naturals owners' suite.
Todd Traub is a contributor to MiLB.com. This story was not subject to the approval of the National Association of Professional Baseball Leagues or its clubs.
View More