Midland's Rosa plates career-best seven runs
Athletics' infield prospect smashes 10th homer, two doubles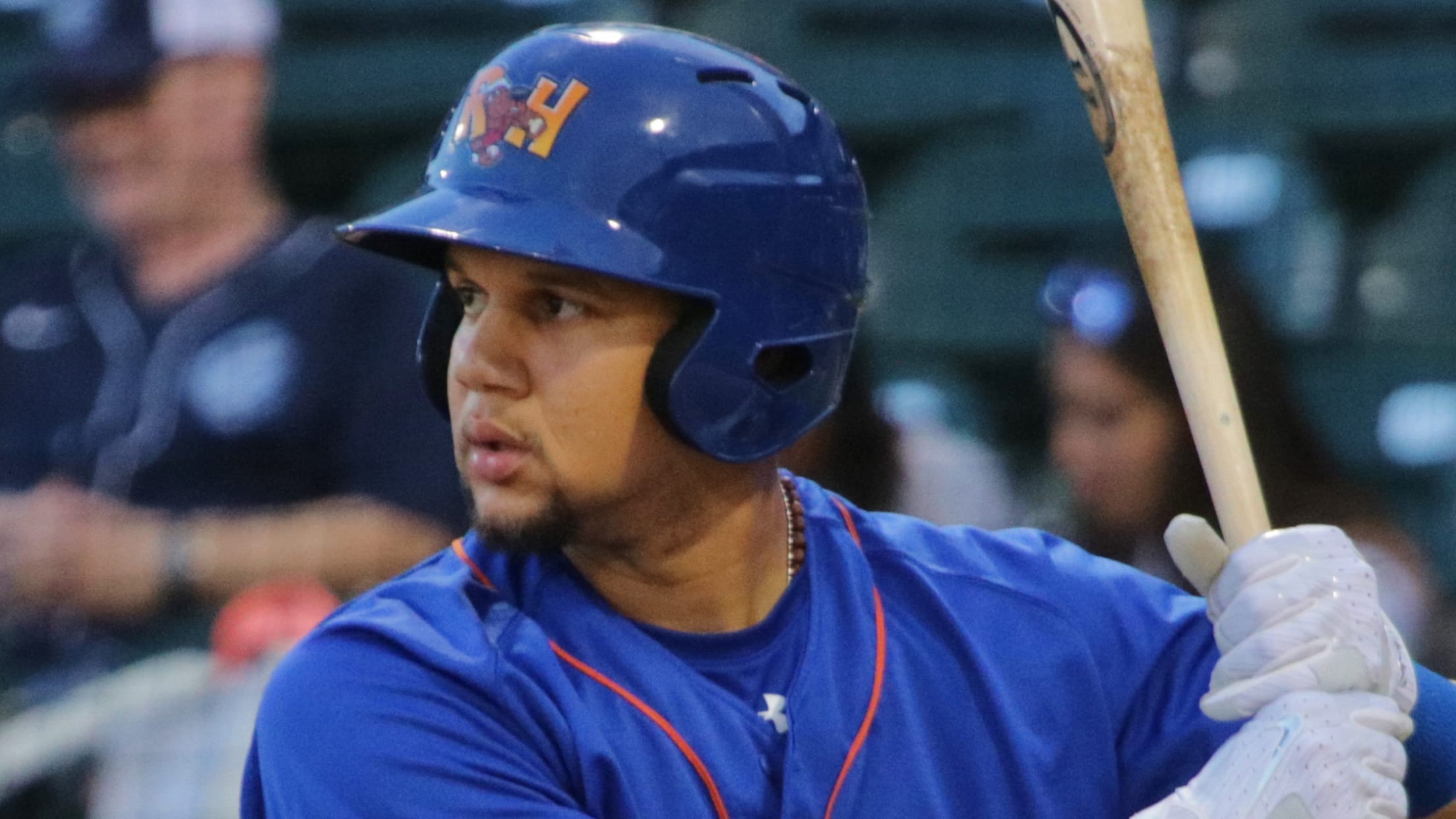 Visoergy Rosa needs seven RBIs to match his total in 127 games with Double-A Midland last season. (Tammy Tucker/MiLB.com)
Viosergy Rosa was already in a good mood Saturday, knowing his mother was in the stands watching him, and whatever he did during the game would be "icing on the cake."It appears the A's first baseman has quite a sweet tooth.Rosa drove in a career-high seven runs with a homer
Viosergy Rosa was already in a good mood Saturday, knowing his mother was in the stands watching him, and whatever he did during the game would be "icing on the cake."
It appears the A's first baseman has quite a sweet tooth.
Rosa drove in a career-high seven runs with a homer and two doubles to propel Double-A Midland to a 12-8 win over Corpus Christi at Security Bank Ballpark.
Gameday box score
Rosa had driven in five runs three times during his seven-year career, most recently on May 26 when he homered twice against Northwest Arkansas. He believes this game tops them all.
"I think this one's better because my mom got to see it -- she got to see it live," the Bronx, New York, native said. "It's always great to have family come in here to west Texas, so I 100 percent say today. That game where I had five RBIs, we didn't win, so it's even better today. We got the 'W' today, and that's all that really matters."
The 27-year-old has a .257/337/.445 slash line with 10 homers and a Texas League-leading 51 RBIs, earning him a spot on the All-Star team. Rosa credits a teammate who moved up to Triple-A Nashville for helping refine his swing.
"I've been working with Jermaine Curtis," he said. "And Mac [hitting coach Brian McArn] has been harping on it to me the whole year. I guess just different words and it's just clicked. I'm not trying to do too much, be within myself -- it all boils down to that. It's been different words and it's been helping me out.
"The last couple of games I've been hitting balls right at guys, they've been hard contact, which you can't complain about that. Now, I'm finding some green out there."
With two outs in the first and runners on first and second, Rosa smacked Alex Winkelman's third offering into left field for his first double, tying the score, 2-2.
In the second, with Beau Taylor and Tyler Marincov on and two outs, the Odessa College product faced No. 23 Astros prospect Riley Ferrell. After fouling off the first pitch, Rosa deposited the second one over the right-field wall for a three-run homer.
"He threw me the heater in that I fouled -- he jammed me," he said. "I was just like, 'OK,' and I stepped out, took a deep breath and was thinking, 'Don't try to do too much, don't try and hit a 500-foot home run.' But I got a good pitch to hit and made contact with it."
After he flied out and grounded out in his next two at-bats, Rosa lined left-hander Sean Stutzman's 2-0 pitch into center in the eighth for another two-run double.
"Prior to that at-bat, I grounded out up the middle with them in the shift," he said. "I got jammed, but prior to that, I had a 3-1 count, and I swung at a ball, trying to do too much. But it's all about the process and I went into my last at-bat, and -- no matter what -- I wasn't going to try to do too much. I would just catch it where I could catch it at. I got rewarded on that."
This month, Rosa has hit safely in 11 of 16 games with seven extra-base hits. The success stems from extra work in the batting cage, where he works on seeing high-velocity pitches.
"I took it a step further with Brian McArn and do it up close and he would feed it to me," he said. "I don't have much time, all I can do is react and not try to kill it. Just try to square it up and go from there."
B.J. Boyd had four singles, scored a run and stole a base, while No. 10 Oakland prospectYairo Muñoz and Marincov each collected two hits and two RBIs for Midland.
Jon Singleton blasted his 11th homer and drove in three runs, while No. 27 Astros prospect Jason Martin and Drew Ferguson finished with three hits apiece for Corpus Christi.
Andrew Battifarano is a contributor to MiLB.com. Follow him on Twitter, @AndrewAtBatt.