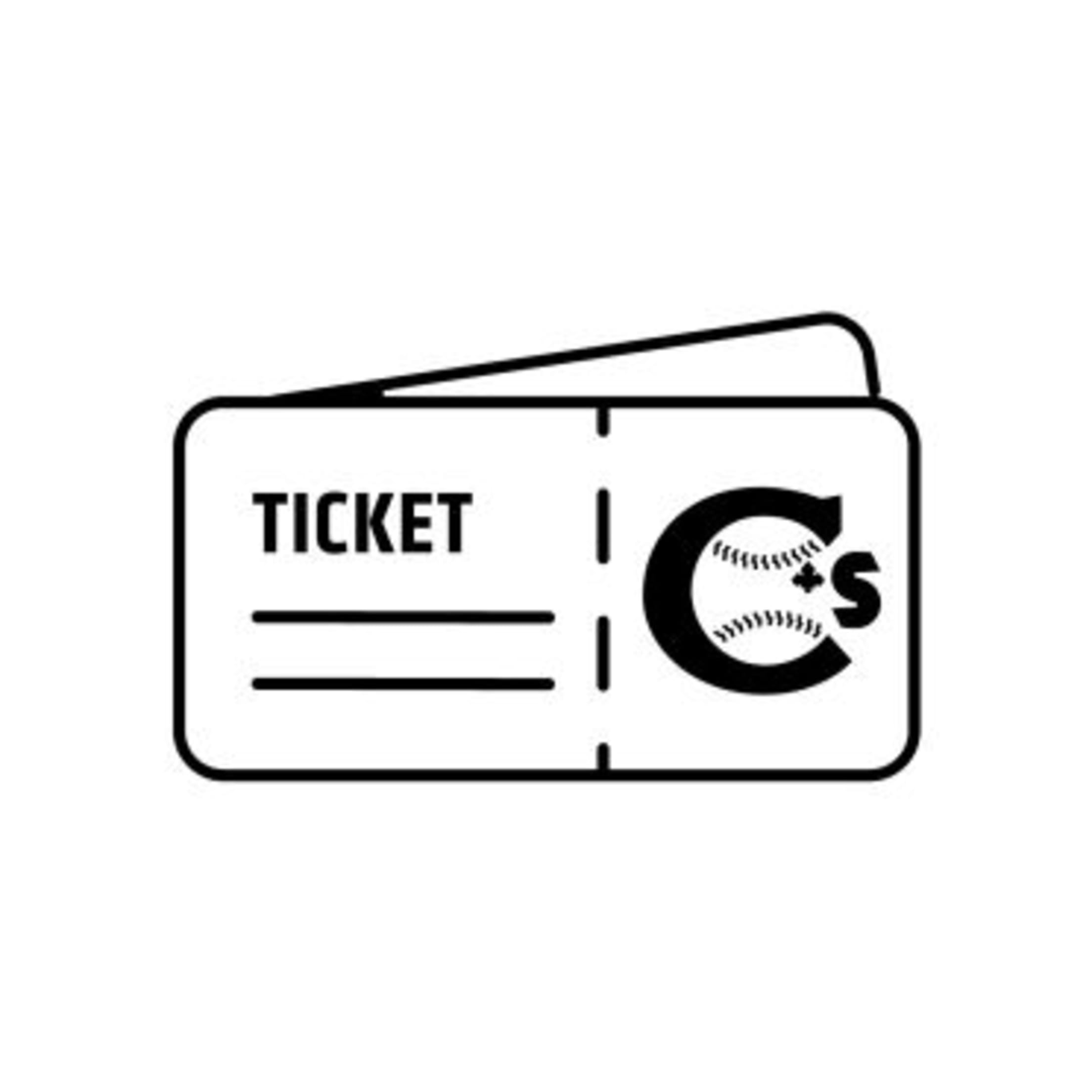 Ticketing & Retail
Digital Tickets Recommended -- All tickets are digital and available via My C's Ticket Account. Tickets sold on game day at the Box Office can either be emailed or printed. For fans that do not have access to a smart phone or a printer, hard copy tickets will be available at the Box Office, please have appropriate Photo ID to confirm the name of the tickets.
Cashless transactions are recommended: debit card and credit card will be accepted at all points of sale. Cash transactions will be available on the main interior concourse.
The Nat Bailey Stadium box office is open on game days starting at 9:30am through to the conclusion of the evening's game, as well as non-game days from 9:30am to 5pm Monday to Friday and 10am to 3pm Saturdays
Online ordering and online ticket management are avaliable to fans 24/7 by logging into your My C's Ticket Account.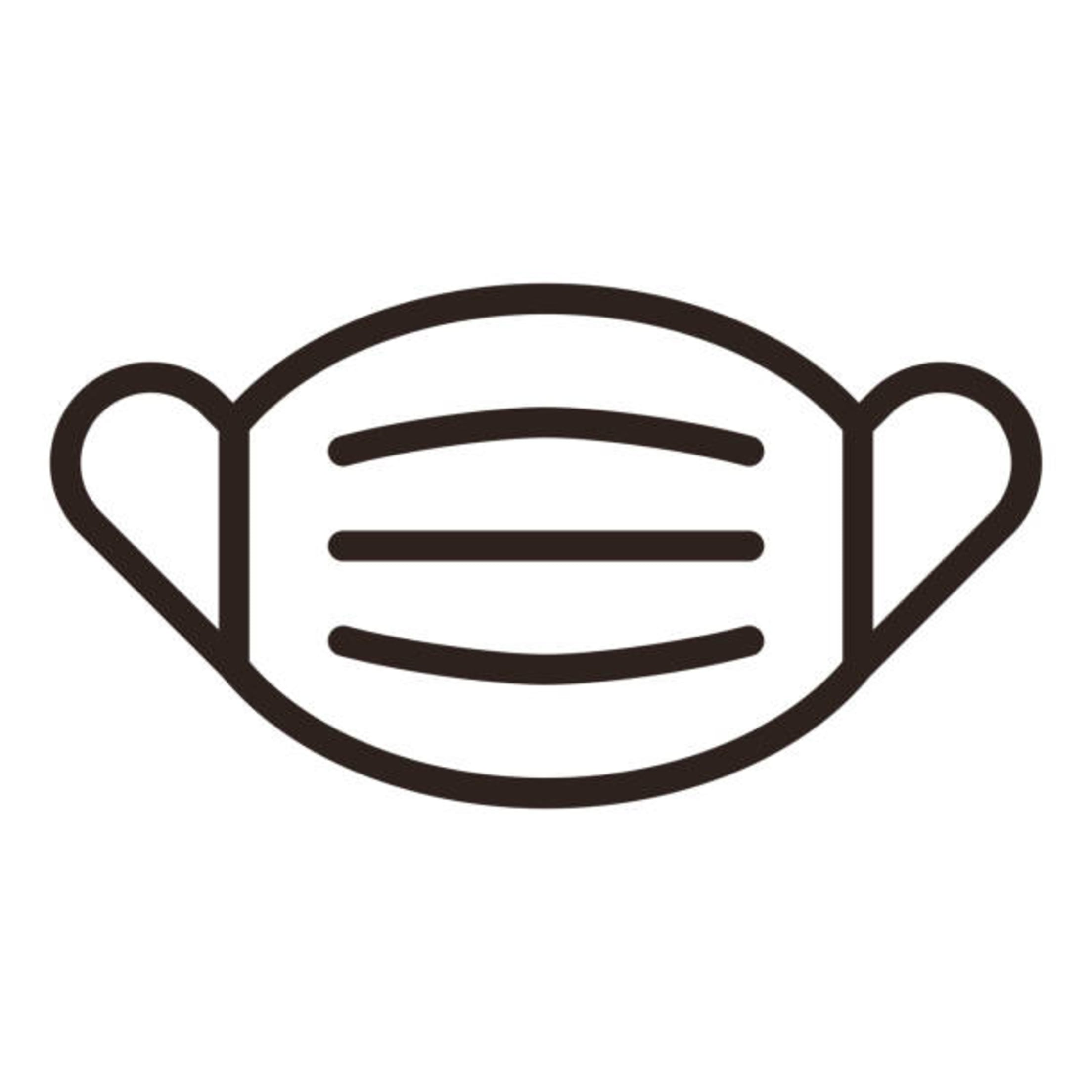 Fan Safety Measures
If you feel sick, stay home. Some of the known symptoms of COVID-19, include the following: fever or chills, cough, shortness of breath or difficulty breathing, headache, sore throat, and loss of taste or smell.
Frequent hand washing with soap and water or hand sanitizer, which will be available through the ballpark.
The Vancouver Canadians will be in compliance with all healthy and safety protocols for our games that are mandated by the provincial government and public health officials.
The Vancouver Canadians will require all employees to be in compliance with provincial government mandated health and safety protocols, including vaccination and mask protocols.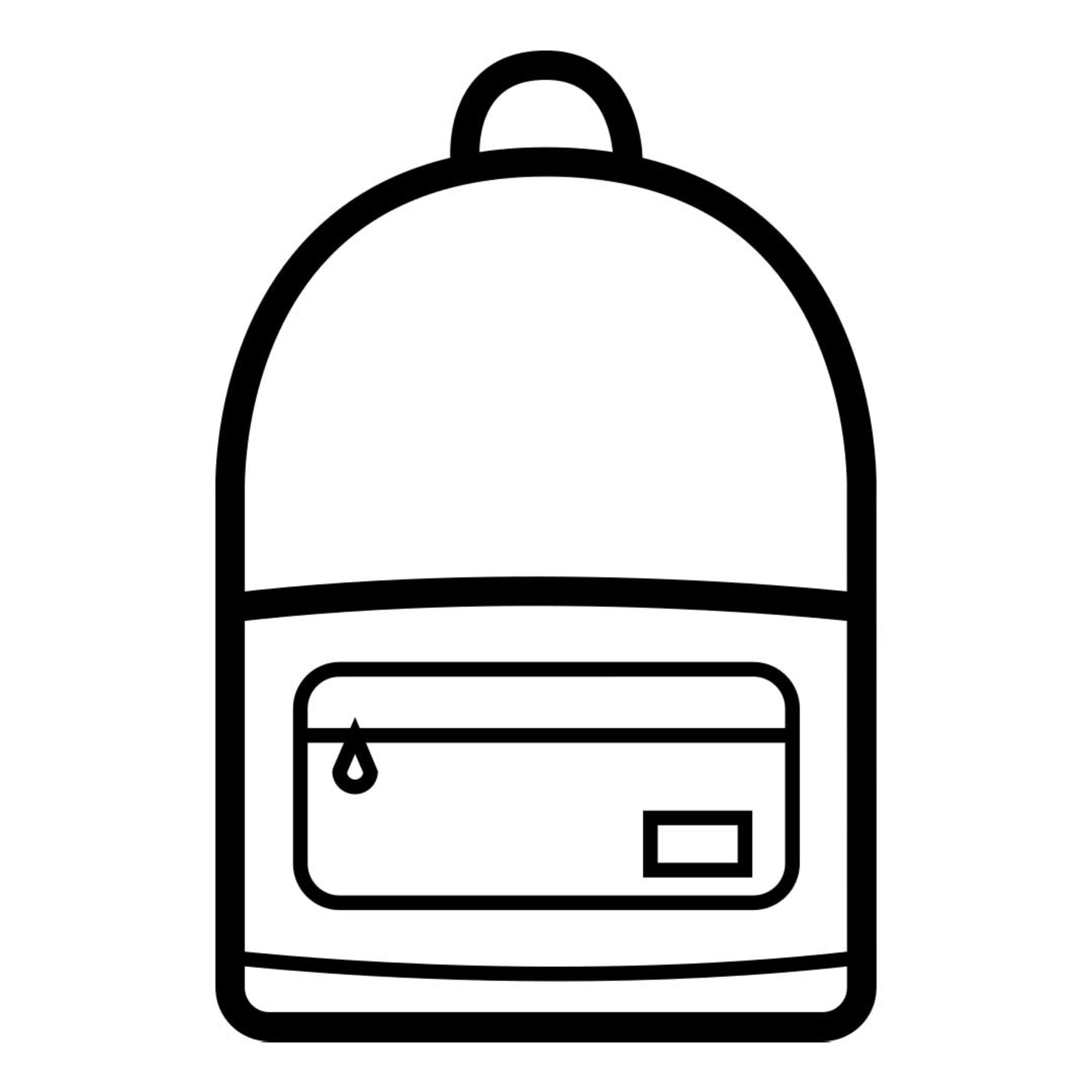 Bag Policy & Other Stadium Policies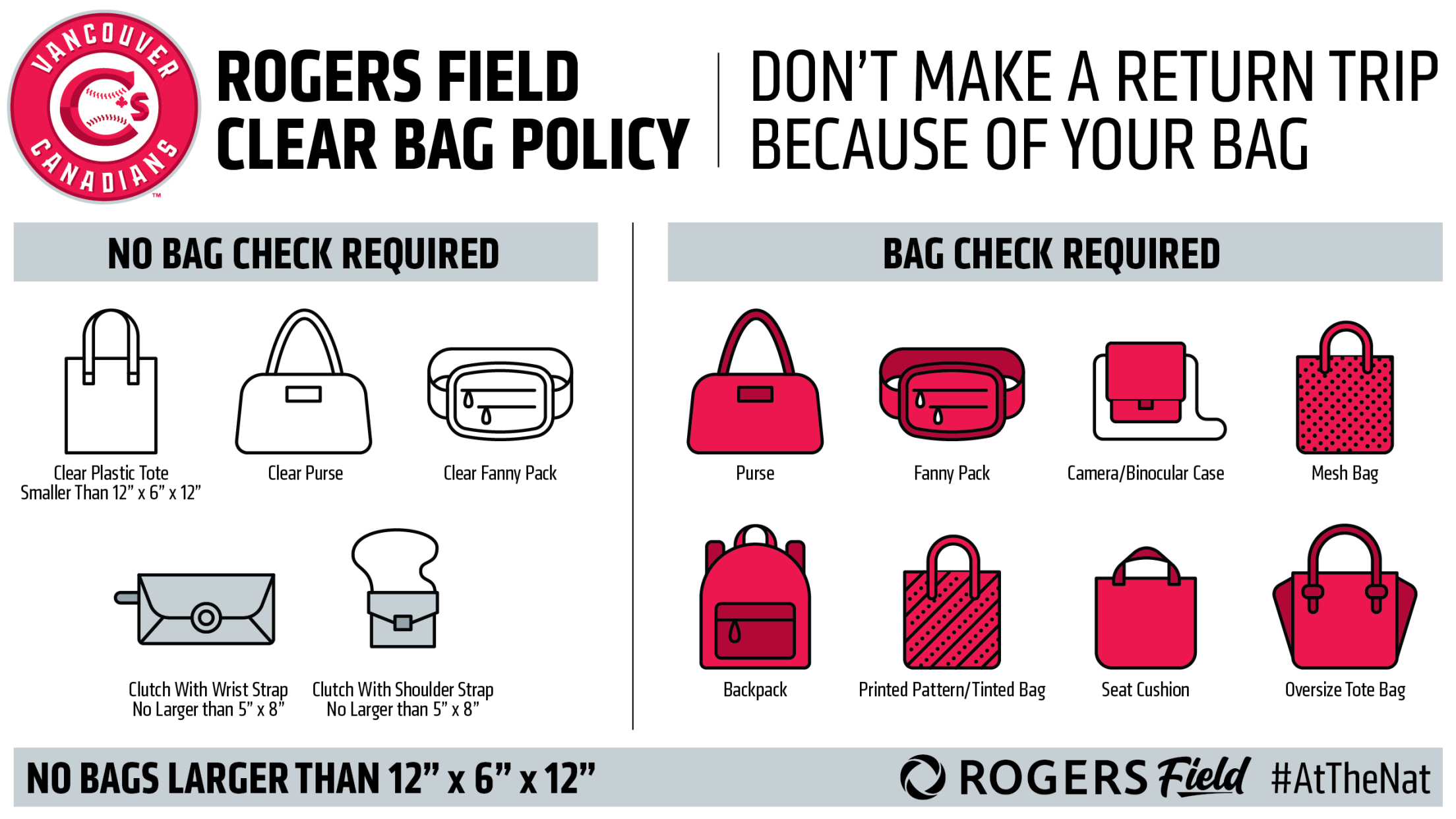 The health and safety of our fans, employees and players is the Vancouver Canadians top priority. The updated bag policy will speed up entry to the ballpark and minimize staff-to-fan cross contamination.
Diaper bags are permitted at Nat Bailey Stadium, provided they can fit under your seat.
Security must be able to see inside and identify items to the bottom of the bag. Backpacks, multi-compartment bags, duffle bags and purses larger than 12" x 6" x 12" are not permitted. Exceptions will be made for medically necessary items or single compartment diaper bags (child must be present).
Entry into the ballpark will be available at all entrances with bag checks available at all gates for bags that are not clear. Bag that are smaller than 12" x 6" x 12" and are not clear, will require a bag check.
Strollers - Due to limited space our stroller storage has changed. Fans needing to check their strollers can do so at stroller check located next to the Lafarge Children's Play Area next to the third base entrance. All guests needing to check their stroller must enter through the third base gate across from Ontario St.
Fan Code of Conduct
In order to provide a welcoming experience for all, the Vancouver Canadians have implemented a Fan Code of Conduct. Out of respect for fellow guests, players, coaches, and ballpark staff, all guests are prohibited from:
Trespassing on the playing field at any time;
Interfering with baseballs that are in play;
Throwing or tossing objects;
Using foul, obscene or derogatory language (see below) or gestures;
Misusing or overconsuming alcohol, including, underage consumption;
Behaving in a manner that is disruptive, unruly, or abusive;
Accessing areas of the ballpark without a proper ticket, pass, or credential;
Misusing tickets, passes, or credentials in any way
Bringing prohibited items into the ballpark. For a complete list of prohibited items, click here.
Derogatory language is defined as offensive language concerning a person's race, ethnicity, gender, religion, disability, age, sexual orientation, or national origin, and anyone using such language is subject to automatic ejection from the ballpark.
Violations of the Fan Code of Conduct will not be tolerated and may lead to ejection from the ballpark, a ban on attending future games, or other consequences. Guests who are found to have used derogatory language will be ejected from the ballpark.
Guests are encouraged to report violations of the Fan Code of Conduct to the nearest ballpark staff member. This can be done in person, at Guest Services, directly with Ballpark Security or by emailing [email protected] or messaging @vancanadians on Facebook or Twitter.
In and Out Policy
Re-entry will be permitted at first and third base gates. Fans will be given a hand stamp and must show their ticket and stamp upon re-entry.
Water Bottles and Fountains
Sealed, clear plastic water bottles up to 32oz, baby bottles, beverages related to medical needs, and unopened, soft-sided single serve containers like juice boxes are permitted.
At this time, all water fountains are all available for refills.
Prohibited Items
The following items are not permitted at Nat Bailey Stadium
Outside Food or Drink (other than items for unique dietary needs)
Weapons, alcohol and/or illegal drugs
Visible intoxication, impairment from or possession of illegal substances.
Any tobacco products, including e-cigarettes & vaporizers
Animals (except those that assist people with disabilities)
Obscene or indecent clothing
Hard sided coolers or ice chests
Large flags, banners or signs
Video or movie cameras
Fireworks, whistles or brooms
Laser pens/pointers
Stools or folding chairs
Anything that can be used as a projectile or deemed dangerous
Containers larger than 16 x 16 x 8 inches
Beach balls and other inflatables
Glass bottles
Fireworks
Firearms or other weapons (e.g., knives)
Laser devices and pointers
Skateboards and rollerblades
Toy guns and knives (including water guns)
Sticks and clubs
Unmanned aerial vehicles.