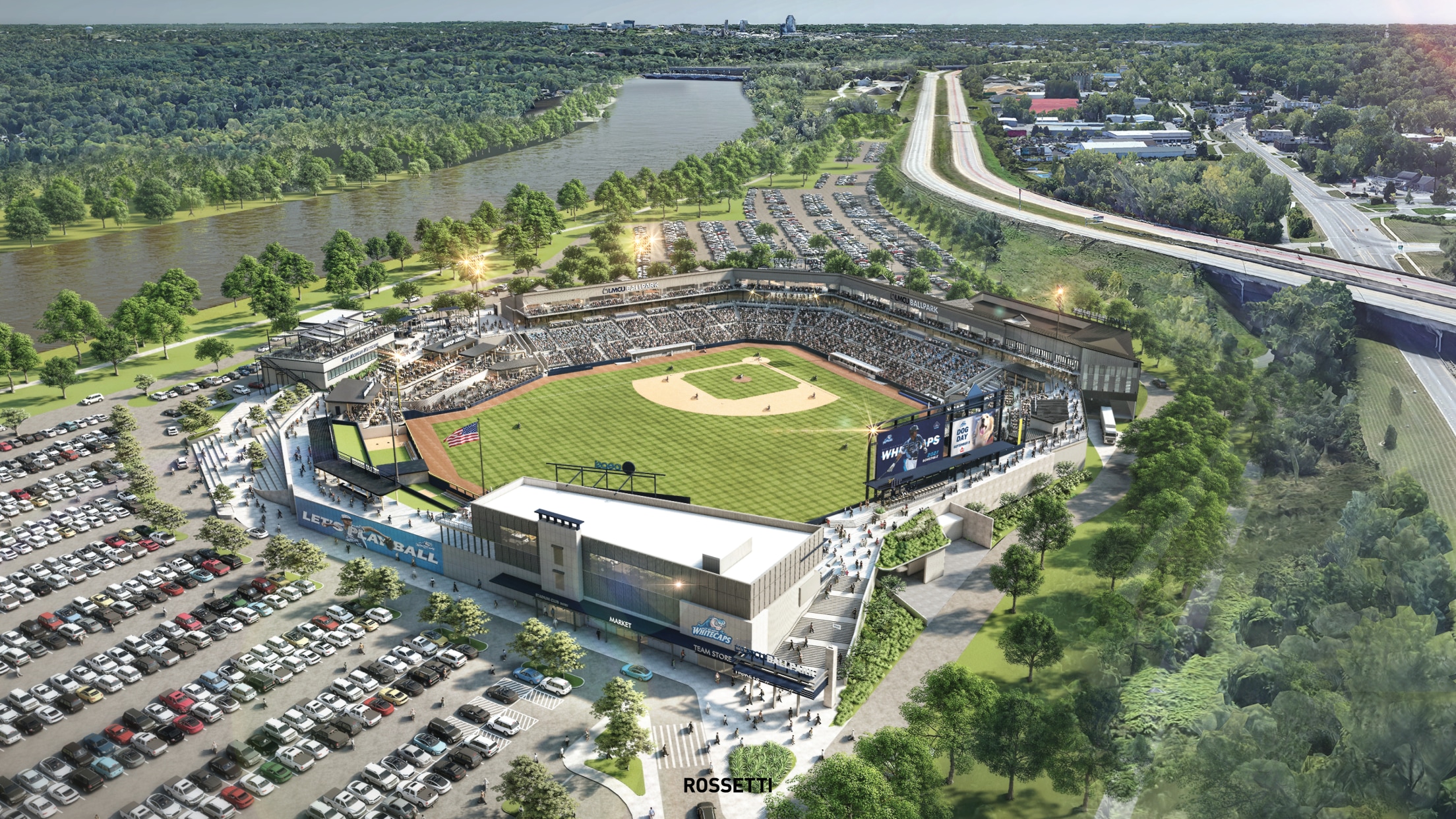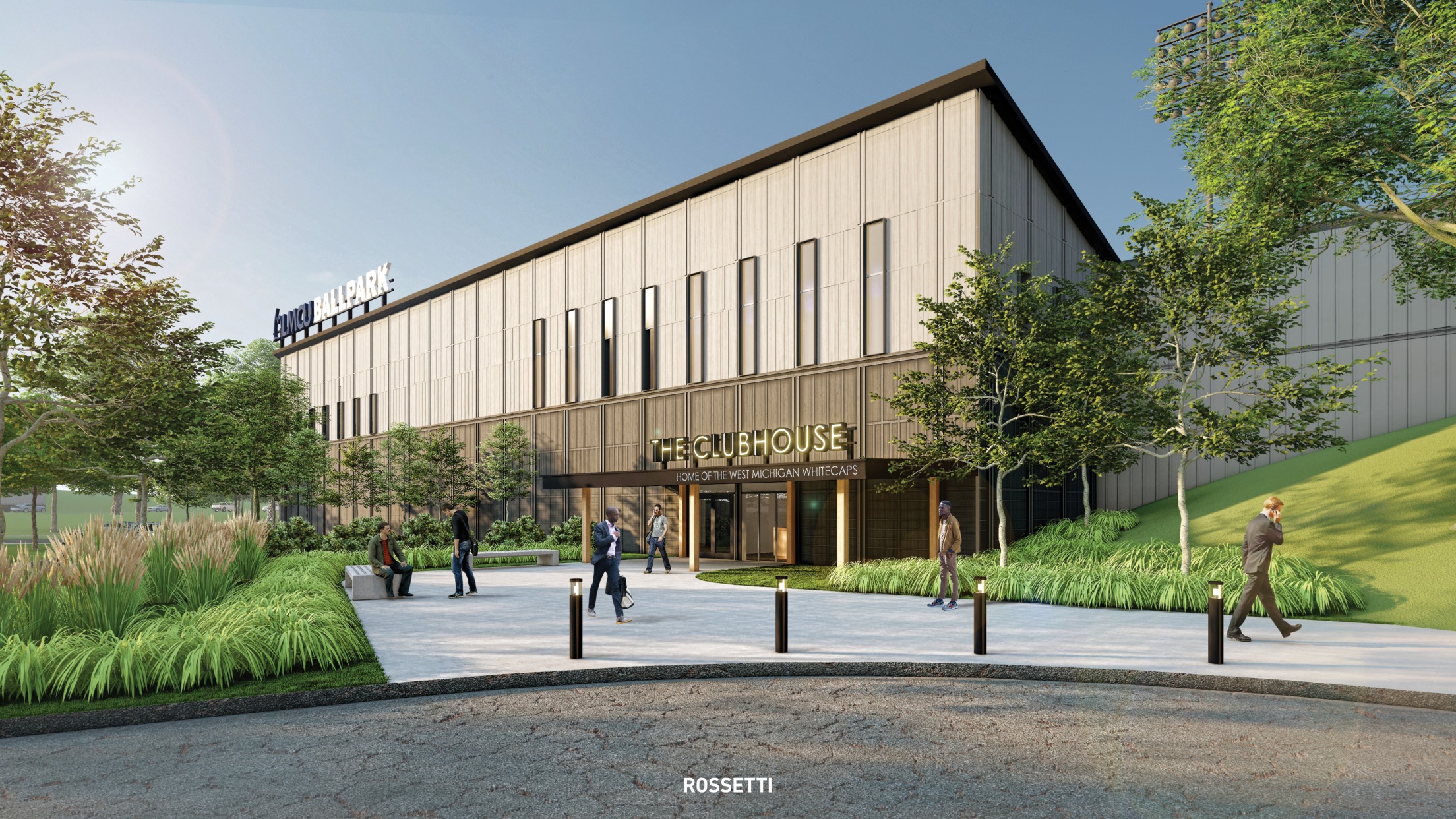 For 30 years, LMCU Ballpark has hosted countless milestones and events that have left a lasting impression on the West Michigan community and the game of baseball. The home of the West Michigan Whitecaps has hosted more than 11 million fans, sent dozens of players to the Detroit Tigers, earned six Midwest League championships, and created hundreds of jobs to help drive the local economy.
Today, Whitecaps leadership announced that they are doubling down and embarking on a multi-year project that will reinvest in the next 30 years of Whitecaps baseball by reimagining what LMCU Ballpark can be for baseball, the community, and the local entertainment landscape.
Whitecaps management has worked with Detroit-based architecture firm ROSSETTI, a worldwide leader in the design of sports and entertainment facilities, for more than a year to develop plans to modernize LMCU Ballpark and cement it as a state-of-the-art facility that will entertain and embrace new generations of families, fans and players for years to come. West Michigan-based Erhardt Construction is the general contractor, and Progressive AE is assisting with several aspects of the project.
Joe Chamberlin, Whitecaps CEO and Managing Partner, said the construction project will ensure that LMCU Ballpark remains one of the best facilities in the nation.
"This ballpark is full of history, championships, and memories for so many West Michigan families, including my own," said Chamberlin. "Our primary objective in leading this franchise has always been to ensure that we are growing our fan base and that we are preparing to meet the needs of the next generation of Whitecaps fans, just as we have done for fans over the last 30 years. Once complete, this project will deliver the venue that the "best minor league sports market in the country" deserves and will ensure that LMCU Ballpark remains a top tier facility, both locally and nationally, for Whitecaps games, concerts, and special events for decades to come."
The project will be divided into phases, with Phase 1 construction work beginning in just a few months to be completed prior to Opening Day 2024. All phases of the project are expected to be fully completed in roughly five years, based on baseball schedules, construction timelines and securing needed support and required approvals for future phases from Plainfield Township. LMCU Ballpark is one of a small number of privately financed Minor League stadiums in the country. As such, Phase 1 and all future phases will rely on significant private investment along with targeted public support to reach completion.
"Bringing all phases of this project to completion is going to be a heavy lift for our organization and ownership group," Chamberlin said. "We are incredibly confident that our track record of success will help us secure the community stakeholder support we will need from the township and other partners to make all future phases of this reimagine a reality for the West Michigan community."
When all project elements are complete, the construction phases are designed so that the final product offers a cohesive look, as if all phases were completed together. ROSSETTI took inspiration for the overall design from familiar lakeshore and beach town mainstays such as boardwalks, dune and beach grass, exposed beams, and outdoor social gathering spaces.

Phase 1 work will begin in the spring of 2023 and will be completed prior to the Whitecaps' 2024 season. This phase focuses on player-facing improvements, which are driven by facility standard requirements set by Major League Baseball, and group hospitality experiences. It includes industry-leading player amenities to better develop the next generation of Detroit Tigers, completely overhauling the player experience for future Whitecaps. Player-facing improvements include both the home and visitor clubhouses and the playing surface, in addition to the stadium lighting upgrade that was completed last fall.
The third base side visitors' clubhouse will be completely rebuilt and will become the home clubhouse, as the Whitecaps and visiting teams switch sides. The new home clubhouse will offer enhanced player spaces, larger weight rooms and training facilities, dedicated space for female coaching staff, and a state-of-the-art batting tunnel attached to the home clubhouse.
The grass and infield playing surface will be fully replaced, including the drainage system. Bullpens will be moved behind the right field wall, and the outfield dimensions will be reconfigured to closely match the angles players will see when they reach the Major Leagues.
Stadium lights were upgraded last fall to brighter, precisely focused LED lights with less glare and less light pollution; the new lights are capable of colored light shows synced to music for dramatic entertainment during and after games as well as special events.
Phase 1 will also completely revitalize the group hospitality experience at LMCU Ballpark with the construction of a new suite-level club space and expanded and upgraded group terraces on what is now the first and third base lawn areas.
A brand-new suite-level club space will be built above the new batting tunnel at the end of the third base structure, accommodating 200 guests for use on gamedays as well as year-round for special events. The space includes floor-to-ceiling windows, a large balcony for outdoor viewing, various height table and chair clusters, and a bar space for food and beverage service. Its capacity is similar to that of the current Pepsi Stadium Club.
Enlarged group space takes over the existing lawn slopes on both the first and third base sides, replacing the current hospitality areas down the lines. Several tiers of seating and gathering areas, from the concourse all the way down to field level, offer a variety of engagement opportunities and food service options for groups of 20 or more. These tiers offer a more cohesive look and feel while allowing flexibility for groups of all sizes to enjoy private areas. The third base side will feature four tiers, while the first base side includes three tiers and will adjoin the new bullpens.
For increased fan safety, the netting will be extended beyond the ends of the dugouts, where it currently ends, and go from foul pole to foul pole.
Whitecaps President Steve McCarthy said strong demand for group hospitality spaces drove this portion of the construction plans.
"LMCU Ballpark continues to be a popular destination for summer outings and social gatherings," McCarthy said. "The additional hospitality spaces will allow us to accommodate even more groups and provide more unique offerings than ever before. Each space will have its own character and distinctive seating layout, including ample space for casual gathering."
While the existing lawn areas will be replaced with the tiered hospitality areas, fans who enjoy viewing a Whitecaps game from the grass will still have that opportunity. A new lawn space will be created above the bullpens in the outfield, offering a view of both the game and the action in the bullpens below.
Fans attending games and events at LMCU Ballpark during the 2023 season will notice that the concourse third base barbeque area will be fenced off and closed to accommodate groundwork for Phase 1 construction.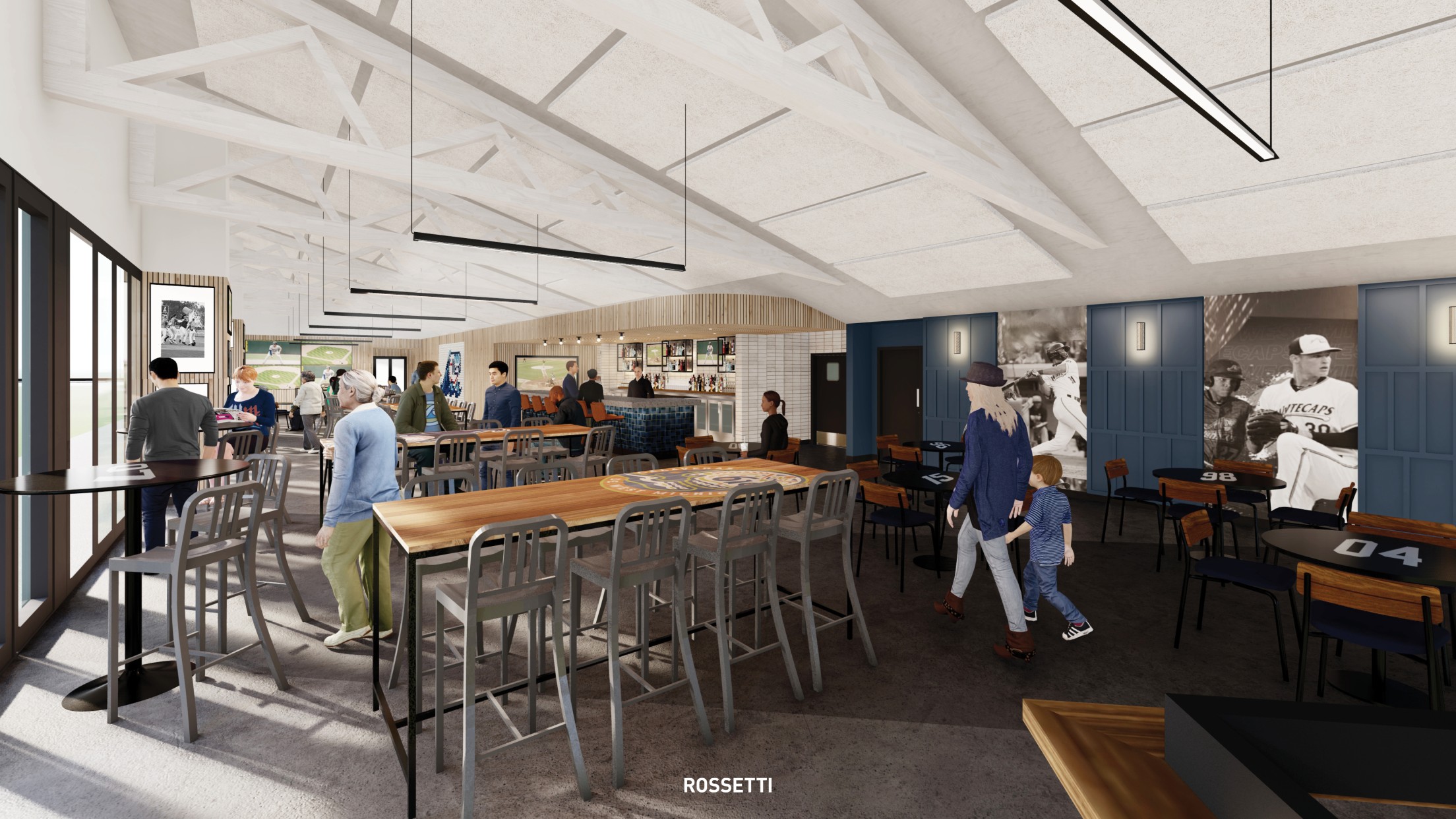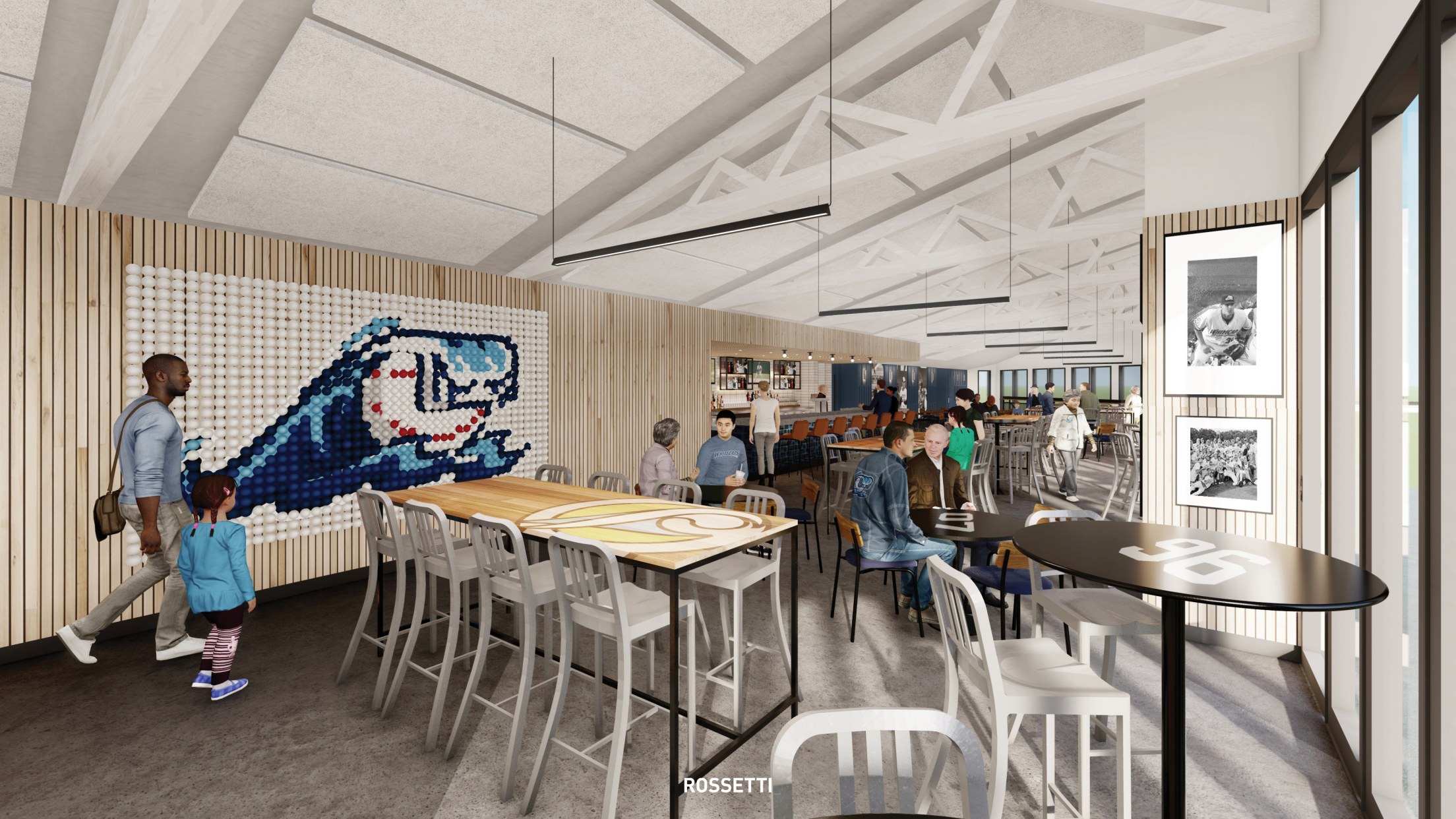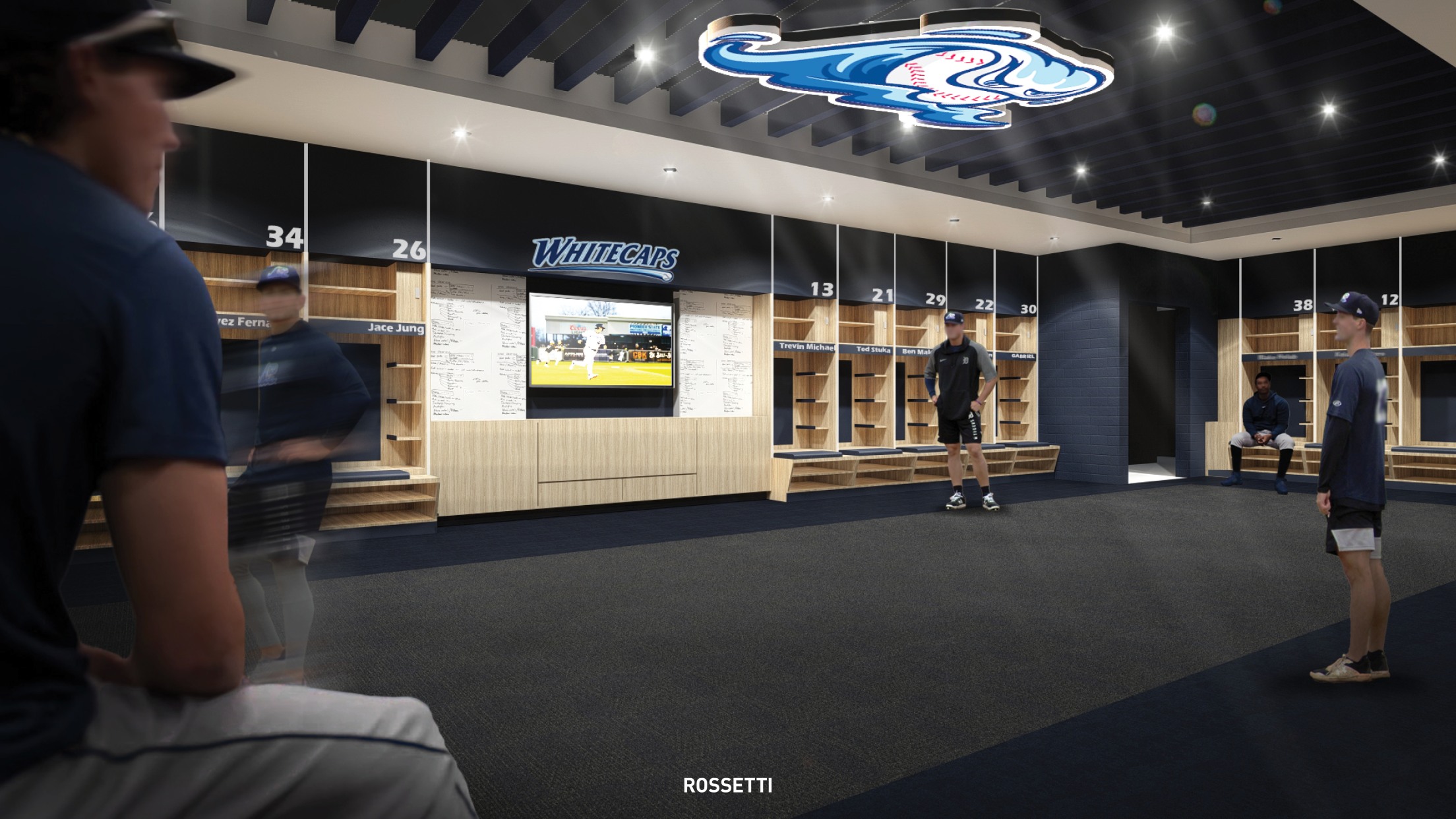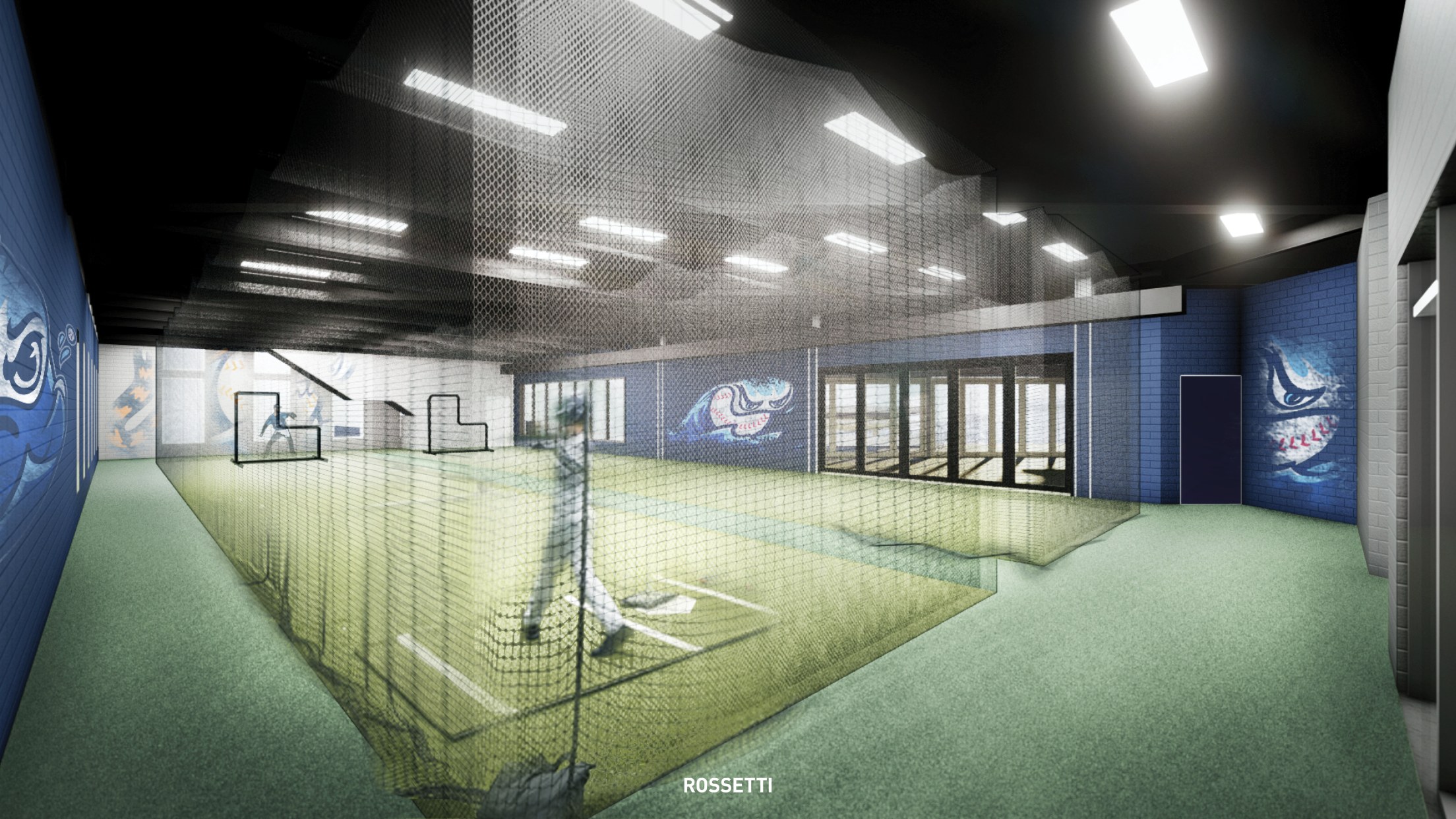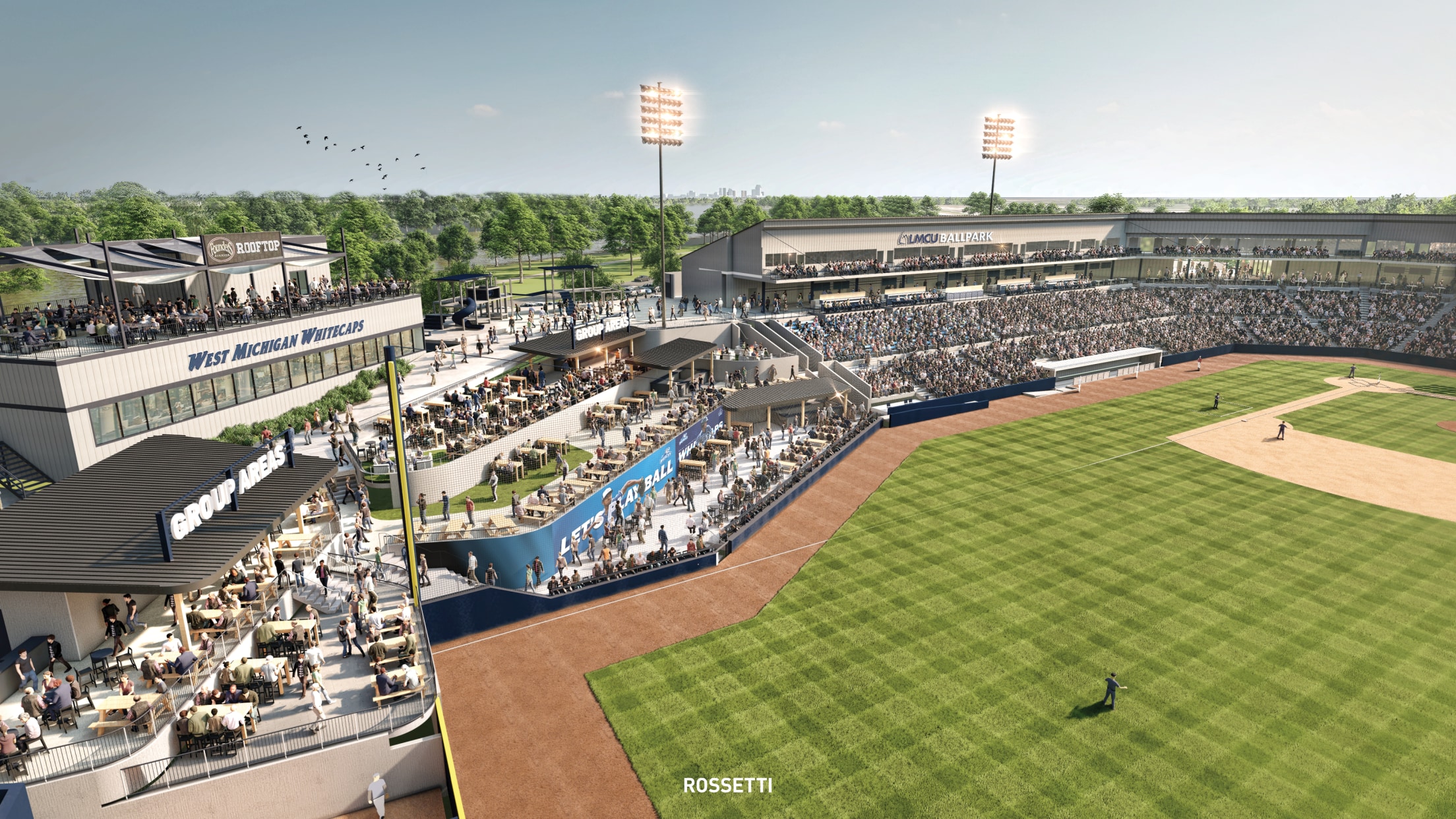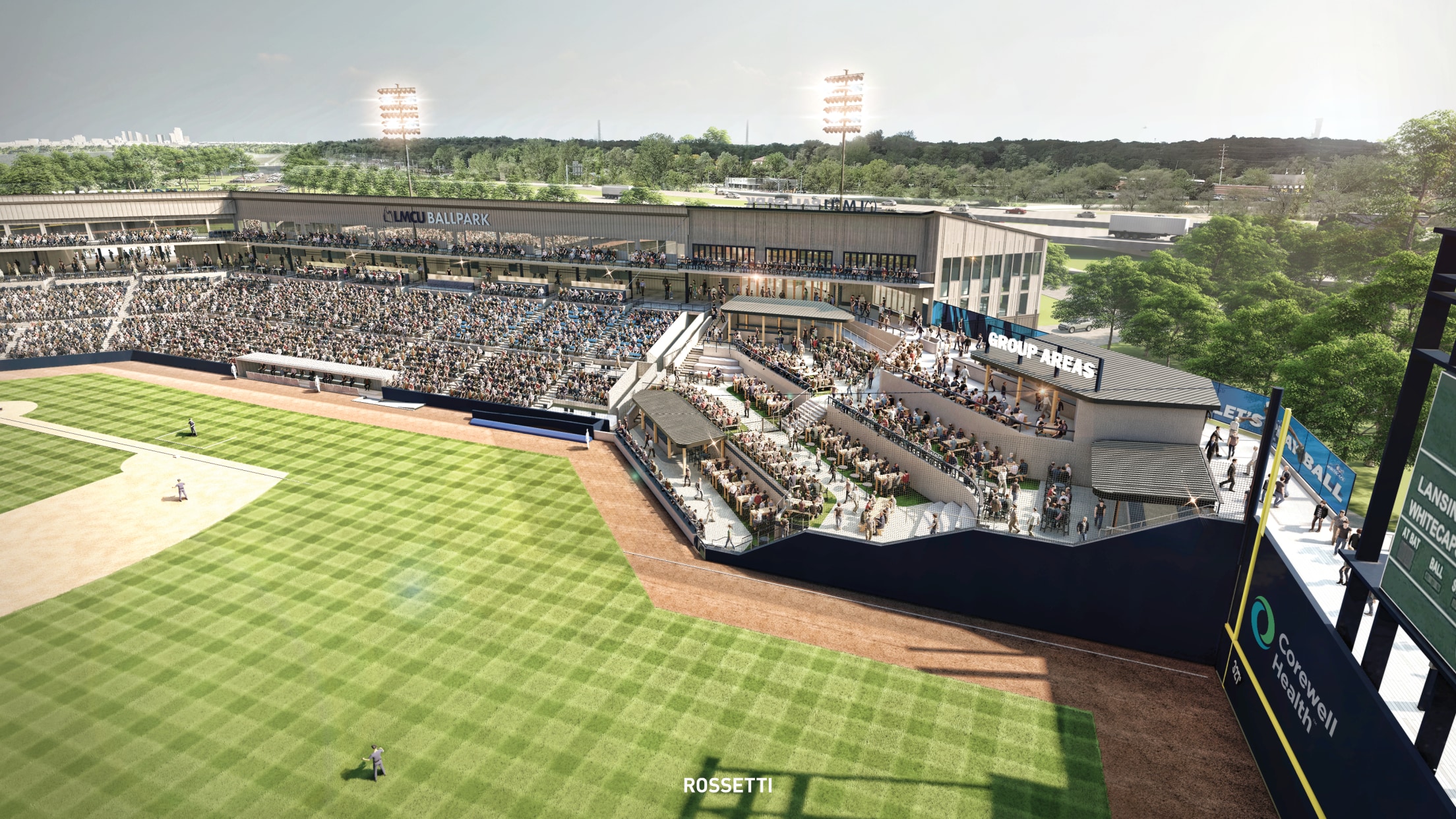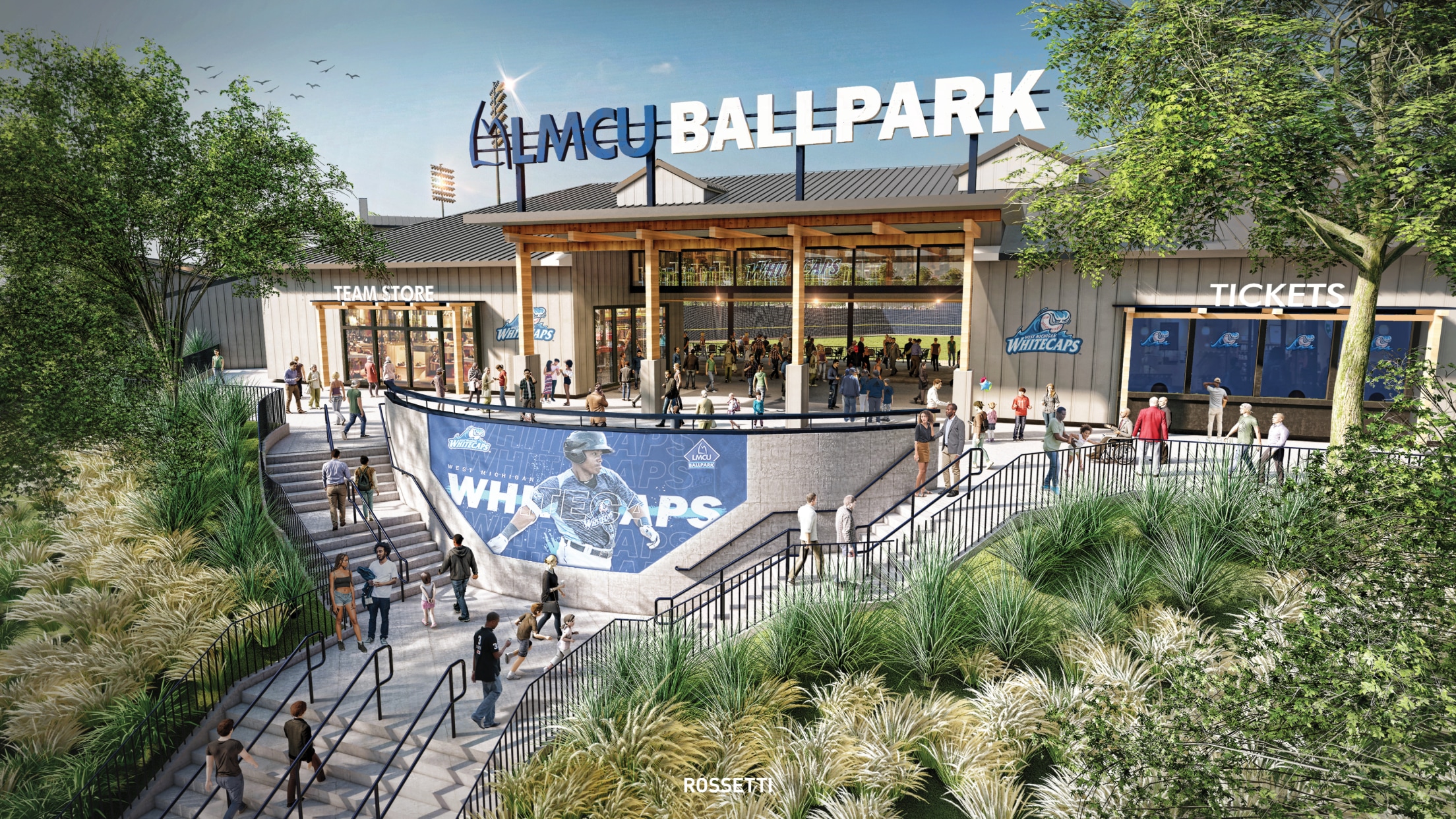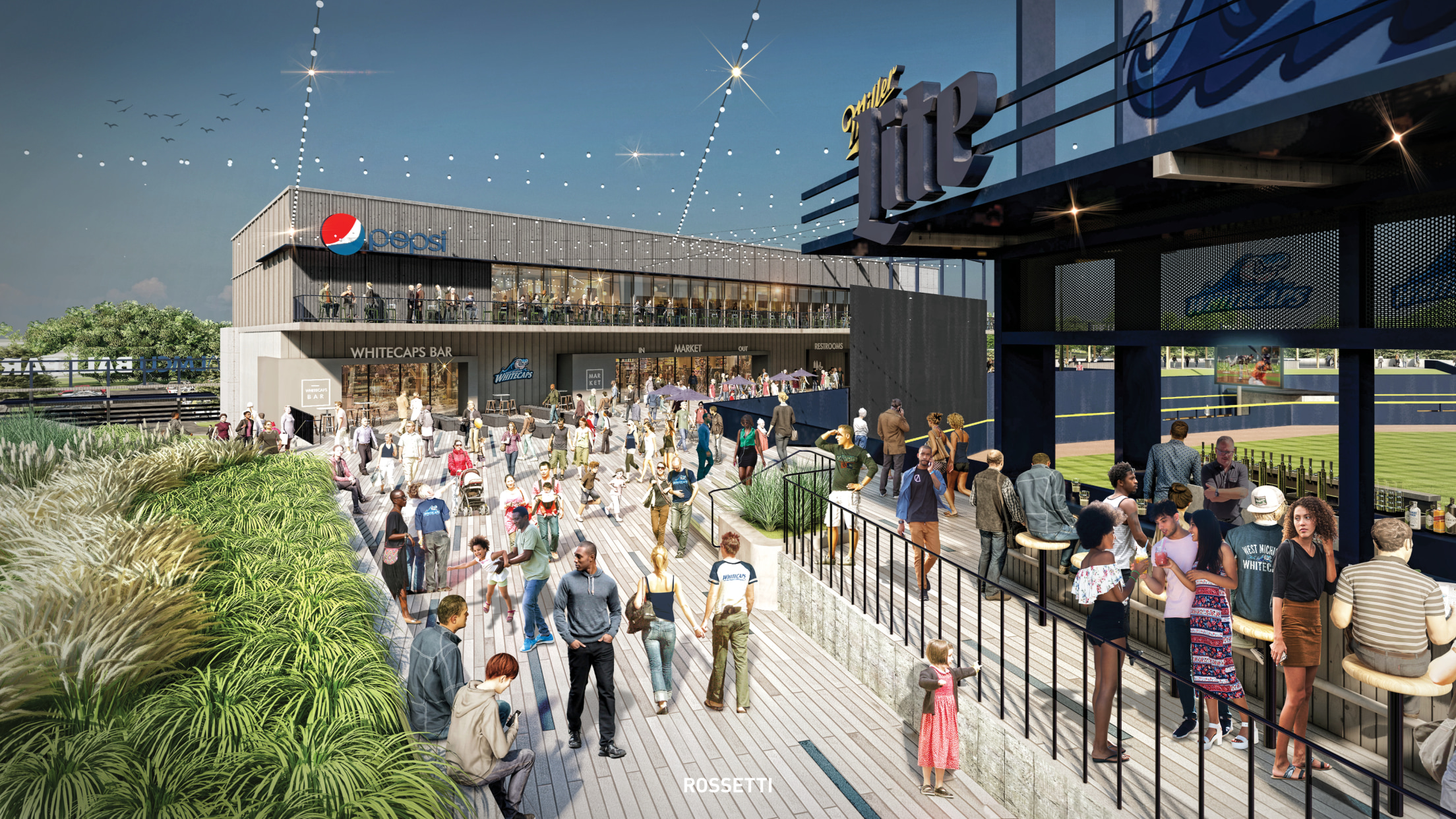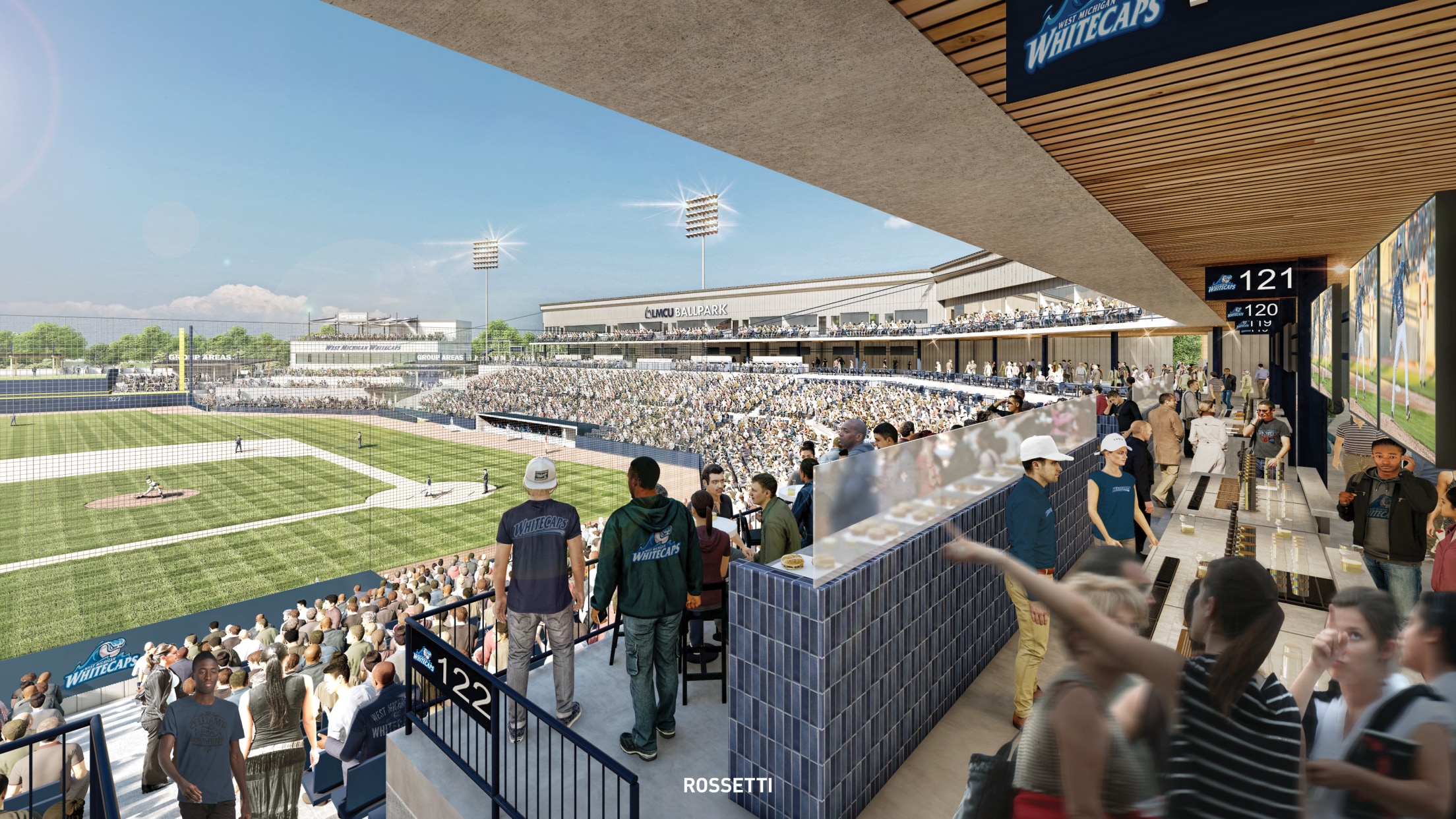 Phase 2 will include construction projects in 2025 and beyond, building on LMCU Ballpark's 30 years of history by completely overhauling the stadium and preparing it for a new generation of Whitecaps fans. Features of future projects include:
A reimagined stadium entrance experience that offers a view of the baseball field straight ahead as fans reach the top of the steps.
Exterior site activation for more entertainment options in the spaces outside the facility.
Beautification of the facility's 45 acres, all conforming to the beach theme.
A fully reimagined and updated suite level with a home plate club area.
An expanded concourse with new and improved food, entertainment and gathering options, including the construction of private outdoor suites for groups that prefer the great outdoors.
A new CapSized Shop retail space and new ticket office.
A new 360-degree concourse, modeled after a lakeshore style boardwalk, that allows fans to walk all the way around the field, enjoy gathering spaces in the outfield area and view the game from a number of different perspectives.
A state-of-the-art 400-seat center field hospitality club and special events center, the ballpark's largest space yet, that will provide a new level of gameday experience while also creating one of West Michigan's most unique views for weddings, conferences, and other large scale special events.
Kirk Phillips, a ROSSETTI partner who led the project, said it was important to him to ensure that his firm's vision would build upon an already outstanding professional facility.
"ROSSETTI is honored to partner with the Whitecaps organization to reimagine a West Michigan destination: LMCU Ballpark," Phillips said. "These design renovations will enhance the experience for baseball fans and players alike, creating new social spaces and addressing player facilities to exceed MLB standards. When completed, the improved ballpark will surprise and delight this great community for many future seasons. It was important to us to go above and beyond when reimagining LMCU Ballpark because it is so well-known in the industry as a top-notch facility. We feel the improvements to this unique facility will be impressive at any professional level."
Chamberlin echoed the excitement about the future of LMCU Ballpark.
"This venue has always been one of the best in Minor League Baseball, and we have maintained it incredibly well over the last 30 years," Chamberlin said. "But there is nothing like a NEW ballpark, and that's what we are committed to delivering to West Michigan. When this project is completed, LMCU Ballpark will look and feel like a brand-new facility ready to meet the needs of a new generation of fans. It's going to be FUN to see how this community responds to work we have planned; I think they are going to love it."
The West Michigan Whitecaps' 30th season opens on Thursday, April 6, with a 6:35 p.m. home game against the Fort Wayne TinCaps. Multi-game ticket plans and group tickets are now on sale and can be purchased online at www.whitecapsbaseball.com or by calling the Whitecaps at 616-784-4131. Individual game tickets will go on sale in the spring.