MINOR LEAGUE BASEBALL ANNOUNCES CANCELLATION OF 2020 BASEBALL SEASON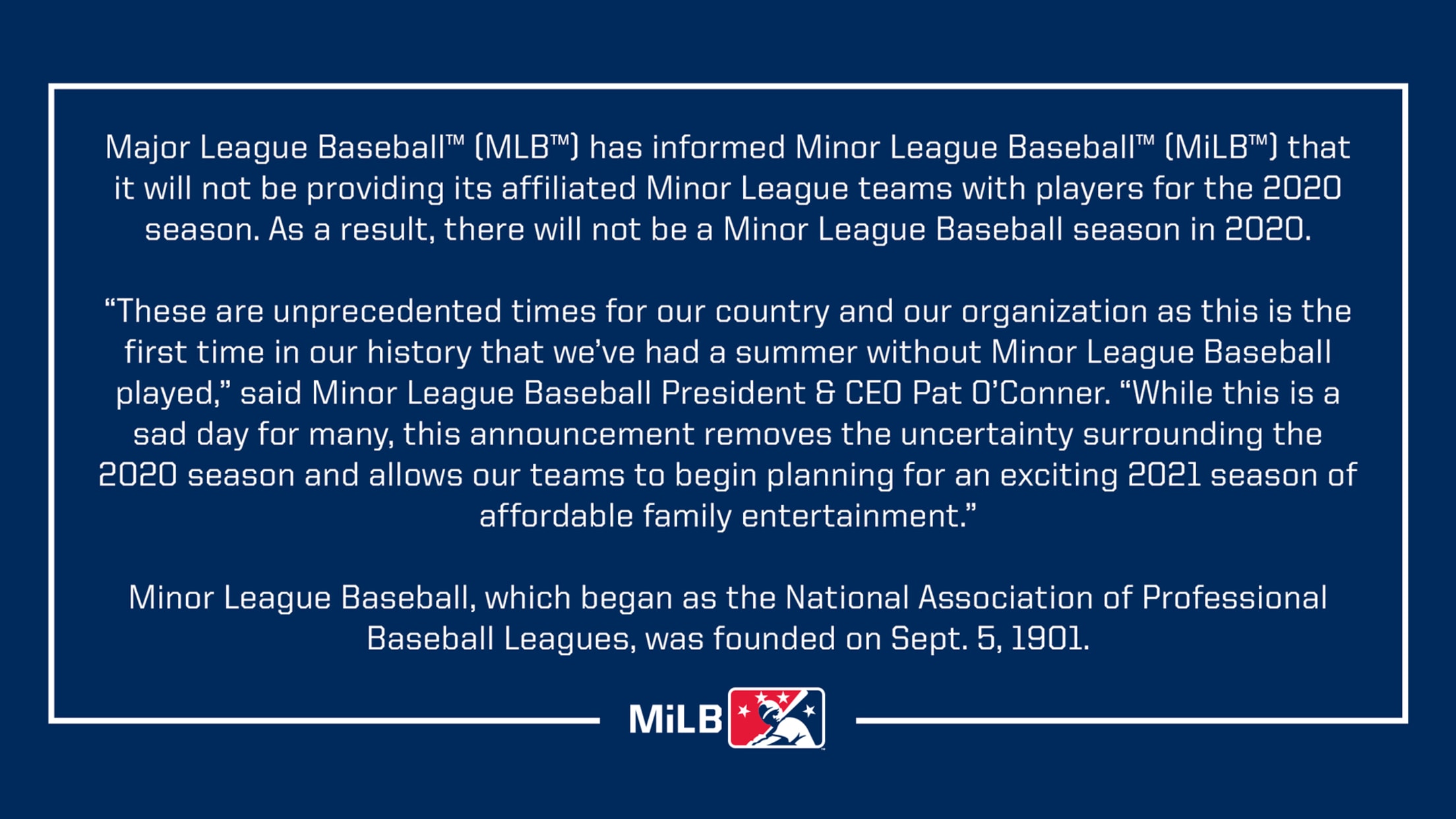 Comstock Park, Michigan - - July 1, 2020 - - Major League Baseball (MLB), in collaboration with Minor League Baseball (MiLB) announced on Tuesday the cancellation of the 2020 Minor League baseball season. The West Michigan Whitecaps were originally scheduled to play 70 home games at Fifth Third Ballpark. The
Comstock Park, Michigan - - July 1, 2020 - - Major League Baseball (MLB), in collaboration with Minor League Baseball (MiLB) announced on Tuesday the cancellation of the 2020 Minor League baseball season. The West Michigan Whitecaps were originally scheduled to play 70 home games at Fifth Third Ballpark.
The baseball season has been under speculation since March, when for safety reasons, both MLB and MiLB spring training was suspended, and Whitecaps front office staff began working remotely.
"West Michigan fans have been very good to us throughout the delay," said Joe Chamberlin, CEO of the West Michigan Whitecaps. "They've been encouraging and patient. We love them and miss them. Moving forward, and in typical Whitecaps style, you can bet we will be working on helping the community and having some fun while we prepare for 2021. Our job now is to build a bridge to next baseball season."
During the delay, the Whitecaps have stayed busy by supporting the United Way Covid19 Community Response & Recovery Fund, and recently collaborated with the Grand Rapids Griffins, Grand Rapids Drive and the West Michigan Sports Commission for "One Team For West Michigan" to help the community with Covid19 pandemic. https://www.youtube.com/results?search_query=one+team+for+west+michigan
New Whitecaps manager Brayan Pena has been reading to children online and joining in on educational online children's events.
"There is a lot of work ahead of us," Chamberlin added. "But since none of us, including our fans, have never been in this space, we're moving ahead with cautious optimism. This will be the first West Michigan summer without Whitecaps Baseball in the last 26 years. It is tough to see that streak come to an end, temporarily, but we are already looking forward to what the 2021 season will have in store. I can promise you we will be ready for baseball and we know our fans and this community will be as well."
West Michigan can find the Whitecaps on Instagram, Facebook, Twitter, and at Whitecapsbaseball.com (https://www.milb.com/west-michigan ).
About West Michigan Whitecaps: The Whitecaps Minor League Baseball team was established in 1994. The Whitecaps are a Class A Affiliate of the Detroit Tigers and play in the Eastern Division of the Midwest League. The team's home games are played in the iconic, multi-purpose venue, Fifth Third Ballpark. For more information visit https://www.milb.com/west-michigan. Contact: Steve VanWagoner at [email protected] or 616.318.8949