Wichita Bats Back Balazovic, Win 5-3 in Game Four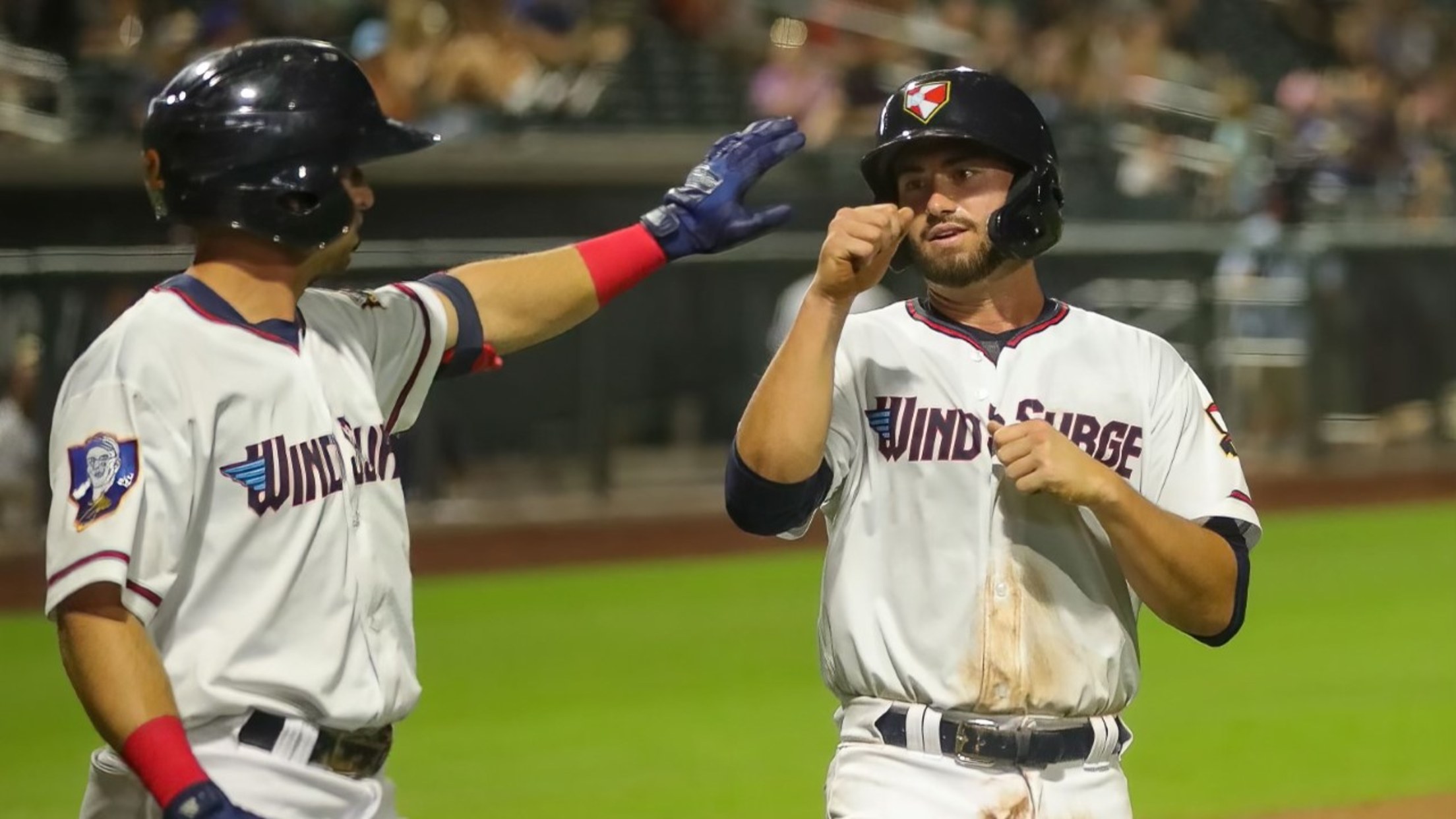 (Photo Credit: Ed Bailey)
NW Arkansas 3 Wichita 5 WICHITA, KS – The Wind Surge backed up a quality start from Jordan Balazovic to earn a 5-3 game four victory. The Surge now evened the series with the Naturals and trimmed their magic number for the postseason down to six. Coming off games of
NW Arkansas 3
Wichita 5
_WICHITA, KS – _The Wind Surge backed up a quality start from Jordan Balazovic to earn a 5-3 game four victory. The Surge now evened the series with the Naturals and trimmed their magic number for the postseason down to six.
Coming off games of scoring one run and no runs, the Wind Surge offense kicked it into gear tonight to put some life back in their bats. After the Naturals picked up a run in the top of the third, Wichita was able to go up on the board thanks to smart baserunning from Austin Martin. With runners on first and second, Martin grounded to out to first baseman Vinnie Pasquantino. Pasquintino overthrew Yefri Del Rosario covering the bag. Trey Cabbage advanced to third on the play and then scored on the error. Martin was caught in a run down and knew Aaron Whitefield had a chance to score. Martin did his best to keep the attention of the Naturals defense and allowing Whitefield to score from first base to put the Wind Surge on top 2-1.
A lot has happened here but all you need to know is we are now in the lead. 😁 pic.twitter.com/fOQJrE1oEL

— Wichita Wind Surge (@WindSurgeICT) September 11, 2021
Wichita then scored three runs in the bottom of the fifth to extend their lead to a four run advantage. Jermaine Palacios led off the inning with a first-pitch single into left field. On the next at-bat and also on the first pitch, Trey Cabbage broke out of his slump with a major bomb to the right field. Cabbage blasted his 17th home run of the year 111 miles per hour off his bat to put Wichita ahead 4-1.
.@MrTimGrubbs said it best..."absolutely annihilated" @treycabz pic.twitter.com/N09NKPKM7f

— Wichita Wind Surge (@WindSurgeICT) September 11, 2021
Later in the inning, Roy Morales had runners on first and second and brought in another run with an RBI single up the middle. After five innings of play, the Wind Surge had built a 5-1 lead.
The Naturals made the game interesting by scoring two runs two in the top of the eighth off a Clay Dungan RBI double and a sacrifice fly from Vinnie Pasquantino. After those runs scored, Jordan Gore entered the game and kept Northwest Arkansas off the board for the remainder of the game, closing out a much-needed game four victory for Wichita.
Jordan Balazovic was on top of his game tonight, throwing 6.0 no-hit innings. Balazovic allowed just one run and struck out five on the night while picking up his fifth win of the season. Jordan Gore threw 1.1 innings of relief, allowing no runs or hits and striking out two to earn his fifth save of the season.
COMING UP: Wichita will play game five of the series against the Northwest Arkansas Naturals tomorrow evening (09/11). First pitch is set for 6:05 pm from Riverfront Stadium. Wichita will start RHP Chris Vallimont (5-6, 5.75 ERA) against Northwest Arkansas RHP Jonathan Heasley (6-3, 3.41 ERA). RADIO/TV: KGSO 1410 AM and 93.9 FM, MiLB.TV and Windsurge.com.