Valentine's Day Dinner returns to BB&T Ballpark
Four-course dinner set for February 14 & 15 in the Flow Club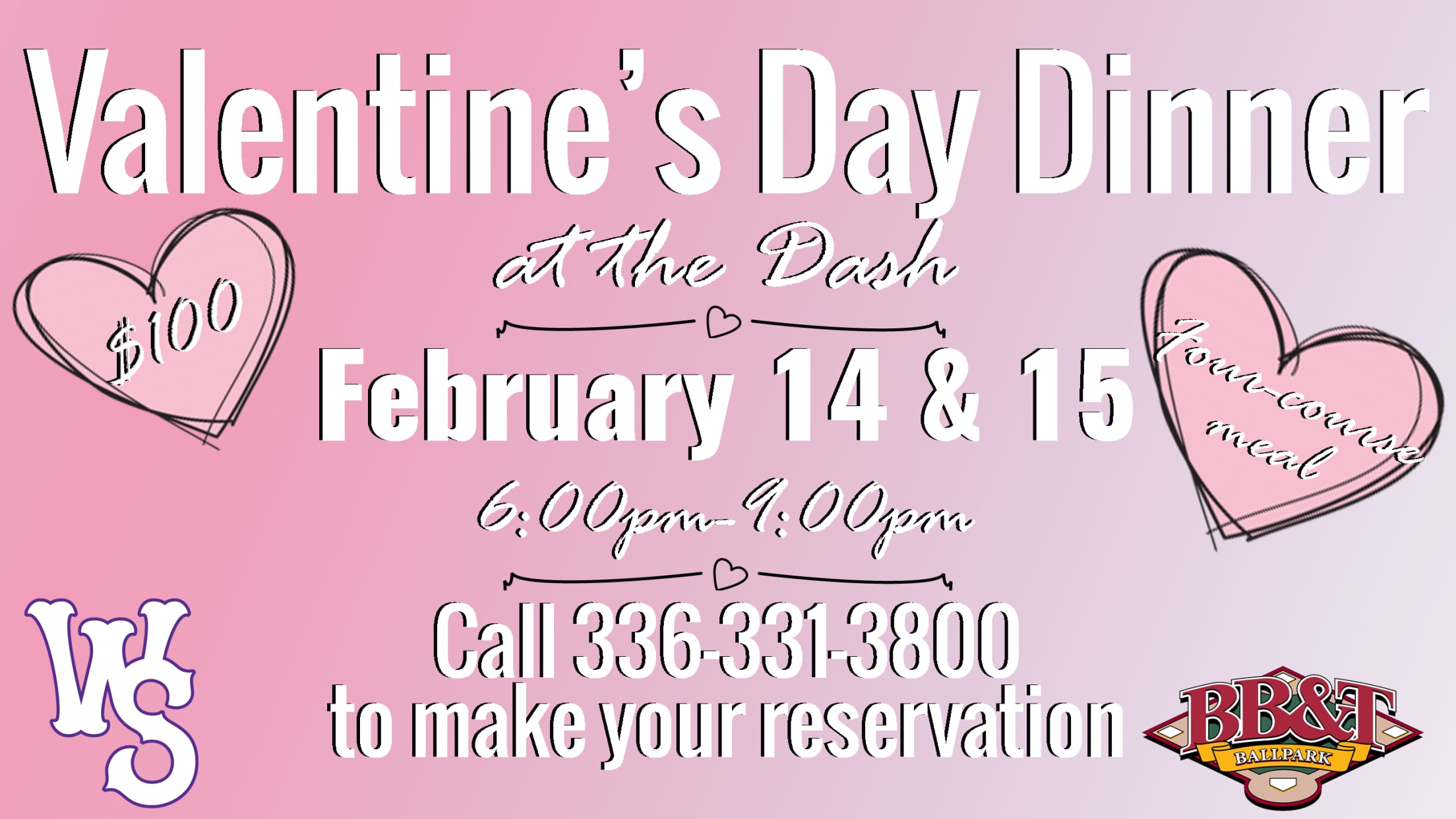 WINSTON-SALEM, N.C. (Jan. 16, 2020) - Valentine's Day is about a month away, and the Winston-Salem Dash have a special event in store for you and your loved one. Once again, the Dash are hosting a Valentine's Day Dinner on Friday, February 14, and Saturday, February 15, starting at 6:00
WINSTON-SALEM, N.C. (Jan. 16, 2020) - Valentine's Day is about a month away, and the Winston-Salem Dash have a special event in store for you and your loved one. Once again, the Dash are hosting a Valentine's Day Dinner on Friday, February 14, and Saturday, February 15, starting at 6:00 p.m. at BB&T Ballpark.
Couples will enjoy a delicious four-course meal in our intimate Flow Club Restaurant for just $100 per couple. This price does not include tax or gratuity. Reservations will be accepted through February 13, and they must be made by calling (336) 331-3800. There are six reservation times available: 6:00, 6:30, 7:00, 7:30, 8:00 and 8:30 p.m.
Plus, all couples that make a reservation for our Valentine's Day Dinner will receive two tickets to our home opener on Thursday, April 16, at 7 p.m. against the Down East Wood Ducks (Texas), along with one Dash lamp per couple.
When making your reservation over the phone, you will choose one option from each of the below lists. Complimentary tea, soda and water will be on hand, along with one beer or glass of wine per person. Additional alcoholic beverages are available for purchase.
Soup: Fire Roasted Tomato or Lobster Bisque (with dinner rolls)
Salad: Strawberry Citrus Salad or Caesar Salad
Entrée: Parmesan Chicken or 16 oz T-Bone Steak (both entrees are served with scalloped potatoes and roasted vegetables: zucchini, squash, with red and green peppers)
Dessert: Mini Tux Bomb Chocolate Cake or Red Velvet Cake
Attendees can enter through the VIP doors behind home plate, which can be accessed off Peters Creek Parkway. Parking is available in the VIP lot. The Dash's 11th season at BB&T Ballpark is three months away, and fans can guarantee their seats to the biggest games through full- and partial-season packages. For more information, call the Dash at (336) 714-2287 or visit wsdash.com.