Almighty Pork Sandwich wins 2019 Timber Rattlers Food Fight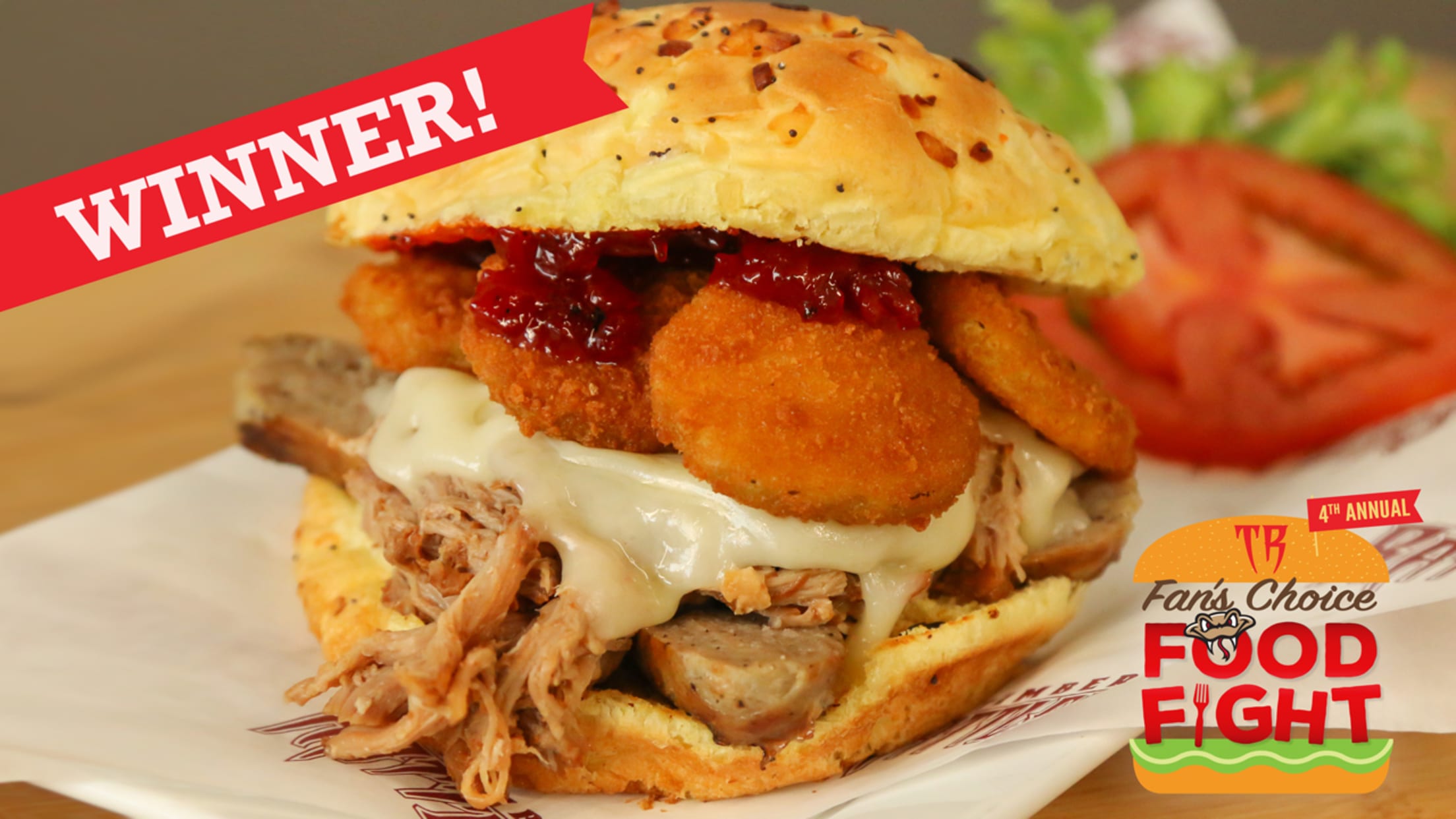 GRAND CHUTE, WI - Wisconsin Timber Rattlers fans have picked The Almighty Pork Sandwich as the winner of the 2019 Food Fight. Amanda Baranczyk's entry won the fan vote and will be available on this year's concession menu at Neuroscience Group Field at Fox Cities Stadium.The Almighty Pork Sandwich is
GRAND CHUTE, WI - Wisconsin Timber Rattlers fans have picked The Almighty Pork Sandwich as the winner of the 2019 Food Fight. Amanda Baranczyk's entry won the fan vote and will be available on this year's concession menu at Neuroscience Group Field at Fox Cities Stadium.

The Almighty Pork Sandwich is a grilled, Cher-make brat cut in half, topped with BBQ pulled pork, melted Swiss cheese, peppered bacon, red pepper jelly, and fried pickles served on an onion roll. It beat four other finalists - Mushroom & Swiss Steak Sandwich, BBQ Pulled Pork Chippers, Grilled Mac & Cheese Sandwich, and Grilled BBQ Mac & Cheese.

Amanda's winning entry was revealed on Facebook Live with Daniel Higgins, food and drink reporter for USA TODAY NETWORK-Wisconsin, earlier today. She will also receive four tickets to the 2019 home opener, a ceremonial first pitch before the game, and four vouchers for her food item!
The Timber Rattlers will begin this season at Beloit on Thursday, April 4. Wisconsin's home opener is Saturday, April 6 at 4:05pm against the Cedar Rapids Kernels.

The schedule for the 2019 Wisconsin Timber Rattlers season is available here. Fans may purchase full season, half season, seven-game to ten-game packages, or group outings for the season through the Timber Rattlers Ticket Office at Neuroscience Group Field at Fox Cities Stadium by calling (800) WI-TIMBER or (920) 733-4152; stopping at the Ticket Office; or online through timberrattlers.com. Individual game tickets for 2019 will go on sale on Saturday, March 16 at 10:00am.