Frosty Microbrew: Henry, File chasing big league dreams together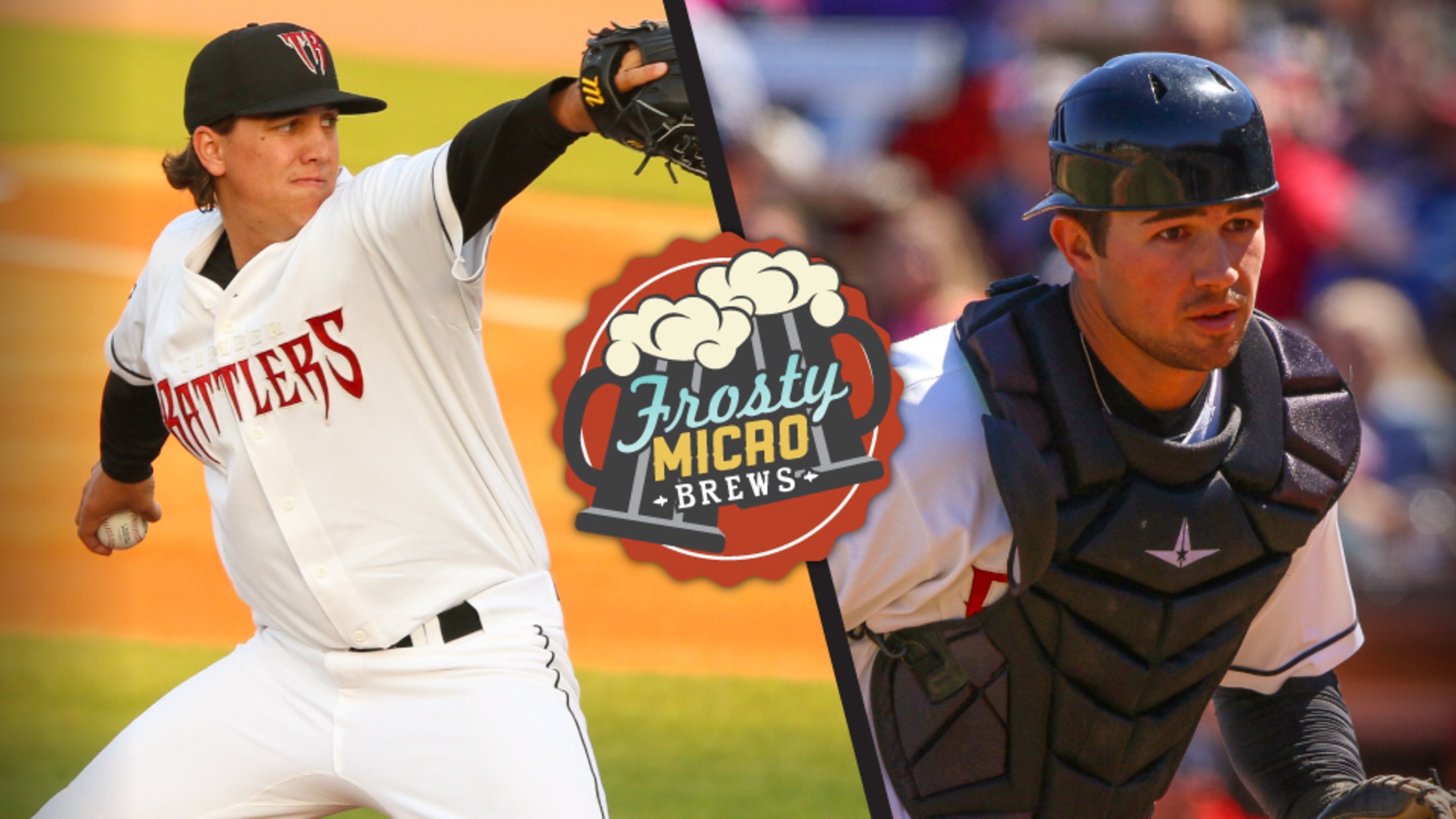 On May 11, Timber Rattlers starting pitcher Dylan File had easily the best outing of his young professional career. He pitched eight innings and struck out ten opposing batters, reaching both marks for the first time as a professional. Perhaps unsurprisingly, he did it with a very familiar face behind
On May 11, Timber Rattlers starting pitcher Dylan File had easily the best outing of his young professional career. He pitched eight innings and struck out ten opposing batters, reaching both marks for the first time as a professional. Perhaps unsurprisingly, he did it with a very familiar face behind the plate.
File first met Timber Rattlers catcher Payton Henry in 2013 when the two played summer league baseball together with the Marshall Gates Foundation Marshalls in Utah. It's a prestigious program that recruits nationally and features alumni including Nationals outfielder Bryce Harper, Cubs third baseman Kris Bryant and, more recently, fellow 2018 Timber Rattler KJ Harrison.
File and Henry were in different years in high school and started off on separate teams, but practiced together and started to develop a relationship that has lasted for years.
"Honestly, I wouldn't even say his game has changed that much. He's always been a stud," File said of Henry.
A year or two earlier Henry had caught the eye of Brewers Area Scout Jeff Scholzen, who covers Utah, Arizona, Colorado, New Mexico, Nevada and Wyoming. Scholzen's coverage area is about 633,000 square miles, or about 20% of the area of the contiguous US states. He's based in St. George, Utah, however, and lives about three hours away from Henry's family.
"I first got to meet Payton when he was a freshman or a sophomore in high school. I had known his father, Darrin Henry, who is the head coach at Pleasant Grove High School, and had known him for a long time," Scholzen said. "I had heard he had a son that was really good when he was young and I happened to be doing a baseball camp during the winter and Payton was there. We struck up conversations and I just noticed how big he was for 15-16 years old, and the kind of power he had. He generated enormous power for a kid that was 15-16 years old."
Scholzen followed Henry through the Area Code Games, one of the most prominent showcases for young talent. Later, he was the only scout to do an in-home, pre-draft visit with the Henry family.
"He did really well at the Area Codes, and he won the Home Run Derby. Multiple player of the year honors. And he just had a physical, strong build. 6'3", 215 with a cannon for an arm and big power. Those were the three things that stuck out. Plus he would take his turn in the rotation on the mound and he touched 93-94. So you just knew the arm strength was there, the power was there, the physical, durable build to catch every day, and it was just one of those things where Payton and I and his family really connected," Scholzen said.
The Brewers selected Henry with the 171st overall pick in the 2016 draft. A year later the Brewers selected File in the 21st round and the two were reunited in Helena.
"Dylan had moved to St. George when he was 12 years old and started playing on travel teams for some players of mine that had played for me at Southern Utah," said Scholzen, who was the head coach at Southern Utah University from 1993-97. "When he got into high school his high school baseball coach and the assistants on that staff all played for me at Southern Utah. So I was always able to get inside knowledge about him, kind of the same way I did about Payton."
"All I remember is he threw three no-hitters that summer, and he was nasty. He was one of the guys that was coming out of Utah that everyone was excited about," Henry said of his time on the Marshalls with File.
File eventually went to went to Dixie State College, where his first collegiate game was against another future Brewers minor leaguer.
"His first game as a college pitcher he pitched in front of about 50 scouts here in St. George against Cal Poly Pomona, and he was going up against (Brewers 2015 second round pick and 2015 Timber Rattler) Cody Ponce," Scholzen said. "He ended up losing that game but later in the year in the NCAA regionals he beat Cody. So he just kind of jumped onto the scene and had a successful year and made the transition to college baseball very easy. He was their mainstay guy for three years."
The Brewers selected File following his junior year at Dixie State and assigned him to Helena, reuniting him with his former teammate. Henry was behind the plate for File's professional debut and has caught him in 16 of his first 20 appearances in the Brewers organization. Neither player wanted to estimate how many times they worked together in the years before that.
"It's been awesome," Henry said. "It was fun, when I found out he got drafted with the Brewers and he showed up in Helena. I think we've hit it off here more than we did in summer ball. Then we were more like acquaintances and just teammates in summer ball but here we've developed a pretty good friendship. He's a great guy and we have some fun together."
"I still basically throw all my pitches the same and throw the same pitches, so he's seen my pitches that much longer. I'm sure that makes it easy on him, he doesn't have try to find any new pitches he has to catch," File said. "But it just makes it fun. It makes the game fun when you've got a buddy back there that you can click with."
Despite having played several seasons together, Henry said he and File still sometimes disagree on how to attack hitters.
"You're always going to have your disagreements with pitchers. They're going to shake off, they might not want the same pitch that you want, but I think me and him have really good chemistry, not just with pitch calling but the friendship," Henry said. "That helps a lot because I trust him and he trusts me, when he shakes off a pitch I know there's probably a better option that he's feeling."
Each player said the biggest difference in the other's game since they first met has been maturity.
"I guess just the way he's matured and the way he's respected the game and just grown up and loves the game, I'd say that's probably the biggest thing. He just has that passion to get better," File said of Henry.
"I think the maturity level in him has grown a lot, and for myself has grown a lot, and that helps us both tremendously," Henry said of File. "Just his composure and the things he's able to deal with, he has the perfect amount of fire and the perfect amount of composure to say, 'ok, I need to tone it down a bit and get back to relaxing.' So I think that's the biggest thing, just maturity level."
Scouts frequently remain in touch with players they've signed, but Scholzen's relationship with Henry and File and their families extends well past that. He described seeing Henry as "like I'm watching my little brother play," and noted that File's family stayed in touch and periodically checked in on him when his wife passed away three years ago. Meanwhile, Henry and File have experienced a great deal of success early in their professional careers and Scholzen said he is not surprised by it.
"Payton is one of those kids. He's a workaholic, so is Dylan. And I knew that Payton would probably have some early struggles, being from Utah and not having faced the quality of pitching or competition that is in Arizona or Las Vegas, but I just knew that once he hit his stride because of his aptitude and his ability to make adjustments, that it would click. And it's clicking. He's a very instinctual player. He seeks out a lot of knowledge. He's just a baseball rat, and Dylan's the same way. They both have a lot of edge to them, mentality wise, and they can really really compete. They both want it. They have a fire that is very noticeable. They want to get to the big leagues and they're going to do everything in their power to get there," Scholzen said.
Since 1907, 39 players from Utah have reached the major leagues, but no Utahns have played at that level since pitcher Brandon Lyon in 2013. That's the goal both Henry and File are chasing together.
"That's the dream. Two Utah kids in the big leagues, that's something that hasn't happened in a long time. So for me to have a chance to catch him in the big leagues, that's even bigger," Henry said. "Me and him imagine that all the time. I imagine just being up there and I'm sure he does too. So that's something I hope we can figure out."