Frosty Microbrews: Nelson's Recovery Ahead of Schedule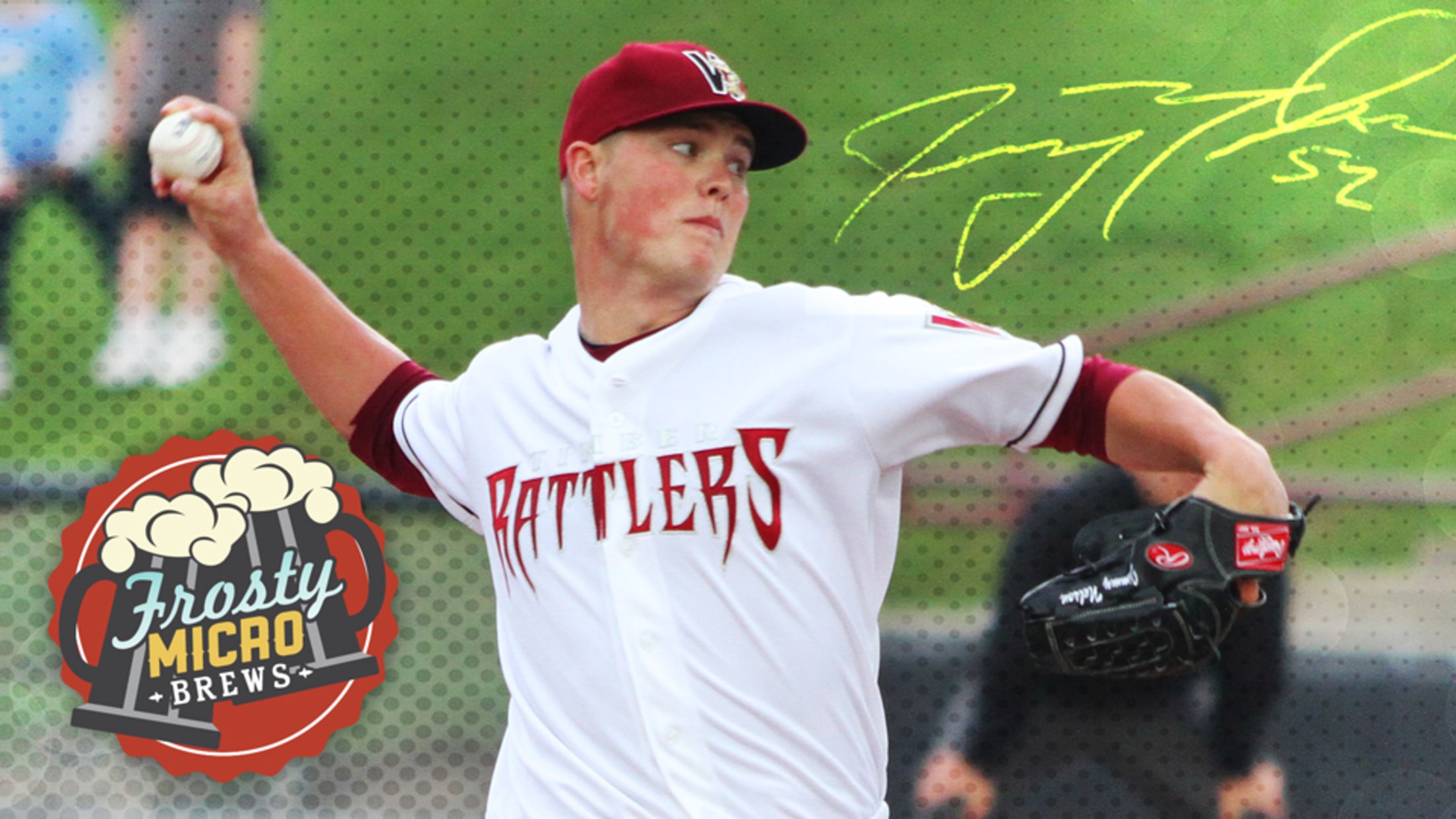 Elbow injuries have become relatively common for pitchers across baseball in recent years, with even the most significant damage being largely repairable and clear precedents and estimated timetables for expected returns to the mound. Shoulder injuries are a bit more challenging, which is part of the reason it was a
Elbow injuries have become relatively common for pitchers across baseball in recent years, with even the most significant damage being largely repairable and clear precedents and estimated timetables for expected returns to the mound. Shoulder injuries are a bit more challenging, which is part of the reason it was a scary development when Brewers right-hander - and a 2011 Timber Rattler - left a September game with a partially torn labrum and rotator cuff strain.
Just four months following surgery, however, Nelson resumed throwing last week. When asked how he was feeling at Brewers On Deck on Sunday his first thoughts were about the Brewers' recent wave of acquisitions, not his arm.
"I'm feeling like everybody else right now, just excited over the events of the last few days. We're all really excited about having those two guys (Christian Yelich and Lorenzo Cain) on the team," Nelson said. "But physically I'm feeling great, I've been anxious to start throwing over the last month and finally got cleared a week and a half ago to throw. So I started doing that this week, and just looking forward to getting more throwing sessions under my belt."
Nelson is ahead of schedule in his rehab, a testament to his work ethic and the doctors and strength and training staff that have worked tirelessly to get him healthy. On Sunday, Brewers pitching coach Derek Johnson told fans they're expecting Nelson back before the All Star Break. At this point, however, Nelson is not quite ready to predict when he'll be back on a major league mound.
"There is no timeline, really," Nelson said. "That's one thing I get the question the most, 'When are you going to be back?' My injury and repair was not a cut and dry thing like someone pulled a hamstring, and we have a lot of literature on this and the rehab program and all that kind of stuff. This is one of those things where there are the basics of the throwing program and the rehab and soft guesses, but that's all it is, is really a guess. It could be weeks better or, in any program there can be setbacks once you get deeper into the throwing program. I feel like we'll have a better feel for this once I get a month or two into the throwing program."
Nelson emphasized that his priority at this point is rehabbing correctly the first time, as opposed to rushing back and dealing with an increased risk of reinjury or nagging issues.
"Obviously it's my goal to get back as quick as possible," Nelson said. "But like I told the doctors and our training staff, when I come back I don't ever want this to be an issue again down the road. I don't want there to be any lagging effects. So if that takes me a few extra weeks to a month on the front end but guarantees that nothing really comes up on the back end…the last thing we want is I come back a month early and then all summer and September and the playoff race something's bothering me and I'm not 100 percent. So we're just focused on, no matter how long it takes here in the beginning, just getting it right."
In the meantime, Nelson has been putting in long days rehabbing and working to get back to 100 percent.
"I almost kind of feel bad for my wife this offseason because I only see her about two, three hours a day almost. This offseason I'm just doing everything I can to get back healthy. We have a great training staff and sometimes they do have to pull the reins on me a little bit, but I understand that's for my best interest. I like to think it's better that way than the other way, having people push you. It's something I've always taken pride in," Nelson said.
The early throwing program for pitchers recovering from shoulder surgery is pretty light, and Nelson said he anticipates one of his biggest challenges will be being patient while waiting to take steps forward.
"The beginning stages are pretty simple, I'm not throwing really far or anything, so I think the hardest part for me is going to be the beginning because it's a just kind of a slow progression in the beginning," Nelson said. "But hopefully once we get into this thing two or three weeks it hopefully accelerates a little better."
Nelson was one of several Brewers starting pitchers that took big steps forward in their careers in 2017. Despite missing most of the last month of the season he set a career high with 199 strikeouts and significantly lowered his walk rate, dropping from 4.3 per nine innings in 2016 to 2.5. He cited consistency and health as the keys for another big year for returning members of the starting rotation in 2018.
"Once we get all back healthy… it always seemed like last year, even with a great year from all of us, I feel like at some point everybody had a little hang up somewhere, whether it was health or just kind of a rough month or whatever," Nelson said. "I think this year we'll all get back healthy, and now we know how to stay consistent, we all know our routines, and just the experience of last year is really good."
When Nelson is ready to take the mound for the first time he may have some new faces in the field behind him in recent Brewer acquisitions Christian Yelich and Lorenzo Cain. Nelson said he's excited for his new teammates and their defensive reputations.
"Obviously, offensively both of those guys are consistently good every year, but for us as pitchers we're more excited about their defense. When you look at their defensive numbers they're pretty impressive," Nelson said.
Cain's first tenure with the Brewers ended before Nelson was called up, but Nelson does have some experience playing alongside Yelich: The two were teammates in the Arizona Fall League in 2012 with the Phoenix Desert Dogs. He described Yelich as "a great guy off the field as well."
Adding Yelich and Cain to a team that won 86 games last year will certainly raise expectations for the 2018 Brewers, but Nelson isn't feeling the pressure. On Sunday he reminded reporters that he predicted a big year for his team prior to the 2017 season.
"I remember at this fan fest last year and in spring training last year telling all you guys that we're going to surprise a lot of people. And a lot of people say that going into spring training, just blowing smoke, but we knew what we had in that locker room last year," Nelson said. "So last year came as no surprise to us. We saw that potential in spring training and we're glad to have that extra year of experience with those main guys and just adding these couple of extra guys is even better."
The Brewers will almost certainly come to camp as a trendy pick to reach the postseason in 2018, but Nelson said that doesn't change anything for him.
"I think, if anything, last year opened our eyes to how good we can be. Because I still believe, and I know a lot of guys in that clubhouse still believe that there were a lot of games that we feel like we should have won easily. There were a lot of games that I feel like kind of slipped through our hands, that we gave away. Even with the good year last year I think there was the potential for it to be even better. So hopefully with the experience that everybody has had from last year we can tighten up on some of those things and get a few more wins because of it," Nelson said.
Thanks to Adam Rygg of @BrewerNation for his help with this story.