Frosty Microbrews: Cuas Moves to the Mound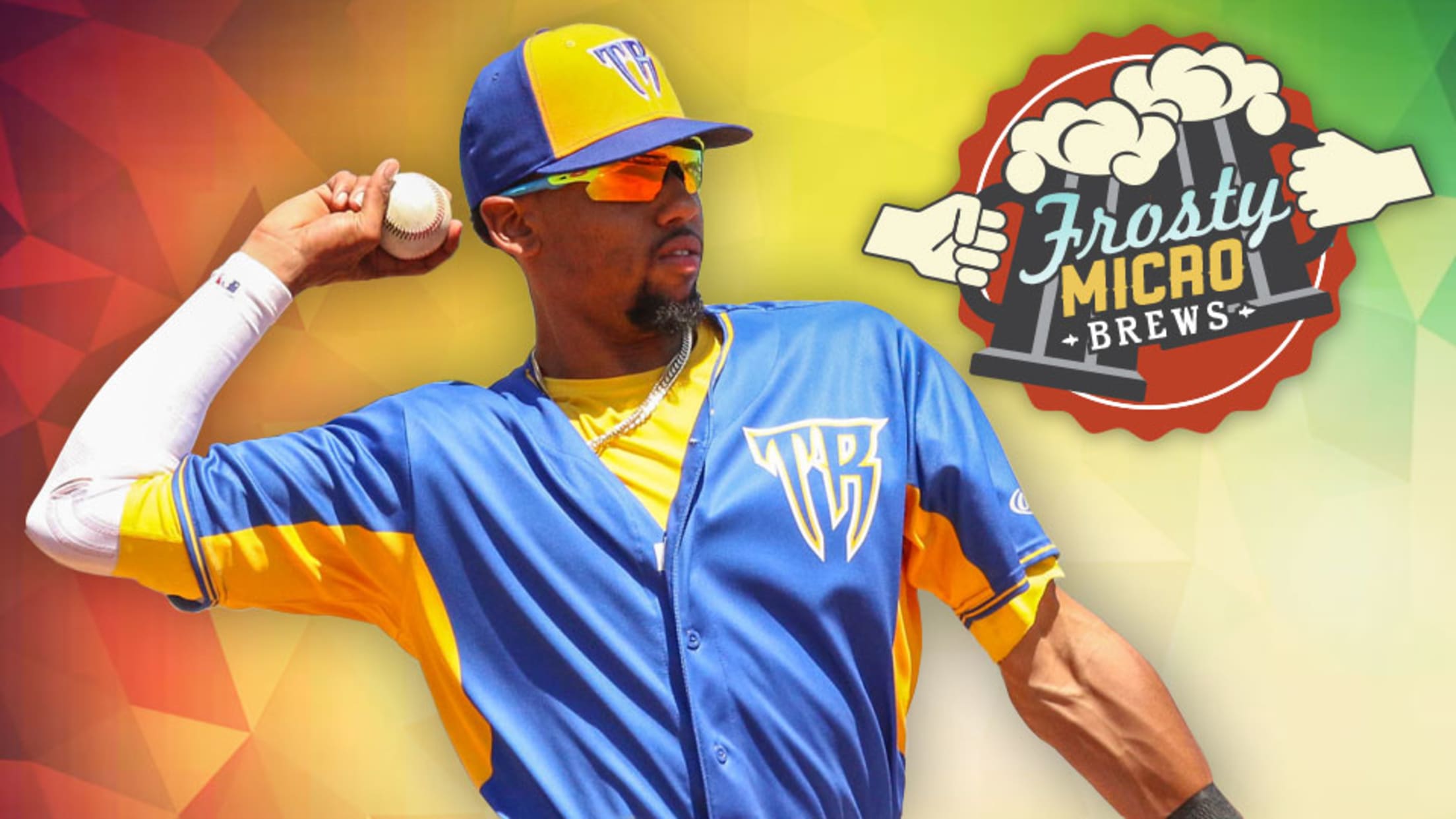 When the Wisconsin Timber Rattlers last saw Jose Cuas on June 18 he was playing third base, and it was a familiar sight: He was at third in all 54 of his games in the Midwest League in 2017 and has played that position in 194 of his 282 professional
When the Wisconsin Timber Rattlers last saw Jose Cuas on June 18 he was playing third base, and it was a familiar sight: He was at third in all 54 of his games in the Midwest League in 2017 and has played that position in 194 of his 282 professional games since being selected in the 11th round of the 2015 draft. The next time fans see Cuas in a game, however, it will likely be in a different role.
Cuas was one of a handful of 2017 Timber Rattlers invited to the Brewers' fall Instructional League camp. When rosters were released on September 12 it was the first public indication that his career may be headed in a new direction. The Brewers had him listed as a pitcher despite the fact that he hadn't pitched in a game since making a few relief appearances in high school.
The move comes after something of a disappointing season for Cuas as a position player. Between 54 games with the Timber Rattlers and 40 with High-A Carolina he hit just .187 with a .277 on-base percentage and .321 slugging in 342 plate appearances.
"I didn't have the offensive year I was looking forward to having," Cuas said. "I struggled a little bit with the bat, and I don't want to keep wasting time with it, you know, and trying to figure out what's right, what's working and what's not. I figured my best tool is my arm, why not get the best out of it, get on the bump and see how it feels."
Cuas is following in the footsteps of two other former Timber Rattlers position players who recently made the transition to the mound. Nick Ramirez became a pitcher after six professional seasons at first base and experienced near-immediate success, posting a 1.37 ERA over 48 appearances with AA Biloxi in 2017. He was part of a combined no-hitter, was named to the Southern League All Star Game and earned a promotion to join AAA Colorado Springs for their playoff push.
Parker Berberet moved to the mound from the catcher position and worked in 26 games for Wisconsin and Carolina this year, posting a 3.84 ERA between the two levels and striking out more than eight batters per nine innings. Like Cuas, Berberet had very limited experience pitching before trying it out last fall.
Many of the pitching coaches in Instructional League camp worked with Ramirez and Berberet a year ago, so they're familiar with the process of helping a position player through the challenges of learning the other side of the game and have a track record of success doing so.
"There's a group of five pitching coaches in camp, and we're trying to add up bits and pieces of what we think about Jose transferring to pitching," Helena pitching coach Rolando Valles said. "As of right now, we are in that stage where we're trying to let him be and let him throw, and we're testing his abilities to become a pitcher. So we're in that stage where we're letting him go without too much instruction so we can see the adjustments that we've got to make with him."
For the most part during regular season workouts and in Instructional League camp pitchers and position players are in two separate groups focused on different activities. Cuas said moving over to the pitcher group and adjusting to their work and conditioning schedule was tough at first.
"The first day I came out and ran, then threw a little. The next day it was getting used to my arm being a little sore, not being as fresh every day and being able to throw through that," Cuas said. "It's been good so far. My arm's been feeling pretty good, I'm working through the soreness, my legs feel good."
Before this fall it had been years since Cuas last pitched in high school in 2012, and even that was only occasional work in relief. Given his lack of experience on the mound it's likely to be a long process developing the muscle memory and routine to be successful in this new role, but he said the biggest challenges are mental.
"I know how to throw a baseball," Cuas said. "Pitching is a little different, but as long as I keep the same mentality of staying loose, just throwing the baseball and making twitches here and there, adjustments, learning how to throw downhill now, I think it should be, I don't want to say easy, but it shouldn't be as hard as I thought it was going to be."
Valles said the Brewers were looking for "basic stuff" from Cuas at this point in his development as a pitcher, establishing a starting point to build off of going forward.
"We've got to make sure his direction with his delivery is decent, that he's going to have a chance to repeat pitches, to keep pitches close to the strike zone, and that he'll develop pitching mechanics that doesn't increase risk of injury. That's pretty much the main goal," Valles said.
Cuas' first offseason as a pitcher will require a lot of changes to his winter routine.
"Instead of hitting every day now I'm working on rotator cuff, shoulder stuff. I'm running a lot more," Cuas said. "I'm not sure as to how many times a week I'm supposed to be throwing, but they'll give me a schedule (before leaving Instructional League) and I'll just follow that to a T. I know a few of my buddies have pitched, so I'll be able to ask them for advice. We'll see how it goes."
Cuas said his first Instructional League camp as a pitcher was "definitely" a success.
"I've definitely learned a lot in the few days I've been here getting used to throwing every day and running and getting my arm to be able to pitch every day. It feels good," Cuas said.
Looking forward, Cuas was not yet prepared to define what a successful 2018 season looks like but mentioned preparedness for a full season as something he's striving for.
"Right now I think it's too early to set a goal. I'm still learning how to pitch, how to throw down slope. But my goal is to get on there, have success and get my arm ready and prepared to last me 140 games," Cuas said.