Frosty Microbrews: Stokes Steps Out of the Shadows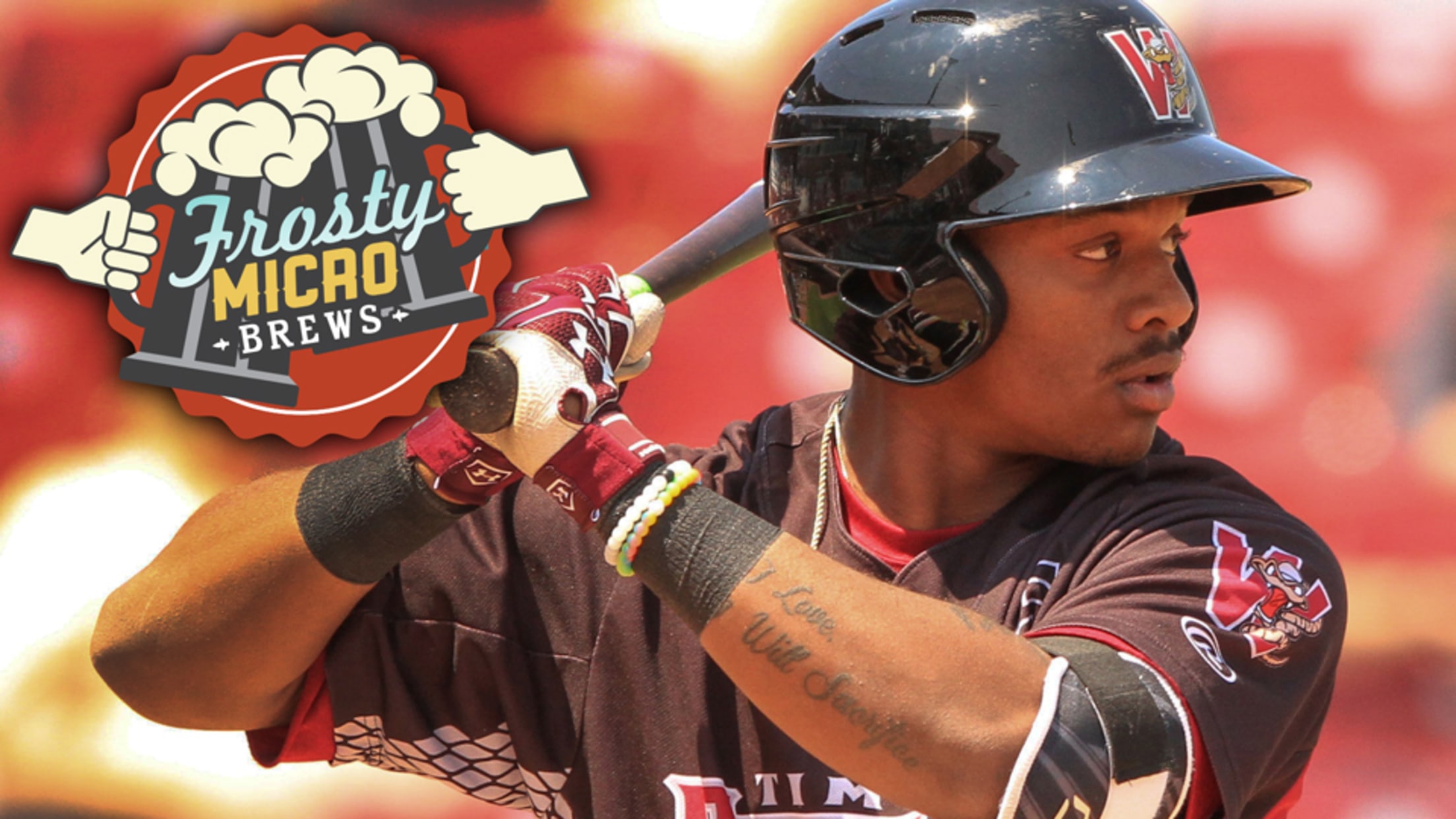 While the 2017 Wisconsin Timber Rattlers gear up for the stretch run, an alum from the 2016 team has already had a pretty big season.Outfielder and 2014 fourth round pick Troy Stokes Jr., who appeared in 86 games for the Timber Rattlers a year ago, made the jump to High-A
While the 2017 Wisconsin Timber Rattlers gear up for the stretch run, an alum from the 2016 team has already had a pretty big season.
Outfielder and 2014 fourth round pick Troy Stokes Jr., who appeared in 86 games for the Timber Rattlers a year ago, made the jump to High-A Carolina to open the 2017 season and carried the momentum from a strong finish to a new year and a new level, starting off the season with a home run on Opening Day and batting .250 with a .344 on-base percentage and .445 slugging in 100 games before being moved up to AA Biloxi in late July.
Stokes is the second 2016 Timber Rattler to reach the AA level, joining pitcher Corbin Burnes. He found out about his promotion while he and his Mudcats teammates were closing out a win over Myrtle Beach on the road.
"I was DH'ing that day. It was the ninth inning, we went out for the bottom of the ninth to play defense to close out the game and (Carolina manager) Joe Ayrault invited me over. I had just gotten a single the previous inning, and he told me, 'that was a nice piece of hitting, good work, but that's the last hit you're going to get in this league,'" Stokes said.
"Being called up was kind of the last thing in the back of my mind, so I kind of heard it and I was pretty sure I wasn't getting sent down, but I'm like, 'What do you mean?' And he was like 'what do you think that means?' And I said, 'I guess that means I'm getting called up.' I was really surprised. It caught me by surprise. I was excited."
Despite playing alongside top hitting prospects and former Timber Rattlers like Isan Díaz, Lucas Erceg and Carolina League Home Run Derby champion Jake Gatewood, Stokes' leads all Carolina players with 14 home runs this season. Entering 2017 Stokes had hit just nine home runs in three professional seasons, and he credited an improved understanding of his offensive game for his boost in power.
"I'm not trying to hit homers. I've always known I had a little bit of pop, but I feel like now I understand more of what balls I can handle, what balls I can drive and I'm looking for those pitches instead of just swinging at any ball," Stokes said. "I haven't made any mechanical changes, I think it's just the fact that I have a better idea of what I'm doing in the box. So I can get my pitch and most of the time try not to miss it. And I've just been good enough not to miss it."
Stokes was especially good in July, batting .378 with a .509 on-base percentage and .887 slugging and earning the Brewers' Minor League Player of the Month Award. The honor came as a surprise to Stokes, who didn't realize he had been swinging the bat that well lately.
"I actually saw my numbers in July and I didn't know I hit that high. But it feels great. A lot of hard work, just staying focused. I know in May I really struggled, but I had a good month in July to counter that. I actually didn't know that I won that award until about 20 minutes ago, my parents texted me and congratulated me, and then I saw it on Twitter," Stokes said on Wednesday afternoon. "But yeah, I'm happy."
Stokes has spent much of his professional career being overshadowed a bit by and sharing playing time with top prospect teammates: He's split time in the outfield each of the last two seasons with former top draft picks Corey Ray, Trent Clark and Monte Harrison. He described his relationship with his teammates as a "good competition" and said "it pushes all of us to do better."
"You want to win games but everyone knows you're all going to get to the big leagues kind of separately," Stokes said. "Sometimes you just have to worry about what you're doing, you can't worry about other guys. It's kind of like a competition, but it's a good competition. You're pulling for your team, and they're pulling for you so it kind of makes everyone better."
Timber Rattlers manager Matt Erickson hasn't had a chance to see Stokes play much this season but during last week's "Chat with Matt" segment with Chris Mehring he mentioned that he had just discussed Stokes' promotion with Ayrault.
"I just talked to Joe Ayrault this morning and we talked about 'Stokesy' a little bit, and some of the players he's had this year and he was really happy for Troy, he was having a very good year," Erickson said. "You could see the bat speed and some of the offensive potential last year, he can turn around anybody's fastball. And from what I grasped from some of the reports this year and from talking to Joe he's been able to use the middle of the field a little bit more and not be so pull oriented, and his offensive numbers were up there a little bit. He was definitely the guy to go to AA if there was a need. And we found out the other day there was a need."
It didn't take long for Stokes' to demonstrate his improved ability to hit to all fields at the AA level: In his fourth game with Biloxi he hit his first Southern League home run to the opposite field.
"Pretty much my approach is I'm always looking for a fastball. He (Jacksonville pitcher Matt Tomshaw) threw me a fastball up and away for ball one, so I got back in the box and was like 'all right, put a good swing on this ball, it's right there, don't miss it.' And he threw me a ball that was middle-away a little bit, like thigh-high. I can drive that ball but I normally don't hit it out. And I was able to get that ball, it the furthest ball I've hit to right field this year," Stokes said. "So I felt pretty good that I was able to put a good swing on it and it went out. It kind of surprised me that it went out."
While Stokes' power numbers have improved he's also maintained the ability to steal bases. After swiping 19 bags in 2014 and 26 in 2015 during short Rookie League seasons with Arizona and Helena, he stole 29 more with Wisconsin in 2016 and has already taken 21 this season. He said his numbers (he's been caught stealing ten times this year, a new career high) show how much harder it is to be a good base stealer at the higher levels of the minors.
"It's way harder than when I first started in the AZL and Helena," Stokes said. "You can't just rely on your speed and say 'I'm going now," because catchers are smarter, pitchers are smarter in their holds, catchers are smarter in what they call and their throws are more accurate. So now you have to think about 'How fast is the pitcher, what pitch is coming, what batter's up, is he a lefty/righty,' stuff like that. You have to know when to go now and pay attention to like, maybe the catcher's tipping his pitches or the pitcher's tipping his pitches. So to just go and be like 'all right, this guy's a 1.2, 1.3 (seconds to home plate) I can go,' no, it's not that anymore."
It's already been a long year for Stokes, who had never played more than 86 games in a professional season but was at 106 and counting entering play on Wednesday. He said he's motivated to keep going by a love for the game and his major league dream.
"I just love playing baseball. I just think about playing in the big leagues, and I think that's enough motivation for anybody. I just think about playing in the big leagues, and taking care of my family, and then just having fun with it and making my friends proud," Stokes said."