Frosty Microbrew: New, Returning Rattlers Ready for Opening Day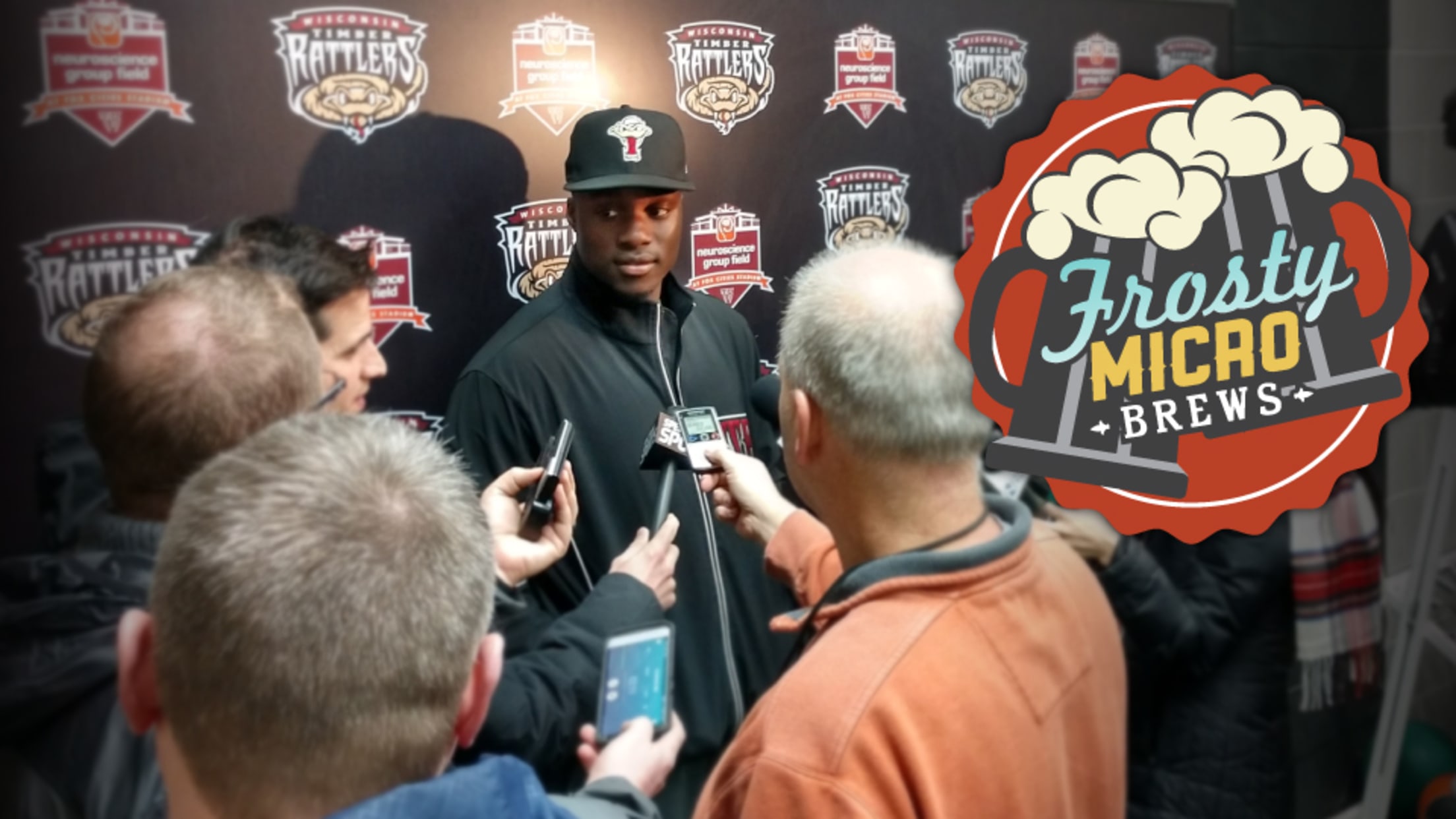 Early this week 28 players got on an airplane from Phoenix to Appleton after a long stay in Milwaukee Brewers minor league camp. Despite having been grouped together as a team just a few days, on Thursday they're scheduled to take the field for the first time as the Wisconsin
Early this week 28 players got on an airplane from Phoenix to Appleton after a long stay in Milwaukee Brewers minor league camp. Despite having been grouped together as a team just a few days, on Thursday they're scheduled to take the field for the first time as the Wisconsin Timber Rattlers.
"To be very honest, this particular group that is in the clubhouse right now has only been together for three or four days," Timber Rattlers manager Matt Erickson said. "The last three or four days of spring training we pretty much set the rosters and they were able to play a few games together, and then we travel together. So we're still trying to get to know each other, and that's pretty much the norm from previous years."
One of 2018's new Rattlers is outfielder Tristen Lutz, the 34th overall pick in the 2017 draft and the #9 prospect in the Brewers organization according to MLB Pipeline. Lutz played with many of his new teammates in rookie ball and/or the Brewers' fall Instructional League camp, and described this team as a "great group."
"I think we're going to have a lot of fun. I think we're very talented, I think hopefully we'll win a lot of games and most importantly have a lot of fun and develop together," Lutz said.
Lutz grew up in Texas and had made just one prior visit to Wisconsin, a pre-draft workout for the Brewers last year. He's talked to other players within the Brewers organization about coming to the Fox Cities, however, and received positive reviews.
"Everybody loved it. They said it's a great place to play and a really beautiful area," Lutz said. "They said it's kind of cold at the beginning but once you get through that the weather is really nice. They just said it's a great place to be."
Lutz is coming off a big debut season: He split 40 games between the Brewers' rookie-level teams in Arizona and Helena in 2017 and batted .311 with a .398 on-base percentage and .559 slugging. He's also only 19 years old, and Erickson has already talked to him about preparing to face adversity for the first time as a professional.
"He's going to have his growing pains here, there's no question in my mind," Erickson said. "But he seems to be a little bit more mature, above and beyond his years. We've had some adversity talks already, letting him know that it's coming, the adversity will be coming. How he handles that, how he's able to accept that and make adjustments will determine his success this year."
Lutz will share an outfield to start the season with returning Rattler and 2015 fourth round pick Demi Orimoloye, who will look to build upon the experience he gained while playing in 125 games with Wisconsin last season.
"It's different from last year, my first full season," Orimoloye said. "Now that I've had a full season I'm helping the younger guys like Tristen, just letting them know how it was last year and what to expect. For me it's knowing what the league is like now and knowing what to expect now."
Orimoloye is one of seven players returning to the Rattlers for a second season in 2018. Erickson noted the value of their experience when helping their new teammates adapt to life in the Midwest League.
"I think your guys that come back and have a little bit of experience in the league, whether they're vocal leaders or they lead by experience, you may have an extra conversation with them," Erickson said. "But just the calming effect that they have, knowing what to expect, whether it's here at our facility or the travel that we have or going into other facilities around the Midwest League. You see the younger guys and some of the guys that are new asking them questions, and they're able to answer those questions."
Orimoloye has already noticed that new teammates are turning to him for help finding their way.
"Yeah, I'm helping out any way I can. A lot of guys had questions yesterday, so yesterday I was just answering a lot of questions, letting them know what we're going to do, where we're going to be at, what Beloit's going to be like, stuff like that," Orimoloye said.
On the field, Erickson noted that expectations are high for players coming back to see the Midwest League for a second time.
"You challenge those guys a little more, because there's some expectations for them," Erickson said. "These young players, this is an opportunity obviously for all of them. But as they go through it each and every year, and as kids come back to the same level, there's some more expectation levels and their window of opportunity gets a little smaller. So you try to help them and push them."
Another player seeing the Midwest League for the first time is catcher and 2017 third round pick KJ Harrison. Following in the footsteps of 2017 Timber Rattlers catcher Mario Feliciano, Harrison is a talented young hitter that is still learning to play his position at the professional level. Harrison batted .308 with a .388 on-base percentage and .546 slugging for Helena in 2017 but has played just 17 professional games behind the plate and spent most of his collegiate career as a first baseman.
"The biggest thing for me is getting in shape for it," Harrison said. "You can do drills, you can receive, block, do all that stuff, but when it comes down to catching every single day and feeling the wear and tear on your body, I think that's the biggest thing. So getting ready to endure that is going to be something's that going to be great and I'm excited for it."
Harrison will continue to learn behind the plate with Wisconsin but Erickson said he'll also get at bats as the designated hitter to allow fellow catcher Payton Henry, the Brewers' sixth round pick in the 2016 draft, to continue to get playing time as well. Erickson also said Harrison may get some playing time at first base later in the year.
"It's kind of nice for me to learn some other positions first and be able to catch. You can only catch so much sometimes, the legs give out a little bit. So to be able to play two different positions is really awesome. But I'm super excited to get back there again and be back there a lot more," Harrison said.
Harrison or Henry will likely be called upon on Thursday to catch 2017 7th round pick Bowden Francis, the Timber Rattlers' Opening Day starter. Francis was limited to just four appearances with the Arizona Summer League Brewers in his pro debut season but said he had a great offseason working out with some pretty notable training partners.
"I went down to Jupiter, FL for Cressey Sports, and he kind of analyzed my body. I went with my brother, who's with the Diamondbacks, and we worked out together. It was good to push each other. We have the same goal, to get to the big leagues, so working out with big leaguers and stuff, that helps," Francis said. "Working out with guys that have the same goal, (Mets pitcher Noah) Syndegaard, (Nationals pitcher Max) Scherzer, stuff like that. It was a really good offseason."
Francis is an imposing figure at 6'5" and 240 pounds, and said turning his physical potential into production was one of the things he learned this winter.
"In college and stuff I was more raw, but now I'm more talented and know how to use my body. So it's more like using tools now," Francis said.
Francis will bring a four-pitch arsenal into his first Midwest League season.
"I'm a power guy but I'm also a finesse guy. I throw a two-seam, but I throw a cutter too. It's kind of a new thing I got this year, a cut fastball. I have a slider and a changeup. The changeup's pretty good this year, so it's gotten better," Francis said.
Neuroscience Group Field at Fox Cities Stadium received a fresh blanket of snow on Tuesday, but the Timber Rattlers were able to take the field on Monday for what Erickson described as a "pretty good work day" and remain on schedule for Opening Day. Erickson described his new group of players as "pretty good, very respectful kids."
"Some of the details, some of the little things like picking up the dugout in spring training. When you've got three hours of a game and you have cups laying around the dugout, we had some kids take it upon themselves to get the other guys on their team to pick up cups and throw them in the trash. That was a really good moment for their manager," Erickson said. "And we've had a very polite, respectful group and obviously that helps when they respect each other, it's about building trust and a belief within the group and that definitely goes a long way when you're talking about things outside of talent on the field."