New Video Board Set for 2018 Timber Rattlers Season
Neuroscience Group Field at Fox Cities Stadium to receive scoreboard upgrade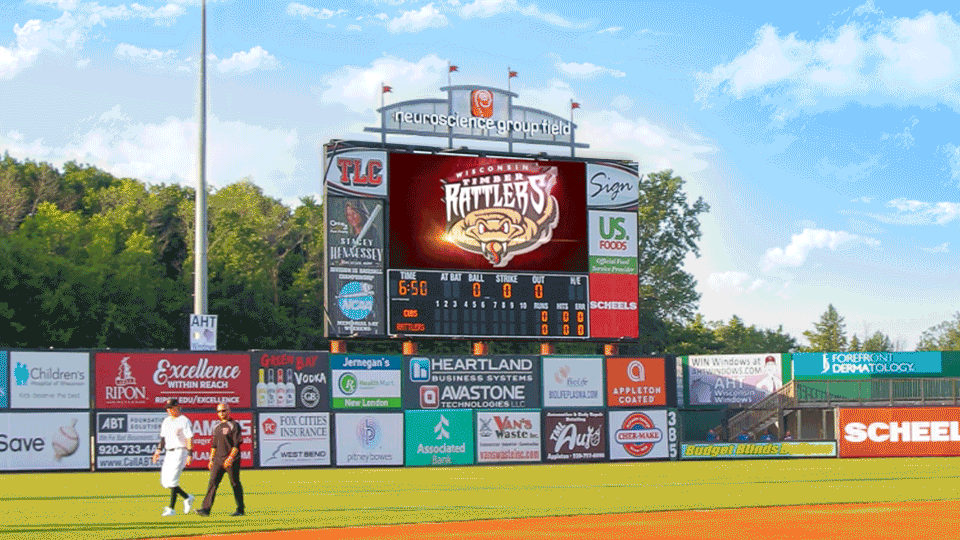 GRAND CHUTE, WI - It may only be mid-January, but the Wisconsin Timber Rattlers have big news for their-fast-approaching season. The Midwest League affiliate of the Milwaukee Brewers will install a new video board to be ready for the Timber Rattlers home opener on Saturday, April 7.The new video board
GRAND CHUTE, WI - It may only be mid-January, but the Wisconsin Timber Rattlers have big news for their-fast-approaching season. The Midwest League affiliate of the Milwaukee Brewers will install a new video board to be ready for the Timber Rattlers home opener on Saturday, April 7.
The new video board at Neuroscience Group Field at Fox Cities Stadium is an Outdoor Daktronics LED Video Display with a screen size measuring 26.5' high by 55' wide. By comparison, the video board that is being replaced has a screen size of 16' high by 35' wide.

"Our goal each season is to upgrade the overall fan experience and this new video display will surely provide a wow factor to all in attendance," said Wisconsin Timber Rattlers president Rob Zerjav. "The new video board will be roughly three times larger in screen size than our previous board and, in conjunction with upgrading all cameras to HD, will allow for a crisper picture and greater functionality."
The 15HD Pixel layout of the new video board will make for excellent image clarity and contrast to allow for great visibility to any seat in the stadium. There is also a feature that will allow for the board to show one large image or be divided into multiple zones to show graphics, animations, sponsorship messages, live video, and updated statistics.

Additionally, there will be a new video display on Casaloma Drive to greet fans as they enter the parking lot as well as a new video display above the ticket windows. The display on Casaloma Drive will measure 4' high by 9.5' wide. The display above the ticket windows will be 14" high by 19' wide.

"It's always exciting to continue a relationship that spans a number of years with this new installation for the Timber Rattlers," said Joey Hulsebus, Daktronics sales representative. "The team has been a trend setter with their technology and video displays while consistently engaging their fans at every game. We're looking forward to seeing the final installation later this spring."

Installation of the main video board will begin in Mid-March and all new displays will be completed before the season begins.

Daktronics is the world's industry leader in designing and manufacturing electronic scoreboards, programmable display systems, and large screen video displays. Other facilities around the state of Wisconsin currently utilizing Daktronics video displays include Miller Park, the Kohl Center, Camp Randall Stadium, the Resch Center, and the Bradley Center. The new downtown arena of the Milwaukee Bucks arena will also use Daktronics displays when it opens for the 2018-2019 NBA season.

The Timber Rattlers will begin the 2018 season at Beloit on Thursday, April 5. Wisconsin's home opener is Saturday, April 7 at 4:05pm against the Beloit Snappers.

Full season, partial season, and group ticket packages are currently available for the 2018 season. Tickets packages are available online, over the phone at (920) 733-4152 or (800) WI-TIMBER and in person. Groups of 20 or more may order tickets over the phone or in person. Individual game tickets for the 2018 season go on sale Saturday, March 10. The Neuroscience Group Field at Fox Cities Stadium Box Office is open from 9:00 am until 5:00 pm Monday through Friday.