Snake Pit Team Store to take part in Small Business Saturday and offer Cyber Weekend Sale and Extended Hours this Christmas Season
Ticket Office Offering Special Cyber Monday Ticket Offer, too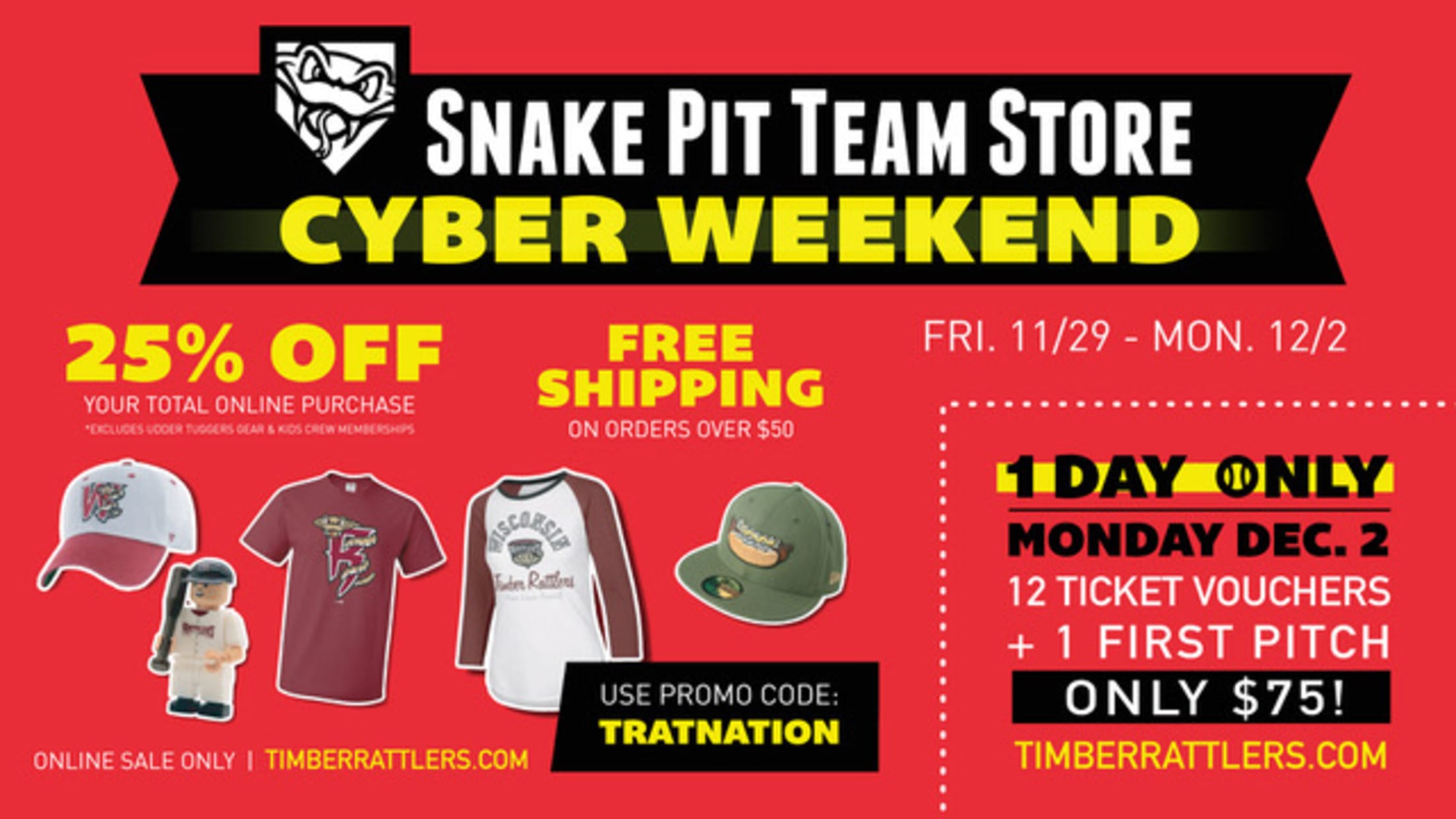 GRAND CHUTE, WI - Thanksgiving is late this year and that shortens the amount of time for Holiday shopping, but the Wisconsin Timber Rattlers have your back! The Snake Pit Team Store has extended hours, is participating in Small Business Saturday, and will have a Cyber Weekend deal to assist
GRAND CHUTE, WI - Thanksgiving is late this year and that shortens the amount of time for Holiday shopping, but the Wisconsin Timber Rattlers have your back! The Snake Pit Team Store has extended hours, is participating in Small Business Saturday, and will have a Cyber Weekend deal to assist you in making the baseball fan in your life merry.

The store at Neuroscience Group Field at Fox Cities Stadium will be closed on Black Friday (November 29). It will reopen on Saturday, November 30 at 10:00am to participate in Shop Appleton First Small Business Saturday. If you make an in-store purchase of the Kids' Crew, you will receive 20% discount on the rest of your purchases. The discount does not cover Kids' Crew and Game-Worn Jerseys.

Make a purchase in person at the store and we will stamp your Small Business Saturday Passport - available online here - and receive a team logoed reusable shopping bag.

Saturday, November 30 is also Fang's Breakfast with Santa event in the Fox Communities Credit Union Fox Club at the stadium. Reserve your spot in either the 9:00 am or 11:00 am breakfast serving with the Timber Rattlers ticket office and stop in the team store after it opens at 10:00am.

The Snake Pit Team Store will hold a Cyber Weekend Sale with a 25% discount on all online purchases - except for Wisconsin Udder Tuggers merchandise and the Kids' Crew - from Friday, November 29 through Monday, December 1. Select your items and enter the promo code "tratnation" to receive your discount. The Timber Rattlers are also offering FREE STANDARD SHIPPING for online purchases of over $50 during their Cyber Weekend sale.
Holiday Ticket Packages are also available from the team store and the ticket office. The options are: All-Inclusive with four undated reserved seat vouchers, a 2020 Timber Rattlers wall calendar, a parking pass good for one game, and a $10 gift card or the Love your Melon Package with four undated reserved seat vouchers, a 2020 Timber Rattlers wall calendar, and a limited edition Timber Rattlers Love your Melon hat.

The Timber Rattlers ticket office is getting in on the Cyber Action, too. They are offering a Cyber Monday ticket special of twelve undated reserved seat bleacher vouchers and an opportunity to throw out a first pitch before a game for just $75. This offer is only available on Monday, December 2 and only available through this link on the Timber Rattlers website.

Store hours during the holiday shopping season beginning November 30:
Saturdays (November 30 through December 21): 10:00am to 3:00pm
Weekdays: 9:00am to 6:00pm
Christmas Eve: 10:00am to 3:00pm
Christmas Day: Closed
December 26: Closed

Ticket packages for 2020 are available from the Wisconsin Timber Rattlers ticket office by calling any of the new members of our team at (800) WI-TIMBER or (920) 733-4152, stopping at Neuroscience Group Field at Fox Cities Stadium, or online at timberrattlers.com. April games are free with the purchase any ticket package this year. The ticket office is open from 9:00am to 5:00pm Monday through Friday.