T&G: A survivor and a fighter: Worcester State hall of fame honors heart disease advocate Gaffney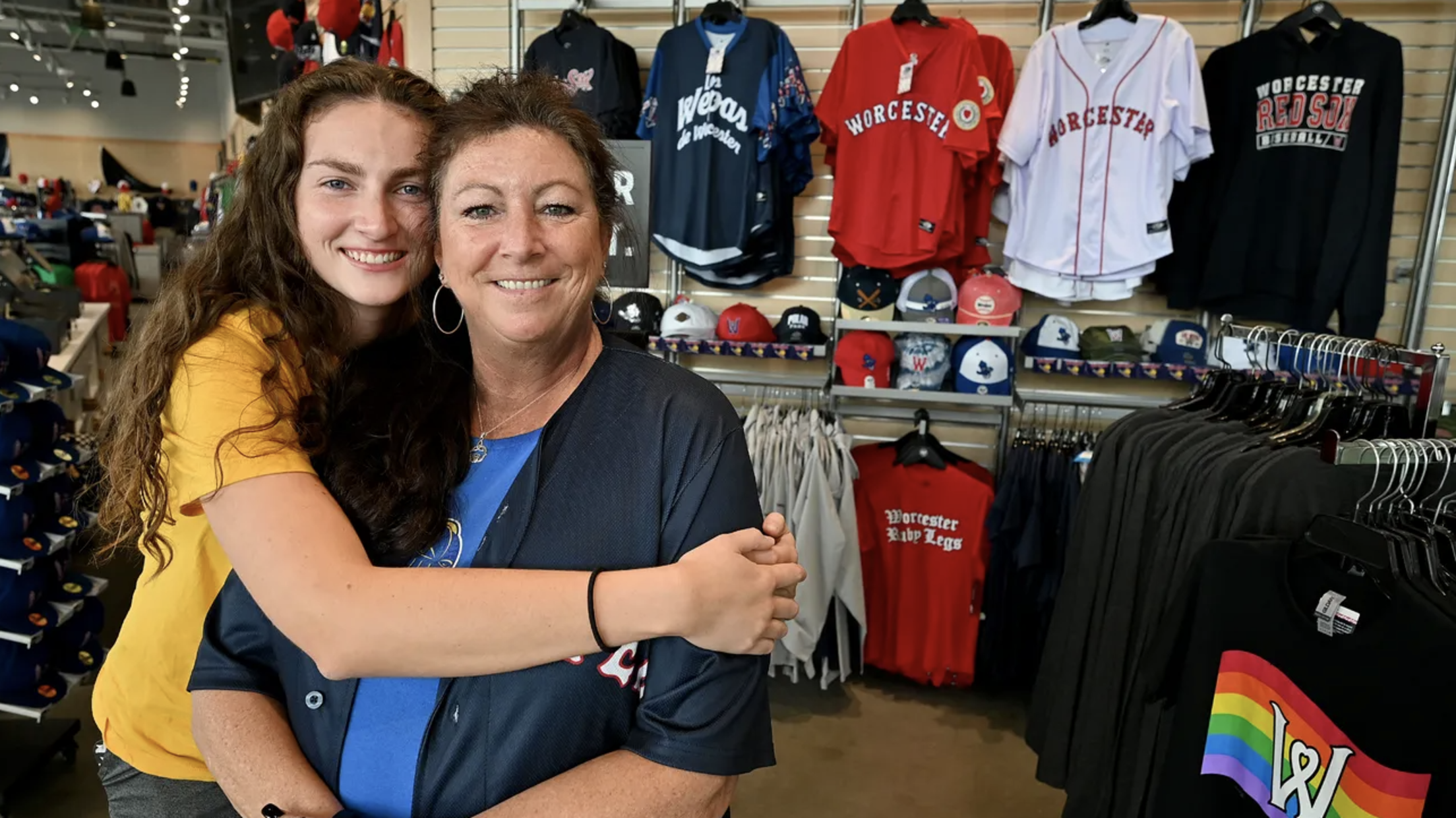 (Allan Jung/Telegram & Gazette)
WORCESTER — As a spokesperson for the American Heart Association, Chrissy (Mitchell) Gaffney's first presentation was to her daughter Erin's sixth-grade class at Leicester Middle School. Erin sat front and center in the gym's bleachers, and attentively listened to her mom, as she shared her inspiring story of overcoming multiple
WORCESTER — As a spokesperson for the American Heart Association, Chrissy (Mitchell) Gaffney's first presentation was to her daughter Erin's sixth-grade class at Leicester Middle School.
Erin sat front and center in the gym's bleachers, and attentively listened to her mom, as she shared her inspiring story of overcoming multiple heart surgeries and encouraged the kids to pay attention to how they felt, and if something wasn't right, to tell their parents.
"When I looked at Erin that day," Gaffney said, "it hit me that she was only 12 years old."
Gaffney, who grew up in Westborough, was 12, in 1978, when she had open-heart surgery at Boston Children's Hospital to repair an atrial septal defect, which is a hole in the wall that divides the upper chambers of the heart.
Gaffney was born with a congenital heart defect, but it went undetected until one day in sixth-grade gym class when she struggled to breathe while running the one-mile portion of the Presidential Physical Fitness test in the schoolyard. Her parents, the late Paul and Kay Mitchell, took her to the cardiologist.
"It was a very successful surgery, but the surgeon told my parents if (the heart defect) continued to go undetected, I would not have seen my 16th birthday," Gaffney said. "That was pretty scary when you think about it."
Doctors eventually gave Gaffney the OK to resume physical activities and she wore the 9-inch surgical scar on her chest as a badge of honor.
"That's the reason I'm alive," she said.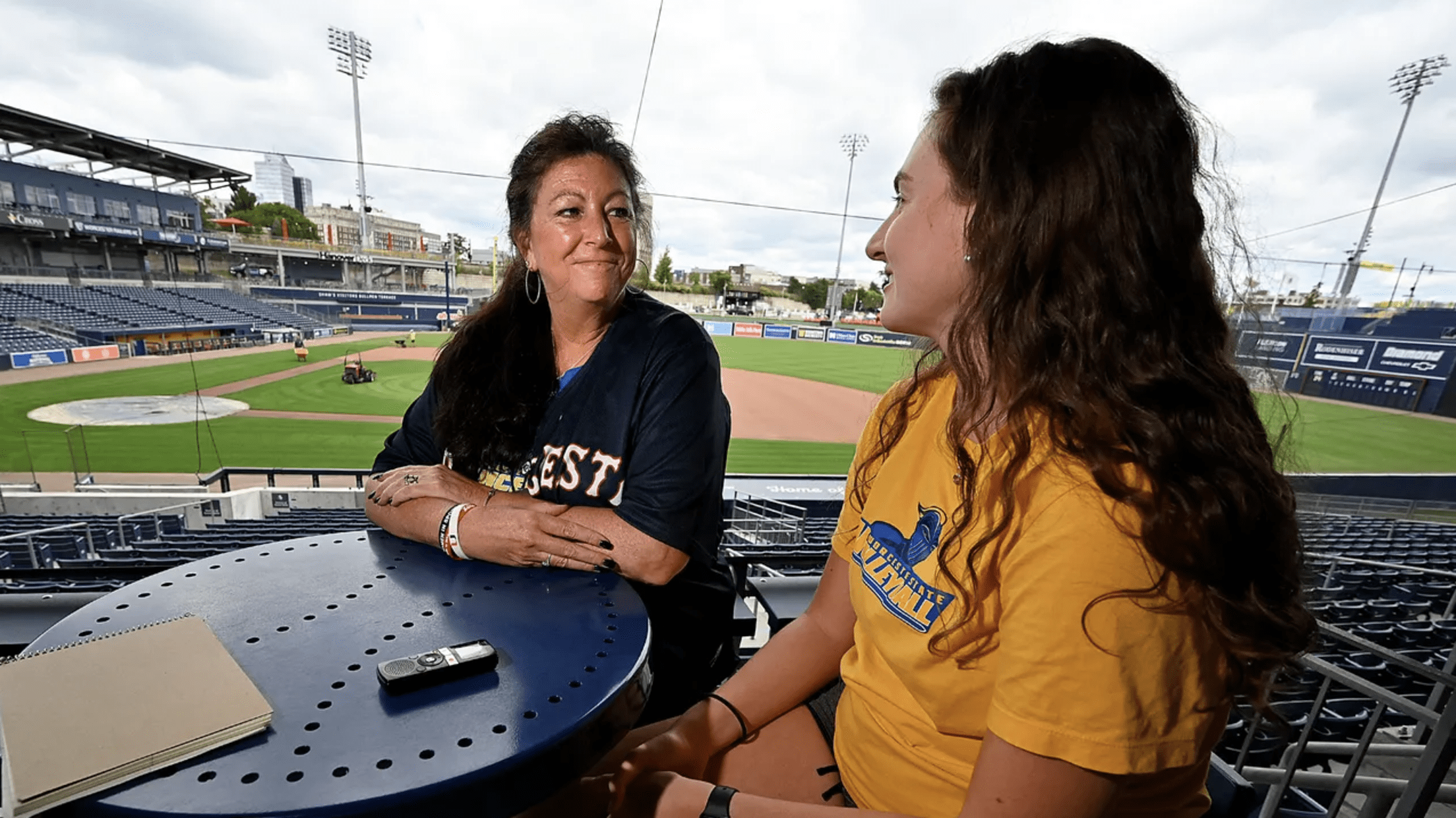 Gaffney went on to play four sports at Westborough High, where, as a senior, she was a member of the first girls' soccer team, and star for the volleyball, basketball and indoor and outdoor track teams at Worcester State. As a senior in 1989, she placed second in the 20-pound weight throw at the NCAA Division 3 Indoor Championships, and set school records in the hammer and discus.
On Friday, Gaffney will enter the Worcester State Athletics Hall of Fame.
Erin, now a Worcester State senior and co-captain of the volleyball team, nominated her mother for induction.
"It's amazing to see how many athletic accomplishments she was able to achieve while being a heart disease survivor at such a young age," Erin said. "She wasn't going to let heart disease get in the way of participating in the sports she loved to play. That makes me very proud of her."
Gaffney's husband, Steve, will be in attendance Friday, along with Erin and their sons, Daniel and Sean, family members, friends and Gaffney's Worcester State track and field coach, Mike Stomski, who is also in the WSU hall of fame.
Gaffney, a Worcester resident whose career in retail spans almost 40 years, works at the Worcester Red Sox Team Store, where she welcomes shoppers with her vivacity and is in charge of customizing jerseys. She was the first to open the doors to the WooSox Team Store in 2021.
"This is my favorite job," Gaffney said during an interview at Polar Park. "I absolutely love it."
Gaffney was active as a young girl, always playing outside and running around, but she was frequently sick, spiking fevers and experiencing body aches. The family physician initially treated her for arthritis.
For decades after her first surgery, nothing held Gaffney back. She had three healthy pregnancies and deliveries. She walked avidly.
"I had no limitations," she said.
At age 45, though, Gaffney was walking the track at Leicester High. She couldn't make it halfway around.
"I felt an incredible crush of pain on my chest," Gaffney said. "It was the first time since my surgery I had any issues. I was gasping to breathe. I knew what it was like to play a full game of basketball and be out of breath, but this was gasping to breathe."
Gaffney subsequently had two surgeries for atrial flutter. She lives with atrial fibrillation.
"She is so strong," Erin said, "especially advocating for her disease."
Gaffney is a passionate advocate for heart disease, most notably in women. Heart disease is the leading cause of death for women in the United States.
"I can't stress that enough," Gaffney said. "Having open-heart surgery as a child and having several more heart conditions and procedures as an adult, I feel it is my calling to advocate and raise awareness about this disease. The support I have received from friends and family over the years has helped me maintain a positive attitude, laughing every day, and really looking forward to the future. I'm proud to be a survivor."
In 2014, Gaffney was the American Heart Association's Go Red for Women spokesperson for Massachusetts. In 2019, she received the American Heart Association's Heart Hero Award for her years of dedication to advocating for heart disease.
Gaffney was the co-founder of Youth Heart Watch of Central Mass., which was a non-profit organization that provided free heart screenings for youth and those between the ages of 14-24 to detect potential heart conditions that could lead to sudden cardiac arrest.
In 2015, Worcester State honored Gaffney with the Distinguished Alumni Award for Outstanding Volunteer Service to the Community.
Gaffney has shared her inspirational story and message with schools, women's groups, area chambers of commerce and corporations.
"I hope to make a positive impact on people," Gaffney said.
Erin said she does that every day.
"I wish everybody had the chance to meet her," Erin said, "because she leaves such a positive impact on everyone."
Despite being fully-vaccinated and boosted, Gaffney contracted COVID-19 twice, and it took a toll on her. Months later, she is still dealing with fatigue and shortness of breath.
"But I have been getting better," she said. "I feel really good, all things considered."
Also entering the WSU hall of fame are James Hughes (Class of 1976, posthumously, men's ice hockey), Kemani Jones ('16, football), Sacha (Ashton) Langford ('21, women's basketball), Thomas White ('76, men's ice hockey), Malcolm Person (contributor, men's basketball), Richard Price (contributor, men's basketball) and the 1971-72 men's ice hockey team.
Being part of the WSU hall of fame class of 2022, on the 50th anniversary of Title IX, is extra special to Gaffney.
"The fact that I'm going to be inducted to the hall of fame knowing how much I overcame as a kid and having my daughter nominate me, it means the world to me that she thinks I deserve this honor," Gaffney said while fighting back tears. "I'm so thankful. It's something we'll share forever.
"This induction is going to be for that 12-year-old girl," Gaffney said, "who wasn't going to let heart disease stop her from playing the sports that she loved."
Contact Jennifer Toland at [email protected] Follow her on Twitter @JenTolandTG.