Bieber and Krieger lead Ducks in DH split with Ponies, 1-0, 6-0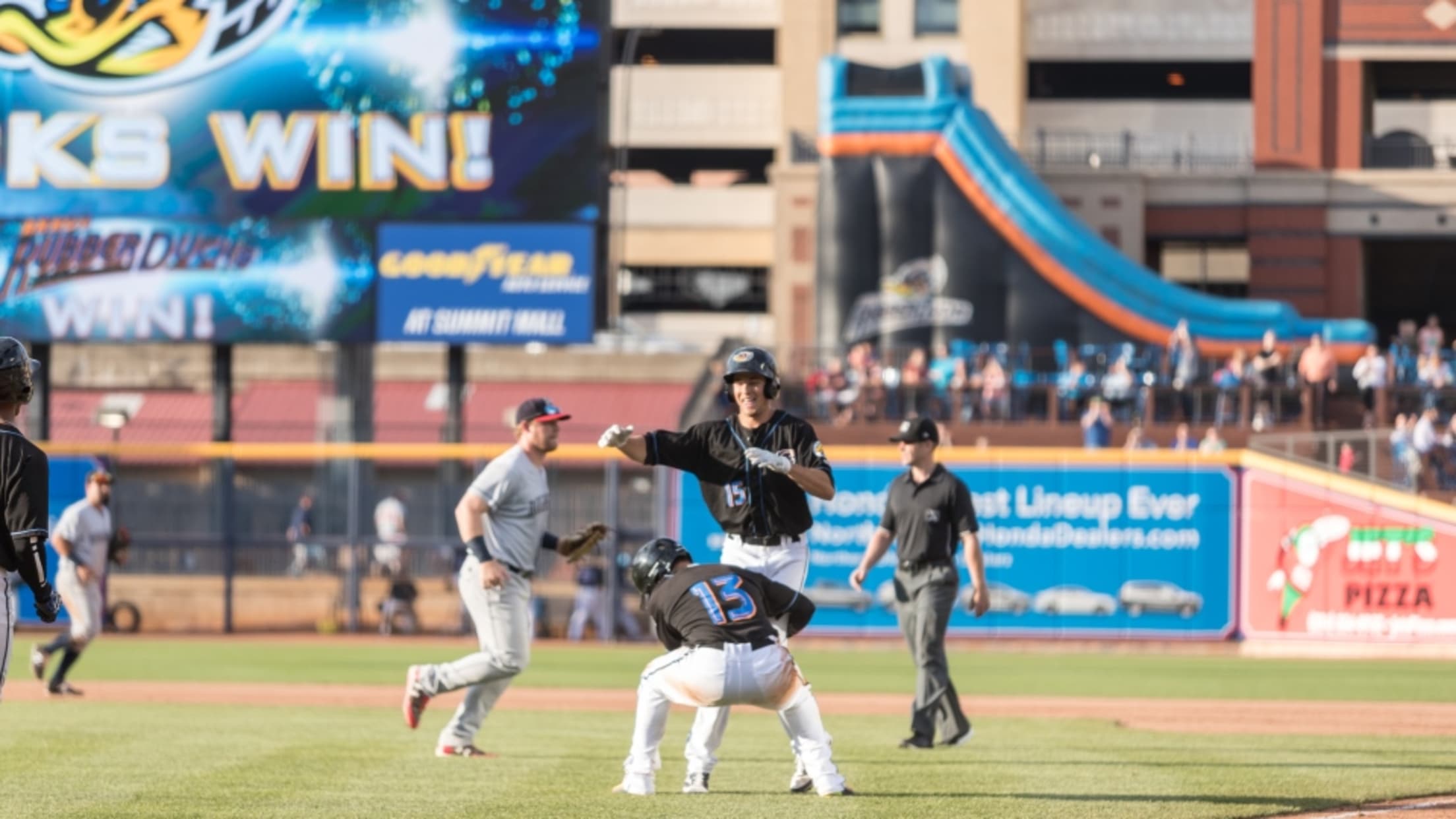 Tyler Krieger drove in the winning run on a sac fly in the bottom of the 9th in the RubberDucks' 1-0 win in game one of their doubleheader against the Rumble Ponies at Canal Park. (David Monseur)
RubberDucks Game RecapRubberDucks 1-0 Rumble Ponies 0-6Game 1: WP: Cameron Hill (4-4) LP: Cory Taylor (5-5) Save: noneGame 2: WP: Mickey Jannis (7-5) LP: Tanner Tully (1-1) Save: noneSummaryAkron's Tyler Krieger lifted a game-winning sacrifice fly in the bottom of the ninth inning, and Shane Bieber and Cameron Hill combined
RubberDucks Game Recap
RubberDucks 1-0 Rumble Ponies 0-6
Game 1: WP: Cameron Hill (4-4) LP: Cory Taylor (5-5) Save: none
Game 2: WP: Mickey Jannis (7-5) LP: Tanner Tully (1-1) Save: none
Summary
Akron's Tyler Krieger lifted a game-winning sacrifice fly in the bottom of the ninth inning, and Shane Bieber and Cameron Hill combined on a five-hit shutout, as the RubberDucks edged the Binghamton Rumble Ponies, 1-0, in the opening game of a doubleheader Tuesday night at Canal Park in Akron, Ohio.
Turning Point
The RubberDucks (50-50) loaded the bases with one out in the bottom of the ninth against right-hander Cory Taylor on a pair of singles by Eric Haase and Yu Chang and an intentional walk to Mike Papi. Krieger lifted a shallow fly ball to left-center, which was caught by Ponies outfielder Pat Biondi. Haase tagged up and sprinted for the plate, and Biondi's throw was slightly up the first-base line, allowing the winning run to score.
Winging It
Akron starter Shane Bieber was sensational in his Double-A debut. The right-hander was called up from Single-A Lynchburg and worked 6.2 shutout innings, scattering five hits and walking only one. He struck out five. At one point in the game, he retired 14 consecutive hitters. He issued a walk to his final hitter, Gustavo Nunez, in the seventh. It was his first walk since June 16th. Hill (4-4) took over and retired all seven batters he faced to earn the relief win. On the Binghamton side, Marcos Molina tossed six shutout innings, but did not figure in the decision.
Duck Tales
Krieger also won a game against Richmond last Thursday with a two-run homer in the bottom of the eighth inning. He now has four RBI on the homestand and 32 on the season. Papi walked twice. Todd Hankins singles, walked and stole a base in Game 1.
Notebook
In Game 2, the Rumble Ponies (55-45) secured a split of the DH with a 6-0 shutout win…Right-hander Mickey Jannis (7-5) tossed a complete-game, four-hitter and fanned nine…The Ponies broke the game open with four runs in the fourth against Ducks starter Tanner Tully (1-1)…The RubberDucks enjoyed their fifth walk-off win of the season and improved to 5-1 in extra-inning games…Time of games: 2:13… Attendance: 3,357.
On Deck
The RubberDucks and Rumble Ponies will conclude the series on Wednesday afternoon at 12:05. The game will be broadcast on Fox Sports 1350 AM, the WARF iHeart channel, and the TuneIn Radio App.