Jankins Tosses First Complete Game of Career As Shuckers Top Barons
Biloxi Righty Allows Just One Unearned Run in Seven-Inning Complete Game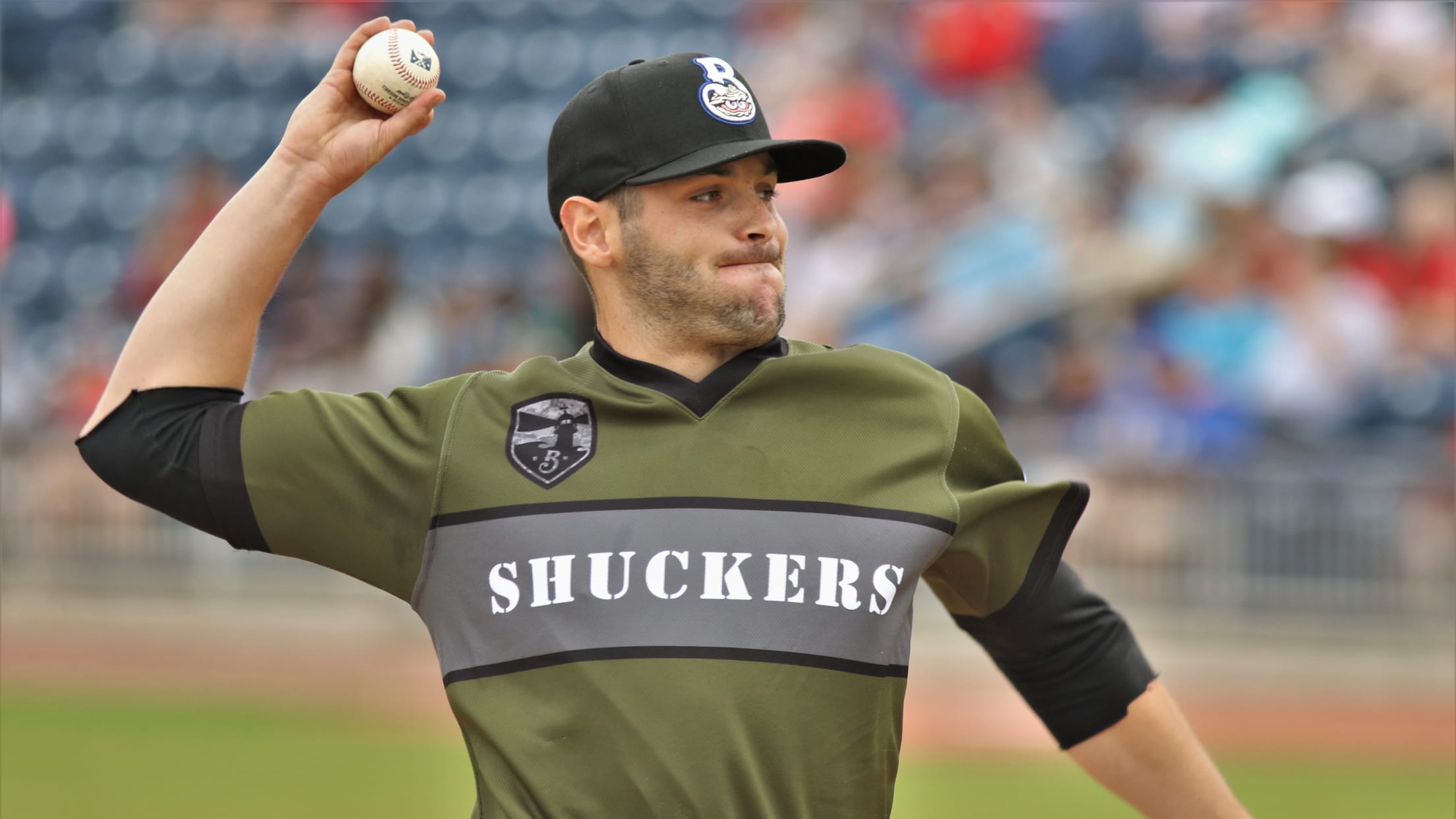 Thomas Jankins fires the first complete game of his career. The righty allowed one unearned run and retired the final 17 batters that he faced. (Michael Krebs)
RHP Thomas Jankins (W, 1-0) fired the first complete game of his career to help the Biloxi Shuckers (3-1) top the Birmingham Barons (1-3) 3-1 on Sunday afternoon at MGM Park. The 23-year-old allowed just one unearned run and struck out six, retiring the final 17 batters that he faced
RHP Thomas Jankins (W, 1-0) fired the first complete game of his career to help the Biloxi Shuckers (3-1) top the Birmingham Barons (1-3) 3-1 on Sunday afternoon at MGM Park. The 23-year-old allowed just one unearned run and struck out six, retiring the final 17 batters that he faced in the win.
Jankins allowed his lone run in the first inning. Luis González reached and advanced to second base on a throwing error by shortstop C.J. Hinojosa and moved to third on a groundout by Blake Rutherford. Yermin Mercedes then delivered an RBI single to put Birmingham on the board.
Biloxi's offense responded immediately in the home half of the first. Trent Grisham singled and motored around to third as Hinojosa reached on a throwing error by Barons' starter LHP Matt Tomshaw (L, 0-1). Dillon Thomas then knotted the game at 1-1 with a sacrifice fly to left, his seventh RBI of the season in just three games played.
In the second, Trey Michalczewski started the frame with a single but was cancelled out on a double play ball from Ti'Quan Forbes. After the double play, Jankins sat down the side in order in each of the final five innings, striking out five while inducing four groundball outs and eight flyball outs. It's the 11th complete game in Shuckers history and the first since RHP Zack Brown tossed a complete game shutout against the Mississippi Braves on June 15, 2018.
The Shuckers took the lead for good in the bottom of the second inning. Blake Allemand doubled on a high pop fly in the infield that danced away from Barons second baseman Ramón Torres. Two batters later, Alexander Alvarez recorded his first Double-A hit, an RBI single to right to plate Allemand. Grisham followed with a bunt single and Alvarez came in to score on a Hinojosa RBI single, giving Biloxi their 3-1 edge.
Biloxi's series with the Barons comes to a close on Monday night at 6:35 pm. RHP Alec Bettinger is scheduled to makes his Double-A debut for the Shuckers while LHP Sean Nolin will toe the slab for the Barons. Monday night is Barks and Brews presented by Raising Canes and F.E.B. Distributing. Fans can purchase a $10 specialty mug at the Buena Vista Beer Garden and bring it back for $3 craft beer refills. Additionally, dogs can join their owners out on the berm and can participate in the Shuckers pregame dog parade.
Full Season Shuck Nation memberships, Weekender Shuck Nation memberships and Group Outings for the 2019 Biloxi Shuckers season are on sale now and are available for purchase by calling 228-233-3465, online at biloxishuckers.com or by visiting the MGM Park front office. Biloxi will host the 2019 Southern League All-Star Festivities, with a Home Run Derby on Monday, June 17 and the All-Star Game at 6:35 pm on Tuesday, June 18 at MGM Park. Tickets for 2019 All-Star Events are on sale now.
ABOUT THE BILOXI SHUCKERS:
The Biloxi Shuckers are the Double-A Affiliate of the Milwaukee Brewers. The Shuckers play at MGM Park in Biloxi, Mississippi and will host the 2019 Southern League All-Star Game on June 18. For more information please visit biloxishuckers.com and follow us on Twitter @biloxishuckers and at facebook.com/biloxishuckers.