Shuckers present check for $5,763.50 to Favre4Hope Fund at Memorial Hospital Foundation
2017 jersey auctions have raised $11,873.67 for Favre4Hope and March of Dimes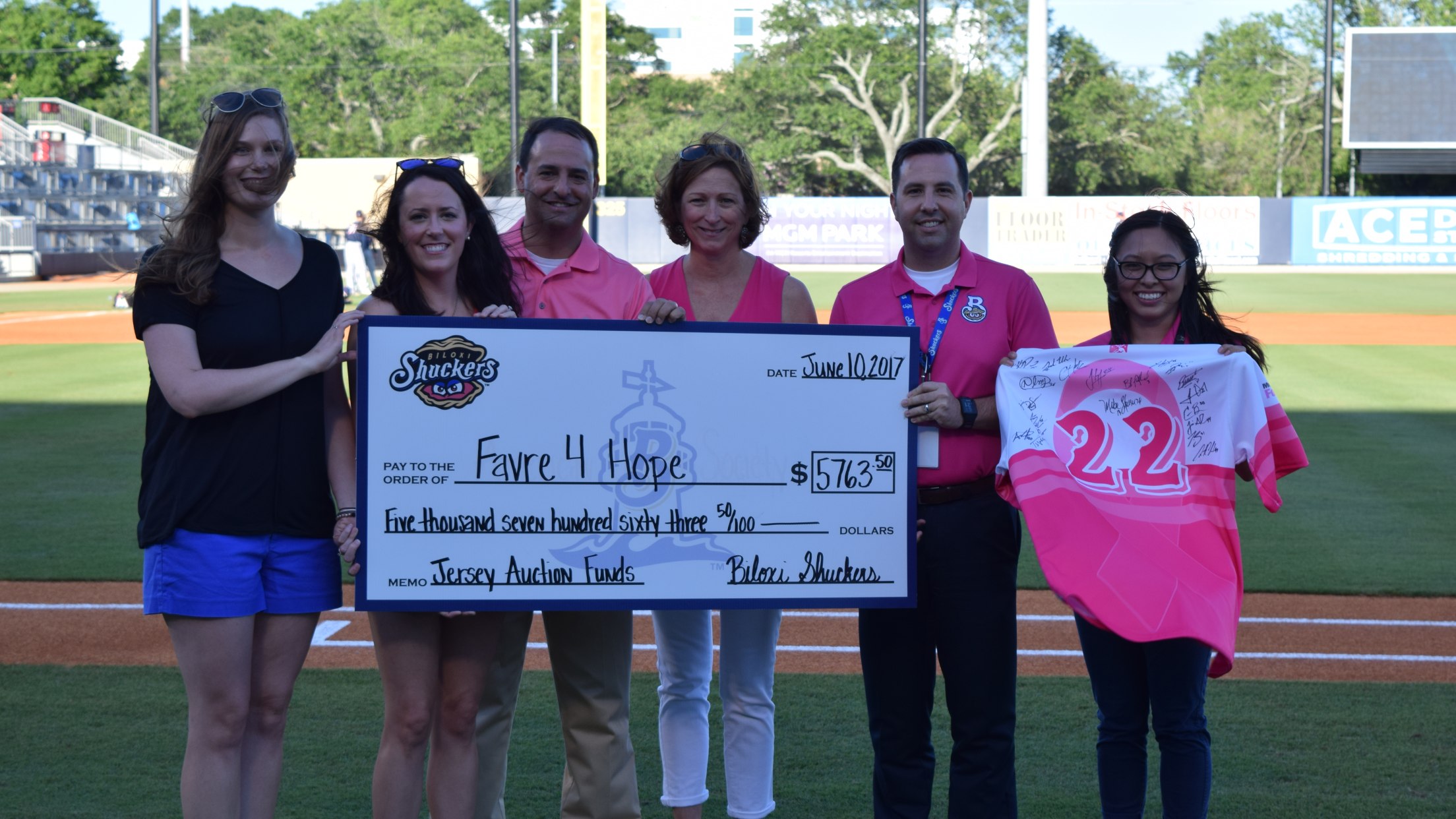 BILOXI, MS - During the June 2 game against the Mobile BayBears, the Biloxi Shuckers wore Pink Breast Cancer Awareness Jerseys that were auctioned off with the proceeds benefitting Favre4Hope and Memorial Hospital Foundation.Biloxi Shuckers fans answered the call once again, and before Saturday night's game against Jacksonville, a check for
BILOXI, MS - During the June 2 game against the Mobile BayBears, the Biloxi Shuckers wore Pink Breast Cancer Awareness Jerseys that were auctioned off with the proceeds benefitting Favre4Hope and Memorial Hospital Foundation.
Biloxi Shuckers fans answered the call once again, and before Saturday night's game against Jacksonville, a check for $5,763.50 was presented to the Favre4Hope fund at Memorial Hospital Foundation from that evening's jersey auction.
"Thank you for the generosity of Shuckers fans and the support you showed last week," said Dave Estorge, Memorial Hospital Foundation president. "The Favre4Hope Foundation has matched dollar-for-dollar what was raised last week, plus additional donations, bringing the total contribution to $16,000. Thank you for joining us and Memorial Hospital Foundation the fight against breast cancer."
Favre4Hope has helped women and men with breast cancer on the Gulf Coast and since 2006. The Favre4Hope fund has provided $144,512 in assistance to 93 breast cancer patients in our community.
"We were happy to partner with the Favre4Hope and Memorial Hospital Foundation for a great night at MGM Park to support a cause that affects so many people," said Shuckers general manager Chuck Arnold. "Our staff is committed to serving the community and are always seeking ways to make a positive impact on the Mississippi Gulf Coast."
The Shuckers have raised $11,873.67 during the first two jersey auction nights this season, benefitting March of Dimes and the Favre4Hope fund at Memorial Hospital. The Shuckers will partner with Mississippi Center for Autism and Related Developmental Disabilities for a night of awareness and special jersey auction during the July 16 game against the Birmingham Barons.
The homestand continues on Sunday with great promotions:
Family Fun Day - Every Sunday is a Family Fun Day at MGM Park with a discounted Family Four Pack offer, which includes 4 Reserved Tickets and 4 Schooner Specials (hot dog, chips, and drink) for just $60! Fans will have the opportunity to get autographs from Shuckers players before each Sunday home game on the concourse in front of Shuckers Shop and after the game, bring your glove and a baseball and play catch on the field.
Schooner's Birthday Party and Kids Krewe Sunday - YOU'RE INVITED! Schooner the Seagull is turning TWO! Join Crawford the Mudbug, Kernel Cobb, Spud & Schooner's other Gulf Coast mascot friends for a birthday party celebration! It's also Schooner's Kids Krewe Sunday presented by Smallcakes D'iberville! Our Kids Krewe members are invited to celebrate with Schooner on the field!
Fans are encouraged to purchase tickets in advance at any Ticketmaster outlet or biloxishuckers.com.
ABOUT THE BILOXI SHUCKERS: The Biloxi Shuckers are the Double-A Southern League Affiliate of the Milwaukee Brewers. The Shuckers play at MGM Park in Biloxi, Mississippi. For more information, please visit biloxishuckers.com and follow us on Twitter @biloxishuckers and at facebook.com/biloxishuckers.com.