Six Shuckers Named Southern League All-Stars
Four Position Players, Two Pitchers to Represent Biloxi at MGM Park on June 18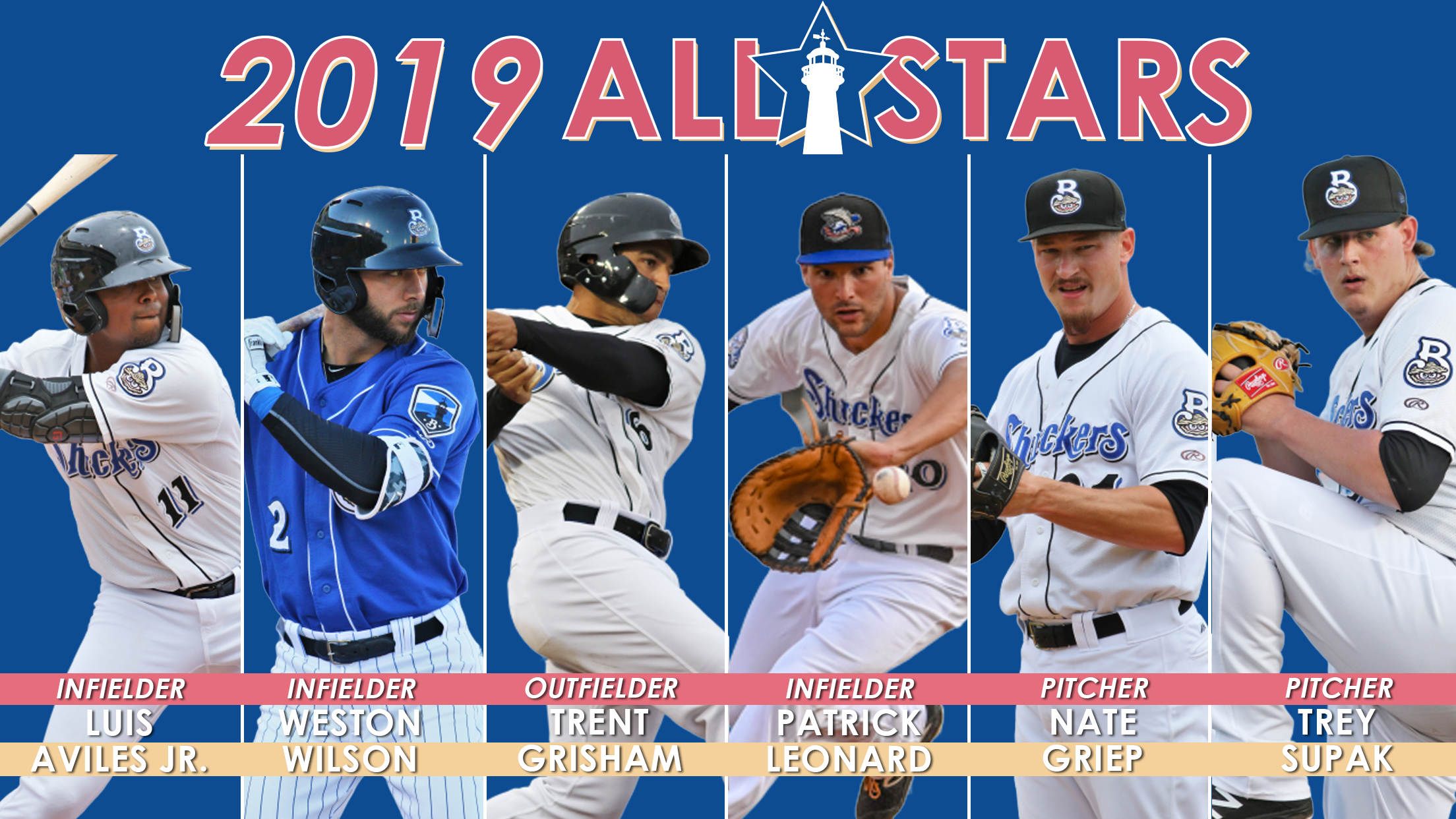 (Players Images - Michael Krebs/Stephen Mauthe)
Six Biloxi Shuckers have been named to the 2019 Southern League South Division All-Star team, the Southern League announced on Thursday. First baseman Patrick Leonard, third baseman Weston Wilson, shortstop Luis Aviles Jr. and designated hitter Trent Grisham will be part of the South Division offense, while RHP Trey Supak
Six Biloxi Shuckers have been named to the 2019 Southern League South Division All-Star team, the Southern League announced on Thursday. First baseman Patrick Leonard, third baseman Weston Wilson, shortstop Luis Aviles Jr. and designated hitter Trent Grisham will be part of the South Division offense, while RHP Trey Supak and RHP Nate Griep will be part of the pitching staff for the South. The 2019 Southern League All-Star Game will be played at the Shuckers home, MGM Park, on June 18 at 6:35 pm.
Patrick Leonard secures his third career Midseason All-Star selection and first as a member of the Brewers organization. The 26-year-old was named a Florida State League Midseason All-Star in 2014 with the Charlotte Stone Crabs and an International League All-Star with the Durham Bulls in 2017. In 55 games with Biloxi, Leonard has hit .296 with 13 doubles, a triple, five home runs and 18 RBI. The Jacksonville, FL native ranks sixth in the Southern League in hits (56), total bases (86), OBP (.388) and OPS (.843), is tied for sixth in doubles, total bases (86) and walks (28), is seventh in batting average and is tied for seventh in extra-base hits (19). Defensively, Leonard leads the league in total chances (414) and has not committed an error. He is one of just three players in all of Minor League Baseball with at least 360 total chances that still sports a 1.000 fielding percentage.
Weston Wilson earns his first Midseason All-Star selection. The third baseman was named the Southern League Player of the Month for April after hitting .295 with six doubles, a triple, six home runs, 18 RBI and 20 runs scored. The High Point, NC native is tied for third in the Southern League in home runs (10) and ranks eighth in RBI (28). A 17th-round pick out of Clemson by the Milwaukee Brewers in 2016, Wilson was also named the Carolina League Player of the Month in July of 2018.
Luis Aviles Jr. also gets his first Midseason All-Star nod. Over 49 games with the Shuckers, Aviles has hit .257 with six doubles, two home runs, 22 RBI and 29 runs scored. The native of Havana, Cuba has successfully swiped 14 bases in 17 attempts, the fourth highest stolen base total in the Southern League. Taken in the 30th round of the 2013 draft by the Brewers, Aviles has a .330 on-base percentage this season, the highest on-base percentage of his career.
Trent Grisham nets his first Midseason All-Star selection as the South Division's designated hitter. In 54 games, the Shuckers every day centerfielder has hit .260 with 12 doubles, three triples, ten home runs and 33 RBI. The 22-year-old set a new career high in homers after he homered in four consecutive games for the Shuckers from May 31 to June 3. He was named the Southern League Player of the Week on June 3 after slashing .409/.517/1.136 with five doubles, a triple, three home runs, 12 RBI, eight runs scored, eight walks and just two strikeouts in six starts from May 27 to June 2. Currently, the 15th overall pick from 2015 is second in the Southern League in total bases (101) and extra-base hits (25), third in walks (34), slugging percentage (.495) and OPS (.859), tied for third in home runs, fifth in RBI, seventh in hits (53) and tied for eighth in doubles.
Trey Supak garners his second straight Midseason All-Star selection after being named to the Carolina League All-Star team in 2018. Over 12 starts with the Shuckers, the 23-year-old is 7-2 with a 2.10 ERA. In 73.0 innings, the righty has allowed 17 earned runs and walked 16 while striking out 47 and holding opponents to a .202 batting average against. The La Grange, TX native leads the Southern League in innings pitched, is tied for the league lead in games started and wins, second in WHIP (0.93), and ranks fifth in ERA and batting average against. Acquired in a trade with the Pittsburgh Pirates in December of 2015, Supak earned Southern League Pitcher of the Week honors on April 21. He turned in his longest career outing on May 30 against Tennessee, throwing 8.2 innings before allowing his first hit.
Nate Griep collects his third consecutive Midseason All-Star selection and second Southern League Midseason All-Star nod. Griep currently leads the Southern League in saves, collecting 12 saves in 12 save opportunities. Over 21 appearances, the righty is 2-1 with a 1.07 ERA, hurling 25.1 innings and allowing just three earned runs on 12 hits while walking seven and striking out 26. The former Kansas State Wildcat was named the BC® Relief Pitcher of the Month for May on Wednesday after allowing just four total baserunners and not surrendering a run in 11 appearances. Taken in the 8th round of the 2015 draft, Griep notched his 100th career save on June 2 and is the all-time saves leader in Shuckers history, recording 46 saves in 49 save opportunities over 72 appearances with the Shuckers.
The 2019 Southern League All-Star festivities in Biloxi get started with FanFest and the Southern League Home Run Derby on Monday, June 17 at 3:00 pm. The Opening Night Gala, located at the Hard Rock Hotel & Casino Pool, will take place from 7:30 pm to 9:30 pm. The All-Star Luncheon, located at Hard Rock Live, will take place from 11:30 am to 1:30 pm on Tuesday, June 18, and will feature the induction of the Southern League Hall of Fame and a keynote speech from former Mississippi State pitcher and 2003 eighth-overall selection Paul Maholm. The Southern League All-Star Game will begin at 6:35 pm at MGM Park and will include special All-Star jerseys, a performance by the Fur Circus and postgame fireworks.
Biloxi concludes their series with the Mississippi Braves on Thursday night. The Shuckers will send RHP Bowden Francis (1-4, 6.00) to the mound opposite M-Braves LHP Kyle Muller (4-1, 1.97) for a 6:35 pm first pitch at Trustmark Park. The game can be heard locally in Biloxi on Cruisin' WGCM AM 1240/100.9 FM, TuneIn Radio or the MiLB First Pitch App and can be seen on MiLB.TV. Fans can save $10 off their subscription when they use the promo code 'Shuckers' at checkout.
Full Season Shuck Nation memberships, Weekender Shuck Nation memberships and Group Outings for the 2019 Biloxi Shuckers season are on sale now and are available for purchase by calling 228-233-3465, online at biloxishuckers.com or by visiting the MGM Park front office. Biloxi will host the 2019 Southern League All-Star Festivities, with a Home Run Derby on Monday, June 17 and the All-Star Game at 6:35 pm on Tuesday, June 18 at MGM Park. Tickets for 2019 All-Star Events are on sale now.
ABOUT THE BILOXI SHUCKERS:
The Biloxi Shuckers are the Double-A Affiliate of the Milwaukee Brewers. The Shuckers play at MGM Park in Biloxi, Mississippi and will host the 2019 Southern League All-Star Game on June 18. For more information please visit biloxishuckers.com and follow us on Twitter @biloxishuckers and at facebook.com/biloxishuckers.