Troy Stokes Jr. Awarded Rawlings Gold Glove
Shuckers Outfielder One Of Just Nine Minor League Players to Take Home 2018 Gold Glove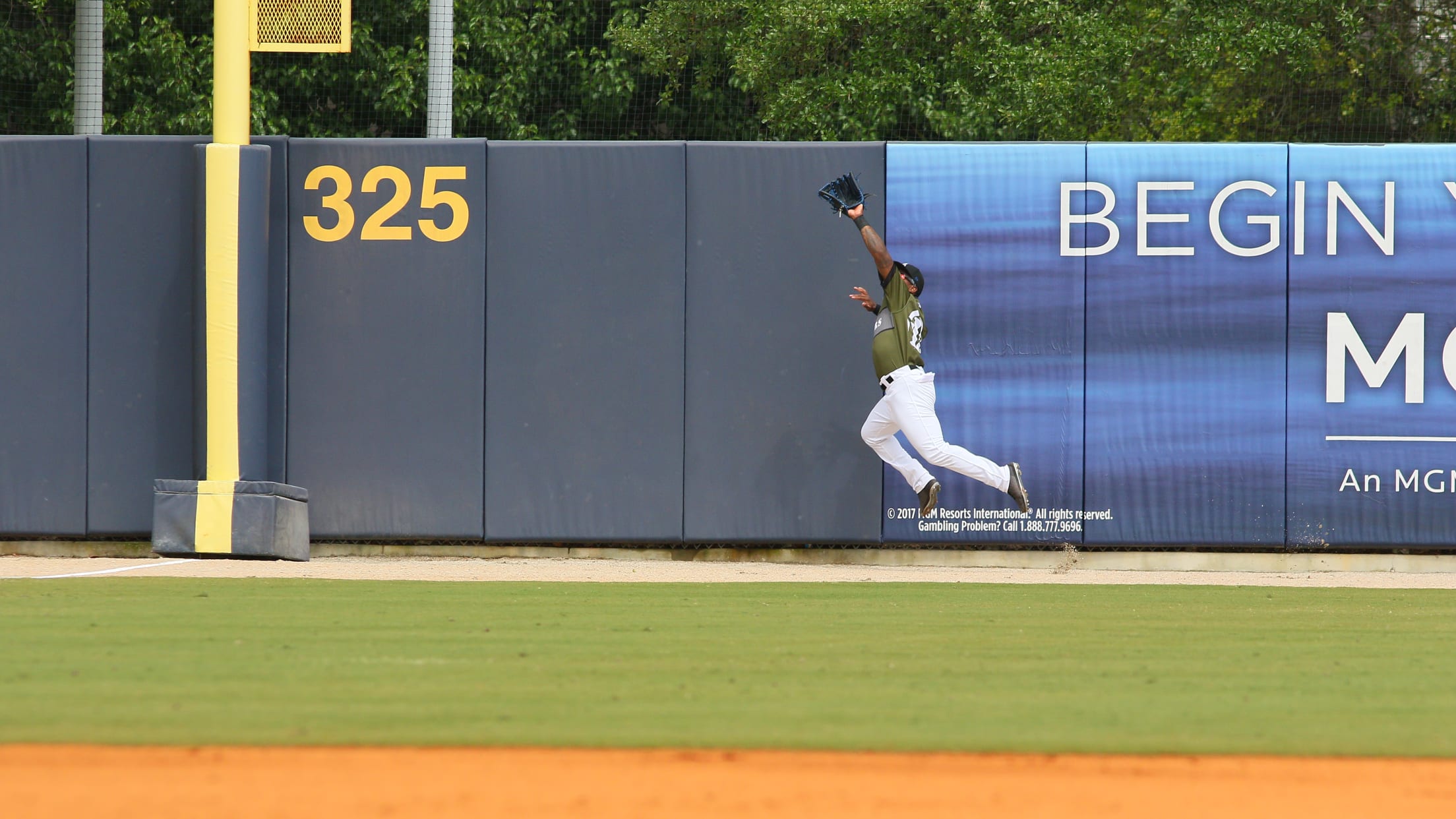 In one of his highlight catches of the season, Troy Stokes Jr. leaps before taking a seat in the left field corner. Stokes took home a Gold Glove for his efforts in 2018. (Michael Krebs)
Biloxi Shuckers outfielder Troy Stokes Jr. has been awarded the 2018 MiLB Rawlings Gold Glove for left field. Stokes becomes the second Shuckers player to win a Rawlings Gold Glove, joining Orlando Arcia, who took home the award in 2015.In 123 games for the Shuckers this season, Stokes had a
Biloxi Shuckers outfielder Troy Stokes Jr. has been awarded the 2018 MiLB Rawlings Gold Glove for left field. Stokes becomes the second Shuckers player to win a Rawlings Gold Glove, joining Orlando Arcia, who took home the award in 2015.
In 123 games for the Shuckers this season, Stokes had a .995 fielding percentage, committing just one error in 220 chances. The Brewers' number 15 prospect recorded 217 putouts with a pair of outfield assists, logging 114 games in left field. A fourth-round pick by the Brewers in 2014, Stokes was one of the most reliable players for Biloxi in 2018, playing in 79 consecutive games from May 4 to August 3.
While anchoring the Shuckers defense, Stokes also put together a potent offensive season. The 22-year-old slashed .233/.343/.430 with 23 doubles, six triples, 19 home runs and 58 RBI. He ranked in the top five in the Southern League in six categories, finishing third in extra-base hits (48), fifth in walks (65) and tied for fifth in home runs and triples. Additionally, Stokes was named a Southern League Mid-Season All-Star, the first All-Star honor of his career.
Stokes' award adds to the list of hardware the Shuckers took home in 2018. Fellow outfielder Corey Ray was named the Southern League MVP, a Southern League Postseason All-Star and the Brewers Minor League Player of the Year. RHP Zack Brown was named the 2018 Southern League Most Outstanding Pitcher, a Southern League Postseason All-Star and also earned the Brewers Minor League Pitcher of the Year award. RHP Nate Griep made the 2018 Southern League Postseason All-Star team, and manager Mike Guerrero was honored as the 2018 Southern League Manager of the Year.
With the 2019 schedule already announced, details on promotions and start times will be released at a later date. Shuck Nation Memberships and group outings are available for purchase at the Shuckers Front Office on weekdays from 10 AM to 5 PM CT or online at biloxishuckers.com.
ABOUT THE BILOXI SHUCKERS:
The Biloxi Shuckers are the Double-A Affiliate of the Milwaukee Brewers. The Shuckers play at MGM Park in Biloxi, Mississippi and will host the 2019 Southern League All-Star Game. For more information please visit biloxishuckers.com and follow us on Twitter @biloxishuckers and at facebook.com/biloxishuckers.com.