Kernels seeking nominations for Second Annual Kid Heroes Baseball Card Set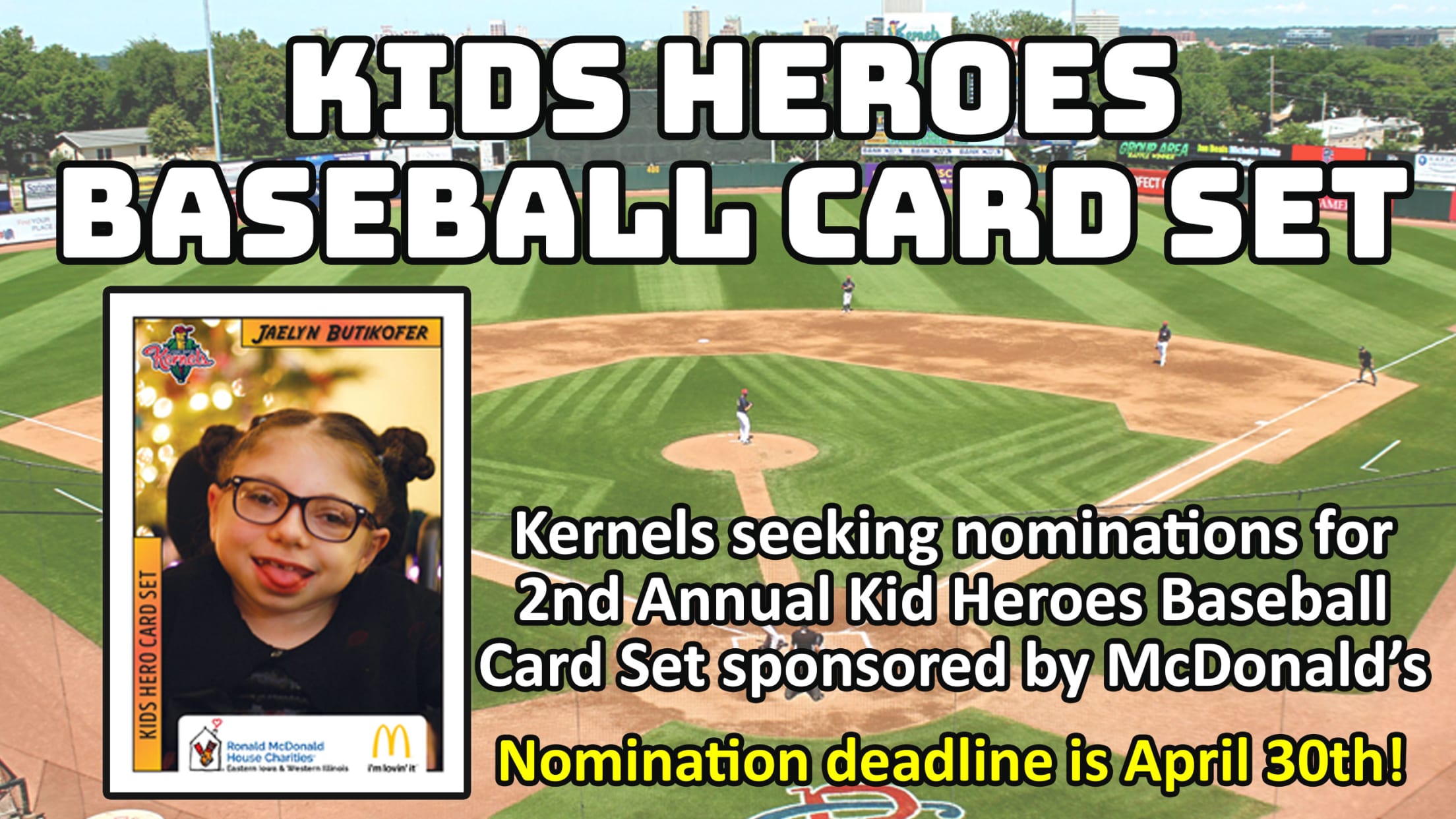 Cedar Rapids, IA - The Cedar Rapids Kernels have partnered with Ronald McDonald House Charities of Eastern Iowa and Western Illinois (RMHC-EIWI) to release the second annual Kid Heroes Baseball Card Set, sponsored by McDonald's. The card set will spotlight kids who have used RMHC-EIWI services and showcase some of
Cedar Rapids, IA - The Cedar Rapids Kernels have partnered with Ronald McDonald House Charities of Eastern Iowa and Western Illinois (RMHC-EIWI) to release the second annual Kid Heroes Baseball Card Set, sponsored by McDonald's. The card set will spotlight kids who have used RMHC-EIWI services and showcase some of the incredible kids they meet and serve every day.
The card set will be given away to the first 1,000 fans that enter Perfect Game Field at Veterans Memorial Stadium on Sunday, July 14th. Those kids selected to appear in the card set and their families will be honored on the field prior to the July 14th game, and will receive four tickets to the game.
The Kernels will begin taking nominations for the Kid Heroes Card Set on Friday, March 1st. The first 25 submissions will make it into the card set, so we urge people to turn in nominations right away. Nominations will be taken until Tuesday, April 30th OR until 25 submissions are received.
To give all kids the opportunity to be in this set, we ask that those included in the 2018 Kid Heroes Baseball Card Set please not apply.
Nomination forms can be accessed by visiting the Kernels offices during normal business hours (9:00 AM to 5:00 PM, Monday-Friday). A PDF version of the nomination form may be downloaded by clicking here. An online version of the form can be accessed by clicking here.
Nominations can be submitted online, or mailed directly to the Kernels offices. Please include a photo of the Kid Hero that will be used on the baseball card, along with the completed nomination form.
For more information on the Kid Heroes Baseball Card set, or to access a nomination form, please contact Jessica Fergesen at (319) 896-7608 or by email at [email protected].