2023 Weather Policy & Updates
Everything You Need to Know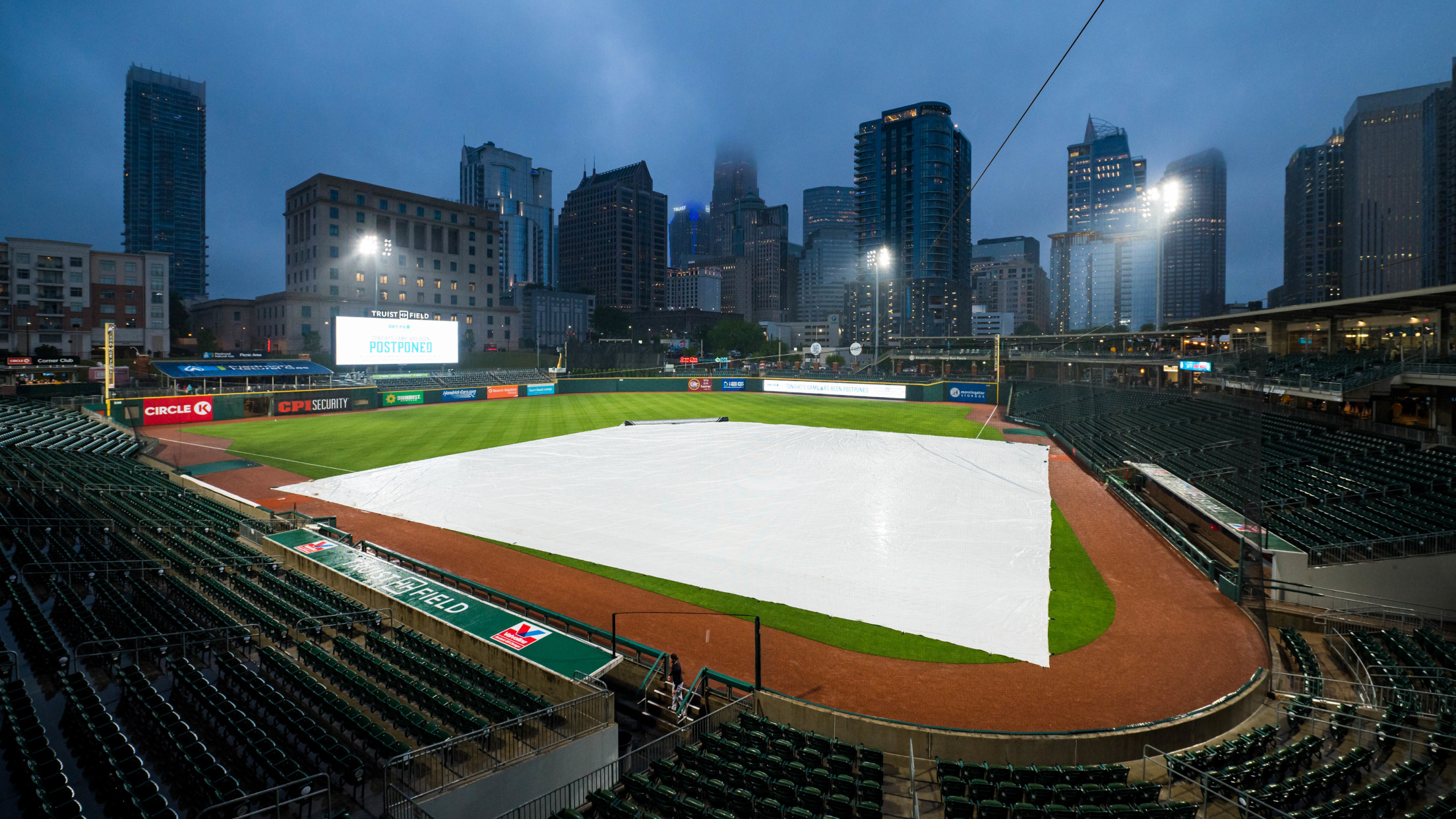 (Laura Wolff/Charlotte Knights)
2023 Weather Policy If a game is postponed in advance or if four and a half innings of a game are not played, your ticket can be exchanged at any time at the Charlotte Knights Ticket Office for the same price admission to another 2023 regular season game played at
2023 Weather Policy
If a game is postponed in advance or if four and a half innings of a game are not played, your ticket can be exchanged at any time at the Charlotte Knights Ticket Office for the same price admission to another 2023 regular season game played at Truist Field, based on availability. July 4th is not included.
For the day-of-game information, fans are encouraged to follow us on Twitter.
Weather Terminology
Rain Delay: A rain delay is when a game is officially delayed. Play is scheduled to continue later that day. Tickets cannot be exchanged in the event of a rain delay.
Rainout: A rainout is when a game is postponed because of rain. When this happens, the game is usually rescheduled for a doubleheader the next time the two teams meet.
What to Do
If it's raining before the game? Follow the Charlotte Knights on Social Media for updates. If there are no updates on social media, the game is expected to start on time. Typically, rain prior to a game will not affect the start time. If rain/weather is likely at the start of a game, but the game is still expected to play, a Rain Delay may be issued.
If it begins to rain during the game? If it begins to rain during the game, the Charlotte Knights will communicate with fans inside the stadium via the scoreboard and P.A. Announcements. The staff will work with the team's managers, umpires, and weather outlets to ascertain the immediate weather outlook. If the teams feel the inclement weather will pass, a rain delay is put into effect. If the teams agree the inclement weather will not pass in a reasonable amount of time, an official rainout is announced.
A game is considered official if a rainout is declared after four and a half innings of baseball. In this case, there will be no ticket exchanges.
Information about rain delays or rainouts will be posted on the Charlotte Knights' social media channels as they become available.
Where to Find Weather Updates
Weather updates will be sent out to fans who have purchased tickets via email or text with further instructions.
Weather updates will be posted on Charlotte Knights social media channels as information becomes available.
Exchanging Tickets Due to a Game Being Postponed
When a game is postponed, your ticket is valid to be used at any future 2023 Charlotte Knights Game based on availability. (Not including July 4th). There is no deadline for exchanging, although availability could limit the number of games available. Once you have determined a new date, you can contact the Charlotte Knights ticket office at (704) 274-8282.
Rain is not good for baseball games or crawlspaces. Dry Pro's "ground crew" makes sure your crawlspace stays nice and dry.