Knights Announce 2020 Scholarships with Founding Partners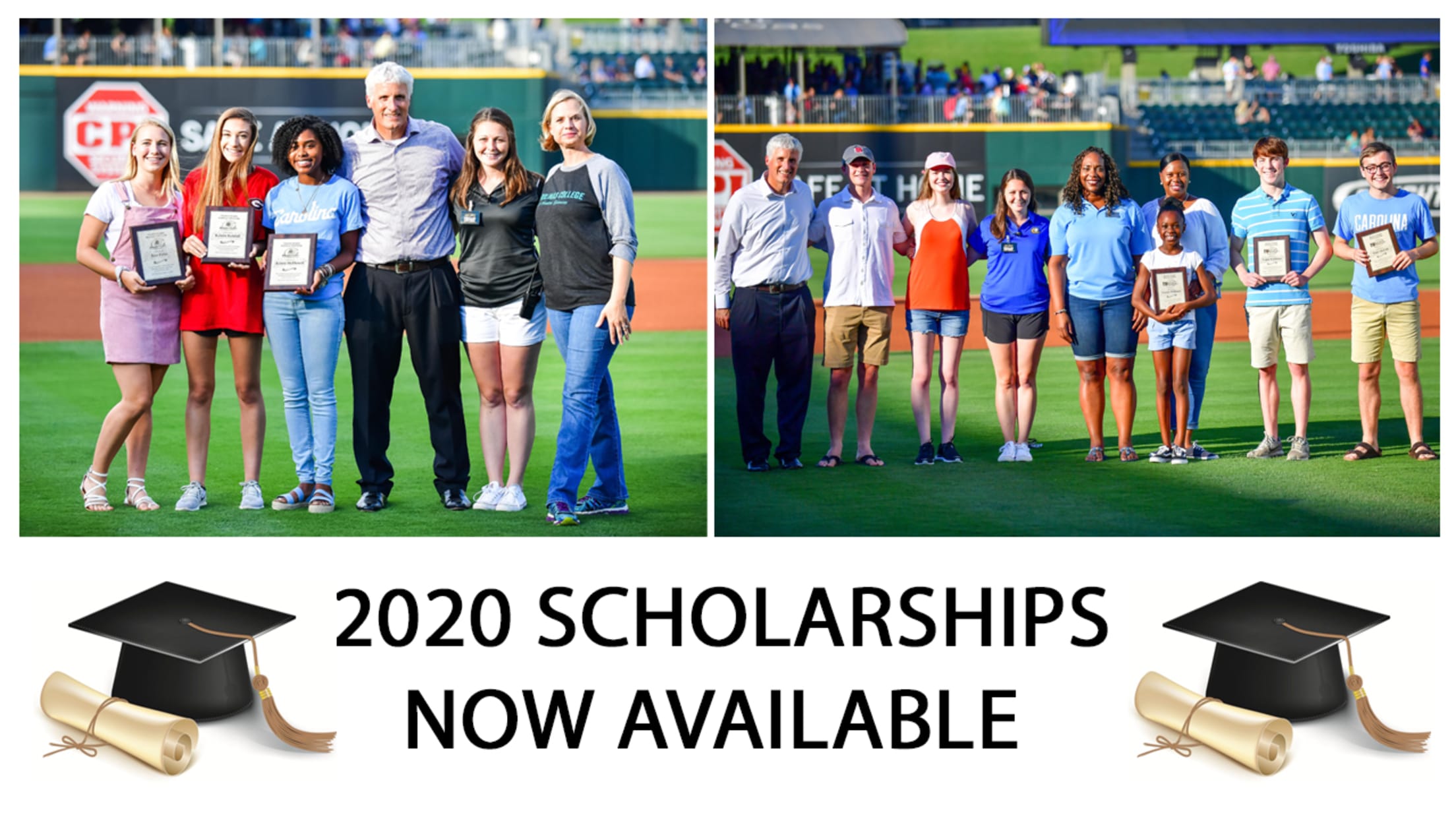 (UPTOWN CHARLOTTE, NC) -- The Charlotte Knights will once again provide educational funding through two unique scholarships for high school students with help from two of their founding partners. The Charlotte Knights Healthcare Scholarship, presented by Atrium Health, along with the Charlotte Knights STEM Scholarship Program, presented by Piedmont Natural
(UPTOWN CHARLOTTE, NC) -- The Charlotte Knights will once again provide educational funding through two unique scholarships for high school students with help from two of their founding partners. The Charlotte Knights Healthcare Scholarship, presented by Atrium Health, along with the Charlotte Knights STEM Scholarship Program, presented by Piedmont Natural Gas, each represent the team's focus on community initiatives.
The Knights and Atrium Health began their partnership in 2013 with the Charlotte Knights Healthcare Scholarship program. Over the course of seven years, a total of 21 high school students have each been honored with a $1,000 scholarship. In an effort to improve educational funding for high school students who are interested in pursuing a career in health care, the Charlotte Knights and Atrium Health will provide three more $1,000 college scholarships to local high school seniors in 2020. The upcoming season will mark the eighth consecutive year of this partnership.

"We are proud of our ongoing partnership with the Charlotte Knights to provide academic scholarships to deserving students with an interest in healthcare," said Rasu Shrestha, MD, executive vice president and chief strategy officer at Atrium Health. "By empowering and supporting the next generation, we're able to be a small part of these students having a meaningful impact on communities in the future as they provide health, hope and healing to countless lives."

The Knights and Piedmont Natural Gas will also continue to award three $1,000 college scholarships to high school seniors from the Charlotte region who plan to attend college and pursue studies in the STEM disciplines of science, technology, engineering or math. Launched in 2014, Piedmont Natural Gas and the Knights have awarded a total of 18 scholarships to students attending college within Piedmont's service territories in North and South Carolina. The 2020 season will mark the seventh consecutive year of this partnership.

"Piedmont Natural Gas is committed to promoting education and careers in STEM, which is why we're honored to partner with the Knights on this scholarship for the seventh year," said Barbara Ashford, director of community relations for Piedmont Natural Gas. "Supporting and providing opportunities to bright young minds in our community through the STEM Scholarship Program is something we take pride in each year."

The Charlotte Knights STEM Scholarship Program, presented by Piedmont Natural Gas, will be awarded during an on-field ceremony on Tuesday, June 16. The Charlotte Knights Healthcare Scholarship, presented Atrium Health, will be awarded during an on-field ceremony at BB&T Ballpark on Wednesday, June 17. All applications must be completed by Sunday, May 3, 2020.

APPLICATIONS

About Atrium Health
Atrium Health, previously Carolinas HealthCare System, one of the nation's leading and most innovative healthcare organizations, provides a full spectrum of healthcare and wellness programs throughout North and South Carolina. Its diverse network of care locations includes academic medical centers, hospitals, freestanding emergency departments, physician practices, surgical and rehabilitation centers, home health agencies, nursing homes and behavioral health centers, as well as hospice and palliative care services. Atrium Health works to enhance the overall health and wellbeing of its communities through high quality patient care, education and research programs, and numerous collaborative partnerships and initiatives. http://atriumhealth.org

About Piedmont Natural Gas
Piedmont Natural Gas, a subsidiary of Duke Energy, is an energy services company whose principal business is the distribution of natural gas to more than 1 million residential, commercial and industrial customers in North Carolina, South Carolina and Tennessee. The company also supplies natural gas to power plants. Piedmont is routinely recognized by J.D. Power for excellent customer satisfaction, and has been named by Cogent Reports as one of the most trusted utility brands in the U.S.

Duke Energy (NYSE: DUK), a Fortune 150 company headquartered in Charlotte, N.C., is one of the largest energy holding companies in the U.S. It employs 30,000 people and has an electric generating capacity of 51,000 megawatts through its regulated utilities, and 3,000 megawatts through its nonregulated Duke Energy Renewables unit.

Duke Energy is transforming its customers' experience, modernizing the energy grid, generating cleaner energy and expanding natural gas infrastructure to create a smarter energy future for the people and communities it serves.

Duke Energy was named to Fortune's 2020 "World's Most Admired Companies" list, and Forbes' 2019 "America's Best Employers" list. More information about the company is available at duke-energy.com. The Duke Energy News Center contains news releases, fact sheets, photos, videos and other materials. Duke Energy's illumination features stories about people, innovations, community topics and environmental topics. Follow Duke Energy on Twitter, LinkedIn, Instagram and Facebook.

Opening Knight of the 2020 season is set for Thursday, April 16 at 7:04 p.m. from BB&T Ballpark. Single-game tickets for all home games this season are available now by phone at 704-274-8282, online at www.CharlotteKnights.com, or in person at the BB&T Ballpark Ticket Office.