Wes Helms to Manage Knights in 2021, Full Coaching Staff Announced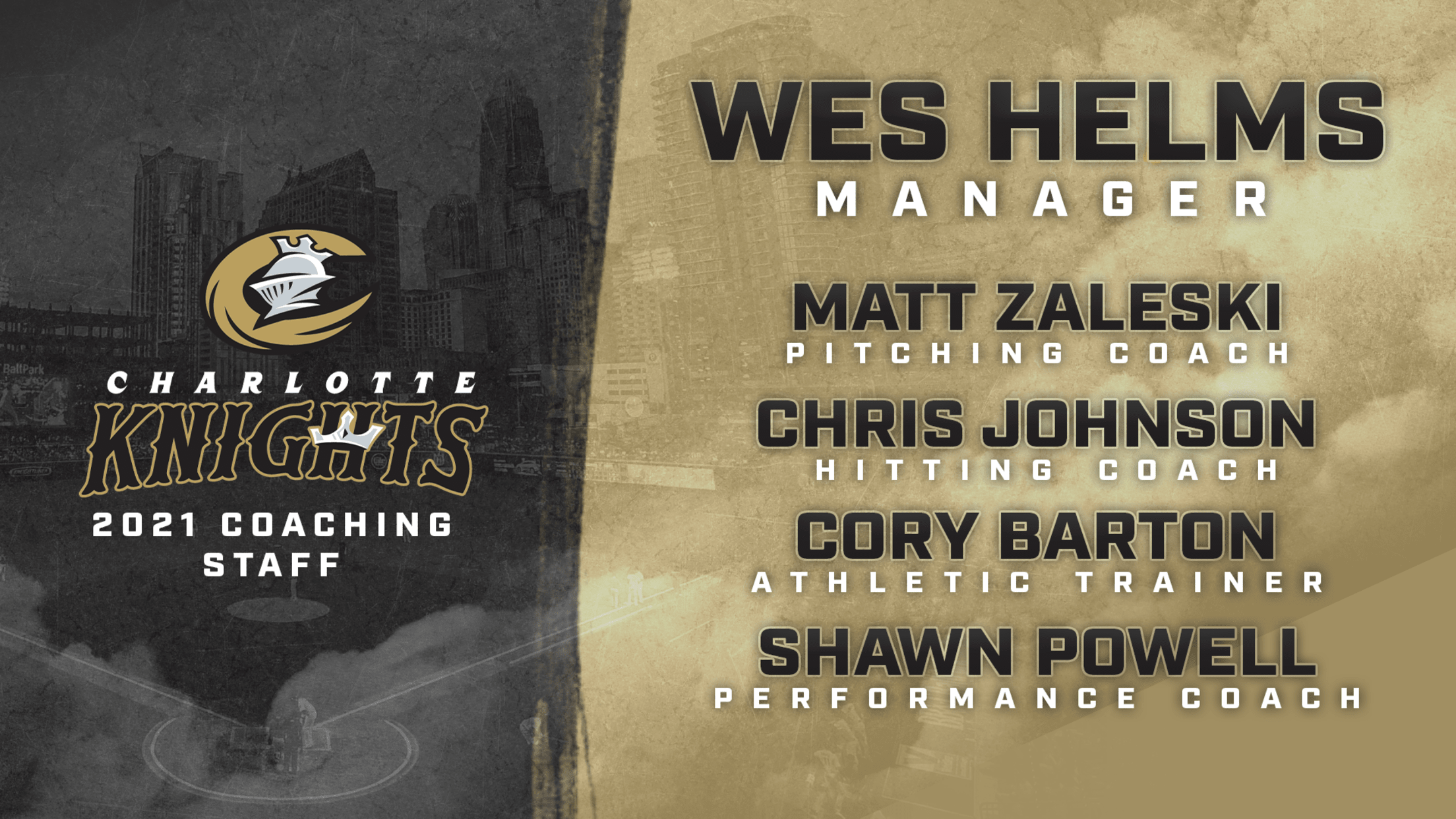 (UPTOWN CHARLOTTE, NC) -- For the second consecutive year, Gastonia, NC native Wes Helms has been named as the manager of the Charlotte Knights. The announcement came earlier today by the Chicago White Sox, who recently invited the Knights to continue their affiliation under Major League Baseball's new player development
(UPTOWN CHARLOTTE, NC) -- For the second consecutive year, Gastonia, NC native Wes Helms has been named as the manager of the Charlotte Knights. The announcement came earlier today by the Chicago White Sox, who recently invited the Knights to continue their affiliation under Major League Baseball's new player development structure. More details from Major League Baseball will be announced in the coming weeks.
Helms, a 1994 graduate of Ashbrook High School (Gastonia, NC), was slated to make his managerial debut with the Knights last year before the season was cancelled in June (2020) due to the COVID-19 pandemic. Joining Helms in Charlotte this year will be Matt Zaleski (pitching coach), Chris Johnson (hitting coach), Cory Barton (trainer) and Shawn Powell (performance coach). Johnson is new to the organization for 2021.
Originally drafted by the Atlanta Braves in the 10th round of the 1994 MLB June Amateur Draft, Helms spent parts of 13 seasons in the majors with the Braves (1998, 2000-02), Milwaukee Brewers (2003-05), Florida Marlins (2006, 2008-11) and Philadelphia Phillies (2007). Over the course of his career, Helms compiled a career batting average of .256 with 694 hits, 75 home runs, and 374 RBIs over 1,212 big league games. In 2016, he was inducted into the Gaston County Sports Hall of Fame.
Zaleski, 39, will return to the Knights after being named as the team's pitching coach in 2020. The Arlington Heights, IL native spent six seasons as a pitcher with the Knights from 2009-2014. On the mound, Zaleski appeared in 92 games with the Knights and is the all-time leader in franchise history in games started (74) and is second in franchise history in innings pitched (437.2). Overall, Zaleski appeared in a total of 316 games a minor league pitcher (2004-14). As a pitching coach, he began his career with Great Falls in 2016. He later spent time with Kannapolis (2017) and Winston-Salem (2018-2019).
Johnson, 36, will makes his coaching debut this year with the Knights. A native of Naples, FL, Johnson spent parts of eight seasons in the majors as a player with Houston (2009-11, 2012), Arizona (2012), Atlanta (2013-15), Cleveland (2015) and Miami (2016). He was originally drafted by the Astros in the fourth round of the 2006 MLB Amateur Draft out of Stetson University. He compiled a .275 career batting average in 839 major league games.
Barton, a native of McConnellsburg, PA, returns in 2021 after being named to Charlotte's staff for the first time in 2020. Before that, he spent time as a trainer in Chicago's organization with Birmingham (2018-19), the AZL White Sox (2014-17), Kannapolis (2013), Winston-Salem (2011-12) and Bristol (2005-10). He was named as the Appalachian League Trainer of the Year in 2007 and 2009.
Powell, a native of Brighton, IL, enters his 10th year in Chicago's system. He first joined Charlotte's staff for the 2016 season. A graduate of Western Illinois University, Powell also spent two seasons as the strength and conditioning coach with the Winston-Salem Dash (2012 and 2015). Before that, he spent time in the same capacity with Birmingham (2013-14). In addition, he spent 13 years with the New York Yankees as a strength and conditioning coach (1989-99) and assistant to their front office (2004-05). He also worked for the NBA's New Jersey Nets from 1999-2003.
2021 Charlotte Knights Coaching Staff:
Manager: Wes Helms
Pitching Coach: Matt Zaleski
Hitting Coach: Chris Johnson
Trainer: Cory Barton
Performance Coach: Shawn Powell
The team's 2021 schedule will be announced at a later date.