Tortugas launch Barrier Breakers Creativity Contest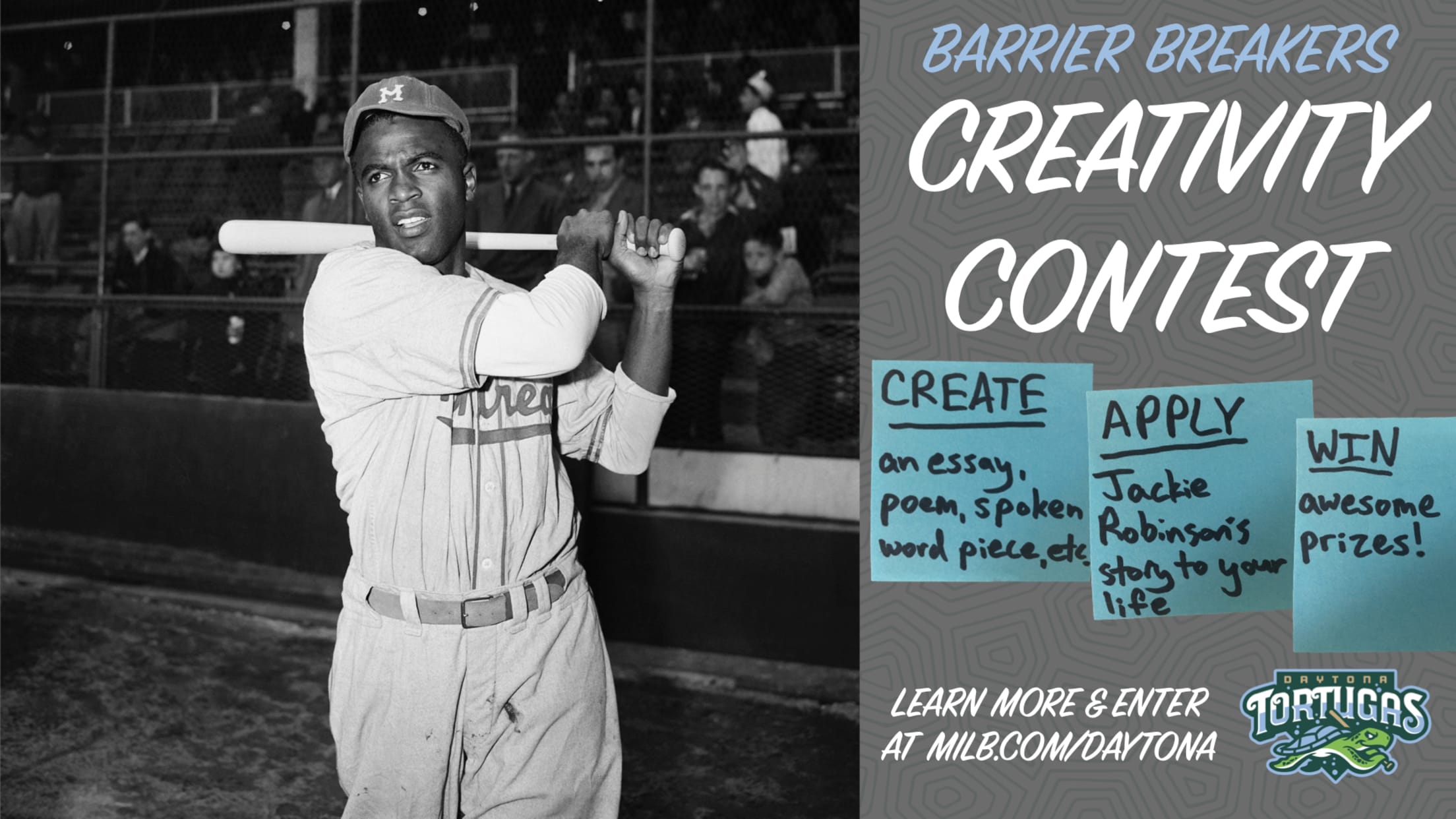 Local students can win prizes by submitting creative works applying Jackie Robinson's story to their lives
Local students can win prizes by submitting creative works applying Jackie Robinson's story to their lives
DAYTONA BEACH, Fla. – To celebrate the 75th anniversary of Jackie Robinson's history-making debut in Daytona Beach, the Daytona Tortugas are inviting Central Florida students to submit original essays and other creative works about breaking barriers in their lives. The winning students will receive a pizza party, Tortugas prize pack and visit from one of the Tortugas' mascots.
The Tortugas' Barrier Breakers Creativity Contest is open to all local K-12 students. Essays as well as poetry, spoken word and other forms of creative expression will be accepted. All submissions should address the following prompt: How did Jackie Robinson succeed in overcoming barriers in his life, and how do you succeed in overcoming barriers in your life?
Submissions will be divided into three categories (K-3, 4-8, 9-12) and evaluated for creativity, clarity and relevancy. All entries should be submitted here by May 1. Winners will be notified by email and announced in May 2021.
Students are encouraged to consult resources about Robinson and his life while creating their essays. Such resources include:
· Breaking Barriers Classroom Resources - Scholastic (includes a helpful essay organizer and lessons about Jackie's values)
· Jackie Robinson: A Resource for Families & School Groups - Jackie Robinson Foundation
· Teaching with Historic Places, A Field of Dreams: The Jackie Robinson Ballpark - National Park Service
· Jackie Robinson Day Virtual Learning Hub by Jackie Robinson Foundation
· LearningMedia - PBS (includes video clips, lesson plans and more)
· Jackie Robinson Day activities - Cincinnati Reds
For any questions about the contest, please contact Josh McCann, Community Relations & Outside Events Manager, at [email protected].
ABOUT THE DAYTONA TORTUGAS
The Daytona Tortugas are a proud affiliate of the Cincinnati Reds. The Tortugas play at Jackie Robinson Ballpark in downtown Daytona Beach, Fla. Jackie Robinson Ballpark also plays host to Bethune-Cookman University and many large community events and initiatives throughout the year.