Ford Blasts Bulls Past Tides 5-2
Ford crushes 2 homers, Boldt steals 3 of Durham's 6 bases in victory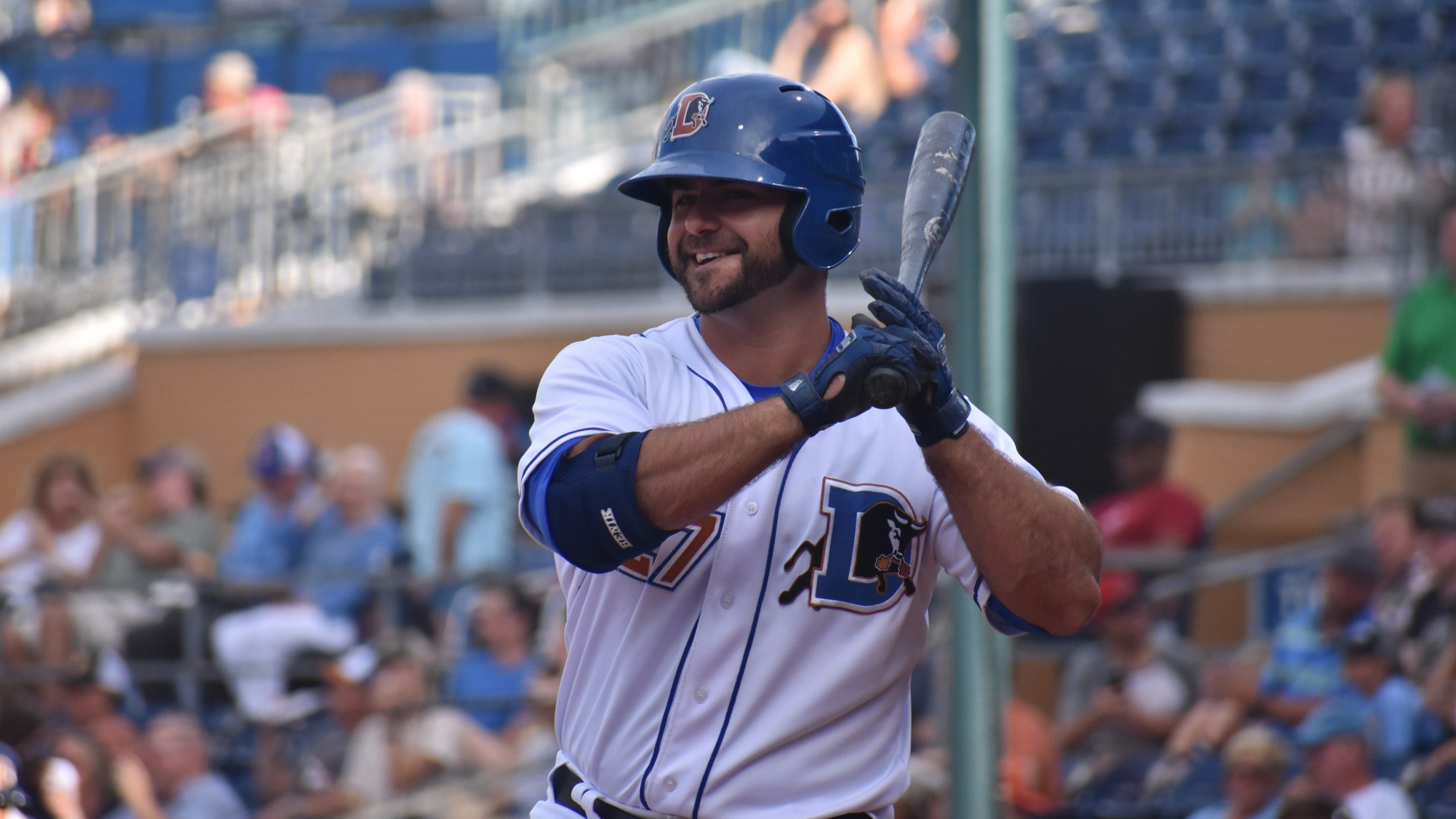 (Paxton Rembis / Durham Bulls)
Bulls first baseman Mike Ford bashed two home runs and drove in four runs, while center fielder Ryan Boldt stole three bases and five Durham relievers combined for six shutout innings in Durham's 5-2 victory over the Norfolk Tides on Saturday evening at Harbor Park. Ford went deep with a
Bulls first baseman Mike Ford bashed two home runs and drove in four runs, while center fielder Ryan Boldt stole three bases and five Durham relievers combined for six shutout innings in Durham's 5-2 victory over the Norfolk Tides on Saturday evening at Harbor Park.
Ford went deep with a solo shot to start the scoring in the fourth to give the Bulls a 1-0 advantage. After the Tides evened the contest at 1-1 with a tally in the last of the fourth, Durham answered with a four-spot in the fifth, capped by Ford's three-run blast, to make it 5-1. The Tides would add a single tally in the ninth to cut the advantage to three with a sacrifice fly.
Ford (2-5, 2 R, 2 HR, 4 RBI) has bashed six big flies since joining the Bulls on June 19. It also marked the sixth time a Durham player has crushed two home runs in a game during the 2021 campaign. Boldt (1-3, 2 BB, 3 SB) reached base three times, recording three of the Bulls' season-high six steals, with LF Dalton Kelly swiping two bags of his own.
Five Durham relievers, including Ryan Sherriff (1.0 IP), Phoenix Sanders (2.0 IP,2 K), Brian Moran (0.2 IP, BB), Louis Head (1.1 IP, K) and Brent Honeywell Jr. (1.0 IP, H, R, ER, K) joined forces for the last six scoreless innings in support of starter Luis Patino (3.0 IP, 2 H, R, ER, 5 BB, 5 K), with Sherriff earning his second win. Norfolk reliever Conner Greene (1.0 IP, 2 H, 4 R, 3 ER, 3 BB) suffered the defeat.
The two teams are slated to finished off their series on Sunday afternoon, with first pitch scheduled for 4:05pm ET. RHP Joe Ryan (3-3, 4.11) is anticipated to get the nod for the Bulls, while LHP Alex Wells (4-3, 5.63) is expected to start the series finale for Norfolk.
The Bulls return to Durham Bulls Athletic Park on Tuesday, July 13, to start a six-game series versus the Jacksonville Jumbo Shrimp. First pitch is scheduled for 6:35pm ET. Tickets for that game and all other remaining Bulls home games are also available at durhambulls.com.