Back-and-Forth Game Ends in Sox 6-5 Loss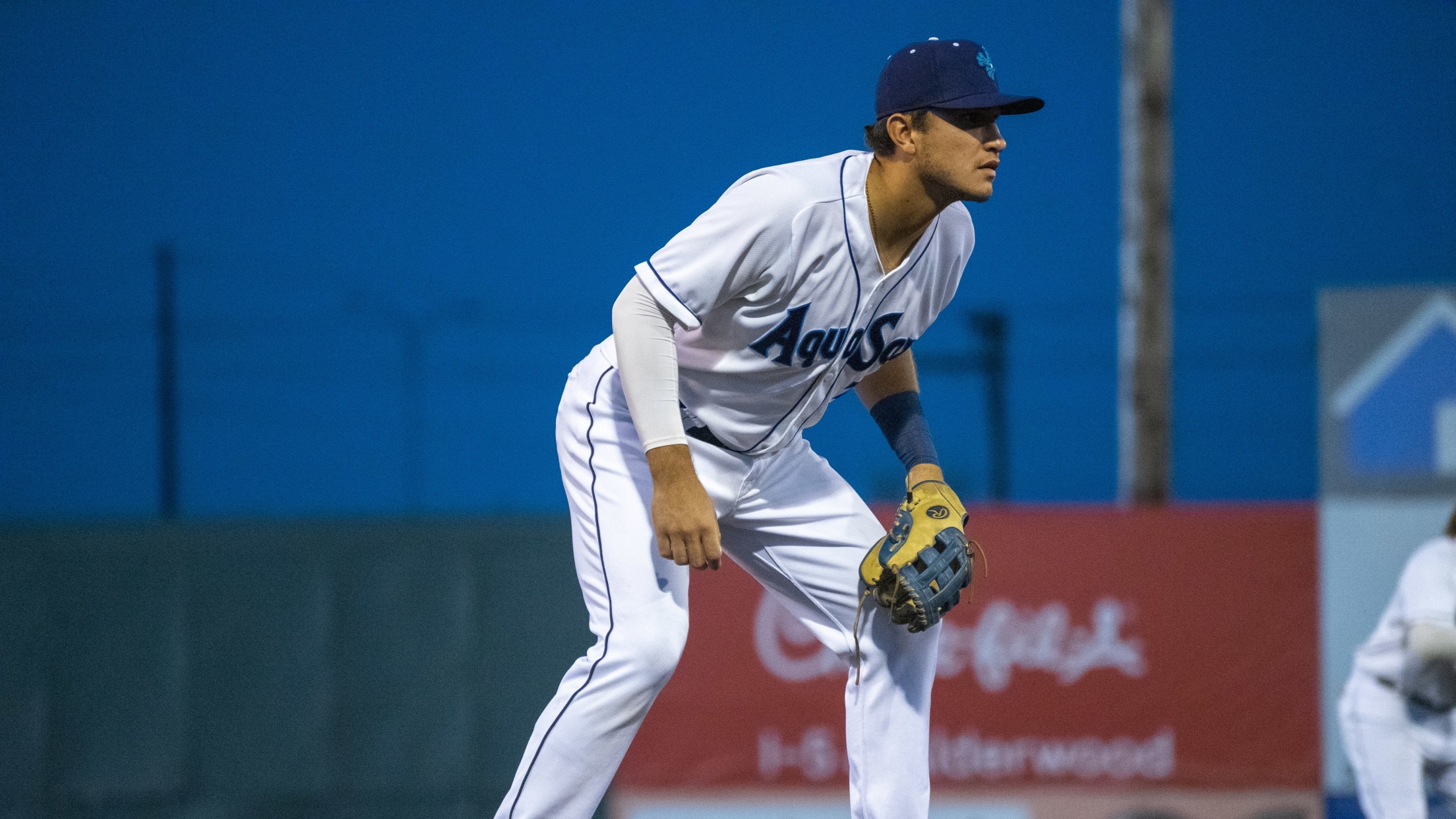 EVERETT, WA: Despite scoring five runs in the first four innings, the AquaSox dropped game two of the six game series against the Hillsboro Hops Wednesday night 6-5 at Funko Field. Max Roberts (0-4) took the loss for Everett while Junior Mieses (1-1) recorded the win for Hillsboro. AquaSox starting
EVERETT, WA: Despite scoring five runs in the first four innings, the AquaSox dropped game two of the six game series against the Hillsboro Hops Wednesday night 6-5 at Funko Field. Max Roberts (0-4) took the loss for Everett while Junior Mieses (1-1) recorded the win for Hillsboro.
AquaSox starting pitcher Logan Rinehart had a rocky start to the first inning allowing a three-run home run to Hops right fielder AJ Vukovich. Catcher Ramses Malave added a run in the top of the second inning with a solo shot, giving Hillsboro a 4-0 lead.
The Frogs battled back in the bottom of the second inning when Designated Hitter Dariel Gomez blasted a 401 foot two-run home run, his 18th of the season. A few batters later, Justin Lavey joined the home run party with an opposite field solo shot of his own, cutting the Hops lead to 4-3.
A passed ball in the bottom of the fourth brought in Robert Perez Jr, tying the game at four. Ty Duvall followed with a single, giving Everett their first lead of the game at 5-4.
Rinehart lasted four innings, allowing four runs on just two hits, two walks and four strikeouts. Roberts entered the game in the top of the sixth inning for Everett but allowed back-to-back singles to start off the inning. Jacen Roberson lined a two-run double, putting the Hops back in front 6-5 which held up as the final score.
Lavey ended the night with two hits, his first multiple hit game since July 22nd. Tim Elliot had an another sold appearance out of the bullpen, retiring all three batters he faced. He has not allowed a hit in his last four appearances.
Everett will be back at Funko Field tomorrow night for game three of the series against Hillsboro for Throwback Thursday at 7:05pm PDT. The game can also be caught live on the KRKO radio network with Pat Dillon on the call.
PHOTO CREDIT: Ben Ramirez*
PHOTO CREDIT:* David Herold
ABOUT THE EVERETT AQUASOX:
The Everett AquaSox are the High-A affiliate of the Seattle Mariners who were ranked number one by Baseball America's 2022 Organization Talent Rankings. Group tickets, BBQ outings and ticket packages for the 2022 season are selling fast but still available for purchase. For more information on how you can be a part of our team this season call our office at (425) 258-3673 or visit AquaSox.com for more information.