Carolina League All-Star Rosters Announced
Game Scheduled for Tuesday, June 18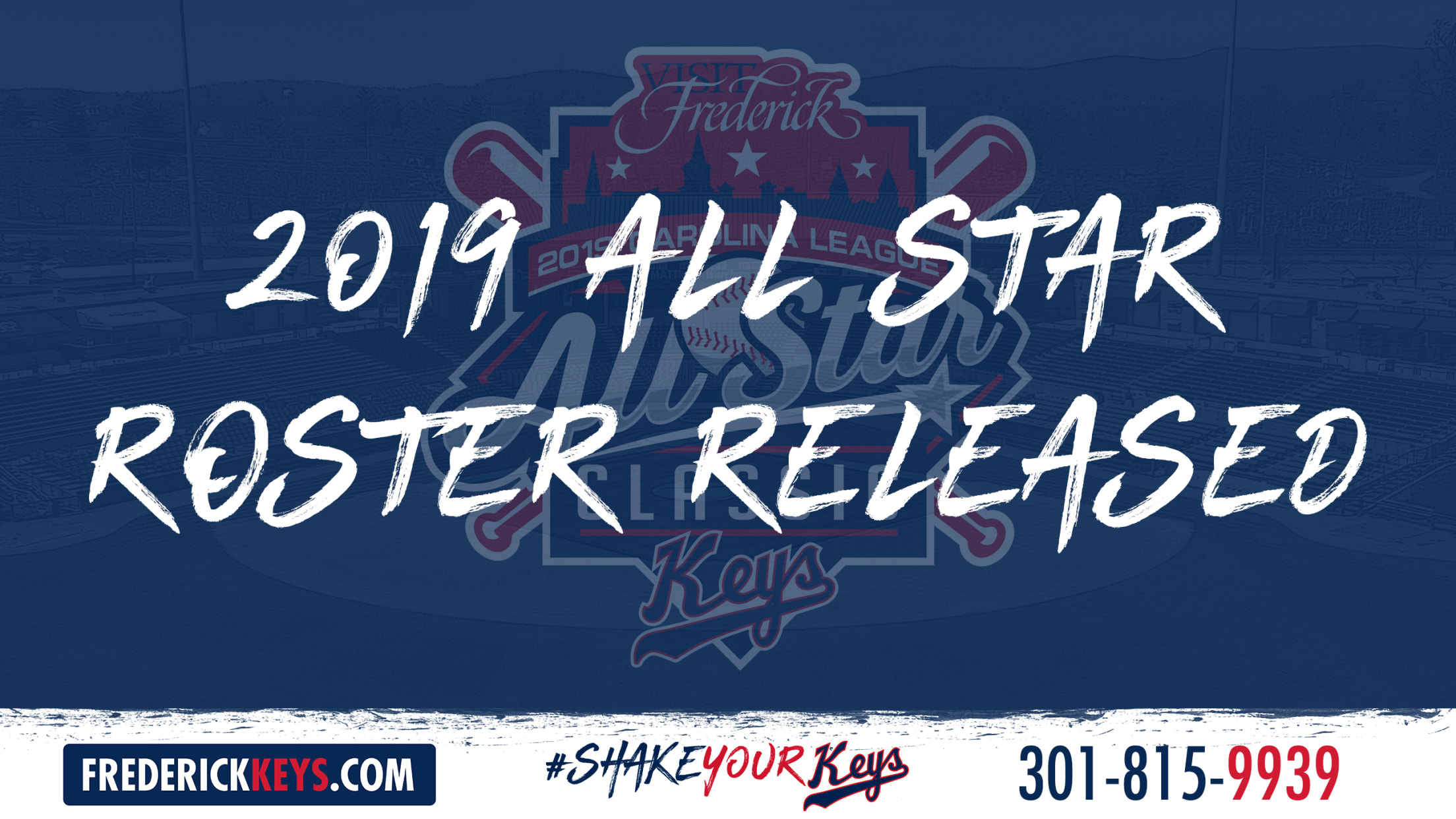 FREDERICK, MD-The Frederick Keys are excited to announce the rosters for the 2019 Carolina League All-Star Classic presented by Visit Frederick. Scheduled for Tuesday, June 18, at Nymeo Field at Harry Grove Stadium, the game will feature the Carolina League North against the Carolina League South. All 10 teams are
FREDERICK, MD-The Frederick Keys are excited to announce the rosters for the 2019 Carolina League All-Star Classic presented by Visit Frederick. Scheduled for Tuesday, June 18, at Nymeo Field at Harry Grove Stadium, the game will feature the Carolina League North against the Carolina League South. All 10 teams are represented by at least three players from their rosters this season.
The Keys feature a division-high seven all-stars, with pitchers Cody Sedlock , Mike Baumann, David Lebron and Steven Klimek all making first time all-star appearances. A former first round pick out of Illinois, Sedlock is 3-0 with a 1.44 ERA and has not allowed any more than two runs in any of his eight starts. Baumann is tied for the Carolina League lead in strikeouts (63), while Lebron has been a reliable swing man, posting a 2.59 ERA as a starter and a 3.18 ERA as a reliever in his first full CL season. Out of the bullpen, Klimek boasts a 1.21 ERA and has not surrendered a run in his last 18.2 innings.
The first-half CL North champion, Wilmington Blue Rocks, boast the top pitching staff in the division and will have three members of that group on the CL North pitching staff. Jackson Kowar has also pitched well in his first year in the Carolina League, tallying a 3.76 ERA in 12 starts. The Blue Rocks stout bullpen also features a pair of all-stars in Tyler Zuber and Tad Ratliff . A former Arkansas State product, Zuber has allowed only four earned runs in 26.1 innings (1.37 ERA) to go with 34 strikeouts and 10 saves in 11 opportunities. Ratliff paces the league in saves (13) while striking out more than a batter per inning.
Lynchburg's Juan Hillman receives his second all-star selection thanks to a 2.90 ERA in the first half, while Adam Scott ranks among the league's leaders in ERA (3.33) and strikeouts (67). Salem's Kutter Crawford rounds out the CL North staff. Tied for the strikeout lead with Baumann, the Red Sox right-hander put together an excellent April, tallying a 1.96 ERA.
Potomac's Jakson Reetz makes the start at catcher for the Nationals, earning his first all-star selection. Wilmington's MJ Melendez serves as the other catcher for the CL North and has thrown out 55% of would-be-base stealers this season.
Around the infield, Salem features Pedro Castellanos at first base and Ryan Fitzgerald at shortstop. Castellanos ranks in the top 10 in the CL in RBIs, while Fitzgerald ranks among the league's leaders in batting average, triples, doubles, total hits, RBIs, OBP and OPS. Among Minor League Baseball's leaders in walks (47), Lynchburg's Nolan Jones plays third base, while Cole Freeman makes the start at second base, his first all-star nod. Willy Yahn of Frederick is the utility infielder. He comes off a huge May where he slugged .510 and hit five home runs to go with 18 RBIs.
Lynchburg's Oscar Gonzalez , Frederick's Zach Jarrett and Potomac's Nick Banks are the starting outfield for the North squad. Gonzalez ranks second in the league in hitting (.336), Jarrett has split time between Frederick and the Double-A Bowie Baysox, while Banks earns his third midseason all-star selection. Cole Billingsley of the Keys is the fourth outfielder and comes off a May where he slashed .372/.426/.477 with a .902 OPS. Aldrem Corredor is the CL North's designated hitter.
The CL South's pitching staff is anchored by Jason Bahr of the Down East Wood Ducks, the league's active leader in ERA (1.90). Noah Zavolas , Matt Hardy and Rodrigo Benoit from Carolina also make this year's pitching staff. Among the league's best in ERA and innings pitched, Zavolas earns his first professional all-star nod. Hardy has surrendered only four earned runs in his last 20 innings, while Benoit is tied for third in saves.
Winston-Salem and Myrtle Beach also send three pitchers to this year's all-star classic. John Parke was among the league's best starters in May (2.53 ERA), while Luis Ledo and Will Kincanon have helped anchor the Dash relief corps. For the Pelicans, Javier Assad enjoyed a 23-inning scoreless stretch at one point, Paul Richan is tied for first in the league in wins and Jesus Camargo has held opponents to a .202 batting average against, en route to his second midseason all-star nod in three years.
Carolina sends both of its catchers to the all-star game, with Mario Feliciano making the start. He paces the CL with in home runs (14), RBIs (47), extra-base hits (27) and total bases (117) and is second in slugging (.539) and OPS (.873). Payton Henry joins his teammate and is an all-star for the second year in-a-row.
Second in the Carolina League with nine home runs, Jake Adams makes the start at first, while Yonny Hernandez and Ryan Dorow from first half CL South champion, Down East, start at second and third respectively. Hernandez ranks third in the circuit with a .422 on-base percentage and sixth with 16 stolen bases, while Dorow is tied for third in the league with 39 RBIs. Zach Remillard from Winston-Salem starts at shortstop after hitting .309 with a .386 on-base percentage in the first half and Diosbel Arias of the Wood Ducks is the utility infielder.
Two-thirds of the CL South starting outfield hails from Fayetteville with Corey Julks and Jacob Meyers starting alongside Down East's Leody Taveras . One of the league's top defensive outfielders, Taveras also ranks in the league's top 10 in batting average, hits, stolen bases and triples. Julks turned in a strong May for the Woodpeckers, while Meyers makes the CL South squad in his second Carolina League season. Winston-Salem's Jameson Fisher serves as the division's fourth outfielder. He finished with a .957 OPS in May to go with 11 extra-base hits in 25 games. Colton Shaver of the Woodpeckers is the designated hitter and is first in the league with 27 extra-base hits.
Other players selected to this year's Carolina League All-Star Classic presented by Visit Frederick but will not be participating include CL North All-Stars: Daniel Lynch & Brady Singer (Wilmington), Andrew Lee (Potomac), Robert Broom (Lynchburg) and Jaren Duran (Salem). Other CL South selections include: Joe Barlow & DeMarcus Evans (Down East), Dylan File & Joantgel Segovia (Carolina), Seth Beer , Enoli Paredes & Yohan Ramirez (Fayetteville) and Nick Madrigal (Winston-Salem).
The CL North squad is managed by Frederick Keys skipper Ryan Minor. He will be assisted by Keys Pitching Coach Justin Lord, Hitting Coach Bobby Rose, Development Coach Adam Bleday and Trainer Marty Brinker. Fayetteville Manager, Nate Shaver, leads the CL South all-star roster and will be joined by his coaching staff of Thomas Whitsett (Pitching Coach), Jason Kanzler (Hitting Coach), James Buckley (Performance Coach) and Nate Stewart (Trainer).
Next Tuesday's Carolina League All-Star Classic presented by Visit Frederick will include pregame ceremonies starting at 7:00 p.m. with first pitch slated for 7:15. A skills challenge takes place from 5-6 p.m. while Fan Fest presented by Mattress Warehouse and Smile Frederick Orthodontics is from 3-6. In-game performances by XPOGO and Tyler's Amazing Balancing Act are scheduled, while fireworks sponsored by Visit Frederick follow the game. Limited tickets to the game are still available by calling 301-815-9939 or by visiting frederickkeys.com.