Family Fitness Weekend Includes Capitals and Redskins Nights
Mike Knuble, Santana Moss and Gary Clark Set to Appear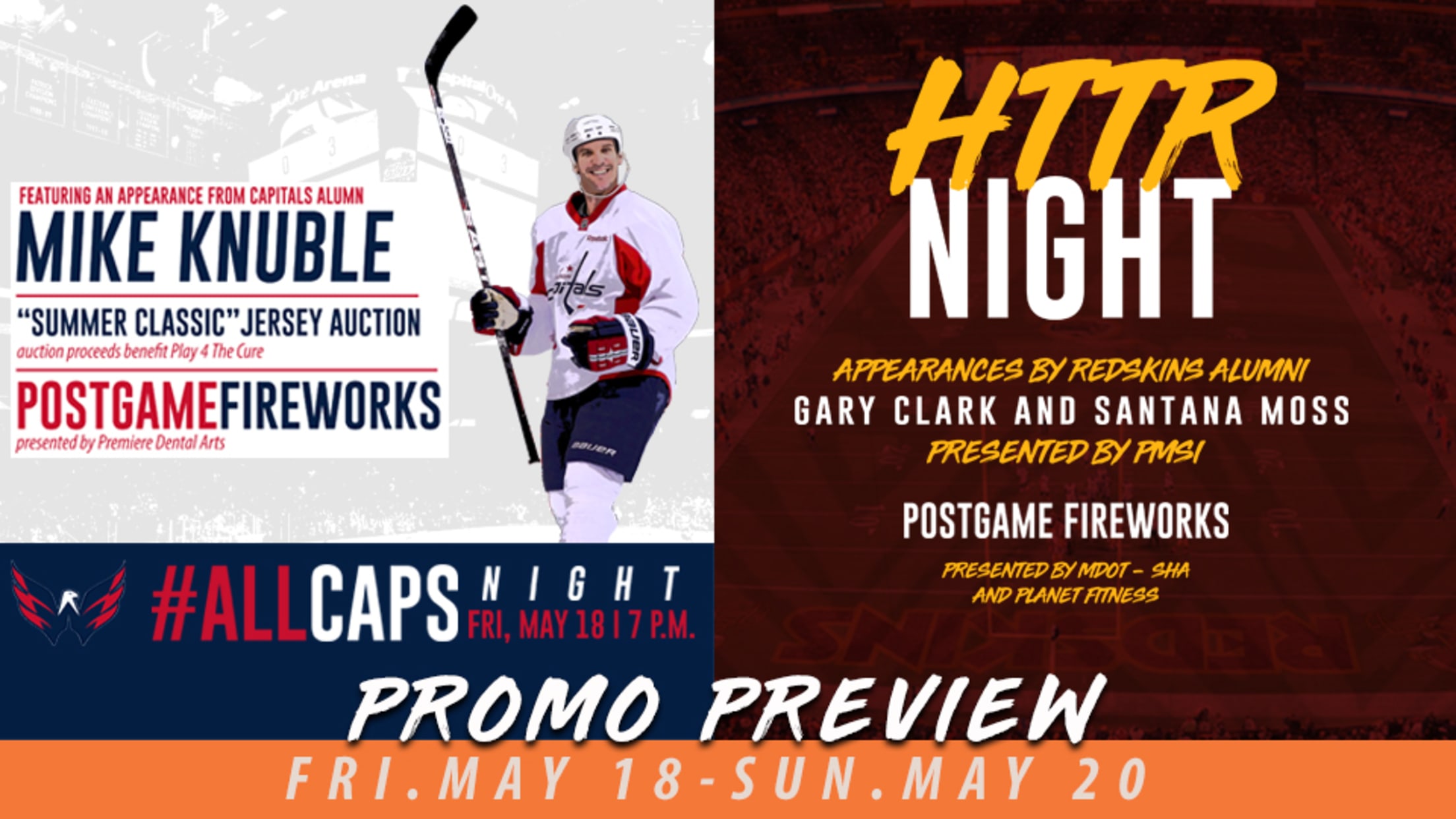 FREDERICK, MD-Following a brief three-game roadtrip, the Frederick Keys return to Nymeo Field from Friday, May 18-Sunday, May 20. It is Family Fitness Weekend presented by Premiere Dental Arts and includes a variety of evenings honoring local pro sports teams. This includes an All Caps Night with an appearance by
FREDERICK, MD-Following a brief three-game roadtrip, the Frederick Keys return to Nymeo Field from Friday, May 18-Sunday, May 20. It is Family Fitness Weekend presented by Premiere Dental Arts and includes a variety of evenings honoring local pro sports teams. This includes an All Caps Night with an appearance by former Washington Capital, Mike Knuble as well as Hail to the Redskins Night with visits by Gary Clark and Santana Moss. To book your tickets to meet Knuble, Clark and Moss fans can call the Keys at 301-815-9939 or visit frederickkeys.com.
The Keys kickoff of their weekend series on Friday, May 18 at 7:00 p.m against the Myrtle Beach Pelicans. Gates open at 6:00 p.m while it is All Caps Night. This includes an appearance by Knuble, a former right winger with the Capitals from 2009-12. Playing 220 games with Washington, Knuble also spent time with the Red Wings, Rangers, Bruins and Flyers over his 16-year NHL career. This included winning a pair of Stanley Cups with Detroit during the 1997 and 1998 seasons.
Knuble will do a meet-and-greet and autograph session with fans from 6-8 p.m and throw out a first pitch. On the field, Keys players and coaches will wear special hockey-themed jerseys with proceeds benefiting Play4TheCure. Fireworks follow the game, sponsored by Premiere Dental Arts.
Former Redskins Clark and Moss will do an autograph session from 5-7 p.m presented by PMSI for the Keys 6 p.m game on Saturday. Playing 10 seasons with Washington, Moss was an NFL All-Pro selection in 2005, while Clark won two Super Bowls and is a member of the Redskins Ring of Fame. More fireworks follow the game courtesy of Planet Fitness and MDOT.
The Keys close out the weekend with a 2 p.m game Sunday. It is Knock Tobacco Out of the Park Day sponsored by Frederick County Health Department's Tobacco Free Frederick Program, while there is a 1K Fun Run After the Game. As always, fans can enjoy pre-game Sunday Funday festivities. Those who bring a ball and a glove can have a catch in the outfield from 1-1:30, plus two Keys will be signing autographs on the concourse.
For more information about upcoming Keys games and promotions, fans can visit frederickkeys.com.