FredNats Fan 19 in Defeat to Delmarva
FREDERICKSBURG, VA - Mitchell Parker led a strong pitching effort for the Fredericksburg Nationals (0-9) on Thursday night, but it wasn't enough to secure the club's first victory in a 7-3 loss to the Delmarva Shorebirds (6-3). Parker (L, 0-1) fanned eight batters in 3.2 innings as part of a
Shorebirds Score Early and Often in Win over FredNats
FREDERICKSBURG, VA - The Delmarva Shorebirds got a career night from Jordan Cannon and stellar pitching on Wednesday night, soundly defeating the Fredericksburg Nationals by a score of 17-3. Cannon hit a pair of homers as part of a five-hit game, and the FredNats (0-8) only managed three hits against
FredNats Enjoy Warm Welcome, but Fall Short to Shorebirds
FREDERICKSBURG, VA - Tuesday evening was a long time coming for the Fredericksburg Nationals, as they finally played their first game in FredNats Ballpark in front of a sellout crowd. Despite the home-field advantage and an early lead, the FredNats dropped their home opener 7-5 to the Delmarva Shorebirds. The
Late Lead Slips Away as FredNats Suffer Sweep
LYNCHBURG, VA - The Fredericksburg Nationals came close to securing their elusive first win in team history on Sunday afternoon, but four unearned runs in the seventh inning lifted the Lynchburg Hillcats to an 8-4 victory and a series sweep. The FredNats (0-6) will head home and begin a 12-game
FredNats' Bats Fall Silent in 7-1 Loss
LYNCHBURG, VA - The Fredericksburg Nationals were held to just three hits by a strong pitching effort from the Lynchburg Hillcats on Saturday night, and late run support broke what had been a pitchers' duel in a 7-1 Hillcats victory. It marked the fifth straight loss for the FredNats (0-5)
Parker Impresses in Pro Debut, but FredNats Drop Fourth Straight
LYNCHBURG, VA - You can't have a much better start to your professional career than Mitchell Parker did on Friday night, but the lefty's debut outing wasn't enough to earn the Fredericksburg Nationals their first win of the season. Parker achieved a rare four-strikeout inning, fanning the first four batters
Dieterich Hits First FredNats Homer in 8-2 Defeat
LYNCHBURG, VA - Center fielder Landon Dieterich earned a small part of baseball history on Thursday night in Lynchburg, hitting the first home run in Fredericksburg Nationals history, but it wasn't enough as the Hillcats won their third straight over the FredNats by a score of 8-2. Dieterich's blast, a
Big Innings Sink FredNats in 19-3 Loss
LYNCHBURG, VA - For the second straight night, the Fredericksburg Nationals (0-2) fell victim to an aggressive Lynchburg Hillcats (2-0) offense as they lost 19-3 on Wednesday. The Hillcats scored seven runs in the first inning, erasing an early 2-0 FredNats lead and forcing starter Karlo Seijas (L, 0-1) out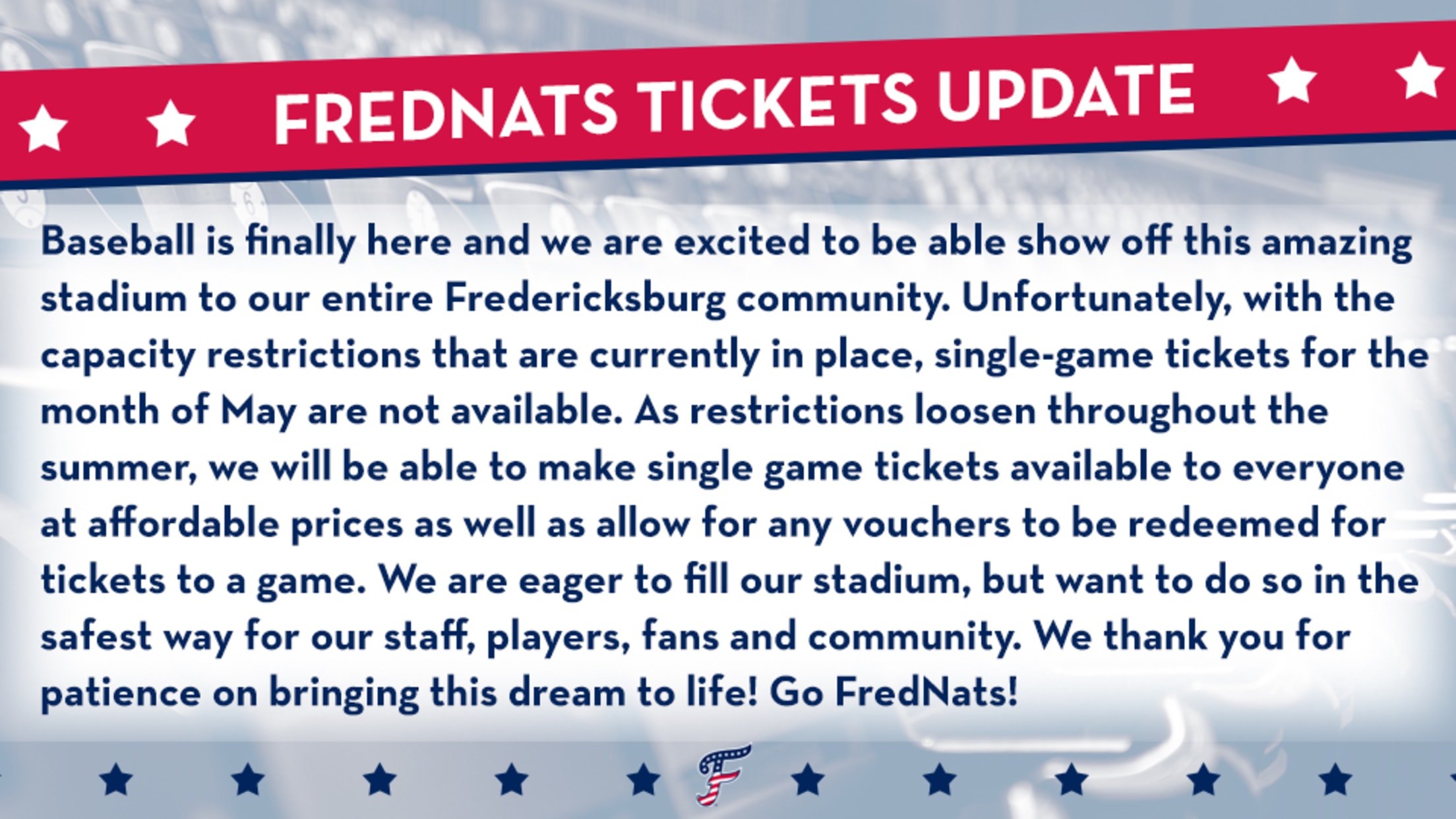 FredNats fans, we hope you are excited for baseball as much as we are! Check out the below quote from FredNats GM, Nick Hall, about single-game tickets and capacity restrictions as we set out for Opening Day next Tuesday, May 11th!
FredNats Fall to Hillcats in 2021 Opener
LYNCHBURG, VA - The Fredericksburg Nationals got a few "firsts" out of the way in their debut game, but couldn't secure their first win as they fell 16-3 to the Lynchburg Hillcats on Tuesday night. The Hillcats slugged four home runs and took advantage of five Fredericksburg errors to claim
FredNats Release 2021 Opening Day Roster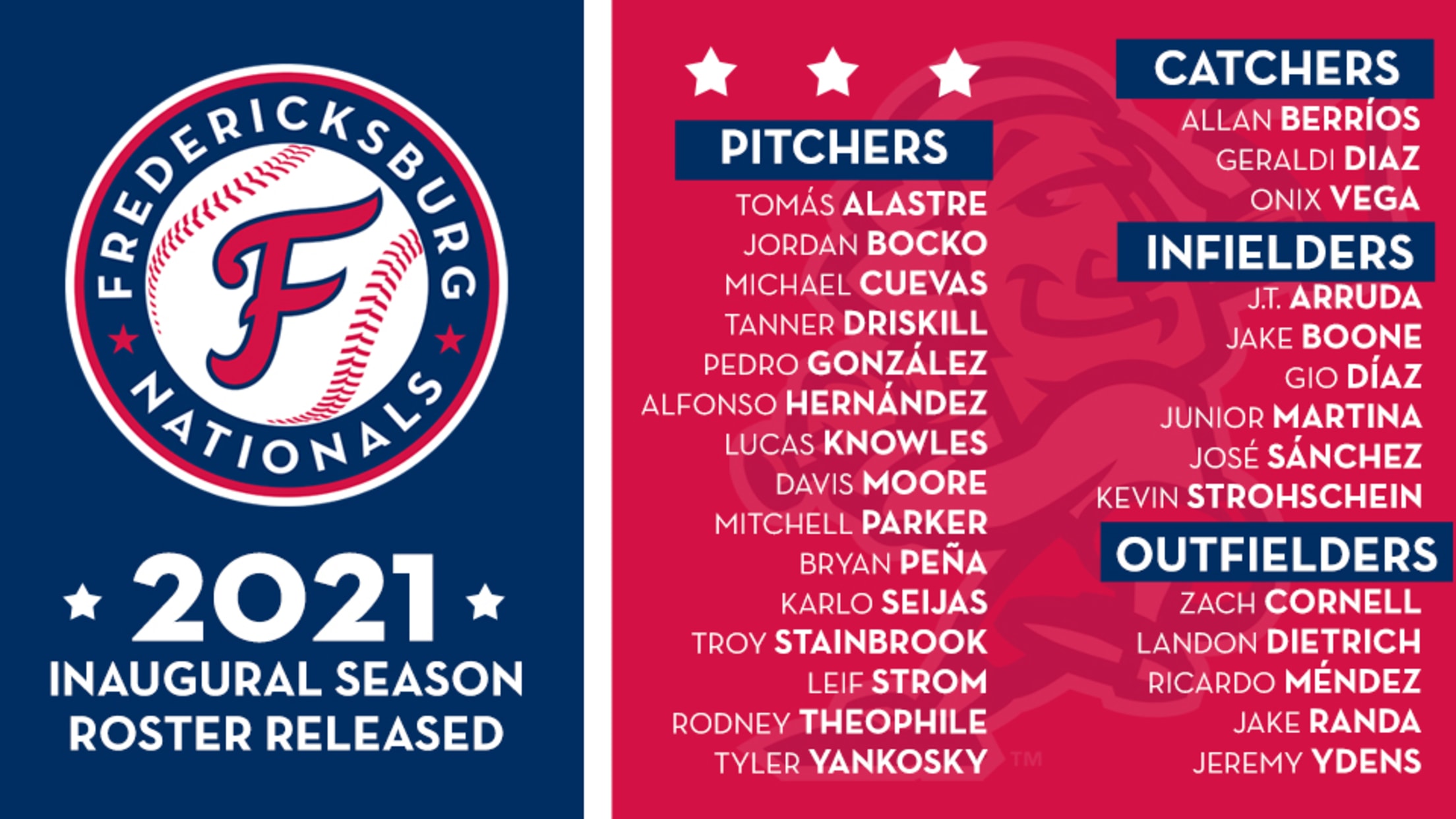 FREDERICKSBURG, VA – With the long-awaited return of minor league baseball just around the corner, the Fredericksburg Nationals have announced the Opening Day roster for their inaugural 2021 season.
Fredericksburg Nationals Release 2021 Promotional Schedule
Promo Schedule Includes 10 Giveaways, 10 Theme Nights, and Daily Specials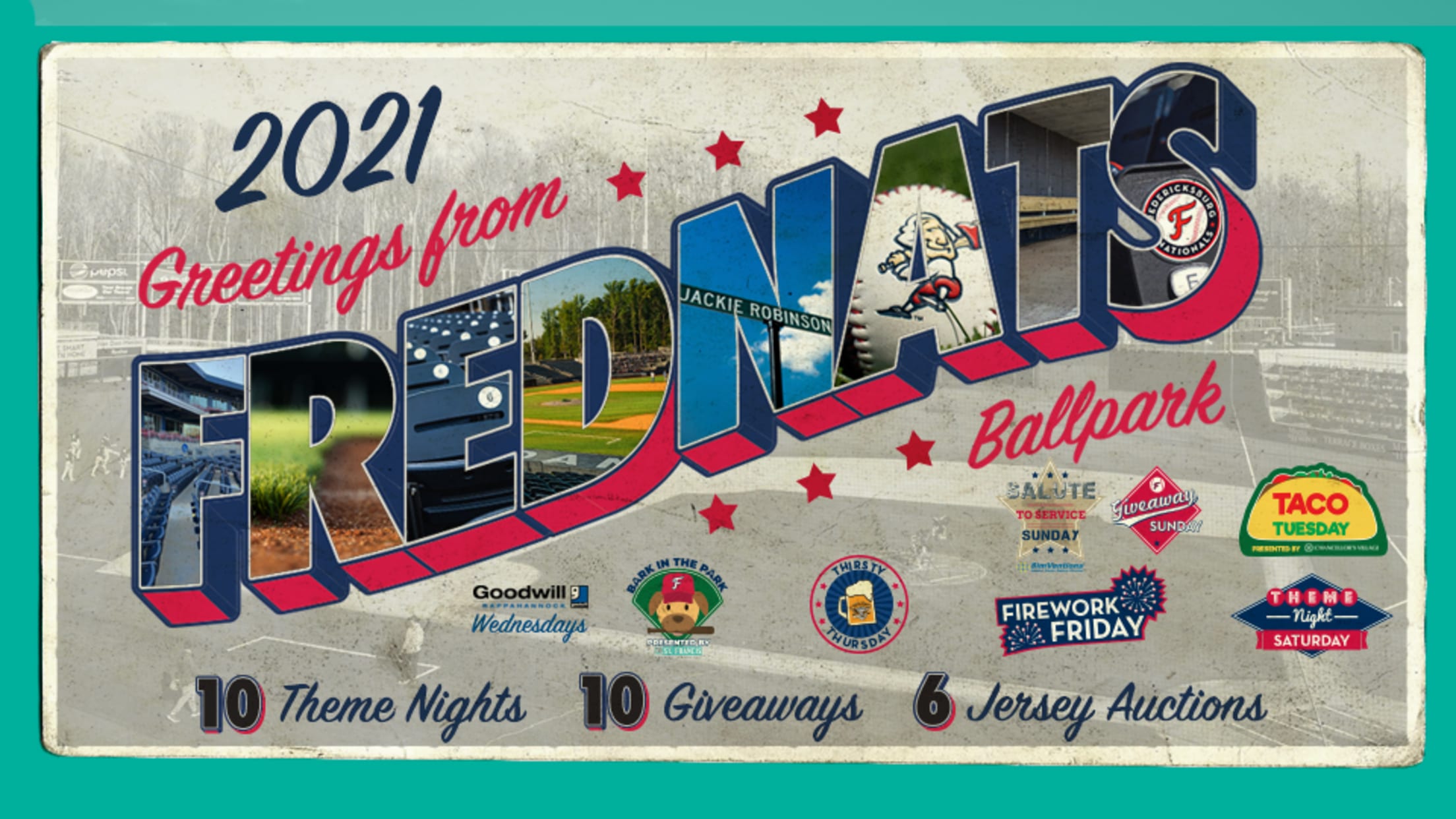 FREDERICKSBURG, VA -- The Fredericksburg Nationals are excited to release their promotional schedule for their Inaugural 2021 season. Fans will be treated to daily and nightly special promotions, 10 theme nights, and 10 exclusive giveaways inside the ballpark.
Fredericksburg Nationals Release Game Times for 2021 Season
Inaugural Season Will Be Primarily Night Games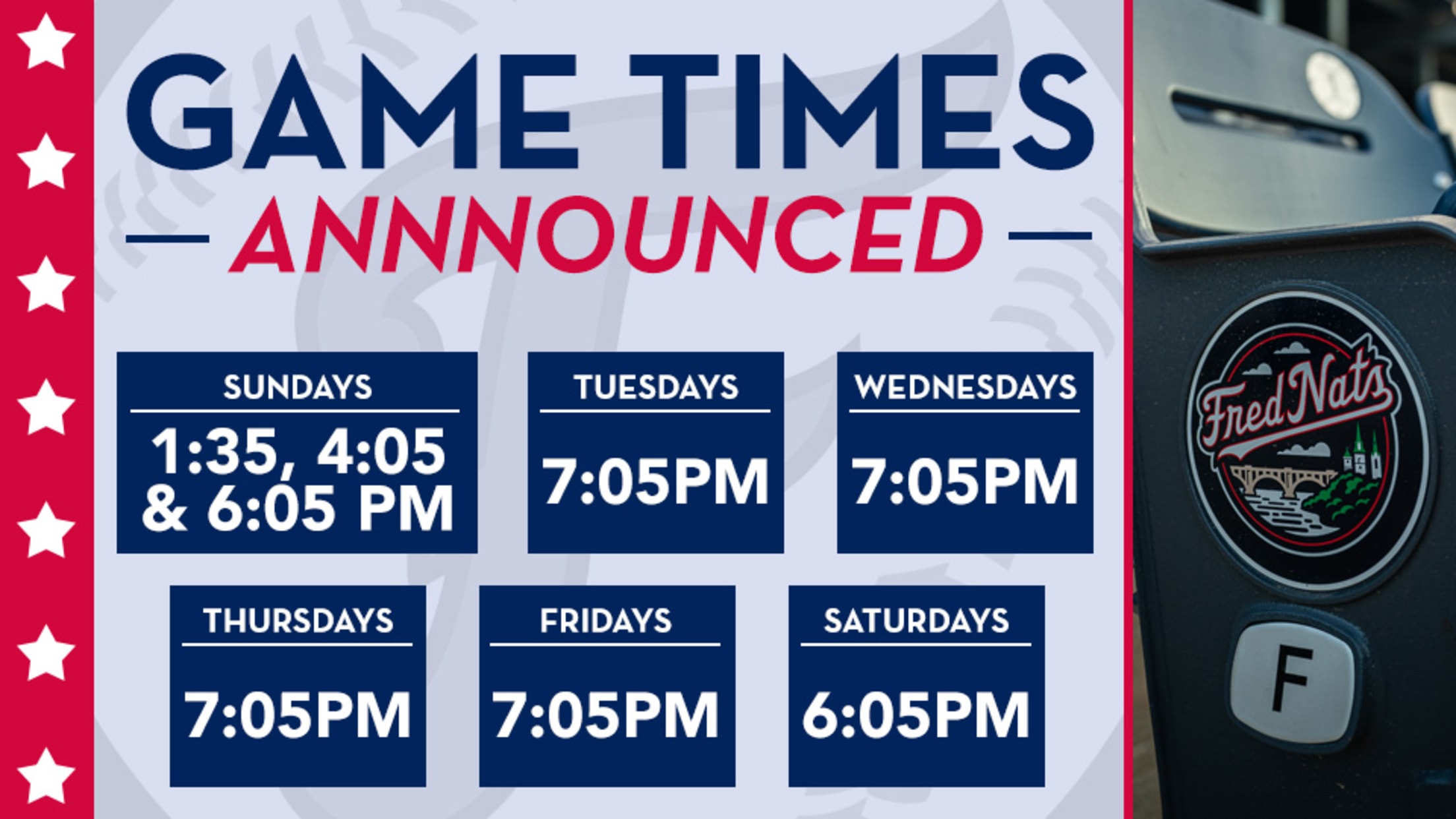 FREDERICKSBURG, VA - Following the release of their delayed Inaugural Season schedule, the Fredericksburg Nationals are excited to announce the game times for 2021.
Washington Nationals Announce Fredericksburg Nationals 2021 Coaching Staff
FredNats Welcome New Coaches for Inaugural Season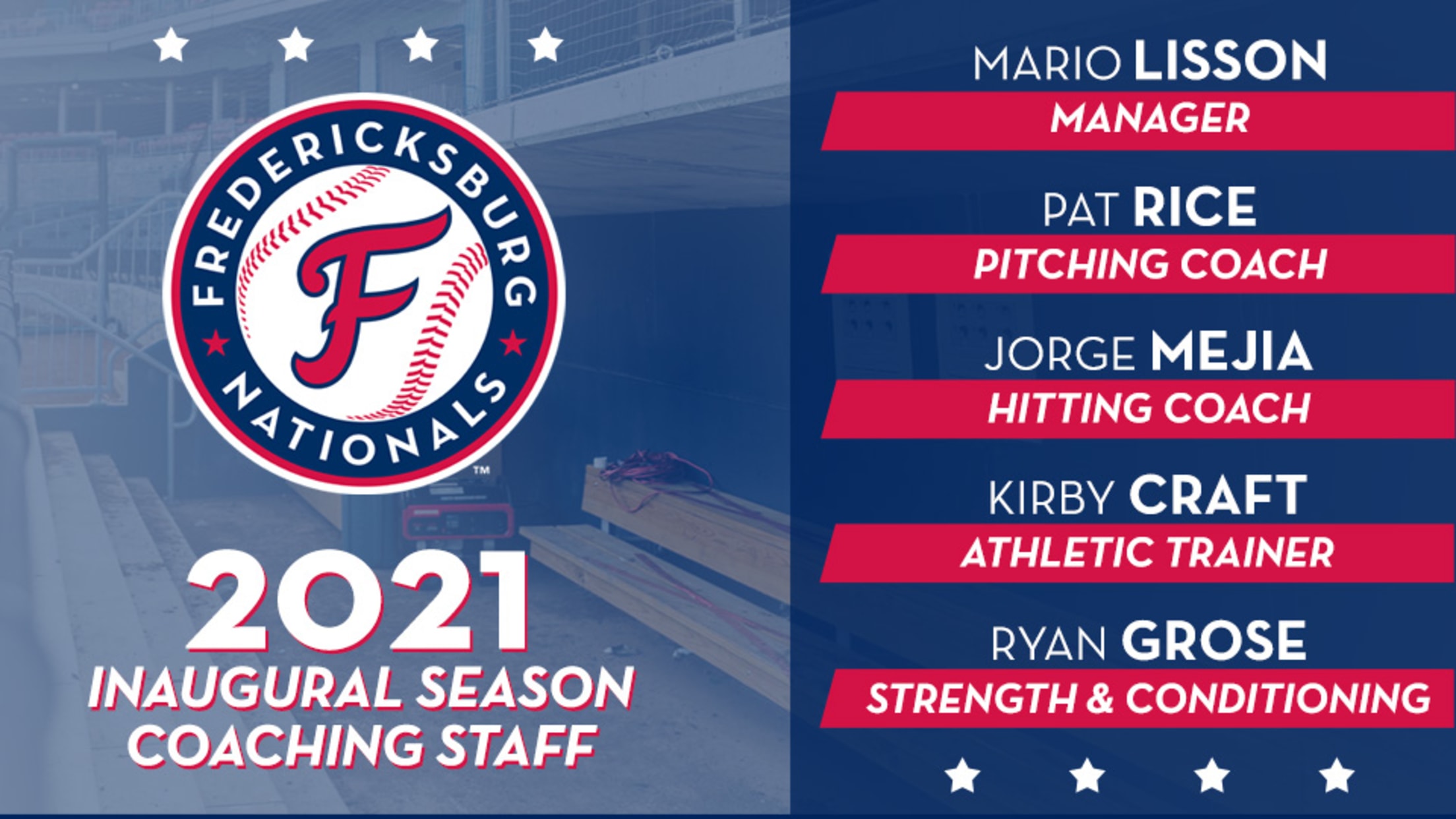 FREDERICKSBURG, VA- The Washington Nationals have officially announced the coaching staff for the Fredericksburg Nationals' 2021 season. The FredNats welcome an entirely new family of coaches for their inaugural season, including Team Manager, Mario Lisson, Pitching Coach, Pat Rice, Hitting Coach, Jorge Mejia, Athletic Trainer, Kirby Craft, and Strength and
Fredericksburg Nationals Release 2021 Schedule
FredNats to Finally Play Inaugural Season in New Ballpark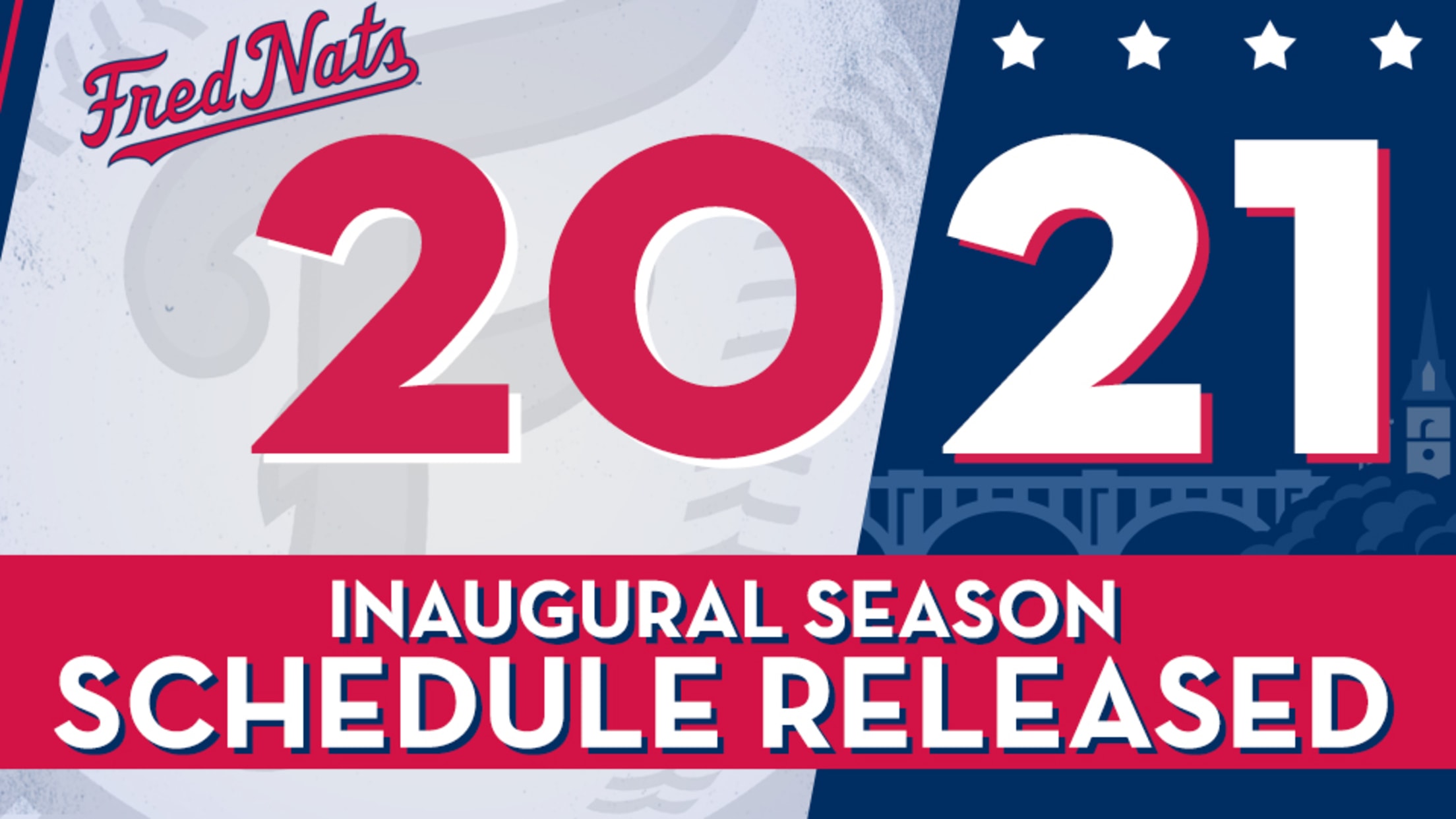 FREDERICKSBURG, VA – The Inaugural Season for the Fredericksburg Nationals will feature 10 home stands hosting 60 home games and 10 road game series consisting of 60 games against teams in the newly formed Low-A East League. The minor league baseball season will start on Tuesday, May 4 and end
FredNats to Unveil New History Wall Inside Ballpark on Saturday, October 3rd
The Fredericksburg Baseball History Wall Has Been Developed in Conjunction with Germanna Community College, the Fredericksburg Area Museum & Dovetail Cultural Resource Group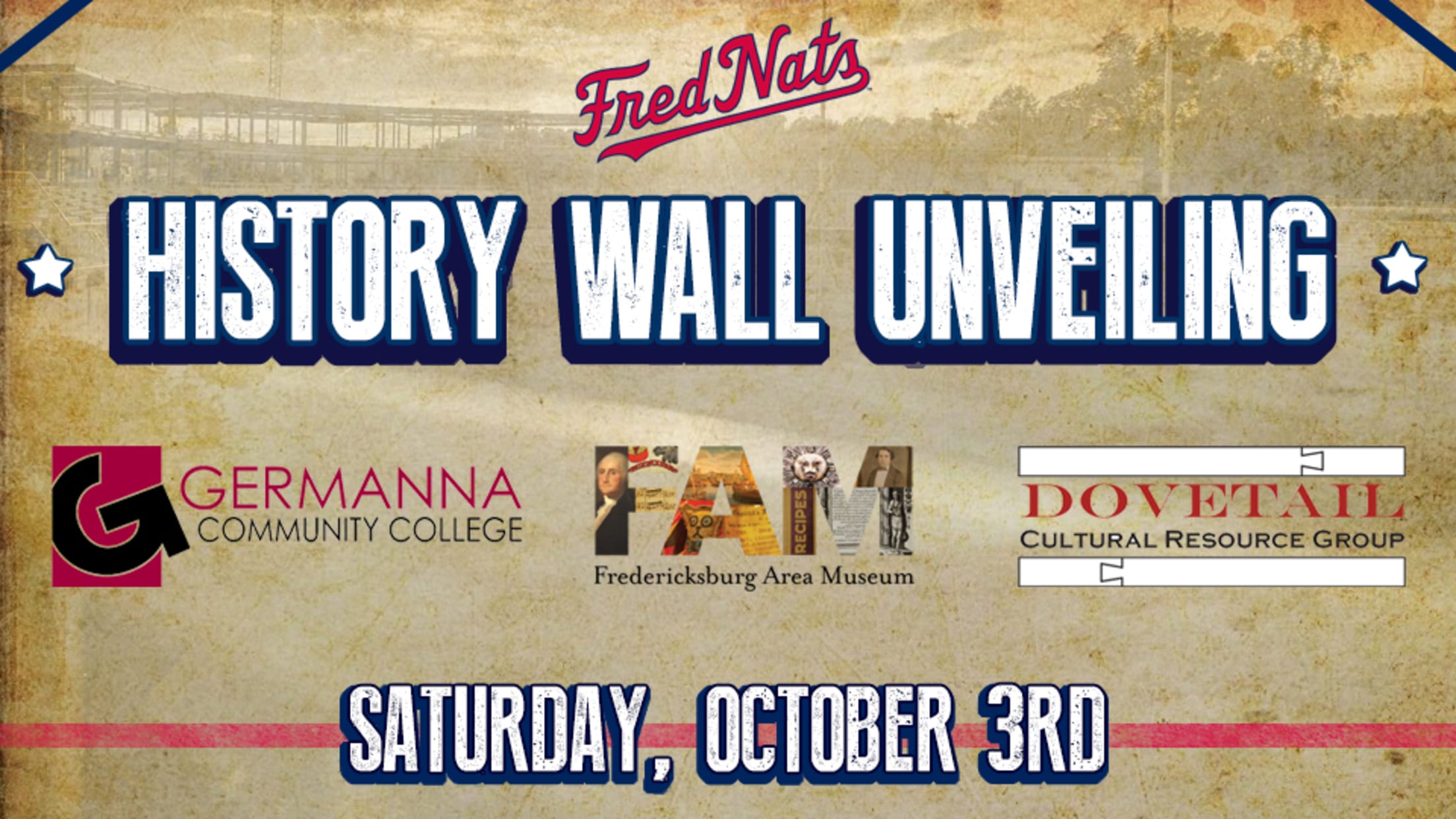 FREDERICKSBURG, VA – The Fredericksburg Nationals are excited to unveil their newest element of their ballpark to fans. Located behind the batter's eye on the centerfield concourse, the "History of Baseball in Fredericksburg" Wall presented by Germanna Community College will be 80 feet long and 12 feet high showcasing some
Fredericksburg Nationals to Host Jackie Robinson Legacy Night July 14th
Event to Include Scholarship Awards and a Free Showing of the Movie "42"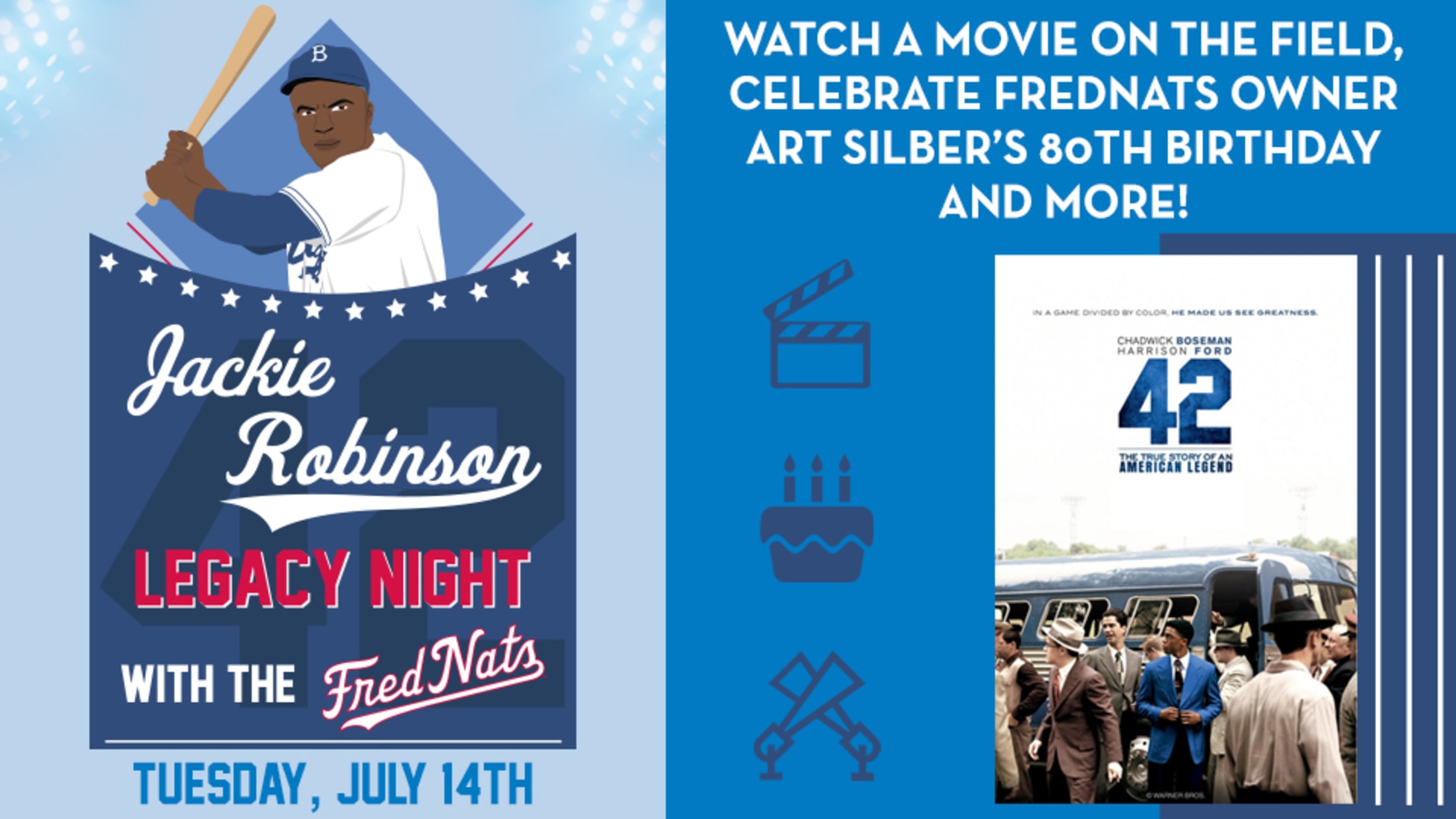 WHAT: Jackie Robinson Legacy Night will include an award ceremony for the recipients of the Jackie Robinson Writing Contest that the FredNats created in conjunction with Germanna Community College. In honor of FredNats Owner, Art Silber's 80th birthday, there will also be a free showing of the movie "42" on
Washington Nationals Taxi Squad to Practice at New Fredericksburg Nationals Ballpark
Practice in Fredericksburg Begins Monday, July 6th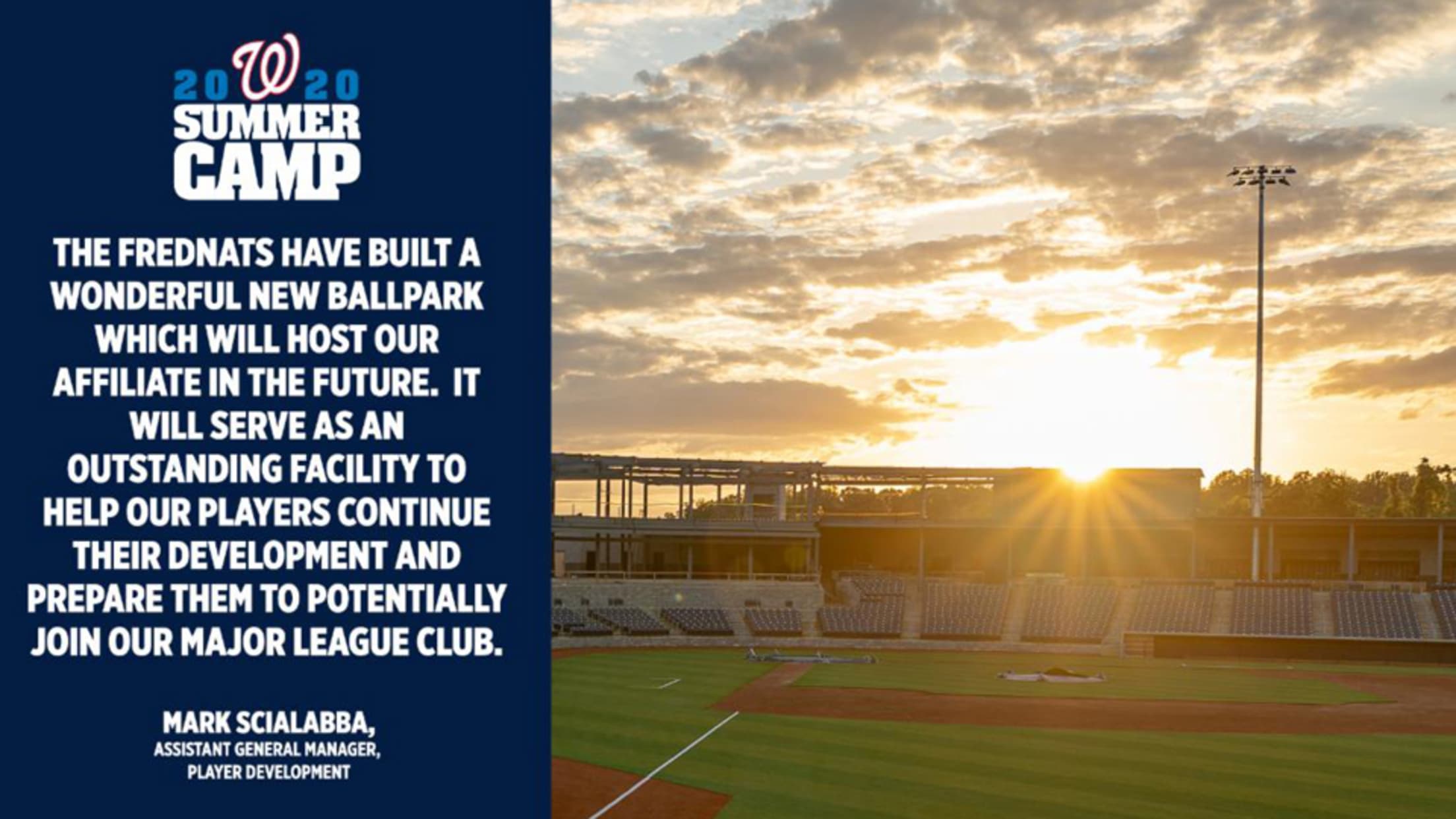 FREDERICKSBURG, VA – The Washington Nationals ("Nationals") have begun practicing and training for their 60-man roster for the start of 2020 Major League Season. The players will be training at Nationals Park leading up to an opening day game scheduled for July 23 or 24. The Nationals announced today that
FredNats and MiLB 2020 Season Canceled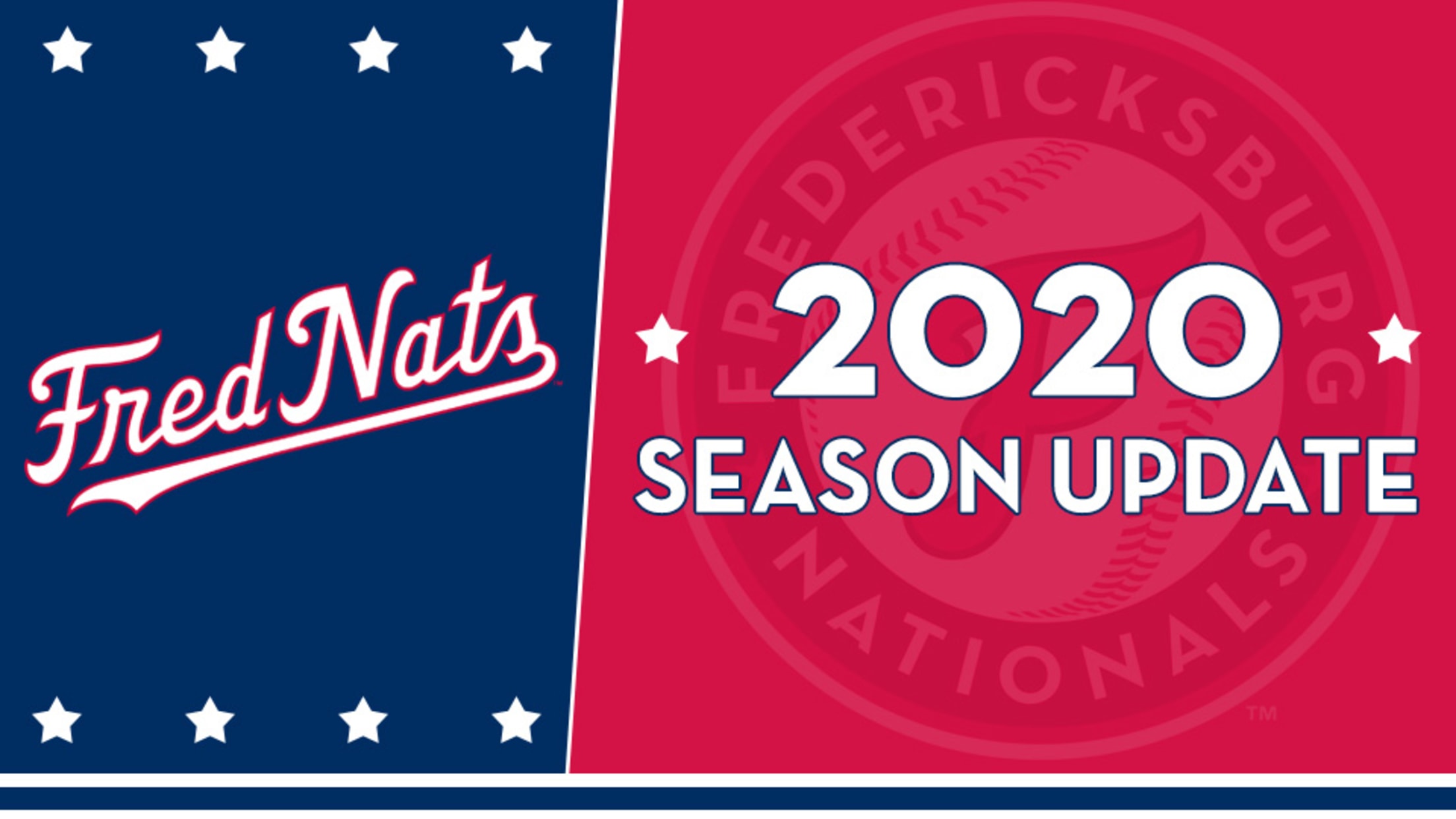 FredNats Fans, As some of you may know, Minor League Baseball just released the following statement: "Major League Baseball™ has informed Minor League Baseball™ that it will not be providing its affiliated Minor League teams with players for the 2020 season. As a result, there will not be a Minor
Fredericksburg Nationals To Host FredNats 4th of July Spectacular
Providing the Largest Fireworks Show In Fredericksburg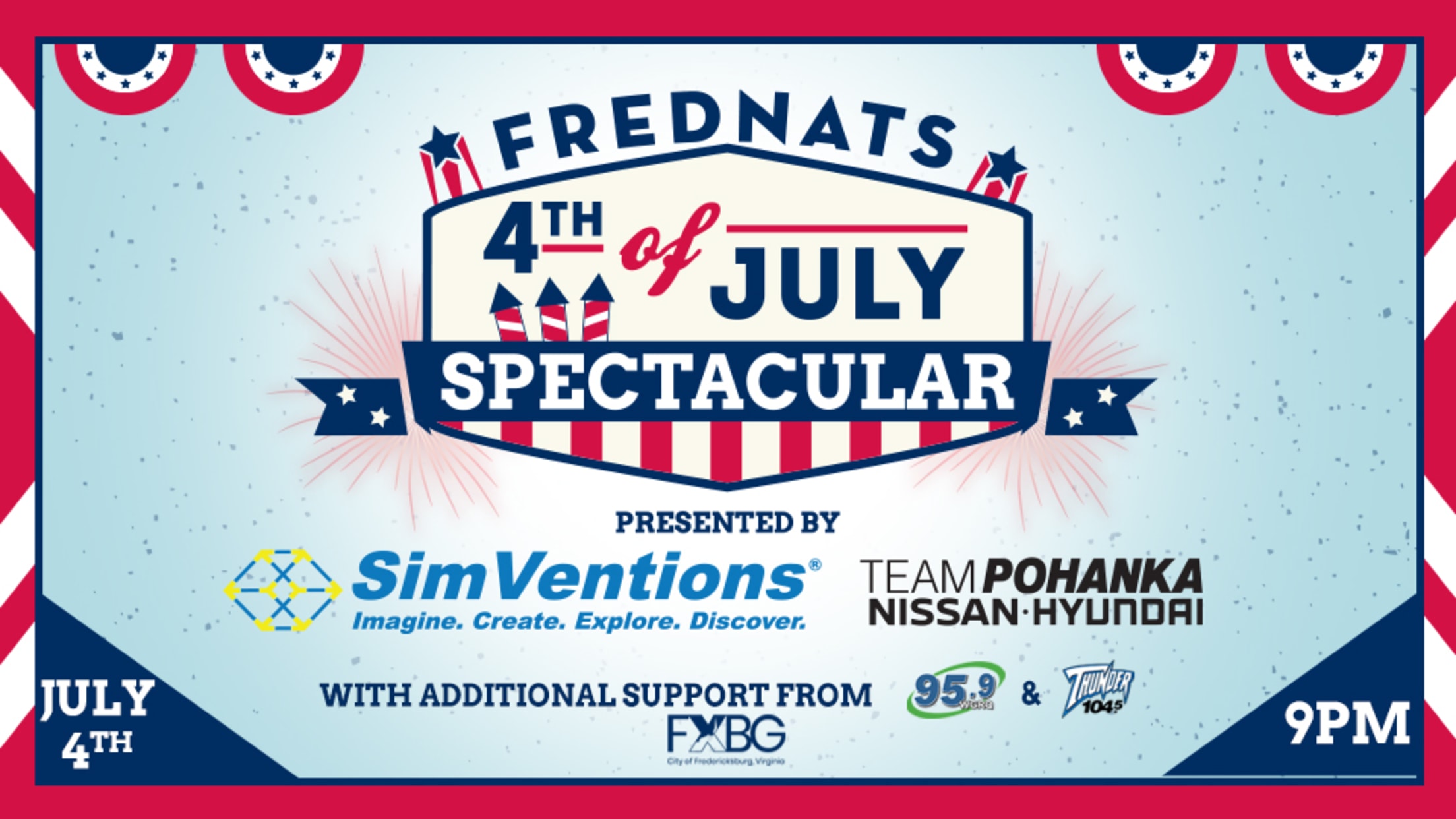 FREDERICKSBURG, VA – The Fredericksburg Nationals have announced that they will be hosting the FredNats 4th of July Spectacular from their new ballpark this Saturday evening. The first firework show for the organization will be sponsored by SimVentions, Pohanka Nissan & Hyundai of Fredericksburg, and the City of Fredericksburg and
Fredericksburg Nationals Sell Over 1,001 Community Initiative T-Shirts
More Than 2,000 Tickets Will Be Donated to Frontline Healthcare Workers; GM to get Tattoo of Mascot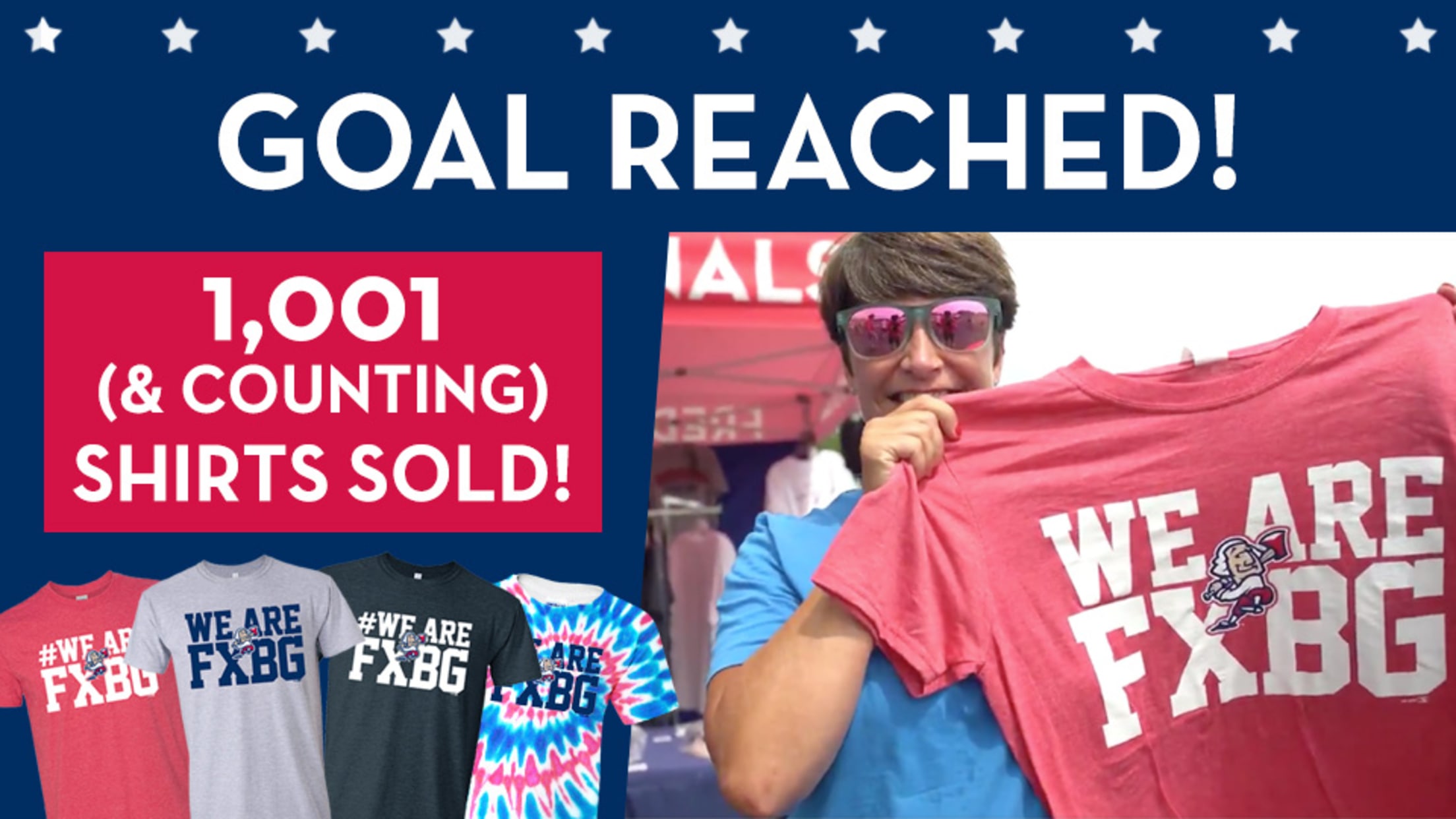 FREDERICKSBURG, VA – The Fredericksburg Nationals are proud to announce that they reached their goal of more than 1,001 We Are FXBG t-shirts sold as of Monday, June 29. The team announced that they would be launching the We Are FXBG t-shirts back in May with the promise to donate
Fredericksburg Nationals To Host Virtual At Home Opener, Thursday April 23rd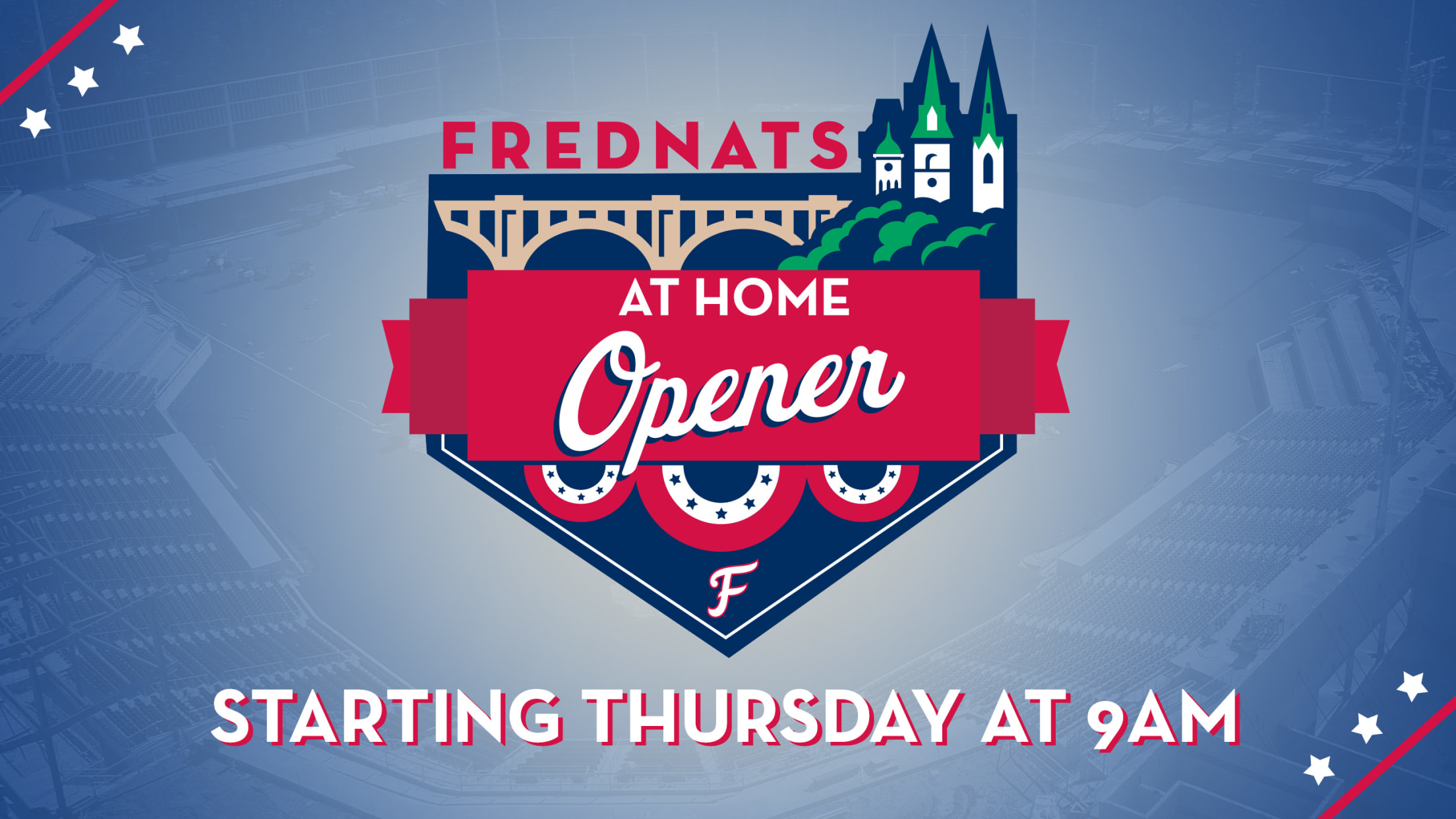 FREDERICKSBURG, VA– The Fredericksburg Nationals will be hosting a virtual version of their Opening Day, on what would have been the first game in their new ballpark on Thursday, April 23 starting at 9 a.m.The day will culminate with a broadcast at 5:30 pm from the ballpark of a special
Thank You, Fredericksburg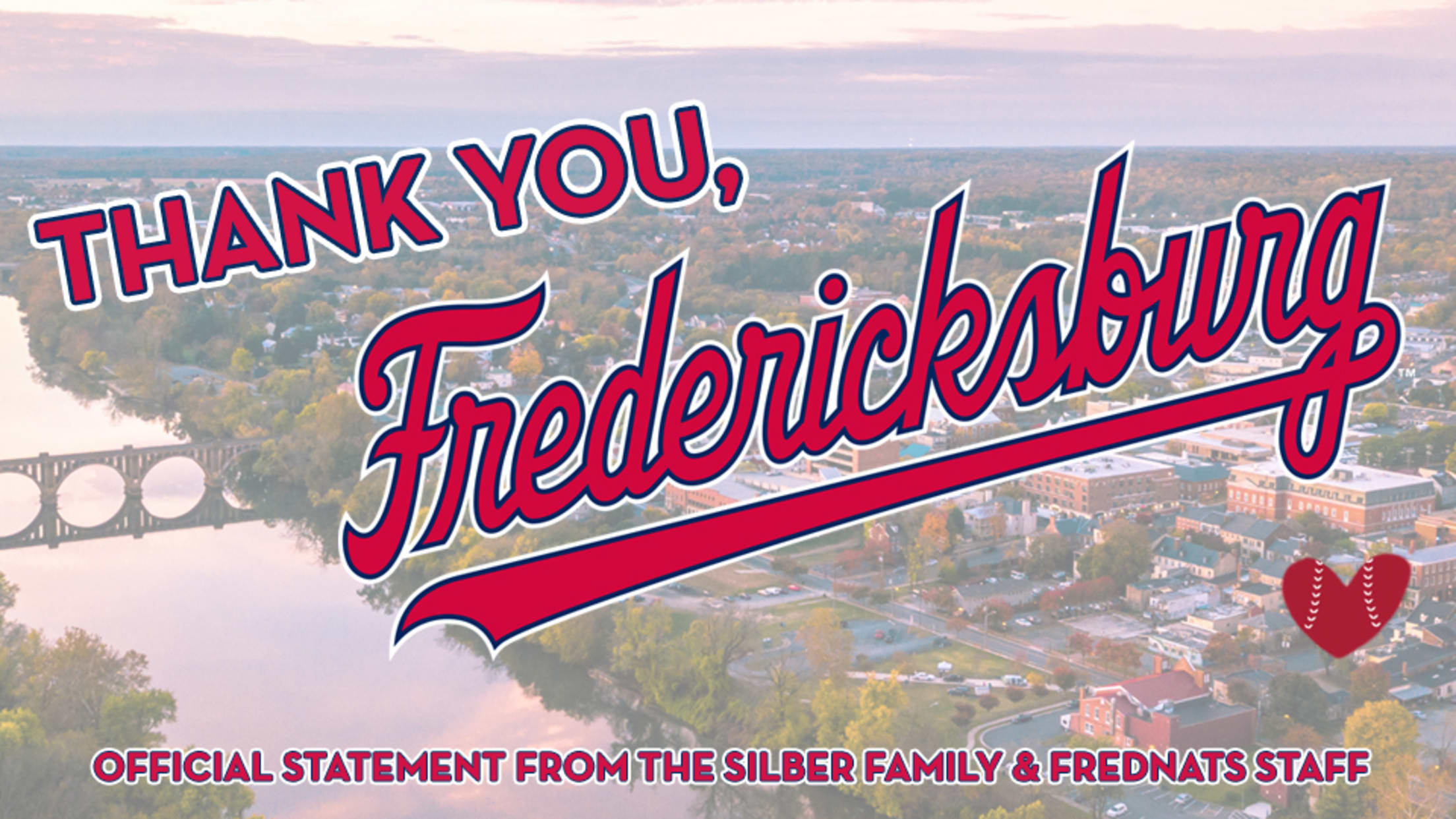 Tonight, April 9th, was supposed to mark a historic night for Fredericksburg. Your hometown Fredericksburg Nationals were scheduled to take the field for the first time for an away game. The team would have worn their road gray uniforms with "Fredericksburg" proudly displayed in red across the chests of your
FredNats and Germanna Community College Partner to Benefit Fredericksburg Community
Partnership to Highlight Scholarship Fund and History Pavilion in the New Ballpark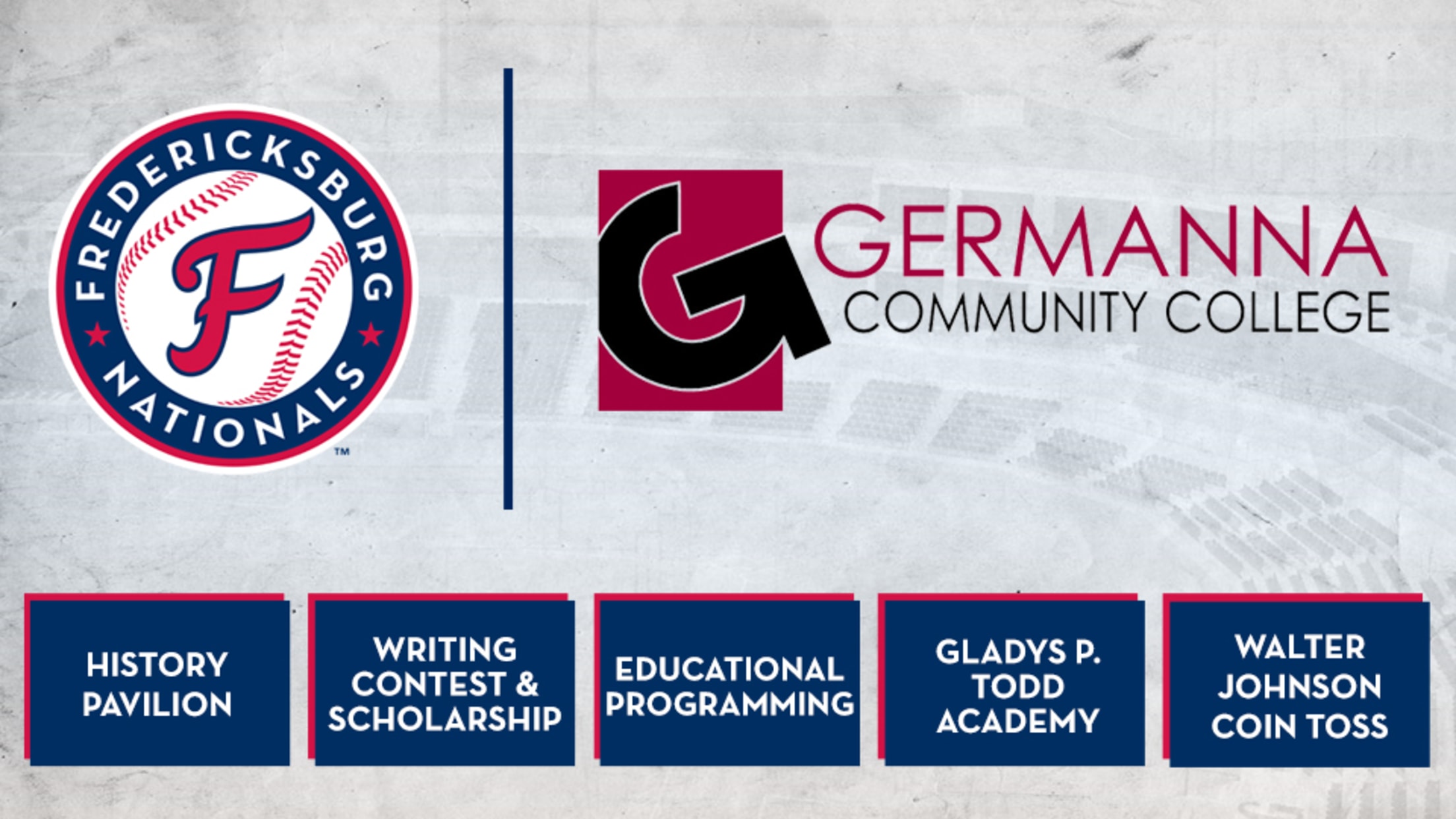 FREDERICKSBURG, VA – On Wednesday, February 26th the Fredericksburg Nationals and Germanna Community College announced more details of their partnership that will be implemented for the 2020 season.