Two Comebacks Not Enough for FredNats in 13-8 Loss
FREDERICKSBURG, VA - Though the Fredericksburg Nationals erased two deficits in Wednesday night's game against the Delmarva Shorebirds, a six-run tenth inning was too much to overcome in a 13-8 loss. The FredNats took a 5-4 lead into the ninth before allowing three runs, then forced extras with a rally
Boone's Triple Sends FredNats to 5-1 Victory
FREDERICKSBURG, VA - A bases-clearing triple from Jake Boone paved the way for a 5-1 Fredericksburg Nationals win over the Delmarva Shorebirds on Tuesday night in the opener of a six-game homestand. Boone's two-out, three-run triple into the left field corner gave the FredNats the lead for good as they
FredNats to Promote Robert Perry to Assistant General Manager And Eliot Williams to Vice President of Operations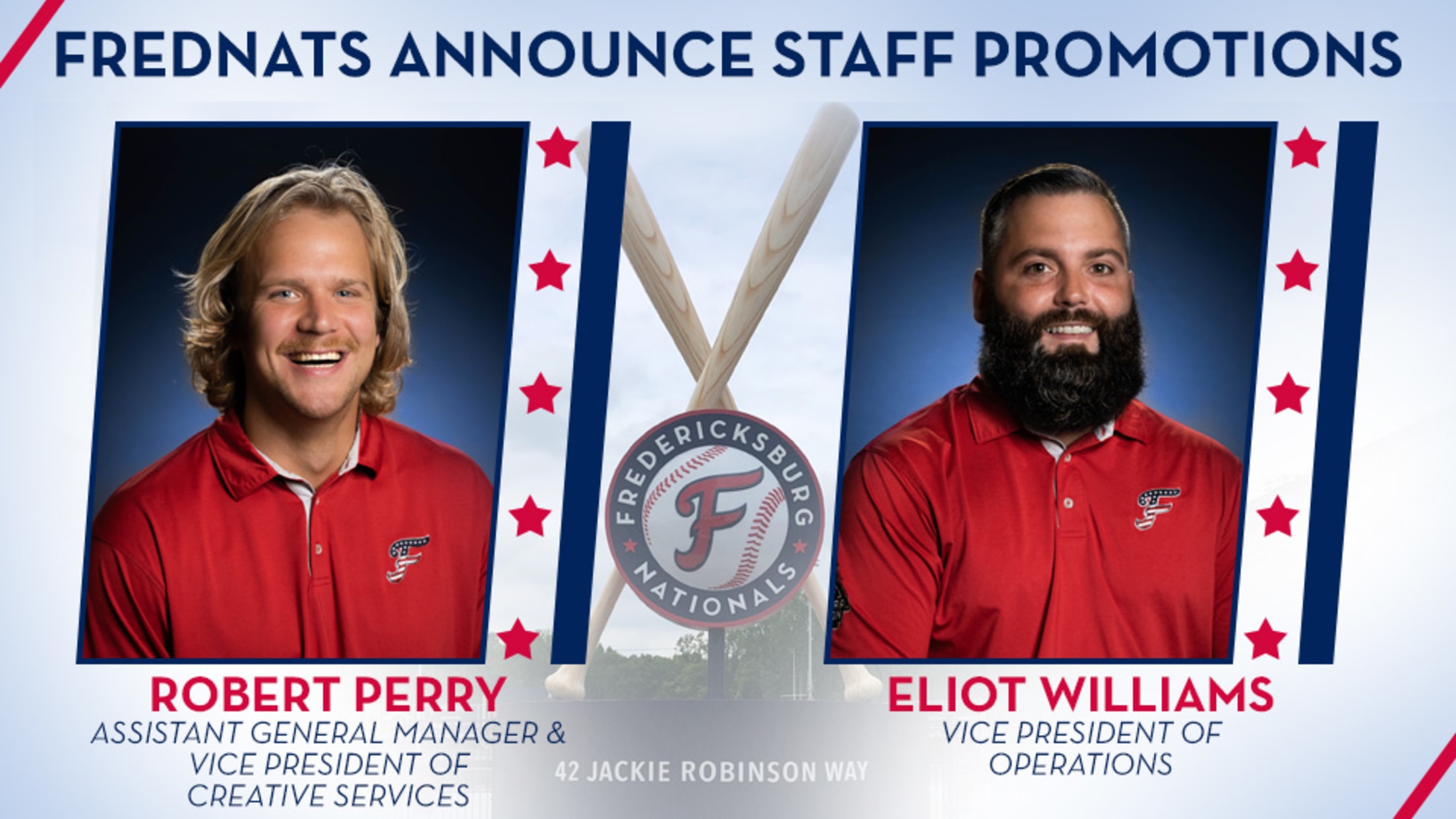 FREDERICKSBURG, VA - The Fredericksburg Nationals have promoted their Vice President of Creative Services, Robert Perry to Vice President and Assistant General Manager and their Director of Operations, Eliot Williams to Vice President of Operations.
Salem Silences FredNats in Series Finale
SALEM, VA - One night after posting season highs in hits and runs, the Fredericksburg Nationals managed just four singles in a 3-0 shutout loss to the Salem Red Sox on Sunday afternoon. The FredNats dropped five of their six games in Salem, heading home to Fredericksburg with a 4-8
Sánchez Leads 18-Run Outburst in Lopsided Win
SALEM, VA - The Fredericksburg Nationals established season highs in runs, hits and margin of victory with a blowout 18-6 win over the Salem Red Sox on Saturday night. José Sánchez drove in five and finished a homer shy of the cycle, pacing a 23-hit Fredericksburg effort that snapped a
Furious Rally Falls Short in 7-4 Loss
SALEM, VA - After being no-hit for six innings, the Fredericksburg Nationals made a late comeback on Friday night before coming up short in a 7-4 loss to the Salem Red Sox. Jackson Rutledge (L, 0-1) took the loss in his FredNats debut, allowing seven runs, six earned, over 3.0
Fredericksburg Nationals Announce Late Summer Concert Series
2021 Lineup To Include Jimmie Allen, "I Love the 90's," Beach Boys, Eli Young Band and Blue Oyster Cult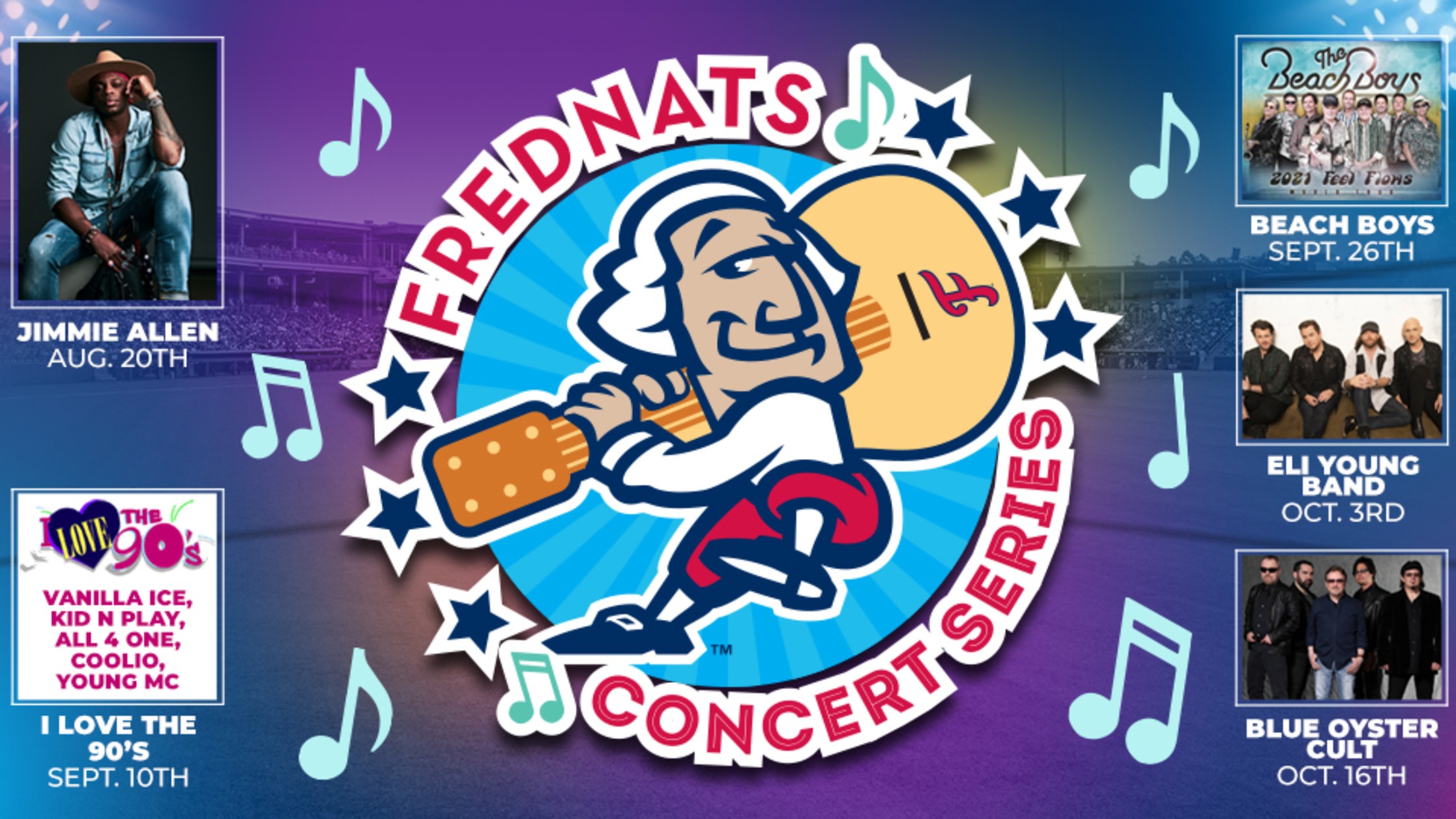 FREDERICKSBURG, VA - The Fredericksburg Nationals are excited to announce the official lineup for the 2021 FredNats Concert Series. The FredNats and their event programming partner, Oak View Group, will welcome five acts between August 20 and October 16.
FredNats Quickly Quieted in 3-2 Loss
SALEM, VA - The Fredericksburg Nationals dropped their third game in a row on Thursday, falling 3-2 to the Salem Red Sox. The game time of two hours and 17 minutes marked the fastest nine-inning game of the season for the FredNats. Ricardo Méndez went 1-for-4, singling in the third
Méndez Keeps Hitting, But FredNats Fall 4-2
SALEM, VA - Though Ricardo Méndez extended his hitting streak to a league-high 18 games, the Fredericksburg Nationals dropped their second game in a row to the Salem Red Sox by a score of 4-2 on Wednesday night. Méndez went 2-for-4 with a pair of singles, surpassing Carolina's Joe Gray
Scott, Red Sox Walk off FredNats
SALEM, VA - A two-out, bases-loaded single from Stephen Scott in the bottom of the ninth secured a 4-3 victory for the Salem Red Sox over the Fredericksburg Nationals on Tuesday night. The FredNats saw their two-game winning streak come to a close, despite three more hits from Ricardo Méndez
Bullpen Propels FredNats to 6-2 Victory
LYNCHBURG, VA - The Fredericksburg Nationals got five hitless innings from their bullpen to help secure a series split against the Lynchburg Hillcats, winning 6-2 in their Sunday finale. Josh Wolf (L, 0-3) allowed only one earned run in his five-inning start for Lynchburg, but saw four Hillcats errors and
First-Inning Ambush Lifts FredNats to 11-5 Win
LYNCHBURG, VA - Despite an hour-long rain delay, a five-run first inning helped the Fredericksburg Nationals defeat the Lynchburg Hillcats 11-5 on Saturday night. The FredNats had four hits and three runs within the game's first four pitches, as Viandel Peña singled, José Sánchez and Ricardo Méndez doubled, and Junior
FredNats Felled by Two-Out Hitting in 6-2 Loss
LYNCHBURG, VA - The Fredericksburg Nationals had plenty of opportunities on Friday night, but went just 1-for-10 with men in scoring position as they fell 6-2 to the Lynchburg Hillcats. Ricardo Méndez had one of his team's five hits, doubling in the third to extend his hitting streak to 14
Sánchez, Vega Lead FredNats Rout of Hillcats
LYNCHBURG, VA - José Sánchez collected three extra-base hits, Onix Vega drove in three runs and the Fredericksburg Nationals drubbed the Lynchburg Hillcats on Thursday night by a score of 10-1. The FredNats knocked out a season-high 14 hits to give Carlos Romero (W, 1-2) his first win of the
FredNats Suffer First Extra-Inning Loss in Lynchburg
LYNCHBURG, VA - The Fredericksburg Nationals were an out away from improving to a perfect 5-0 record in extra-inning games, but were walked off by the Lynchburg Hillcats on Wednesday night in a 7-6, 10-inning final. Angel Martinez hit a game-tying RBI single for the Hillcats with two outs in
Méndez Extends Hitting Streak in 7-5 Defeat
LYNCHBURG, VA - Though Ricardo Méndez went 2-for-4 to extend his team-record hitting streak to 11 games, the Fredericksburg Nationals dropped their second half opener to the Lynchburg Hillcats on Tuesday night by a score of 7-5. Two Hillcats homers from Yainer Diaz and Johnathan Rodríguez in the sixth inning
FredNats End First Half with 6-3 Loss
FREDERICKSBURG, VA - The Fredericksburg Nationals missed an opportunity for their second series win of the season on Sunday night, falling 6-3 as the Kannapolis Cannon Ballers salvaged a series split. At 19-41, the FredNats are halfway through their 120-game inaugural season. After an off day on Monday, they begin
FredNats Sweep Twin Bill over Cannon Ballers
FREDERICKSBURG, VA - In the first doubleheader in the history of FredNats Ballpark, the Fredericksburg Nationals used late heroics to beat the Kannapolis Cannon Ballers twice on Saturday night. They took game one by a score of 3-2, and sealed the sweep with a 4-3 win in the nightcap. The
FredNats Complete Suspended Game in 14-2 Loss
FREDERICKSBURG, VA - The Fredericksburg Nationals were able to complete Thursday's suspended game on Friday night, but things didn't go their way in a 14-2 loss to the Kannapolis Cannon Ballers. Prior to the suspension due to rain on Thursday, Michael Cuevas (L, 0-2) allowed three runs, two earned in
FredNats' Second Friday Game Postponed Due to Time Constraints
FREDERICKSBURG, VA - A pregame rain delay has altered plans for Friday's doubleheader at FredNats Ballpark between the Fredericksburg Nationals and Kannapolis Cannon Ballers. Thursday's suspended game will be completed on Friday as scheduled. The second game will be played instead on Saturday as part of a single-ticket, seven-inning doubleheader,
FredNats, Cannon Ballers Suspended in Second
FREDERICKSBURG, VA - Rain and wet conditions have forced the suspension of Thursday's game at FredNats Ballpark between the Fredericksburg Nationals and Kannapols Cannon Ballers. The Cannon Ballers lead the FredNats 3-0 in the middle of the second inning. The nine-inning game will be completed as part of a single-ticket,
FredNats' Furious Comeback Not Enough in 11-9 Loss
FREDERICKSBURG, VA - Trailing 10-0 in the fourth inning, the Fredericksburg Nationals mounted a valiant effort in Wednesday night's game but ultimately fell short in an 11-9 loss to the Kannapolis Cannon Ballers. Karlo Seijas (L, 2-7) struggled, allowing three runs in the first inning and four runs in the
Strohschein's Walk-Off Grand Slam Wins it for FredNats
FREDERICKSBURG, VA -Kevin Strohschein's walk-off grand slam in the bottom of the tenth inning lifted the Fredericksburg Nationals to a 7-3 victory in their series opener against the Kannapolis Cannon Ballers on Tuesday night. His one-out blast to left field was both the first grand slam in team history and
FredNats Edged by Red Sox on Festive Fourth
FREDERICKSBURG, VA - The Fredericksburg Nationals put on a good show for their first Fourth of July celebration, but came up short in a 4-3 loss to the Salem Red Sox on Sunday afternoon. A record 4909 fans packed FredNats Ballpark for the 24th sellout in the season's first 30
FredNats' Bats Stifled in 9-2 Loss
FREDERICKSBURG, VA - Though they had scored 25 runs in their past three games, the Fredericksburg Nationals couldn't keep the offense going in a 9-2 loss to the Salem Red Sox on Saturday night. Salem scored three runs in the first off Rodney Theophile (L, 0-5), which proved to be