Former I-Cubs To Follow in the KBO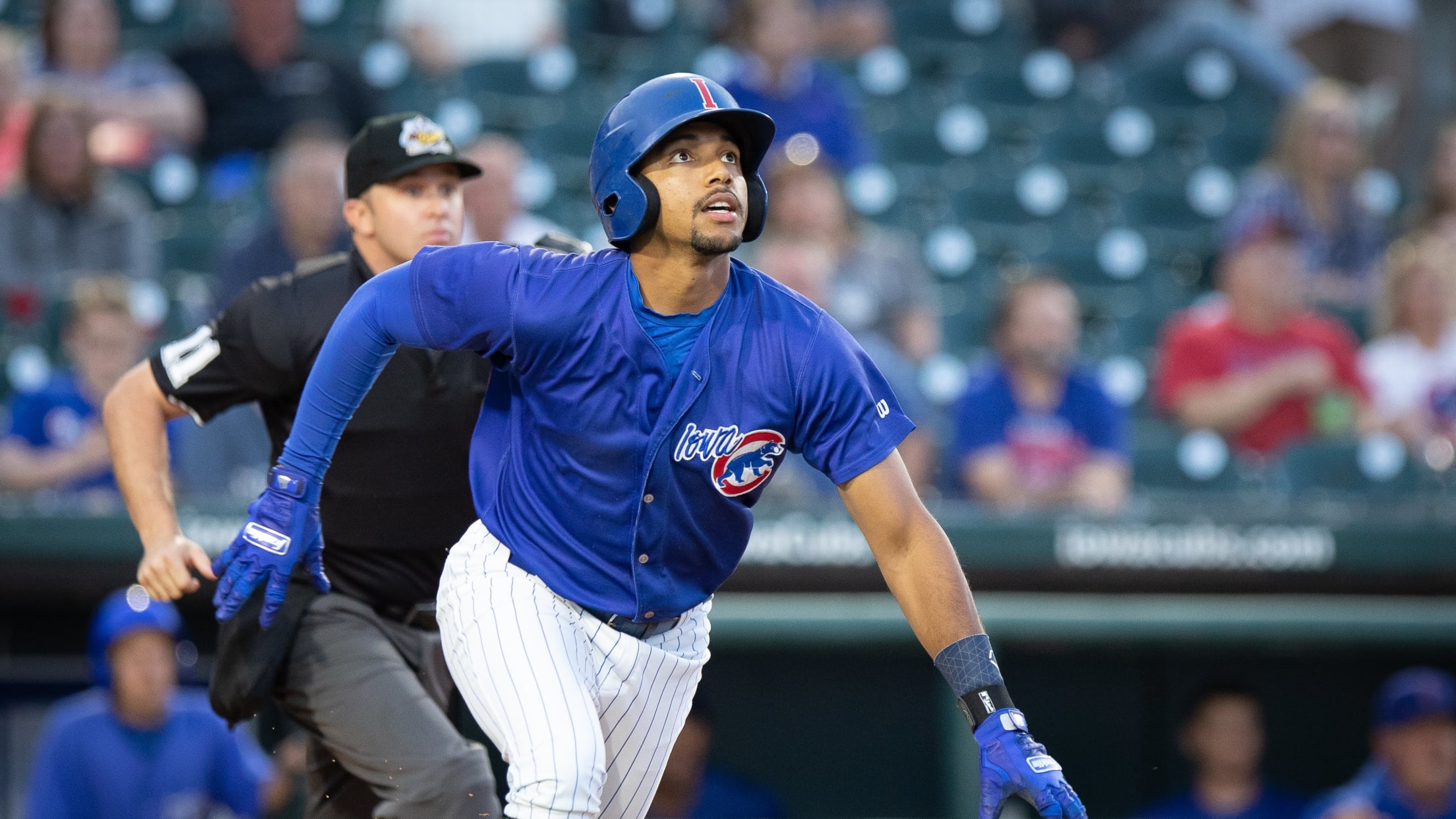 If you're like us, you are hopelessly missing baseball. The Korean Baseball Organization is in full swing and thanks to a broadcast agreement with ESPN, fans can watch six live games per week, just so long as you can adjust your sleep schedule for the midnight, 3 a.m. and 4:30
If you're like us, you are hopelessly missing baseball. The Korean Baseball Organization is in full swing and thanks to a broadcast agreement with ESPN, fans can watch six live games per week, just so long as you can adjust your sleep schedule for the midnight, 3 a.m. and 4:30 a.m. CT start times. Having trouble picking a team to root for? Here are five former Iowa Cubs to follow that are in action in the KBO.
INF Dixon Machado - Lotte Giants
Machado signed a one-year minor league deal with the Cubs last season after receiving his release from the Marlins at the end of spring training. The shortstop was originally picked up by the Tigers as a non-drafted free agent in 2008, and appeared in 172 games for Detroit from 2015-2018. Machado made the Tigers' Opening Day Roster for the first time in 2017 and went on to appear in a career-high 73 big league contests that season. He hit .259 (43-for-166) and earned Tigers Rookie of the Year honors. Overall, Machado holds a .227 batting average (104-for-458) through 172 major league games.
Machado spent 2019 with Iowa, batting .261 with a career-high 17 home runs through 102 games. Prior, Machado had collected 23 homers through more than 1,000 professional contests. The infielder led the team with a .371 on-base percentage (100+AB), was second with 65 RBI and third with 54 walks.
RHP Aaron Brooks - Kia Tigers
Acquired in a trade for outfielder Chris Coghlan from Oakland, Brooks suited up for Iowa first in 2016 as part of a Major League Rehab Assignment, then again in 2017. The righty was working back from a hip injury when he joined the club.
In 2017, Brooks made 24 consecutive starts before he was designated for assignment and picked up by the Brewers on Aug. 19. Despite making his last two starts of the season with Triple-A Colorado Springs, Brooks led the I-Cubs in innings pitched (138.0) and wins (8), and was second in strikeouts (105).
Between 2018-19, Brooks appeared in 32 major league games, including 18 starts, between Oakland and Baltimore. He signed with the Kia Tigers prior to the 2020 season.
Brooks was a ninth-round Royals draft pick in 2011 and totals a 9-13 big league record with a 6.49 ERA in 47 games (28GS), and is 61-47 with a 4.46 clip in 170 minor league contests (153GS).
RHP Casey Kelly - LG Twins
After he was drafted 30th overall by the Red Sox in 2008, Kelly bounced around affiliated ball, suiting up in the organizations of Boston, San Diego, Atlanta, Chicago (NL) and San Francisco. Kelly appeared in 12 games for Iowa in 2017, 11 of them starts, going 5-2 with a 4.65 ERA. The righty was released in July and signed with the Giants shortly after.
Kelly has seen action in 26 major league contests and made 12 starts between the 2012, 2015, 2016 and 2018 seasons. The righty is 2-11 with a 5.46 ERA (52ER/85.2IP) in big league games, and is 44-48 with a 4.13 mark (367ER/799.0IP) in 166 minor league contests.
Kelly went 14-12 with a 2.55 ERA (51ER/180.1IP) with the LG Twins in 2019 and enters his second season with the club.
LHP Eric Jokisch — Kiwoom Heroes
Jokisch, a Springfield, Illinois native, was selected by the Cubs in the 11th round of the 2010 draft out of Northwestern University. The lefty ascended to Iowa in 2014 and made 41 starts for the club through three seasons. In 2014, Jokisch finished among PCL leaders in strikeouts (2nd, 143), ERA (5th, 3.58), innings (3rd, 158.1), WHIP (4th, 1.17), opponent batting average (.6th, .255) and games started (t-8th, 26).
Jokisch was designated for assignment after making one start for Iowa in 2016, was claimed by Miami, then flipped to Texas for infielder Pedro Ciriaco in July. Jokisch appeared in Arizona's system in 2017 and Oakland's organization in 2018 before signing with Kiwoom for 2019. Last season, Jokisch was 13-9 with a 3.13 ERA (63ER/181.1IP) in the KBO.
RHP Drew Rucinski — NC Dinos
Since he was signed as a non-drafted free agent in 2011, Rucinski has suited up for four organizations, one independent team and one KBO team. The Oklahoma native has amassed 41 big league games across four seasons playing for Los Angeles-AL (2014-15), Minnesota (2017) and Miami (2018), going 4-4 with a 5.33 ERA (32ER/54.0IP).
The righty spent all of 2016 with the I-Cubs in his sole season in the Cubs' organization and went 7-15 with a 5.92 ERA (102ER/155.0IP). The righty was the only pitcher to make every start that season and led the team in starts (28), innings pitched (155.0) and strikeouts (116).
Rucinski made his KBO debut with the Dinos in 2019 and logged a 9-9 record with a 3.05 ERA (60ER/177.1IP) in 30 starts.
RHP Dan Straily - Lotte Giants
Straily had already notched 34 starts for Oakland between 2012-13 before a stop in Iowa in 2014. The righty was selected by the A's in the 24th round of the 2009 draft and made his way to the Cubs organization with infielder Addison Russell and outfielder Billy McKinney on July 5, 2014 for right-handers Jason Hammel and Jeff Samardzija. Straily went 3-5 with a 4.09 ERA in 10 starts with Iowa, and appeared in seven games, with one start, for Chicago that season.
Straily was flipped to Houston with infielder Luis Valbuena for outfielder Dexter Fowler prior to the 2015 season and went on to play in the Reds, Marlins, Orioles and Phillies organizations through 2019. The now-31 year old has appeared in parts of eight major league seasons and is 44-40 with a 4.56 ERA (407ER/803.1IP) in 156 games (140GS).