Richards Marlins Minor League Pitcher of the Year
Right-hander dominant with Jumbo Shrimp in second half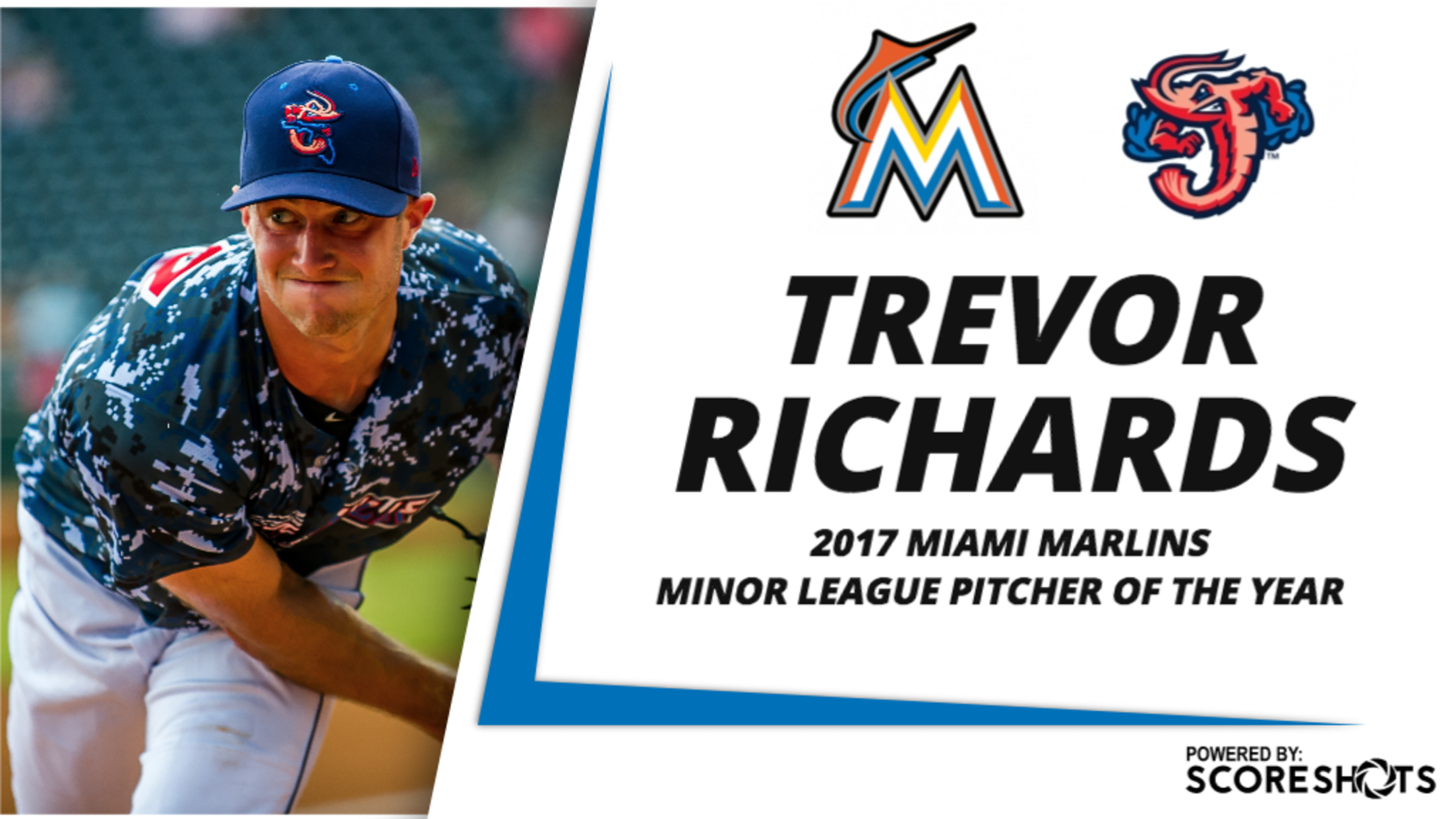 JACKSONVILLE, Fla. - Jacksonville Jumbo Shrimp right-handed starting pitcher Trevor Richards has been named the Miami Marlins Minor League Pitcher of the Year for 2017. The announcement was made by Marlins' President of Baseball Operations Michael Hill on Thursday morning. 
JACKSONVILLE, Fla. - Jacksonville Jumbo Shrimp right-handed starting pitcher Trevor Richards has been named the Miami Marlins Minor League Pitcher of the Year for 2017. The announcement was made by Marlins' President of Baseball Operations Michael Hill on Thursday morning.

Richards went 12-11 with a 2.53 ERA (146.0/41) in 27 games (25 starts) between High-A Jupiter (13 G/11 GS) and Double-A Jacksonville (14/14), setting career highs in wins, innings pitched, and strikeouts (158) in his first full Minor League season. He led Miami's minor league system in ERA and strikeouts, and was second in wins.

He opened the season with the Hammerheads and went 7-4, 2.17 in 13 games (11 starts), winning his last three starts before being promoted on June 21. The showing garnered Florida State League All-Star honors and one Pitcher of the Week award, following a career-best 11-strikeout outing on June 2. He carried the success to Jacksonville, and for the month of June combined to go 4-0, 1.65 with 29 strikeouts, earning Organizational Pitcher of the Month honors. He also went on a career-best five-game winning streak from June 2-July 4, posting a 1.62 ERA during the streak.

With Jacksonville, Richards was 5-7 with a 2.53 ERA in 14 starts, with 158 strikeouts in 146 innings pitched, and his pitching helped fuel the Jumbo Shrimp to a second half South Division title.

Richards, 24, is a native of Aviston, Illinois. He attended Drury University and was signed as a non-drafted free agent out of the Frontier League on July 2, 2016.

In the last nine years of the Marlins affiliation, seven of the organization's Pitcher of the Year winners have spent time in Jacksonville during that season. Richards joins a list that includes Cristhian Martinez (2009), Elih Villanueva (2010), Michael Brady (2011), Anthony DeSclafani (2013), Justin Nicolino (2014), and Luis Castillo (2016).

Greensboro Grasshoppers third baseman James Nelson was named the organization's Player of the Year for 2017 after hitting .309 with seven home runs and 59 RBI in the Single-A South Atlantic League.

UP NEXT: The Jumbo Shrimp open the 2018 season presented by Community First Credit Union on April 5, 2018, in Jackson, Tennessee. The 2018 home opener is Wednesday, April 11, 2018, at the Baseball Grounds of Jacksonville. Season ticket renewals and new packages for the 2018 season may be reserved with a nonrefundable 25 percent deposit by calling a Jumbo Shrimp account representative at (904) 358-2846 or at the box office, which is open Monday through Friday, from 9 a.m. to 5 p.m., and during home games for the remainder of the 2017 season.

ABOUT THE JUMBO SHRIMP: The Jacksonville Jumbo Shrimp are beginning a new era of affordable family fun with the 2017 season presented by Community First Credit Union at the Baseball Grounds of Jacksonville. With a new lineup of ticket and group options, there is a reason for everyone to get part of the action by calling the Jumbo Shrimp at (904) 358-2846 or visiting www.jaxshrimp.com.