Shrimp & Suds Craft Beer Festival Under the Lights set for August 3
Unlimited free beer samples at event presented in part by Destroyer Rocks! Promotional Products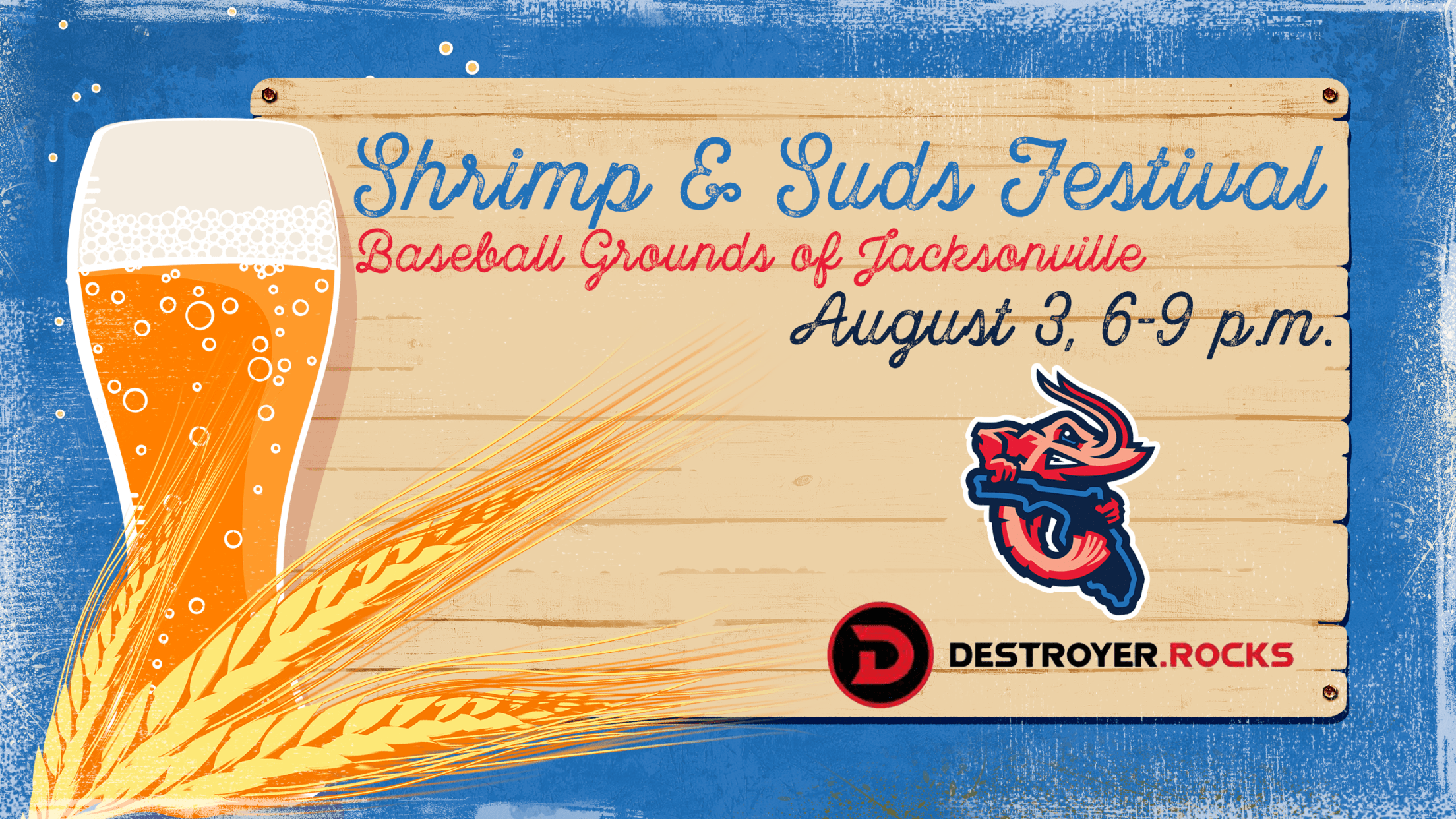 BUY TICKETSJACKSONVILLE, Fla. - The Baseball Grounds of Jacksonville will again play host to the Shrimp & Suds Craft Beer Festival, presented in part by Destroyer Rocks! Promotional Products, on Saturday, August 3. Guests will be able to enjoy unlimited free samples of craft beers, including a selection from Northeast
BUY TICKETS
JACKSONVILLE, Fla. - The Baseball Grounds of Jacksonville will again play host to the Shrimp & Suds Craft Beer Festival, presented in part by Destroyer Rocks! Promotional Products, on Saturday, August 3. Guests will be able to enjoy unlimited free samples of craft beers, including a selection from Northeast Florida's local breweries.
The Shrimp & Suds Craft Beer Festival runs from 6-9 p.m., with gates opening for VIP ticket holders at 5 p.m. Attendees receive unlimited drink samples of the beers at the event. Food, including the Shrimp & Pulled Pork Nachos as seen on the Travel Channel's Food Paradise, will be available for purchase.
Tickets for the Shrimp & Suds Craft Beer Festival are available at www.jaxshrimp.com for $40 each. VIP admission is $50, which includes early access one hour before the gates open for other guests. Legal ID will be necessary for entry to the event, which is exclusively for guests ages 21 and over (no babies, no strollers, no children). No outside food or drink will be permitted.
The event will include sampling from over 50 breweries, including local brews from the following:
Locals:
-Veterans
-Southern Swells
-Ruby Beach
-Tabula Rasa
-Fishweir
-Intuition
-Bold City
-Engine 15 Brewing
Others:
-Sierra Nevada
-Bells
-New Belgium
-Boston Beer
-Tampa Bay
-Halyard
-Biscayne Bay
-Orange Blossom Pilsner
-Abita Strawberry
-Blue Moon
-Lagunitas
-Coppertail
-Terrapin
-Oskar Blues
-Dogfish Head
-Decadent Ales
-Evil Twin
-Fat Orange Cat
-Omnipollo
-3 Daughters Cider/3 Daughters Brewing
-Ace Cider
-Ancient City
-Blue Point Brewing
-Boulevard
-Brew Bus/Florida Avenue Brewing
-Cascade
-Cigar City
-Cycle Brewing
-Elysian
-Founders
-Funky Buddha
-Golden Road
-Goose Island
-Islamorada Brewing
-New Holland
-Southern Tier/Victory Brewing
-Swamp Head Brewery
-Sweetwater
-Toppling Goliath
-Wicked Weed
Throughout the festival, guests will be able to shop for Jumbo Shrimp gear in the team store or purchase ticket packages for the upcoming season.
ABOUT THE JUMBO SHRIMP: The Jacksonville Jumbo Shrimp offer affordable family fun at the Baseball Grounds of Jacksonville. Their inaugural season garnered the Southern League's Don Mincher Organization of the Year, Promotional Trophy and Jimmy Bragan Executive of the Year, won by General Manager Harold Craw. To experience the excitement with the terrific value of ticket and group options, call the Jumbo Shrimp at (904) 358-2846 or visit www.jaxshrimp.com.