Tar Heel to Marlin; Miller's Map to the Majors 
Brian Miller's transformation from walk-on to major leaguer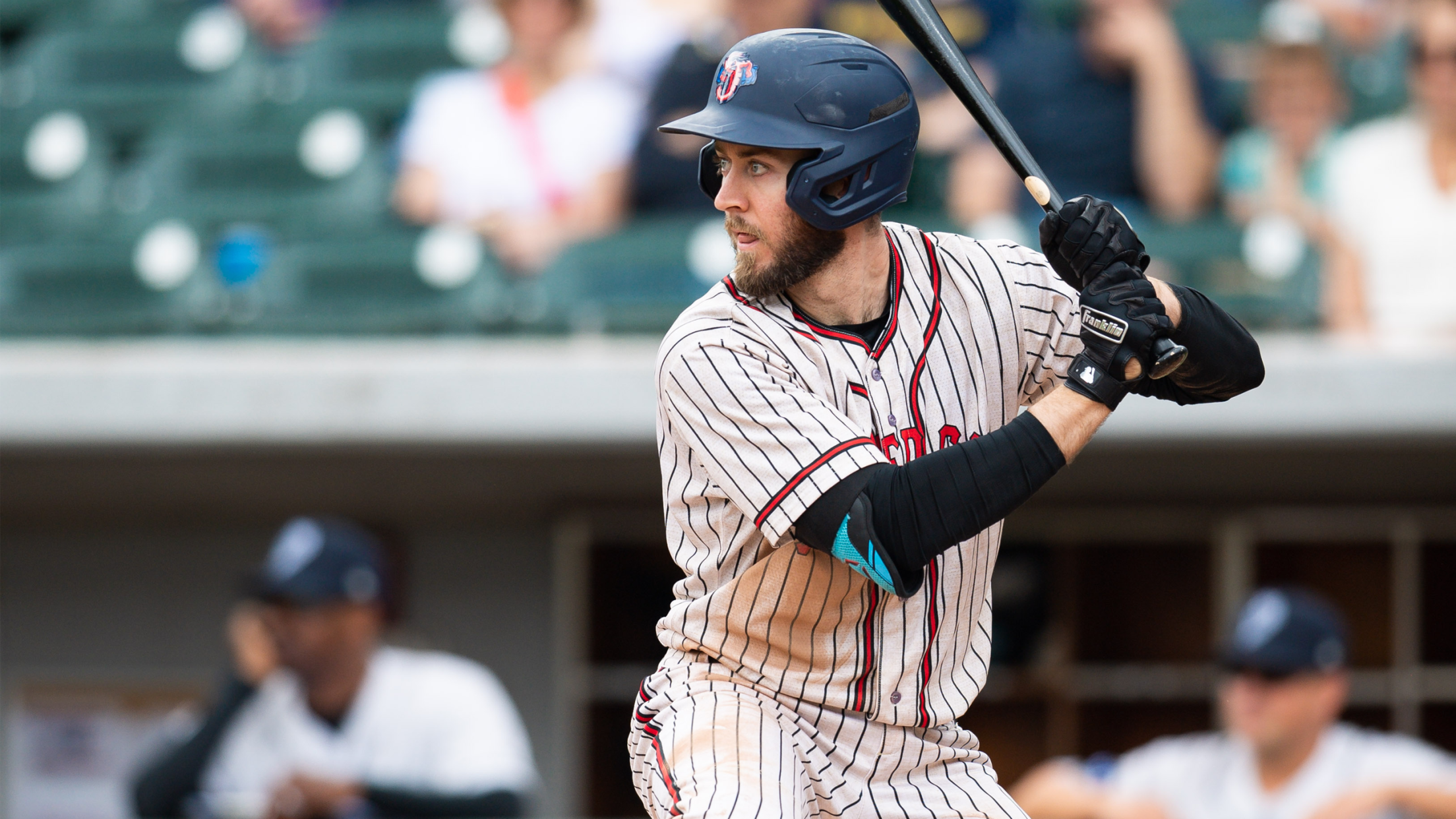 Brian Miller walked-on at North Carolina before becoming a first-round pick of the Marlins. (Laura Wolff/Charlotte Knights)
Brian Miller, a native of Raleigh, North Carolina, grew up just minutes away from North Carolina State's campus, but that didn't stop him from dreaming of what it would be like to play for the University of North Carolina. "I always wanted to play at UNC," Miller said. "I grew
Brian Miller, a native of Raleigh, North Carolina, grew up just minutes away from North Carolina State's campus, but that didn't stop him from dreaming of what it would be like to play for the University of North Carolina.
"I always wanted to play at UNC," Miller said. "I grew up watching them in the years when they were consistently making it to Omaha. However, you have to be really good to play there, so I never put as much importance on baseball."
Instead, Miller turned his focus toward other things. A tri-sport athlete at Millbrook High School, playing football, baseball and basketball, Miller had the athletic capabilities to make an impact anywhere he so chose. While playing multiple sports year-round was enjoyable, Miller admits that it prevented him from being able to have access to the same resources that single-sport athletes would.
"I was what you would call a late bloomer," said Miller. "I developed a bit later than some of the other guys. I never got the same exposure that some of the other guys got that were playing showcase ball because I was playing football the whole summer."
Prior to playing baseball at UNC, Miller toyed with the possibility of playing collegiate football and was initially committed to play baseball for the University of North Carolina Asheville. However, when the opportunity to play for UNC came knocking, it was one that he could not turn down.
"I just graduated and got a job at a Carquest for the summer to earn some money before I headed to Asheville in the fall. I had just got my wisdom teeth out, so I was out of commission for physical activity for a week or two," Miller said. "That's right when one of our UNC Asheville coaches who was not going to be retained put himself on the line for me. He got a call from UNC saying that they were looking to add another left-handed bat to their recruiting class. Can (I) come do a workout for us? So, I said, 'Yes, of course,' but I just got my wisdom teeth out. So, I haven't touched a bat in a couple weeks, but this is a once-in-a-lifetime opportunity, so of course I'm going to tough it out."
Miller buckled down and put on a performance that would inevitably set him up for years to come.
"I don't really remember how the workout went, but I went, and did it and the assistant coach called me that evening asking how quickly I can get my high school transcripts to him. So, my dad and I immediately went to the school to get my transcripts and I think within the span of a couple days I was in Coach Fox's office. He offered me a spot on the team, and I was there starting summer school. So, I had to call Carquest and tell them, 'Hey, I know I just got the job, but I can't come to work, I'm moving into summer school.'"
All of these events transpired for Miller within a week's time. And even years later, Miller says that it hasn't all soaked it in.
"It was surreal, and I feel like even now it hasn't settled in," said Miller. "My life has just been on-the-go ever since. College baseball, draft, marriage, kids, my life has just been on-the-go so I haven't had any time to really settle in, but here I am."
Miller joined the North Carolina baseball team in his freshman campaign as a preferred walk-on. After leading the Tar Heels in hits, runs, on-base percentage and stolen bases his sophomore year, Miller earned a scholarship in his third year. In 2017, the outfielder collected many accolades, including Third-Team All-American and First-Team All-ACC honors.
After going undrafted out of Millbrook High School in 2014, the UNC walk-on turned scholarship player, transformed himself into a first-round selection by the Miami Marlins in the 2017 MLB Draft.
Miller credits his development as a player, mentally and physically, to every coach that he has encounter along the way.
"Every coach I have had has been a huge blessing in my career. Coach Fox at UNC has helped me tremendously in terms of the big picture. He helped me understand the game and learn self-awareness of just being able to look at the game and know how to win," Miller said. "As far as hitting goes, coach Scott Jackson at UNC, who is now the head coach at Liberty. After my freshman year, he helped me really tap into some areas of my body and swing that were not originally there. When I went to play in the Cape Cod Summer League after my sophomore season, my hitting coach there, Benny Craig, was tremendous. He really opened a whole new side of the game mentally for me."
That tutelage helped elevate Miller's game in the pros. Miller reached Double-A in his first full professional season. Following the pandemic, he played with Triple-A Jacksonville, where everything culminated with a special moment in Miami.
On July 30, 2021, Miami selected Miller's contract and promoted him to the major leagues. In his debut that night, he hit a single off New York Yankees' right-hander James Taillon. However, after the season was over, he was designated for assignment and ended up back in Jacksonville. While his initial stint in the Major's was short-lived, Miller is grateful for the opportunity and the takeaways that came with it.
"It was just a few days of that awesome feeling of making it and then in a way right back to the grind," Miller said. "I finished the year there [in Jacksonville] in 2021, got DFAed, and last year, grinded it out but didn't get a shot. However, here I am again. I'm healthy with a bat in my hand and anything can happen. Even though I've only had a few short stints in the majors, it has shown me that I have what it takes to compete up there and there's not a huge difference between your good Triple-A players and your solid big-league players. With the talent and skill I have, I know that I can compete and I try and instill that in other guys in our clubhouse."