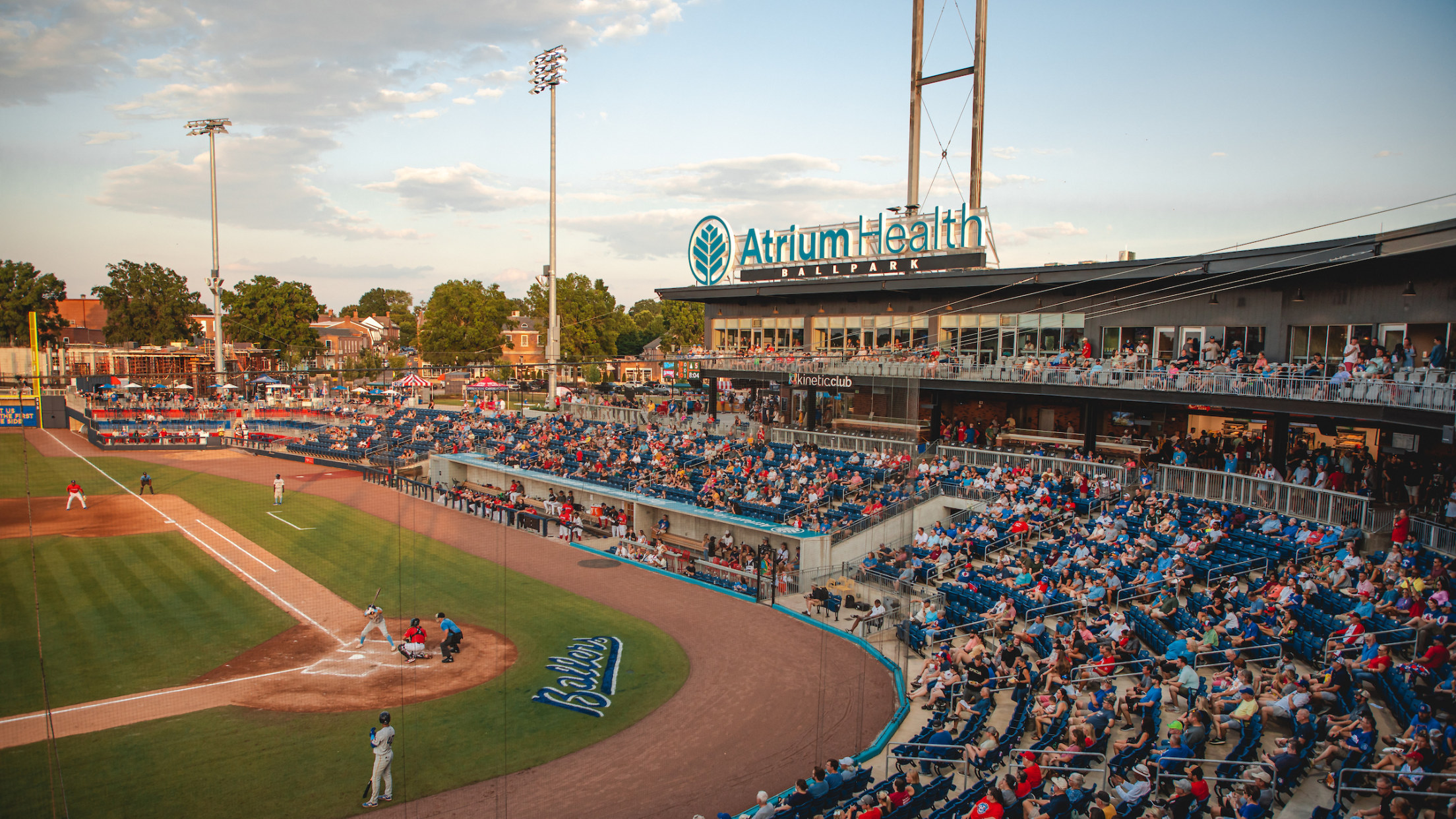 Frequently Asked Questions
ADA ACCESSIBLE PARKING: ADA accessible parking is available on West Avenue.
ADA ACCESSIBLE SEATING: ADA accessible seating is available within all seating types and levels of Atrium Health Ballpark. Within the Infield Box sections of the ballpark, seating for patrons needing wheelchair accessibility, along with adjacent companion seats, can be found in Sections 104, 112, 114, and 115. These seats are located in Row S which is on the same level as the ballpark's main concourse. For more information on all ADA accessible seating options, please call the Box Office at (704) 932-3267.
ALCOHOL: North Carolina law prohibits the selling to or purchase of alcohol to minors under the age of 21. Each customer must present valid picture identification at the time of purchase. Cannon Ballers management reserves the right to discontinue beer sales without notice and/or refuse the sale of beer to any individual. No alcoholic beverages may be brought into or removed from Atrium Health Ballpark.
ANNOUNCEMENTS: Guests can submit birthday, anniversary, or other special announcements by visiting Guest Services near the Main Gate. A limited number of announcements will be accepted each night for $10.00 cash donation to the Cannon Baller Foundation.
ATM: Atrium Health Ballpark is a cash-free facility and there are no ATMs located on-premise.
AUTOGRAPHS: Players can sign autographs before or after the game at their own discretion. Players are not able to sign autographs during the game. We ask that fans arrive early or wait till the game has completed to request an autograph.
BALLERS BUCKS: Ballers Bucks are funds that are stored on the barcode of a ticket and can be used throughout Atrium Health Ballpark on food and beverage, team merchandise, and ticket purchases. Ballers Bucks can be added to any ticket purchase by contacting a Cannon Ballers representative or visiting the F&M Bank Box Office.
BEVERAGES, FOOD & CONTAINERS: No beverages, food, coolers or containers may be brought into Atrium Health Ballpark with the exceptions of items necessary for health reasons and for babies.
CAMERAS/VIDEO EQUIPMENT: We encourage the use of cameras and video cameras at Atrium Health Ballpark, but tripods are not allowed unless it is from credentialed media. Reproduction of the game or interfering with any other fan's enjoyment of the game is strictly prohibited without express written consent from Major League Baseball or the Kannapolis Cannon Ballers.
CHICAGO WHITE SOX: The Major League parent club of the Cannon Ballers is the Chicago White Sox. All Cannon Ballers players and coaches are under contract with the White Sox.
CHILDREN TICKETS: Children under the age of three do not require a ticket for entry into Atrium Health Ballpark, provided they do not occupy a reserved seat and/or sit on their guardian's lap.
CHAIRS: Guests are prohibited from bringing folding chairs inside the ballpark. Fans are permitted to use blankets within the grass berm area located in left field.
CONCESSIONS: There are 2 full-service concession stands as well as numerous vending carts located on the concourse sure to tempt your taste buds! No outside food or beverage is permitted inside the stadium.
CONCOURSE PASSES: Patrons that possess a Concourse Pass ticket are permitted access to Atrium Health Ballpark, including the grass berm in left field and drink rails throughout the ballpark. Concourse Pass tickets do not provide a reserved seat in the seating bowl, but first-come first-serve seating is located within the centerfield bar (red high-top chairs) and above the right field wall (white Adirondack chairs).
CUSTOMER SERVICE: If you have any questions about Atrium Health Ballpark or need assistance, please visit our Windstream Guest Services booth, located on the plaza near the main gate.
EMERGENCY EVACUATION: In the event of an emergency, Cannon Ballers personnel have been trained and instructed to assist guests in evacuating Atrium Health Ballpark.
FAN CONDUCT: The Kannapolis Cannon Ballers are committed to creating a safe, comfortable, and enjoyable sports and entertainment experience. Minor League Baseball fans have a right to expect an environment where:
Players, coaches, and umpires respect and appreciate every fan.

Patrons are treated in a consistent, professional and courteous manner by all stadium and team personnel.

Patrons can enjoy their experience free from disruptive behavior, including foul or abusive language and obscene gestures. Any profane, racist, or sexist actions or words directed at anyone, including other patrons, will not be tolerated and are grounds for removal from Atrium Health Ballpark

Patrons will consume alcoholic beverages in a responsible manner. Intervention with an impaired, intoxicated, or underage guest will be handled in a prompt and safe manner.

Patrons will sit only in their ticketed seats and show their tickets when requested.

Patrons who engage in fighting, throwing objects, or attempting to enter the playing field will be immediately ejected from the stadium.

Smoking is allowed in designated areas outside of the gates.

Obscene or indecent messages on signs or clothing are not permitted.

Patrons will comply with requests from team staff regarding stadium operations and emergency procedures. The stadium staff is trained to intervene when necessary to help ensure that the above expectations are met, and patrons are encouraged to report any inappropriate behavior to the nearest usher, security guard, or guest services staff member. Patrons who choose not to adhere to this Code of Conduct will be subject to ejection, without refund, and possible revocation of future admission privileges, and may also be in violation of local ordinances resulting in possible arrest and prosecution.
The Cannon Ballers and Atrium Health Ballpark thank you for cooperating with these provisions.
FIRST AID: EMS and the KPD are on duty patrolling stadium areas at all times during the games to ensure your safety. Should you need assistance, please notify a staff member, or visit the First Aid Station, located behind the Cannon City Supply Co. on the first base side.
FIELD ACCESS: Per league rules, only authorized personnel will be permitted on the field before, during or after a game or event. Any guest attempting to enter the field of play without authorization will be removed from the ballpark and subject to criminal prosecution and/or fines.
FIELD DIMENSIONS: Left Field Line – 325'; Center Field – 400'; Right Field Line – 315'
FIRST GAME ATTENDEES: The Cannon Ballers wish to recognize fans who are attending their first game at Atrium Health Ballpark. If you are attending your first game, you may pick up a first game pin at Windstream Guest Services.
FOUL BALLS: Heads up! Foul balls and other objects leaving the playing field can be very dangerous. For your own safety, please pay attention to the field when the game is in progress. Any foul ball that is hit into the stands may be kept as a souvenir, however fans may not go outside of the park or onto the playing field to retrieve foul balls.
GATE OPENINGS: Gates normally open 60 minutes prior to the scheduled first pitch time.
GENERAL ADMISSION / STANDING ROOM ONLY: General Admission / Standing Room Only (SRO) is located along the main concourse, and have no physical chair associated with the ticket. Under no circumstances are guests with General Admission tickets allowed to access reserve seats.
GIFT CARDS: Cannon Ballers Gift Cards may be purchased at the Cannon City Supply Co. Team Store or at the F&M Box Office. Gift cards may be redeemed throughout Atrium Health Ballpark on, food & beverage, team merchandise, or game tickets.
GIVEAWAY POLICY: Distribution of promotional items are for guests in attendance only and are limited to one item per person. Giveaway items are distributed in accordance with the promotion's specified restrictions (i.e. First 1,000 Guests ages 12 & under). The Cannon Ballers recommend arriving early on promotional giveaway dates. A ticket is NOT a guarantee of a promotional item. All promotion dates, items and distribution are subject to change and/or cancellation.
LOST AND FOUND: Items can be turned in to, or retrieved from, the Windstream Guest Services booth. Lost items are kept in the Cannon Ballers Administrative Offices which is located on West Avenue.
LOST CHILDREN: In the event a guest becomes separated from his or her child, please report to the nearest Cannon Ballers Customer Service Representative or at the Windstream Guest Services booth. All Cannon Ballers personnel and Kannapolis Police Officers will be notified. Once the child is found, they will be taken to the Windstream Guest Services booth.
MERCHANDISE: All of the latest Cannon Ballers gear can be found at the Cannon City Supply Co. Team Store located on the 1st base side of the ballpark. The store is open throughout the game, with regular store hours from Noon-5:00pm, Wednesday through Saturday. You can shop 24/7 at our online store!
MILITARY DISCOUNTS: Ticket discounts are available to active and retired military on the day of the game and can only be obtained by visiting the F&M Box Office (photo identification required).
NURSING MOTHERS: Nursing mothers have the right to breastfeed babies at Atrium Health Ballpark. For your comfort, please visit the Atrium Health Nursing Mothers Suite, located inside First Aid located behind Section 103.
OBJECTS LEAVING THE FIELD OF PLAY: Guests should be on alert that bats and baseballs may leave the field of play. Guests are advised to stay alert at all times.
ON-FIELD ACCESS: Only authorized personnel will be permitted on the field before, during, and after games. Any unauthorized person entering the field or the top of the dugouts at any point will be removed from the ballpark and be subject to arrest.
PAGING: Paging services are only available in the case of an emergency. If you need a fan paged, please speak to a representative at the Windstream Guest Services booth.
PARKING: A limited amount of reserved parking can be found outside of Gate 3 on the corners of Chestnut Avenue and Laureate Way for the cost of $5 per car. Additional parking surrounding Atrium Health Ballpark is provided by the City of Kannapolis and a detailed parking map can be found via the City of Kannapolis website: https://www.kannapolisnc.gov/Community/Parking
PETS: Except for service animals and any scheduled "Pet-Friendly" events, no pets are allowed inside Atrium Health Ballpark
POLICE: On game days, the Kannapolis Police Department has a continued presence onsite at Atrium Health Ballpark.
RADIO BROADCAST: Home games are broadcast via internet stream at kcballers.com
RAIN POLICY: If we have not announced that the game has been officially postponed, the game is still on and we are doing everything we can to try to play! If the Cannon Ballers cancel a game due to weather prior to gates opening, it will be posted immediately kcballers.com and our social media accounts.
IF THE GAME IS DELAYED
Play will continue as soon as weather and safety permits. In the event five innings of one game are not completed, the game will be suspended or postponed and tickets can be exchanged as listed below. If five or more innings have been completed, it is considered an official game.
IF THE GAME IS OFFICIALLY POSTPONED
Your ticket can be exchanged for any remaining 2023 regular season home game, based on availability. Your ticket must be exchanged at the F&M Bank Box Office for a ticket of equal value, subject to availability. There will be no refunds issued.
IF YOUR TICKETS ARE PART OF A GROUP EVENT
If you have tickets through a group and the game is officially postponed, a Cannon Ballers representative will be in touch with your group leader to discuss options and re-scheduling.
RE-ENTRY: Re-entry is allowed, but you will need to have your hand stamped on exit to re-enter Atrium Health Ballpark.
RESTROOMS: Restrooms & family restrooms are located on the 1st and 3rd base sides of Atrium Health Ballpark.
PROHIBITED ITEMS: Food, beverages, weapons of any kind, knives, baskets, containers such as cans, glass bottles, coolers and thermoses, lawn chairs, inappropriate clothing, banners or signs that are not in the spirit of the event or that obstruct the view of others, animals other than service animals, laser pointers, compressed air horns, projectiles that can cause injury or disruption of the game or event, fireworks, frisbees, bicycles, in-line skates, scooters, skateboards, hoverboards (balance boards), drugs and outside alcohol are all prohibited at Atrium Health Ballpark. Plus, any additional items deemed unacceptable by Cannon Ballers management.
SMOKING-FREE FACILITY: Atrium Health Ballpark prohibits smoking, including the use of e-cigarettes, vaporizers and other similar devices. Designated smoking areas are available outside of the gates.
STROLLERS: Strollers are allowed in Atrium Health Ballpark. They may be parked at the top of each section, barring it does not interfere with guests seated in the top row of the section.
SUITE ACCESS: Fans with tickets for seats on the suite level may use the stairs on either end of the concourse or the elevator located near the Cannon City Supply Co. Please retain your ticket to ensure your access to those areas.
TICKETS: Tickets can be purchased by calling 704-932-3267, visiting www.kcballers.com, or in-person at the F&M Bank Box Office. Please note that other unauthorized websites may have tickets available for sale, but on-site customer service will only be available to fans purchasing directly through the Cannon Ballers or their official ticketing partner, TicketReturn.
TicketReturn is the official source of Cannon Ballers tickets, and tickets should only be purchased through the dedicated ticket links on the Cannon Ballers website. (Pursuant to §14-344.1(b) of the General Statutes of North Carolina, the online resale of tickets is prohibited.)
UMBRELLAS: Umbrellas are permitted inside Atrium Health. Please be considerate of guests around you when using an umbrella. Beach umbrellas are not permitted into Atrium Health Ballpark
WEATHER: Please call the Cannon Ballers Weather Hotline at 704-932-3267 or follow the Cannon Ballers on Twitter and Facebook for updates.
WI-FI: We are proud to offer free Wi-fi throughout the ballpark, thanks to our partners at Kinetic by Windstream!