Staff Spotlight Featuring Tayler Gainer, Director of Retail Operations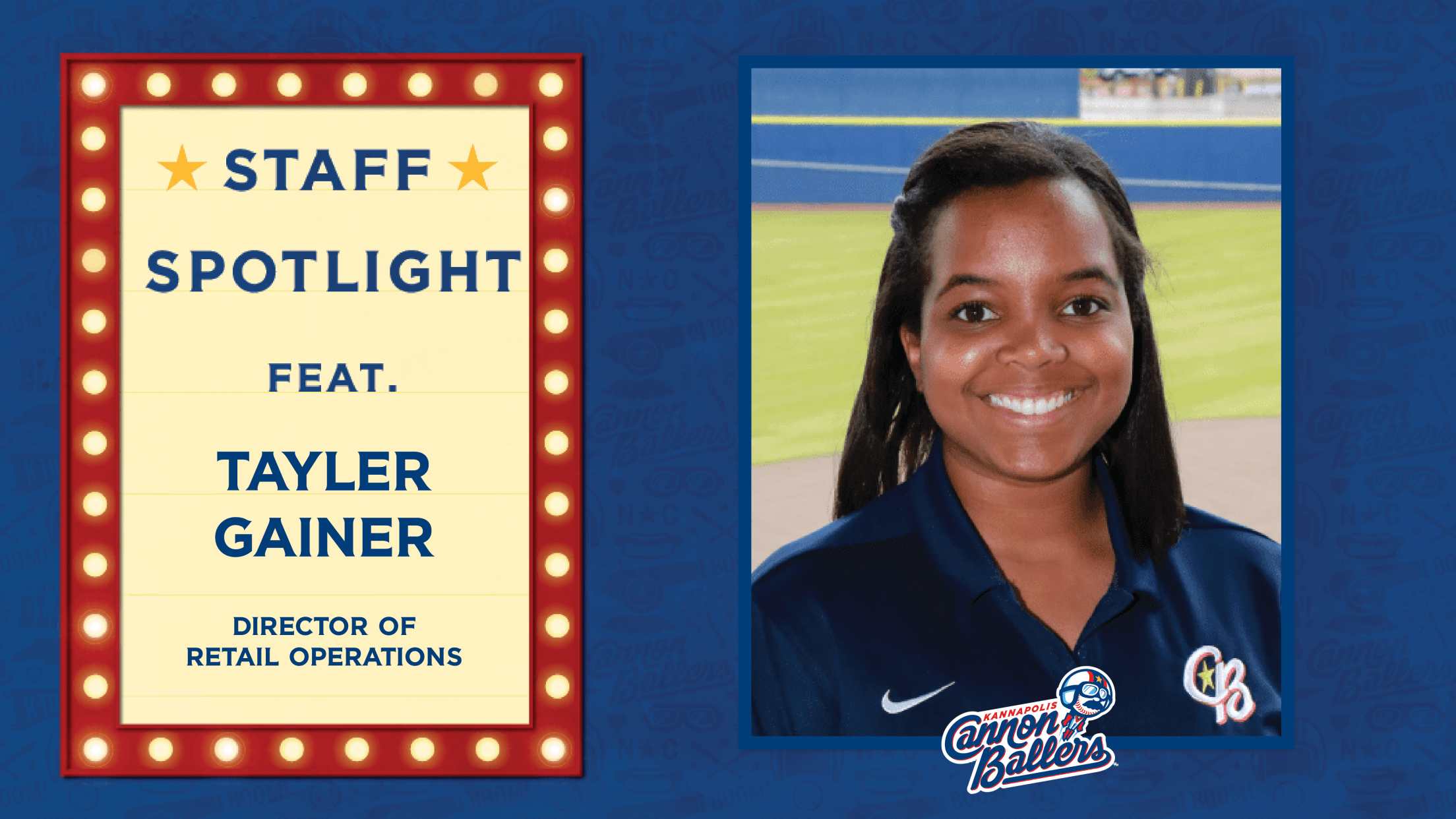 Tayler Gainer | Director of Retail Operations | Birthday: 11/17 | Hometown: Fayetteville, NC Gainer joined the Cannon Ballers in October 2019 as the Director of Retail Operations. Tayler is a 2018 graduate of the University of North Carolina at Chapel Hill, where she holds degrees in both Exercise &
Tayler Gainer | Director of Retail Operations | Birthday: 11/17 | Hometown: Fayetteville, NC
Gainer joined the Cannon Ballers in October 2019 as the Director of Retail Operations. Tayler is a 2018 graduate of the University of North Carolina at Chapel Hill, where she holds degrees in both Exercise & Sport Science and Communication Studies. Her career in sports began in Chapel Hill, North Carolina where she worked in the UNC Football recruiting office. With over 5 years of experience in retail, Tayler is excited to continue her career with the Cannon Ballers. Her previous experience includes a stint at the Walt Disney World Resort where she was a Merchandise Hostess and a Character Performer. She began her baseball career down the road in Durham, North Carolina at USA Baseball. Tayler is thrilled to see what her first year in Minor League Baseball holds.
In her free time, you can find Tayler hanging with her dog Colton, watching UNC Athletics, or exploring the Charlotte area!
What's your claim to fame?
I sang in my church choir with Russell Wilson growing up in Richmond, VA.
What would your perfect room look like?
Something that screams "Farmhouse" vibes.
What's the best way to start the day?
A nice cup of coffee, followed by watching a morning show like GMA.
What's the farthest you've ever lived from home?
9 hours! I interned at Walt Disney World for a semester in college.
What is something special about the place where you grew up?
It's home to the biggest military base, Fort Bragg.
What would be your ideal way to spend the weekend?
Surrounded by friends out at a Brewery on a warm day!
Why did you decide to work in baseball?
I stumbled my way into baseball on complete accident. I decided to stick around because of the great memories I've made over the years and the different cool ballparks I've gotten to call my office.
What's the last book you read?
We're Going to Need More Wine by Gabrielle Union
What would be your walk-up song?
Juice by Lizzo
When you were a kid, what did you want to be when you grew up?
A Dentist!
Are you a dog person or a cat person (or neither)?
Dog (Shoutout to my dog son Colton)
What's your most used emoji?
Laughing Crying Emoji
What's your favorite TV show—the one you're always watching on repeat?
Grey's Anatomy
What was your first job?
Sales Associate at Just a Little Panache
What is your favorite quote?
"Love what you do and do what you love. Don't listen to anyone else who tells you not to do it. You do what you want, what you love. Imagination should be the center of your life." ― Ray Bradbury
What's your favorite breakfast cereal?
Lucky Charms
If you weren't working in baseball what would be your other career path?
I would work in another sport or work in corporate retail.